Delhi
7 Super Romantic Getaways For Two Amidst The Glorious Mountains!
India is a landmark of magnificent mountain ranges. The rich and arid vegetation of the Himalayan range is profusely sprinkled across the country's northern region. Its elegance has managed to enchant every single soul. And that's why we have spotted some ah-mazing retreats that beautifully recognize the charm of the Himalayan range and guarantee you an experience that cannot be superseded. Pack your bags, and hold on to your loved ones, because your perfect romantic getaway checklist is right here, under your nose!  
1. Ekam Villa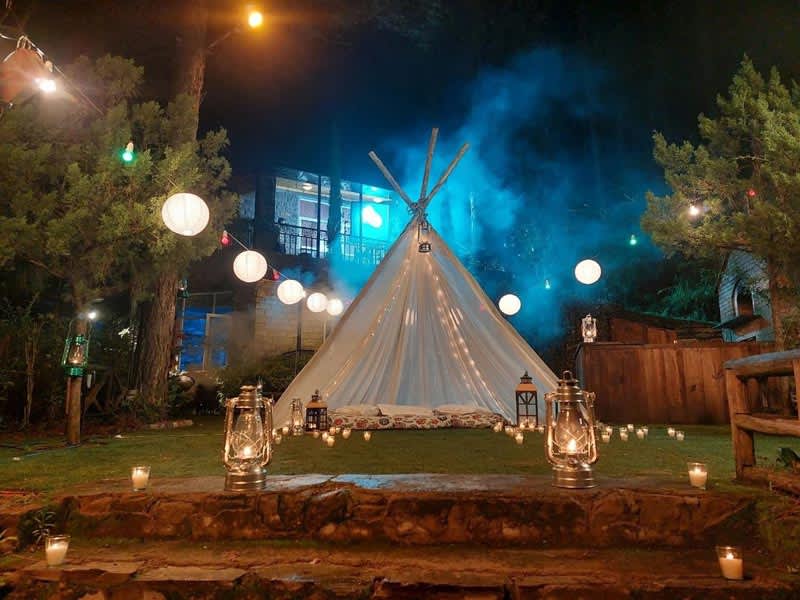 A hidden gem, magnificently situated amidst the hills, covered with pine and deodar trees, Ekam Villa is nothing short of a castle in itself. Resonating serene luxury, this place is perfect to catch picturesque spectacles of sunsets or to simply march around the fruit plantation and herb gardens. The food is extraordinarily nuanced with organic, farm-fresh ingredients to give you the experience of culinary excellence. Ekam Villa is a four-bedroom villa and provides amenities such as secured parking space and bonfire arrangements. This property basked in the lap of nature pampers you with peace and fits the bill perfectly. Make plans with bae and snuggle up in the hills.
Where | Ekam Villa - Up Mohal Dochi, Chail, Himachal Pradesh 
Tariff | Rs 16,000 Onwards 
Call Them | +91 9810 058 247
Check Out Their FB Page | https://www.facebook.com/Ekam-Villa-Chail-104851631660639
2. Oakwood Cottage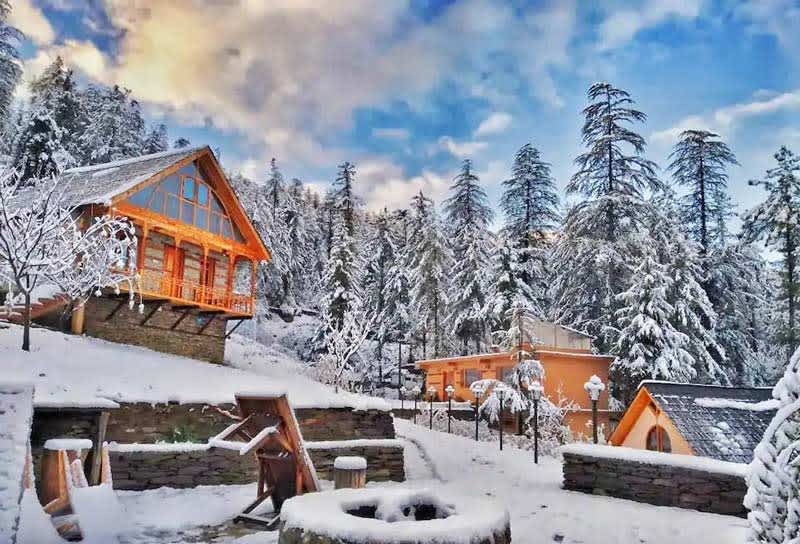 Putting forth an unforgettable experience, Oakwood Cottage is embodied with mind-blowing visuals like the star-studded sky and powerful soundscape including the chirping of birds. Located at a peaceful small village near Fagu which is 27 km from Shimla, Oakwood Cottage is situated in the middle of an apple orchard. The ascending sight of the sun from behind the mountains, adds to the romanticism of this place. The cottage is crafted by local artisans using stone and wood, acing the traditional yet regal look. The chef cooks some lip-smacking Himachali delicacies that will enrich your senses. The cottage has 2 bedrooms and hosts a lot of amenities that will make your stay enticing. Book your stay and surprise bae with an unforgettable getaway.
Where | Oakwood Cottage - Cheog Road, Himachal Pradesh 
Tariff |  7,116 Onwards
Book Online Here | https://www.airbnb.co.in/rooms/27114500?source_impression_id=p3_1601483503_i3KcBHIn6uw4zn2z
3. Woodhouse Farm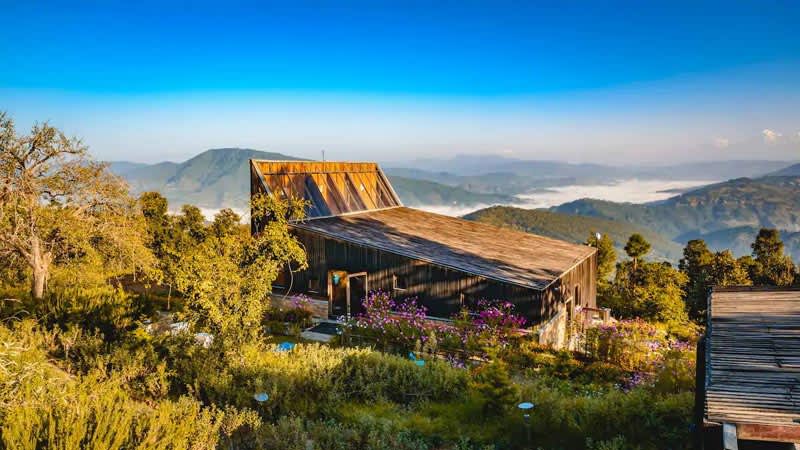 Located in a village called Satoli, Woodhouse Farm is nestled among traditional village houses & farmlands. A place filled with solitude, this house is in proximity to the snow-clad panorama of the northern Himalayan range. Sprinkled by the vivid beauty of orchards, this property is an envelope of glazing architecture. The Woodhouse Farm is characterized by its wooden mezzanine floor. The entire house is suspended from the robust truss frames without the support of any intermediate columns. They also offer a bonanza of amenities, including, indoor fireplaces, laptop-friendly workspaces, etc. Cautiously curated collage of square windows provides a zen view of mountain peaks and the ever-changing clouds. Doesn't it look like a place to escape the chaos and into the arms of your SO?!
Where | Woodhouse Farm - Nainital, Uttrakhand 
Tariff | Rs 41,000
Book Online Here | https://www.airbnb.co.in/rooms/13271296?source_impression_id=p3_1601484083_AmCn%2FI9LF8evZHGO
4. The Khyber Himalayan Resort & Spa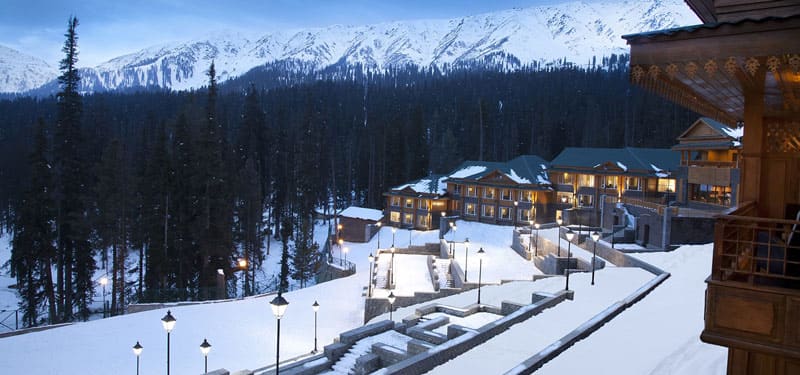 Marking its identity amongst one of the most luxurious hotels in Gulmarg, The Khyber Resort is carefully situated amidst the glorious snow-peaked mountains. They have several amenities that make your experience all the more surreal, such as temperature-controlled pool, sauna and jacuzzi facilities, multi-cuisine restaurant, etc. You would simply fall in love with their starter spreads! They make each day spent, a special and memorable one. They also host several activities that can be enjoyed with boo, such as trekking, rides, igloo, snooker room etc. Head out for this Himalayan beauty with your would-be! 
Where |  The Khyber Himalayan Resort & Spa  -  Forest Block, Gulmarg, Jammu and Kashmir
Tariff | Rs 24,725 Onwards
Call Them | 91 1954 254 666
Book Online Here | https://be.synxis.com/?Hotel=58083&Chain=13071&template=GCF&shell=GCF 
Check Out Their FB Page | https://www.facebook.com/TheKhyberResort/
5. Wildflower Hall, An Oberoi Resort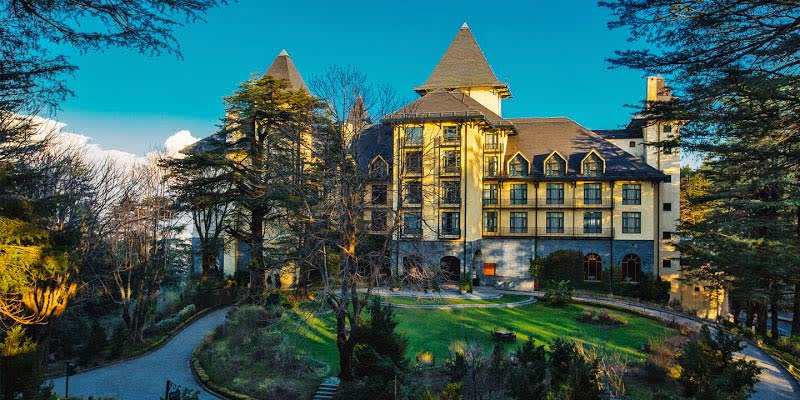 A 5 star, illustrious hotel, Wildflower Hall is a sojourn having all the qualities of a grand stately home. Its old-school yet enormously pleasing features, such as a welcoming lounge, opulent accommodation, a snooker and billiards room, and a well-stocked library provides you with a unique experience. You can simply lose yourself in the romance of nature and enjoy their various amenities such as indoor dining areas offering mountain views, personalised spa experiences in wooded surroundings, energising outdoor sports, etc. You can ace your date-nights by warming your toes on customary sigri fires at their private hillside gazebo and relish a five-course meal with the one you love beside a candlelit arrangement. 
Where | Wildflower Hall, An Oberoi Resort  - Charabra, Shimla, Himachal Pradesh 
Tariff | Rs 21,375 Onwards 
Call Them |  +91 11 2389 0606 & +91 177 264 8585
Book Online Here | https://www.oberoihotels.com/hotels-in-shimla-wfh/?utm_source=GMBlisting&utm_medium=organic
Check Out Their FB Page | https://www.facebook.com/TheKhyberResort/
6. The Himalayan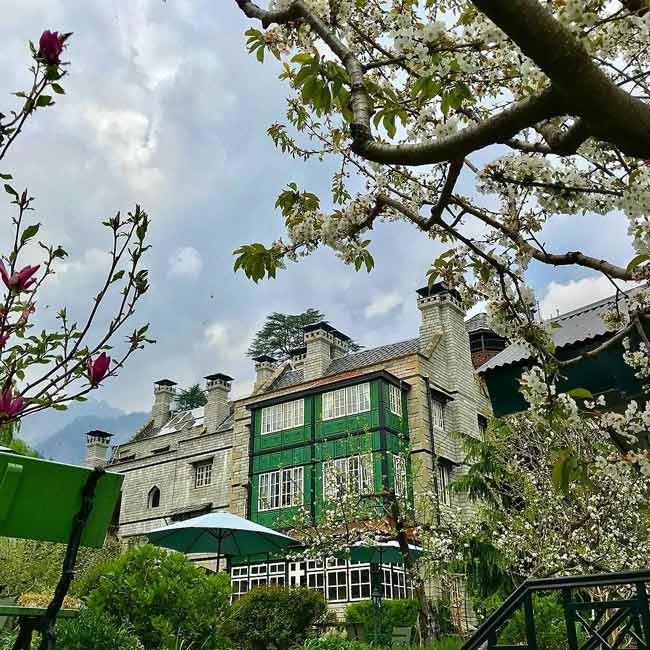 Amidst the beautiful apple and cherry orchards, The Himalayan is a  Victorian-style luxury resort perched at an elevation of 2,003 metres. Surrounded with the resplendent snow-covered mountain peaks and waterfalls flushing down rock faces, this resort reflects grandeur and elegance. Their cottages imbibe intimacy and warmth without a doubt and reflect poise with immaculate polished hardwood floors and interiors, showered with gracious furnishings. You can cherish the mind-blowing vistas of Manali area unrivalled with the spectacular views from their balconies. Take part in engrossing activities with your bae here, including angling, camping, jeep-safari, skiing, spa facilities, trekking, etc. 
Where | The Himalayan - Hadimba Road, Manali, Kullu Valley, Himachal Pradesh
Tariff | Rs 9,900 Onwards 
Call Them | +91 1902 250 999
Book Online Here | https://www.thehimalayan.com
Check Out Their FB Page | https://www.facebook.com/thehimalayanofficial/
7. Glenburn Tea Estate, Darjeeling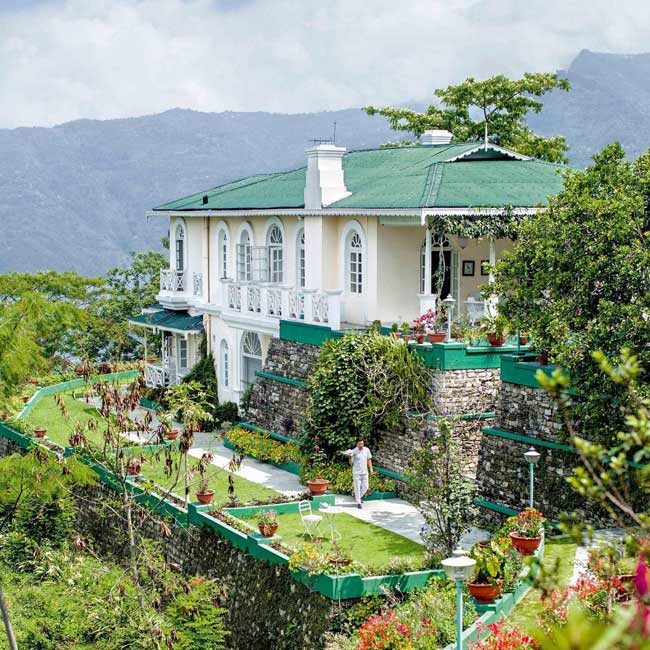 Picture Credits: purple_tree_travel_uk
What could be a more romantic getaway than the city in which the king of romance sang 'Tumhe Jo Maine Dekha?' The Glenburn Tea Estate in Darjeeling is a little slice of heaven that lies atop a hillock, high in the Himalayas, above the banks of River Rungeet with serene & breathtaking views of the Kanchenjunga Range. It's the perfect place to take a breath of fresh air, and spend some peaceful time with your beau. Oh, and also experience how it is to live on a tea estate! Pro tip - they also have a special romantic package!
Where | Glenburn Tea Estate - Near Singritan, Darjeeling, West Bengal
Tariff | Rs 49,600
Call Them | +91 983 007 0213
Book Online Here | https://www.glenburnteaestate.com/
Check Out Their FB Page | https://www.facebook.com/GlenburnTeaEstate
Love is in the air! And hence we want you to experience and soak in the solemnity of these luxurious retreats amongst the glorious mountains with your loved ones. Choose your favourite and get set to explore!