Delhi
7 Super Chic & Pretty Parisian Cafes In Delhi That'll Make You Say 'Oui'
Disclaimer: Bearing in mind the current restrictions in the city and the world at large, we're tweaking our content policy and recommendations to focus more on staying indoors and exploring the digital world and all its wondrous offerings! Stay positive, keep hygiene levels up and don't fall prey to panic and misinformation.
When someone says France, our minds wander off to their exotic language, high-end fashion trends, picturesque streets and of course, their decadent varieties of breads, pastries, pastas, cheese and wine, doesn't it? If you're a foodstagrammer just like us and if you love your raviolis and spaghettis a bit too much too, then you must defo head to these places with your bae for an authentic Parisian experience that'll make your hearts brim with joie de vivre!
1. La Seine The Chocolate Emporium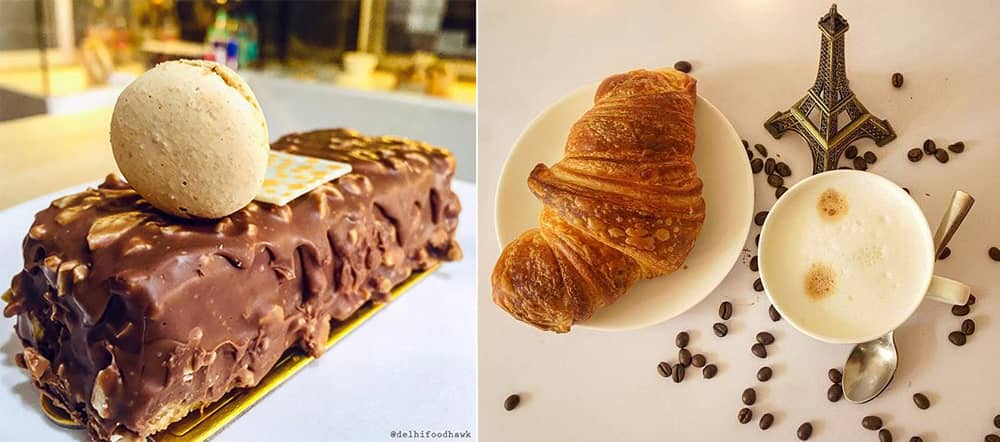 Picture Credits: delhifoodhawk, thecanonguy
Desserts are our solution to all problems and we bet you love indulging in them too. This pretty, little French patisserie is one of a kind with a wide variety of dishes and some cute lights and decor. We love their Battered Fish N Chips, Pink Pasta Spaghetti, Burritos, Almond Croissant and Chocolate Eclair & Tiramisu!
Where | La Seine The Chocolate Emporium - G-54, Main Market, Green Park
Timings | 9 AM - 11 PM
Call Them | +91 9999 994 048
Meal For Two | Rs 300
Check Out Their FB Page | https://www.facebook.com/laseine.in/
2. Le Bistro du Parc
With warm interiors, some jazz music, wooden furniture, frames, a huge mirror and lots of yellow flowers, we are totally craving to dine at this bistro. Duck Liver Parfait, Smoke Chicken Salad and Wild Mushroom Ravioli with a glass (or two) of Sparkling Wine are our faves. And for all you vanilla lovers, they serve finger-licking Madagascar Vanilla Panacotta so keep your spoons ready to dig into pure bliss!
Where | Le Bistro Du Parc - A- 57-59, DDA Shopping Complex, Moolchand Market, Def Col
Timings | 12 PM - 12:30 AM
Call Them | +91 11 4678 0080
Meal For Two | Rs 1,700
Check Out Their FB Page | https://www.facebook.com/Le-Bistro-du-Parc
3. Chateau de Pondichery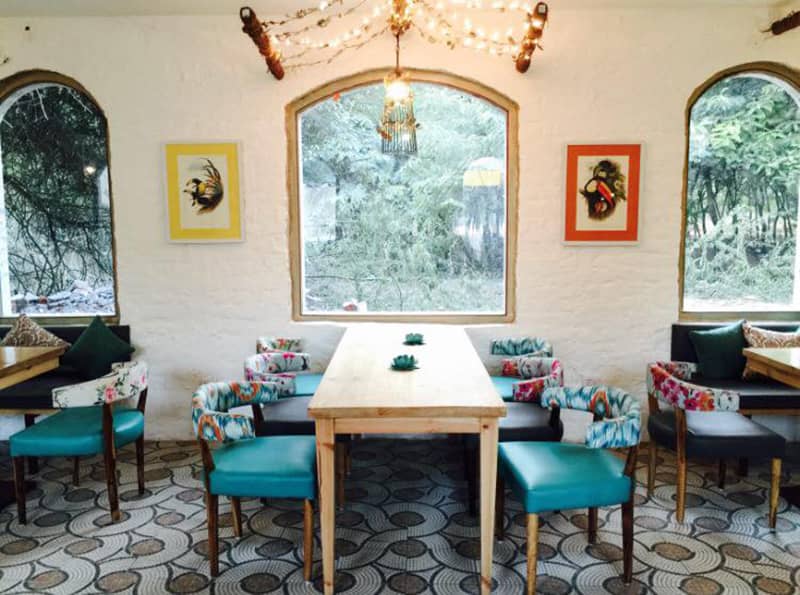 This fetching cafe with tiled floors, white walls, hanging cages, lights and cute chairs offers ah-mazing Franco-Tamil food with stellar views and scenery. We love their Toast Au Fromage, Tuna & Peppers Crepes, Pizza Ladiere and Ratatouille Pasta. They have a variety of drinks including white wine, red wine, sangrias and even classic cocktails like Cosmopolitan, Margarita, Pina Colada & our fave Whiskey Sour!
Where | Chateau De Pondichery - 84, Adchini, Aurobindo Marg
Timings | 12:45 PM - 12 AM
Call Them | +91 9811 134 085
Meal For Two | Rs 1,600
Check Out Their FB Page | https://www.facebook.com/chateaudepondichery/
4. Q Cafe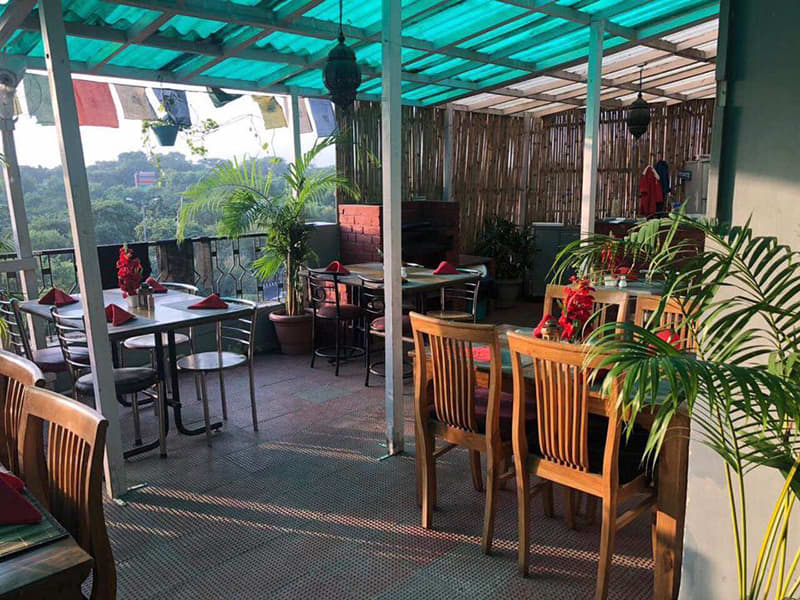 This serene, beautiful cafe with spectacular views of sunset and Qutub Minar is where you should take your bae for the next date. Q Cafe has an amazing rooftop seating and was started to support the LGBTQAI community, which makes us love this place even more. Order their delish Pizza Chicken Salami, Greek Omelet, Penne Vegetarian Red Sauce and sip on their yum, cool Cucumber Lime Mojito, Orange Pineapple or order a hot cuppa of Mint Expresso!
Where | Q Cafe - 4th Floor, 344/3, Lado Sarai
Timings | 4 PM - 11:30 PM
Call Them | +91 8929 721 306
Meal For Two | Rs 1,500
Check Out Their FB Page | https://www.facebook.com/qcafedelhi/
5. REVE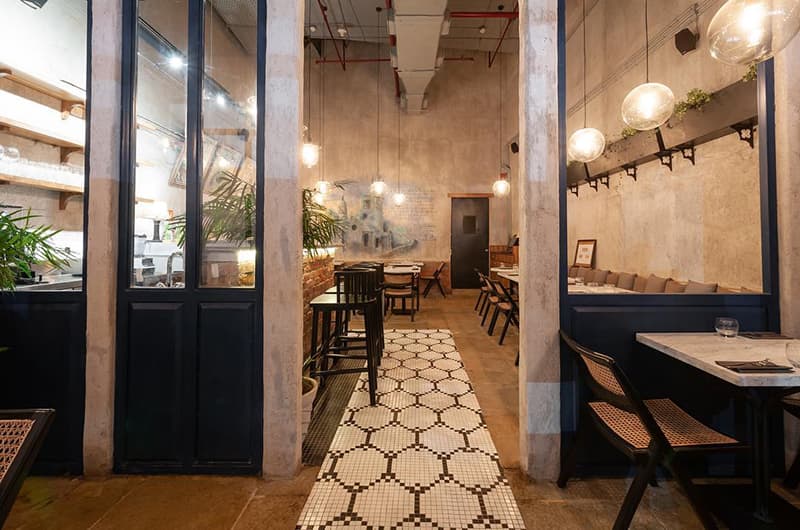 Interiors of the place you dine at are as important as its food and this French eatery completely aces it all. The rustic walls, gorgeous murals, pretty lights, beautiful ambience, plants and antique decor- oh, we're totes LOVING the vibe of this place! Devour their delish Baked Chicken Croissant, Cheese Platter, Baked Provencale Tomatoes, Lamb Bourguignon and some dark chocolate with coffee custard for a gastronomical joyride!
Where | REVE - Lower Ground Floor, Shop No R - 2, Worldmark 1, Aerocity
Timings | 12 PM - 12 AM
Call Them | +9111 4039 6708
Meal For Two | Rs 1,500
Check Out Their FB Page | https://www.facebook.com/revenewdelhi/
6. Brioche Doree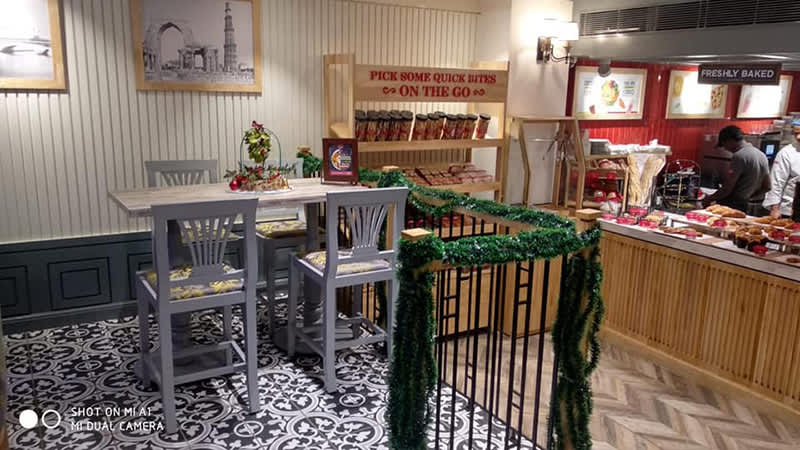 With a modern, classy yet simple setup, white furniture, tiled flooring, yellow ceiling and itsy bitsy decor items - this place will defo make you feel like you're actually in a cafe in Paris! We suggest you try their Spinach & Corn Quiche, Paris Croissant, Truffle Couscous Salad and Roasted Veg & Olive Pizza Puff. Want something sweet? Order their Tiramisu Jar, Chocolate Banana Tart, Apple Puff Pastry or our fave Very Berry Smoothie!
Where | Brioche Doree - M-48, CP
Timings | 8:30 AM - 10:30 PM
Call Them | +91 9899 995 222
Meal For Two | Rs 600
Check Out Their FB Page | https://www.facebook.com/BriocheDoreeIndia/
7. Cafe WE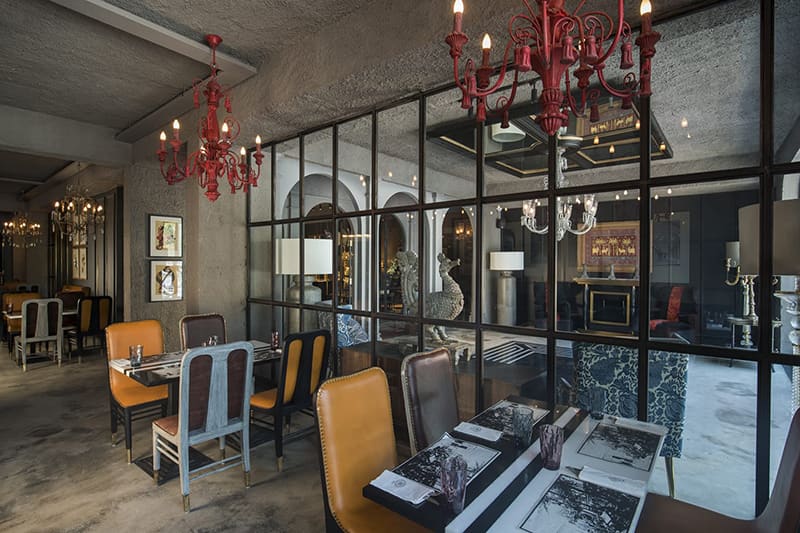 We are totally adoring the swanky, rusty, dark, cosy and vintage-y vibe of this place and the huge, delicate chandeliers are our FAVE! From Choco-Chip & Wallnut Brownie Brochette, the famous Meatzaa & Pesto Chicken Pizza to the yum Spaghetti Aglio-E-Olio, Bruschetta & Grilled Creole Cottage Cheese; we're ordering them all!
Where | Cafe WE - Khasra 432 - 434, Ground Floor, Sultanpur, MG Road
Timings | 10 AM - 11 PM
Call Them | +91 9971 315 696
Meal For Two | Rs 1,400
Check Out Their FB Page | https://www.facebook.com/cafewe.in/
France is the perfect place to be a gourmand, but while we wait for our vacation there, we'd totally love to sip on some wine and nosh on exotic cheese or other delicacies at these cafes. Bon appetit, folks!