Delhi
7 Stores In Janpath From Where You Can Stock Up On Kurtis, Scarves & More Starting @ Rs 35
We all have been guilty of spending tons of time hoarding accessories from Janpath, no? And why not for it's an absolutely amazing place to snag some affordable clothing, may it be a beautiful indigo kurti, tasselled georgette scarf, nice off-shoulder top or even a funky clutch! A market as diverse as Janpath can be a pain to navigate so we went around to find some awesome stores where you can renew your wardrobes without spending a fortune. Here's presenting to you our top 7 picks for budget-friendly shopping in Janpath!
1. Fashion Point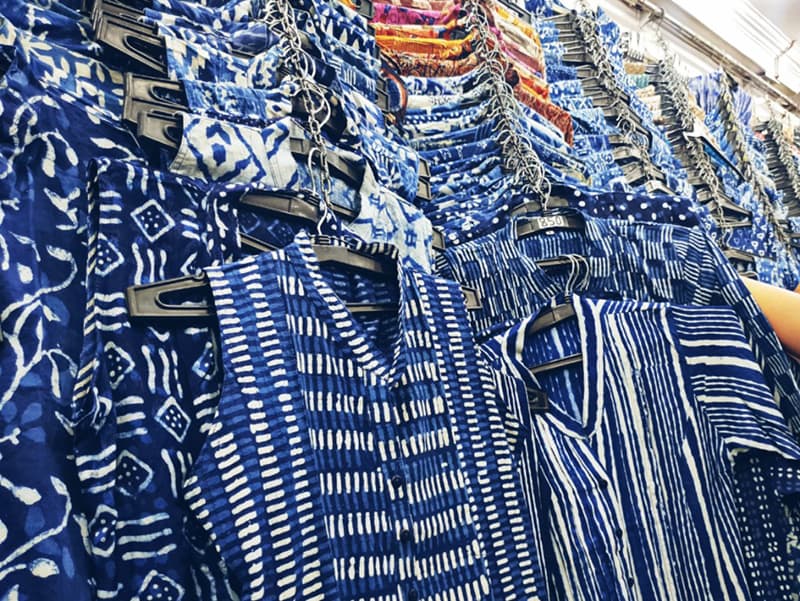 This one grabbed our attention right away because it stood out with its colour coded display with just indigo prints and whites. They have an amazing collection of Indigo kurtas that look right out of a branded shop. From long and flowy to short and cropped, there's plenty of options at this store. But, if indigo doesn't impress you, then they have a huge variety of kurtas with chikankari work in numerous colours, we personally loved the whites! So, the next time you're looking to add some nice kurtas in breathable fabrics to your wardrobe, head over to this 25-year-old store!
Where | Fashion Point - Shop No 12A, Municipal Market
Price | Rs 390 Onwards
Call Them | +91 8130 313 030
Timings | 11:45 AM - 8 PM
2. House Of Scarves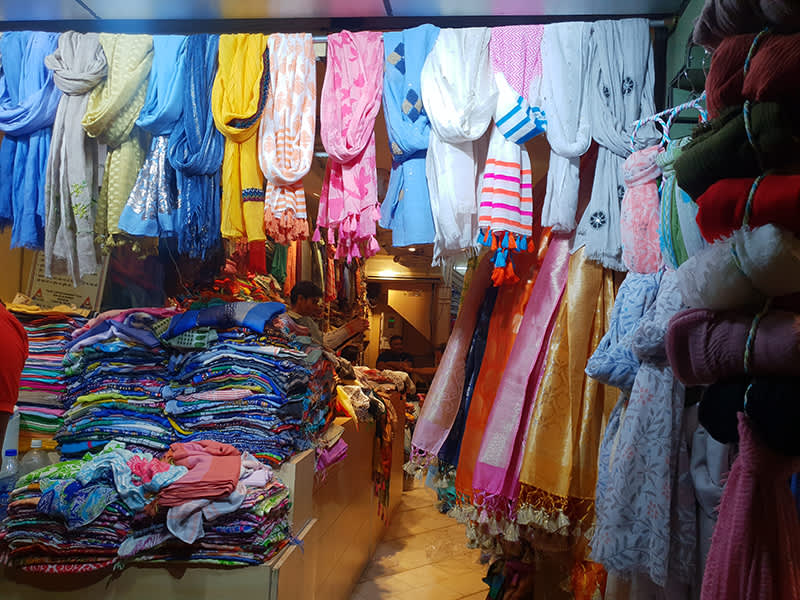 Every time we've walked past this store, we felt like going in so we finally did and we're glad. This store, established in 1958, is a haven for people who love their dupattas and scarves. They stock a humongous variety with everything from scarves, stoles, dupattas and shawls in various fabrics and price ranges. So, whether you need that gorgeous zari dupatta for your best friend's wedding or a nice printed scarf for completing that college look, they've got it all!
Where | House Of Scarves - 52, Janpath Road, Atul Grove Road
Price | Rs 35 Onwards
Call Them | +91 11 2332 8635
Timings | 12 Noon - 8:30 PM
3. Three Murti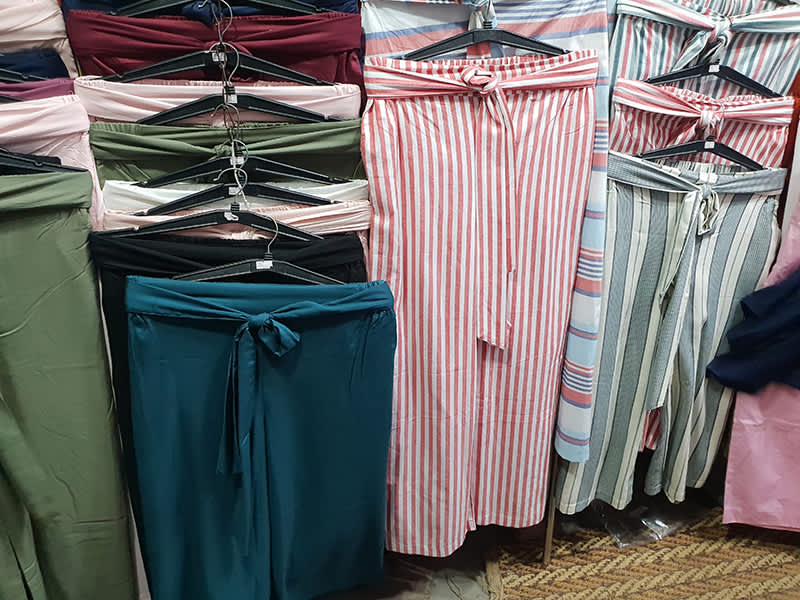 This is our go-to place for super affordable yet trendy bottom wear pieces. They have the latest collection of palazzos, culottes and more in different fabrics. The bottoms come in an assortment of prints and colours but the ones that stand out are the striped ones. Some lovely topwear to compliment the culottes are also available if you'd like. It's a small narrow store but it has been a part of the famous Janpath market since 1963!
Where | Three Murti - 19, Mini Market
Price Range | Rs 200 onwards
Call Them | +91 9891 199 457
Timings | 11 AM - 9 PM
4. Fashion Garments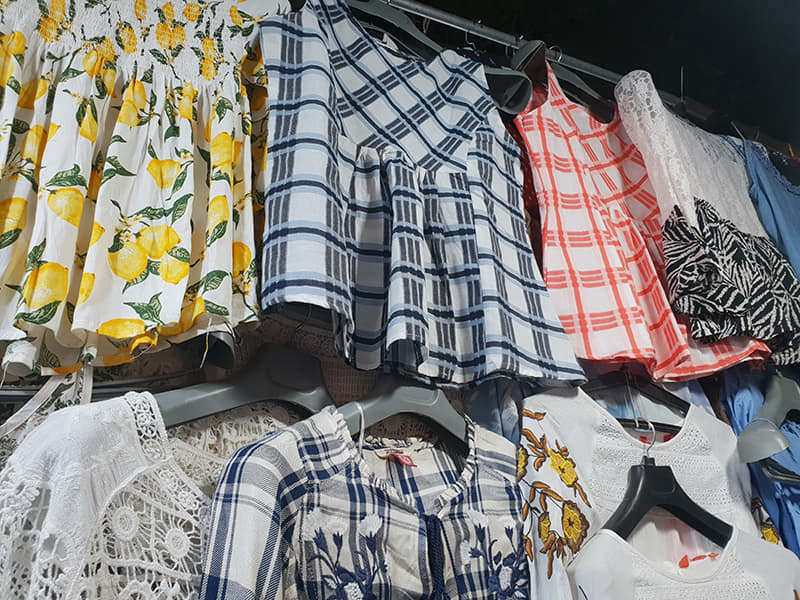 As cliché as the name sounds, this one keeps up with all the latest fashion fads and is a must for grabbing some budget-friendly tops, dresses and dungarees. They have a nice range of cute printed tops in bright colours and funky prints. You'll also find some long flowy maxi dresses in cotton that will bode well on a hot summer day! The best part about this one is that you can bargain as much as you like and bring down the prices to practically throwaway rates!
Where | Fashion Garments  - 19, Mini Market
Price | Rs 150 Onwards
Timings | 11 AM - 9 PM
5. S. R. Garments - Denim Shop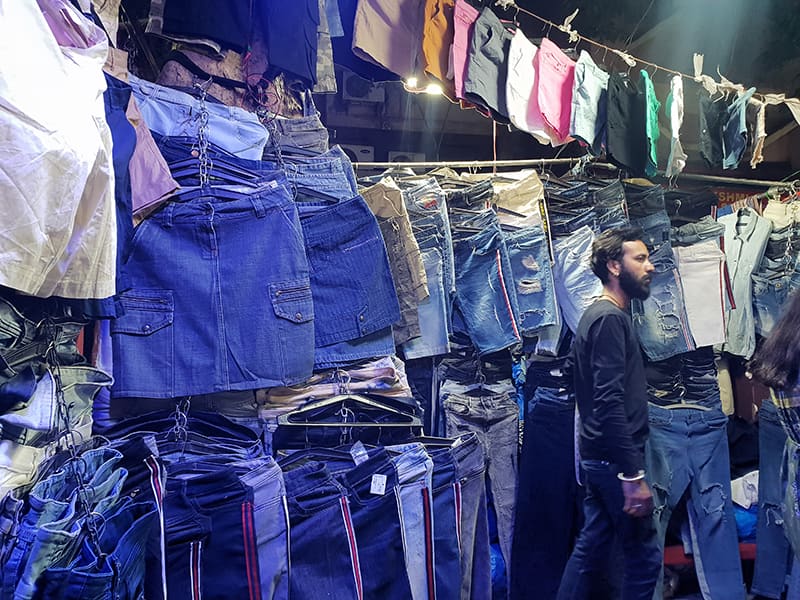 Probably one of the most versatile fabrics of all, everything looks much cooler in our all-time favourite denim. So if that's what you're looking for, head to this shop that specialises in all things denim. Starting at as low as 300 bucks, you can become the proud owner of a nice piece of clothing that never goes out of fashion. Jeans, skirts, jackets, shorts, dungarees this store has it all and it has been the go-to shop for Janpath shoppers and denim lovers for 8 years now.
Where | S.R. Garments - Denim Shop - M-24-25, Mini Market
Price | Rs 300 Onwards
Call Them | +91 9650 420 359
Timings | 11 AM - 8:30 PM
6. Tee Shop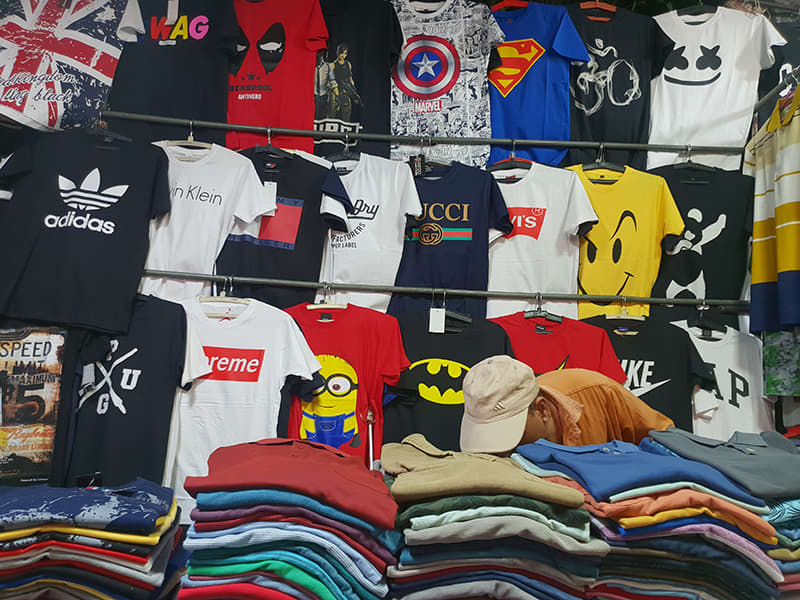 Bored with the same old t-shirts in your wardrobe? Looking to flaunt your new favourite fandom? Or just looking to complete the new look with your recently bought jeans? Look no further and scoot to this 20-year-old shop to find the latest collection of t-shirts for all kinds of occasions. From collars to round neck, plain to fandom prints this shop is stocked up with a wide range that you will get tired choosing from. With the starting price of just 250 bucks, these t-shirts are a steal and we would definitely advise you to head over to hoard as many as you can!
Where | Tee Shop - T - 45, Mini Market
Price | Rs 250 Onwards
Timings | 11 AM - 8:30 PM
7. Body Piercing Shop With Bags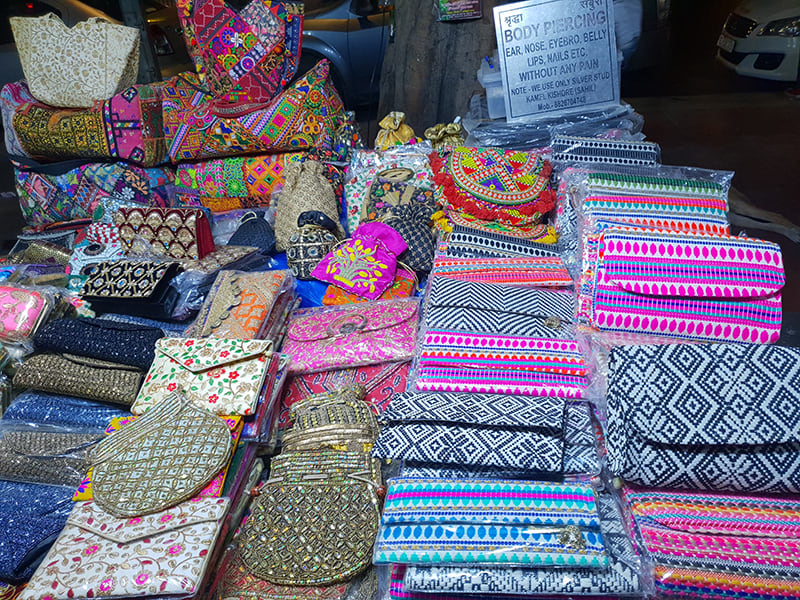 If you're done assembling your next favourite outfit from various shops of Janpath, you should definitely troop to this wonderful shop to find an amazing bag to complete your look. Located near the entry of the market among the row of vendors on the left-hand side, is this stall full of pretty bags. With offerings in all shapes, sizes, colours and unique designs, this place is your one-stop shop to find the perfect bag for any taste. We especially loved their cute designs and prints that will definitely make you stand out from the crowd!
Where | Body Piercing Shop With Bags - Indian Oil Building, Behind 522 Bus Stand, Janpath Road
Price | Rs 150 Onwards
Call Them | +91 8826 704 748
Timings | 11 AM - 8:30 PM
Through this article, we've attempted to find some gems in this market to help you find your next best look. Next time when you're in the area, do give these budget stores a visit!
Flick Through More Images Of Some Beautiful Finds There!