Delhi
7 Stores A Stone's Throw Away From So Share, Shahpur Jat That're Perf For Shopping Sprees After Work
Delhi is the hot-spot for all the budding entrepreneurs and startups, looking for opportunities and, most importantly, a place to set up their offices! But why buy when you can co-work and save loads of money and time? And to help you with just that, we have found the perfect place where you can set up your office and lounge on comfortable chairs, fuel up with unlimited tea & coffee and enjoy the chilled out ambience. Yes, you guessed right, we're talking about the amazing So Share in Shahpur Jat.
And if the great location and services that you can avail here weren't enough to entice you, then scroll on and check out these kickass stores, that are super close to the facility, where you can head to for a quick shopping spree after work! 
1. The Wishing Chair 

We'll start with our absolute favourite - The Wishing Chair! If you have ever stepped foot in this store, then we're sure you must have been left enchanted. The colourful tabletops, the pretty white cages, comfy cushions, the big bright lights, yeah, basically everything about this shop calls out to you. So after a long day at work, head here for some retail therapy! 
Call Them | +91 11 4657 2121
Check Out Their FB Page | https://www.facebook.com/WishingChair/
Shop Online Here | https://www.wishingchair.in/
2. Wrap Studio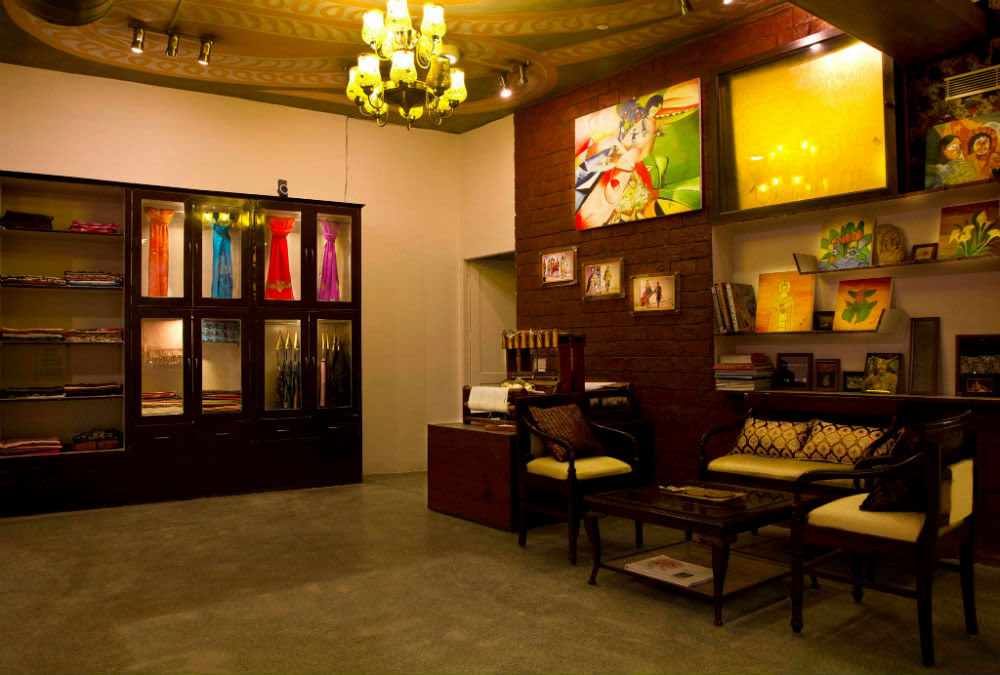 If you love intricate work and hand-woven apparels, then this store is just for you! You can grab pretty charkha pashmina shawls, silk wraps, zari stoles, linen scarves, cotton silk kurtis and lots more here. All these products are lab tested and have an authentic pashmina stamp. Drop by this one on your pay day, and let your inner shopaholic loose. 
Call Them | +91 11 2649 9955
Check Out Their FB Page | https://www.facebook.com/WRAPSTUDIO/
3. Olivia Dar

If big, pretty earrings make you go weak in the knees, then you're absolutely gonna love the Olivia Dar store near So Share. You can shop for sling bags with stone-work, bracelets, statement necklaces, pretty dresses and jackets and trust us, you'd be spoilt for choice here. So if you have been meaning to buy a cute bag to go with your new dress, then scamper over to this store, NOW! 
Call Them | +91 11 4050 1899
Check Out Their FB Page | https://www.facebook.com/pages/biz/110049/Olivia-Dar-Accessories-199498823506537/
Browse Through Their Website | http://www.oliviadar.com/
4. Second Floor Studio

Unique, beautiful and absolutely splendid, the accessories at Second Floor Studio are all this and more! You can shop for rings, earrings, necklaces and apparels here. But wait, it's not just your wardrobe that can get a revamp at Second Floor Studio, but also your homes, as these guys have an amazing collection of cushions, wall art and other home decor knick-knacks. So check out this place TODAY! 
Call Them | +91 11 4142 0324
Check Out Their FB Page | https://www.facebook.com/SecondFloorStudioPunitJasuja/
5. House Of Blondie

Girls, if you have never been to House Of Blondie before, we'd say go right away, 'cause you're missing out on a lot! These guys have the cutest collection of hair accessories, bags, necklaces, rings, sunglasses, travel bags, mobile covers and eye-masks that'll make you wanna buy them all. Do you need more reasons to check out this place? We didn't think so!
Call Them | +91 8860 139 864
Check Out Their FB Page | https://www.facebook.com/vintage.blondie/
Shop Online Here | http://houseofblondie.com/
6. Al Artz

Aren't we all suckers for a cutesy pair of handpainted shoes? We sure are and that's why you've gotta drop by Al Artz after work! These guys have a RAD collection of shoes that has everything from Archies to Tom & Jerry to your fave football club's logo printed on them, and trust us, they look pretty cool! 
Call Them | +91 9910 580 580
Check Out Their FB Page | https://www.facebook.com/AlArtz.quirky.handpainted/
7. Qbik Amplified

Qbik is known for their traditional apparels, for both men and women, that'll leave you awestruck! So if you have an upcoming wedding at home, then head to this place after work and shop from their unique and beautiful collection of dresses, sarees, suits and even kurtas and sherwanis for men. 
Call Them | +91 11 2649 0086
Check Out Their FB Page | https://www.facebook.com/QbikOfficial/
Could you have found a better place to work out of? We think not! So book your spot today. 
Location | So Share - 5D, First Floor, Jungi House, Shahpur Jat
Call Them Up | +91 7290 008 672 & +91 9891 225 300
Tariff Per Month | Rs 5,990 Onwards
Check Out Their FB Page | https://www.facebook.com/SoShare.In/
Browse Their Website | http://soshare.in/