Delhi
7 Stereotypes Every Outstation Guy Has About Delhi Girls & Should Totally Get Over
Delhi, being the capital city, is obviously hugely popular throughout the country (we're so proud). But popularity is a double edged sword and we Delhiites have therefore been victims of biased judgements and baseless perceptions many a times, especially us Delhi girls. Screamed a 'hell yes', didn't you? Well, we feel you. To set the record straight, we've compiled a list of comments we've heard most from almost every outstation guy, over and over again *sighs*.
1. "Abey, Badha Attitude Hota Hain Dilli Ki Ladkiyo Mein!"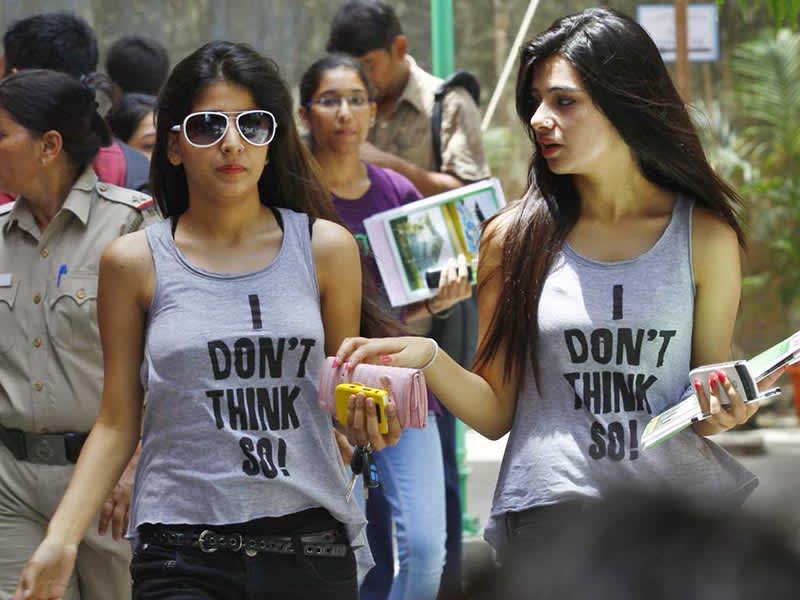 Come across any guy who's not from Delhi, and the first thing you get to hear is that Delhi girls have serious attitude issues. Attitude, really? Delhi girls are the most chilled out and muh-fat ones of the lot. We might live in the power capital of the nation guys, but come on, itna bhi attitude nahi hai boss! But hey, this doesn't mean we won't call you out for being a douche to us just coz we're a little more outgoing!  
2. "Tum Dilli Wali Na Kafi Chaalu Hoti Ho!"
Picture Credits: squarespace.com
Last time we checked, being shrewd was a virtue and not a quality that should be held against someone. If we Delhi girls are smart enough to find our path and make the most of our lives with literally everything (#jugaadu), then isn't that a good thing? You guys need to cut us some slack man, like stop judging and learn a thing or two maybe?!
3. "Inhe Har Cheez Branded Hi Chahiye Hoti Hain!"
Picture Credits: deccanchronicle
And then comes the #brandbhakt label! Delhi might have a brand outlet popping up every other day, but come on, we also have flea markets like Sarojini and Janpath that are always packed with people, which only reaffirms our absolute LOVE for street shopping. So, it's time you stopped checking out girls in the malls and took a walk down the lanes of Kamla Nagar market, you'd defo find us there, bargaining with the street vendor for the cutest pair of juttis!
4. "Dilli Se Hain? Gaaliyan Toh Full On Deti Hogi Tu"
Well, what do we say about this one, huh? BC is used as a slang by Delhiites, so you CANNOT blame the girls for monopolising the word. And look at the traffic in the city, how long do you expect us to stay calm? Kabhi kabhi to chalta hain yaar!
5. "They Are Always So Dolled Up!"
Picture Credits: eventshigh.com
Really? And where do you come from, no makeup land? And who goes to parties without makeup? Also, there might be a few (say two or three), who'd be all dolled up, but the rest of us are super bindaas and love our no makeup looks as well, which of course doesn't include a stroke of eyeliner and some nude lip balm. C'mon, that doesn't even count as makeup anymore, it's just a necessity, like your cologne!!
6. "They Drink Like A Fish, Bro!"
Picture Credits: planningwale.com
We are kinda proud of it, to say it loud and clear! We love to party and agar thodi bohot pi bhi li toh kya ho gaya yaar? Delhi girls know how to hold their liquor and have the time of their lives, and we know you love us for that. So, CHEERS! 
7. "Public Transport Se Toh Kabhi Travel Hi Nahi Kiya Hoga!"
Picture Credits: pepperfeed.in
Oh, please! Get your facts right. Delhi is a super big city and not everyone knows how to drive. And even if we do, not everyone travels in their own car or takes a cab. We mean have you ever been stuck in the never ending traffic here? We obviously take public transport, especially the metro, wo to matlab saviour hain!
So how'd we do? How many comments are you guilty of passing? Or how many have you been on the receiving end of? Don't forget to add your two cents below!