Delhi
7 Quirky Things Like Pop Waffle Cone, Milk Cola, Ice Cream With Fries & More HERE In Hudson Lane
The ultimate dream of a foodie is to own a quirky and lively place, that sells some of the coolest options one can come up with. One of the food items that is least experimented with is popcorn. Yes, the warmed corn-kernels are a great source for dietary fibers and antioxidants. They're not only delicious, but also high in nutrition value. 
Himanshu Sehgal, a renowned food blogger, who goes by the name of My Yellow Plate, has set up a very interesting shop in Hudson Lane, named Popcorn and Cola. The store is iconically painted screaming yellow, and has some extremely successful food experiments that will change the way you look at popcorn, forever! The place might be small in size but will make you pause and admire the store immediately, for how beautifully the owner has presented his idea of variation in front of the shop. Their menu, which is quite extensive, consists of mixed and matched items. We decided to dive in and give his original recipes a shot. Here's what we tried.
1. Milk Cola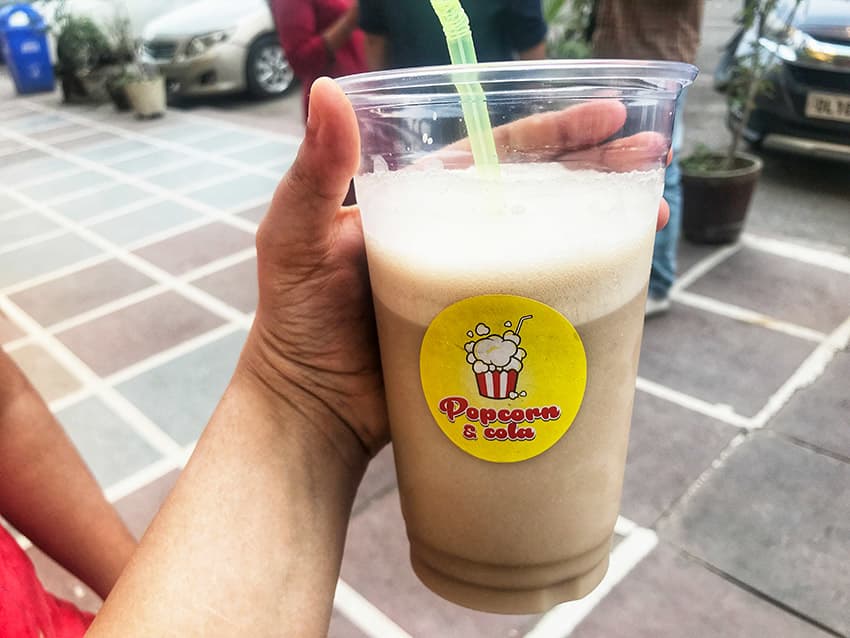 What do we hate? Milk
What do we love? Cola
What do we get when you mix these two? Awesomeness!
This drink was one of the coolest slurps we've had in a long time. A glass full of milk and our favourite soft drink blended together with a cap of delicious foam is our new fave. The drink was of silky consistency, maintaining the fizz from the cola till the last sip. The distinct taste of the soft drink and milk mixed together is literally to die for!
Price | Rs 79
2. Cheetos Flavour Popcorn
Freshly warmed popcorn coated with crushed cheesy Cheetos, and there you have it, your childhood in your hand, hitting back with nostalgia when Cheetos were a big thing. Evenly coated with the flavour of our favourite childhood snack, this item is one hell of a quirky combination. The delicious popcorn made us its fan with the very first mouthful, because who eats just one, right?
Price | Rs 79
3. Fries and Ice Cone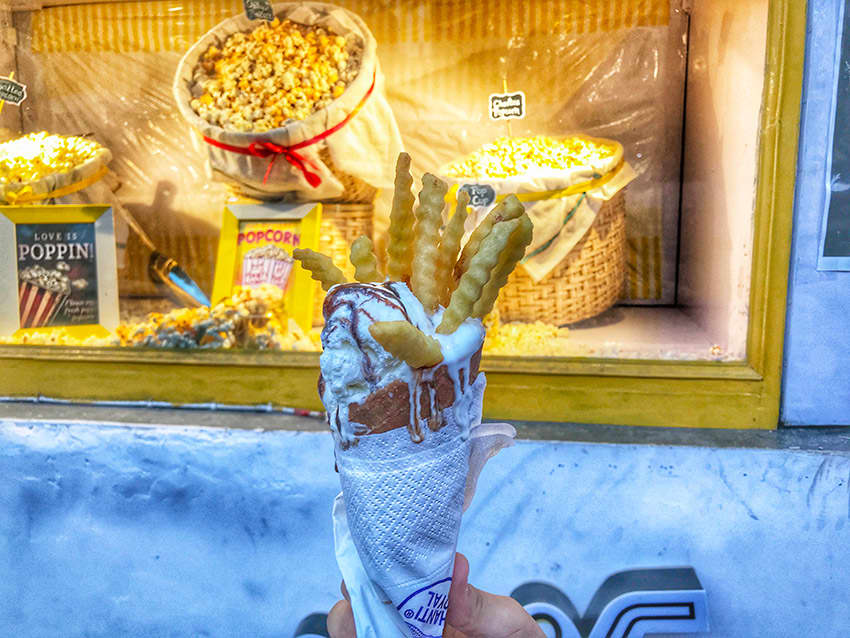 Bless them for coming up with this combination! Ice cream cone served with vanilla scoop, drizzled with chocolate syrup and crowned with wrinkled fries is really a new and, as a matter of fact, brilliant idea to match. The fries were done to perfection, served with velvety smooth ice cream, this item made our day! The cone, too, was crisped to perfection. The item could have been a risky combination, and only a crazy foodie like Himanshu Sehgal could've nailed it with ease!
Price | Rs 99
4. Pop Waffle Cone (Caramel)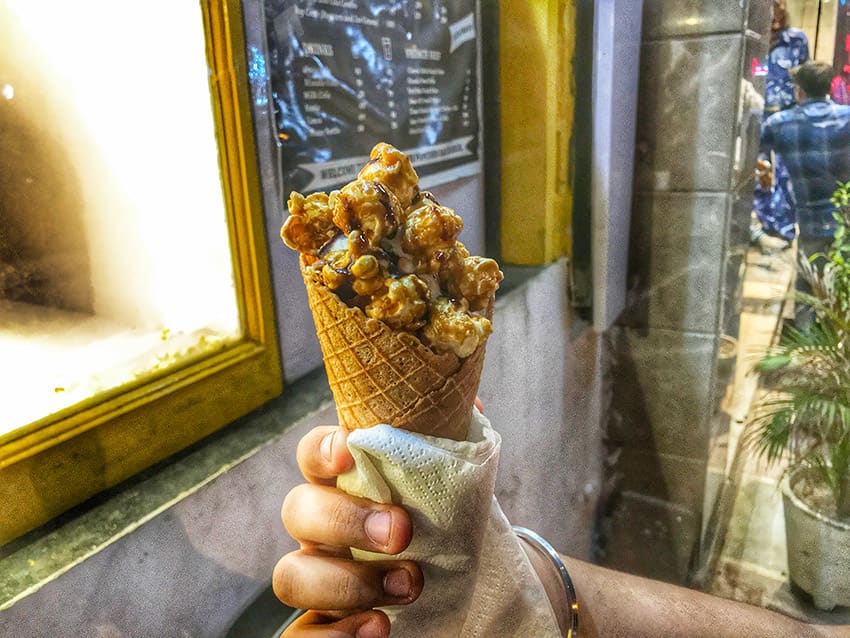 What do you get when you throw some vanilla ice cream and caramel popcorn on a crisp waffle? A dish to live for, and that is what we got when we were handed the cone topped with scooped ice cream and drizzled chocolate syrup. The crown of golden crispy caramel coated popcorn was literally calling to us! The dish looked beautiful, tasted perfectly smooth and the combination of salty caramel and cold ice cream is not your usual flavour juggle. It is a must try!
Price | Rs 89
5. Maggi Masala Popcorn
Yet again, another successful experiment, with two of our favourite food items blended together, this combination is a call to those who've been surviving on Maggi since childhood. Fresh popcorn coated with Maggi Masala is a brilliant idea to present and enjoy, in our opinion. If you're looking to give your usually boring salted popcorn a twist, just try this item and you'll know what heaven tastes like!
Price | Rs 89
6. Pop Ice Cup (Caramel)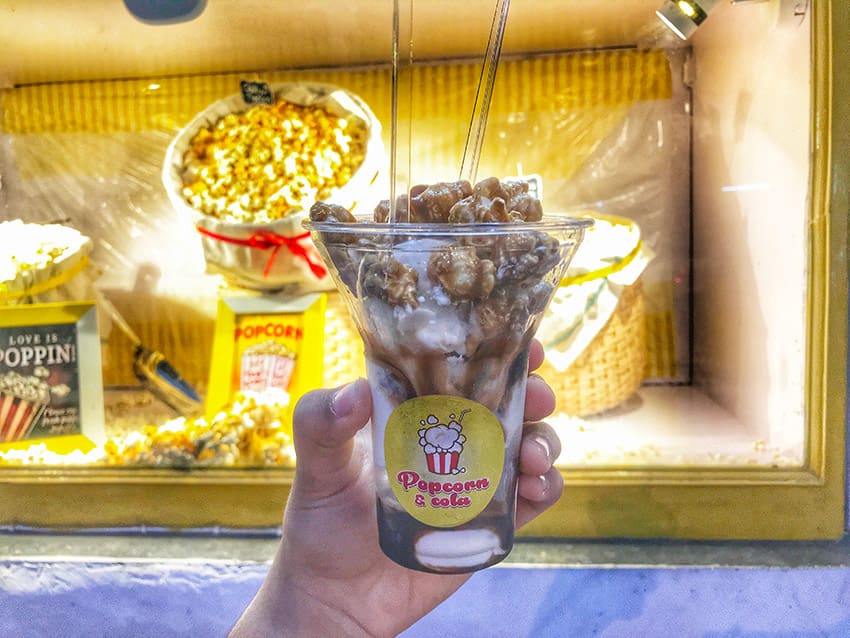 Yet again, the caramel topped dish was served with vanilla ice cream scoop with a drizzle of chocolate syrup in a glass, where you can see the awesomeness you're consuming. One thing we have to mention about this combination is that it takes a lot of experiment, to come up with the perfect amount that goes together. Too much caramel can ruin the ice cream for you and vice versa. But this foodie has brought forth the perfect combo, which will let you enjoy both the ingredients together.
Price | Rs 69
7. Popcorn Fantasy
This combination of soft drink and ice cream is a distinct one, for sure. It puts forth the infamous Fanta to a good use. This drink is a brilliant way to utilise the fans who've grown to love Fanta by providing them a blend of ice cream and caramel coated popcorn along with their favourite soft drink! This item has several variations with different drinks but the taste doesn't waver from awesomeness. 
Price | Rs 79
The idea to focus solely on popcorn is perfect according to us, given that their main audience is college students, and those in a rush to get somewhere. The shop is really cute in appearance and the owner surely knows how to be hospitable and welcoming. The music playing in the background, while you stand there and munch on the popcorn, is a cherry on top of the warm ambience that this place provides. If you're a popcorn lover like us, this place is calling you!
Where | Popcorn And Cola - 2507, Hudson Lane, GTB Nagar
Call Them | +91 9953 321 498
Timings | 12:30 PM - 11:30 PM
Here's Their FB Page | https://www.facebook.com/popcorncola/