Okay, so imagine this! You're out on a Friday night with your squad and you all want to do something super exciting that night. So, but naturally, you decide to go get drunk first and then go where the alcohol takes you. So far, so good? But what happens if you guys pick a bar from the list that we've curated below. We betcha, you won't be able to step out of there, solely because of how cool they are! Read on, head out to these places and tell us what you think!
1. Garam Dharam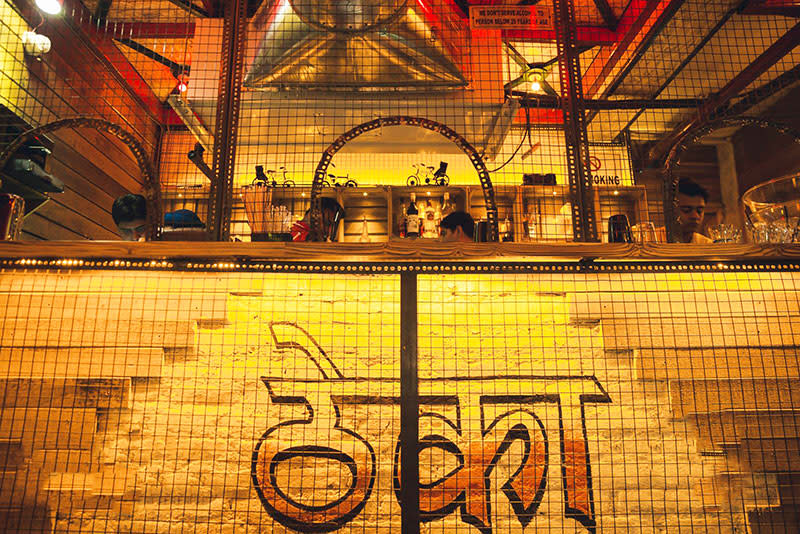 If the name doesn't make it clear enough, then let us tell you that yes, this is a Dharmendra-themed restaurant! With posters of the star covering all the walls, this place is like a temple for all the Bollywood buffs out there. What's most attractive about this place is its super cool and colourful decor. The authentic copper utensils, the vibrant seats and hell - even the name of all their dishes and drinks are all so much fun! Plus, their bar is named 'Theka', now how cool is that?!
Where | Garam Dharam - CP, Murthal & Rajouri Garden
Meal For Two | Rs 1,300
Check Out Their FB Page | https://www.facebook.com/garamdharamdhabadelhi/​​​​​​​
2. Local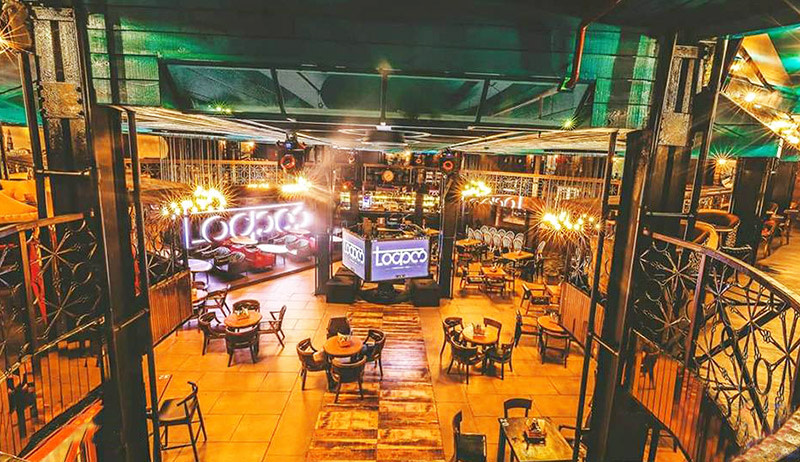 If there is one thing that we can say about this place, it is that this restaurant is just so Dilli! Local is exactly what it sounds like - a huge rustic courtyard kinda place, with colourful seating, huge lights and typical Delhi-style band baaja bhompu speakers placed there as decor - not to mention their cool AF bar. The best part? You can easily get affordable liquor here for those days when you're not in the mood to spend much, or it's the end of the month! Awesome, right?
Where | Local - 11, KG Marg, Atul Grove Road, Vakil Lane, CP
Meal For Two | Rs 1,600
Check Out Their FB Page | https://www.facebook.com/localcpdelhi/
3. Nehru Place Social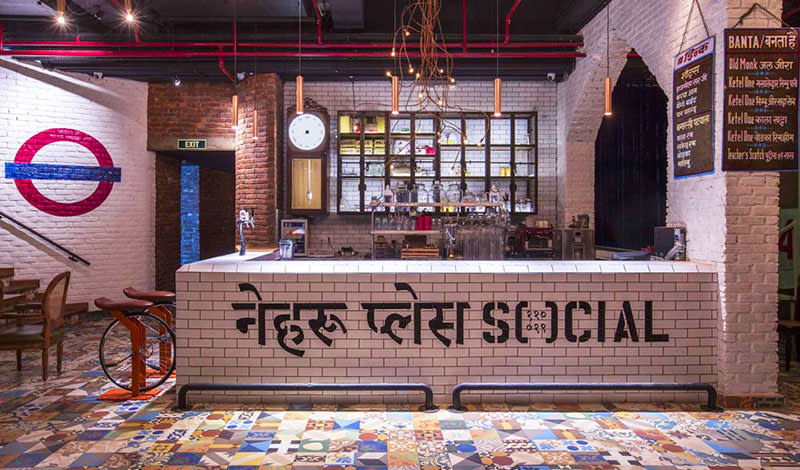 You don't know what funky means until you've been to this place! The vast outdoor and indoor spaces have quite a rustic feel to them. Hanging chairs and tables, ferris-wheel type suspensions and the quirky metro signboards make it a really chill place to hang out. And, with a drink like the Banarasi Patiala, which is a mix of sugarcane juice and various liquors, you will definitely leave this place with a sugary high!
Where | Nehru Place Social - Epicuria, Nehru Place Metro Station
Meal For Two | Rs 1,300
Check Out Their FB Page | https://www.facebook.com/NehruPlaceSocial/
4. Gatsby By BW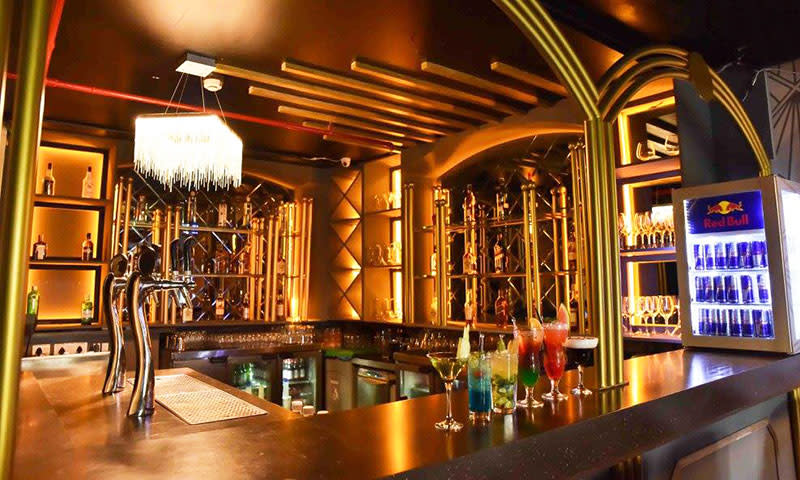 Just the right place to be at when you're in the mood for an elegant night out, a date maybe! It has very subtle decor that soothes the eyes, and the menu is very bit eclectic both in terms of food as well as the bar (which looks super cool). You will come across some crazy cocktails here too! Subtle, classy and definitely rad - this place is just perfect for you and your squad's weekend shenanigans!
Where | Gatsby by BW - N-4, N Block Market, GK I
Meal For Two | Rs 2,100
Check Out Their FB Page | https://www.facebook.com/gatsbybybw/
5. TakaMaka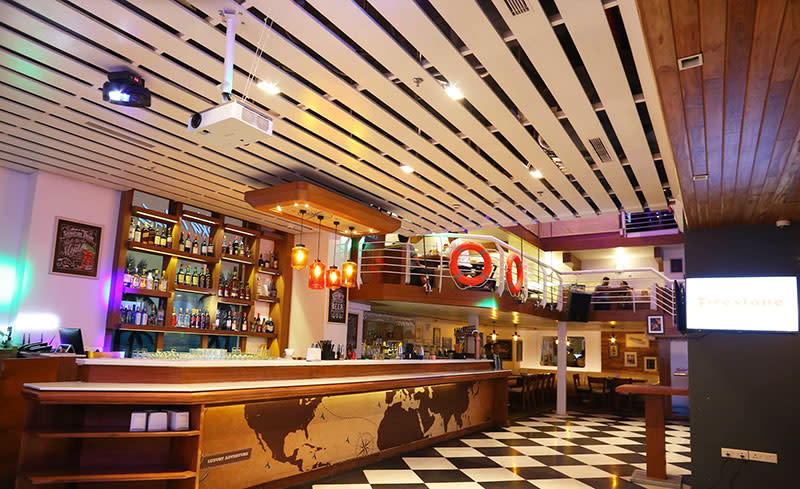 Want the luxury of sipping beer on a cruise without actually going for one? Awesome! Presenting TakaMaka to all of you, this awesome cruise-themed restaurant is just something else!! It actually has a deck-like rooftop seating area, blue decor and legit cruise accessories plus a rad-looking bar to make the experience more real. The food is commendable and they always have some exciting offers going on!
Where | TakaMaka - 1st Floor, The Palm Springs Plaza, Golf Course Road, Gurgaon
Meal For Two | Rs 1,600
Check Out Their FB Page | https://www.facebook.com/Takamakaclub/
6. Monkey Bar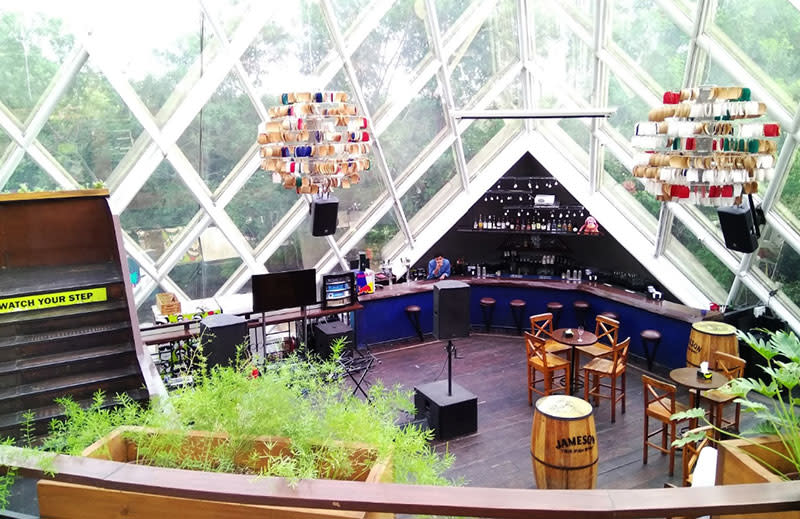 Picture Credits: 柯喬然
This place is our absolute fave, not a doubt about it! What makes it so unique and cool is the angular glass ceiling. Yep, it has a pyramid-like ceiling made of see-through glass. The wooden interiors, funky staircases and seating, and the triangle-shaped bar plus the hep vibe makes this place a favourite watering hole for the IT crowd around the city!
Where | Monkey Bar - 11, Local Shopping Complex, Pocket C 6 & 7, Vasant Kunj
Meal For Two | Rs 1,700
Check Out Their FB Page | https://www.facebook.com/monkeybardel/
7. Junkyard Cafe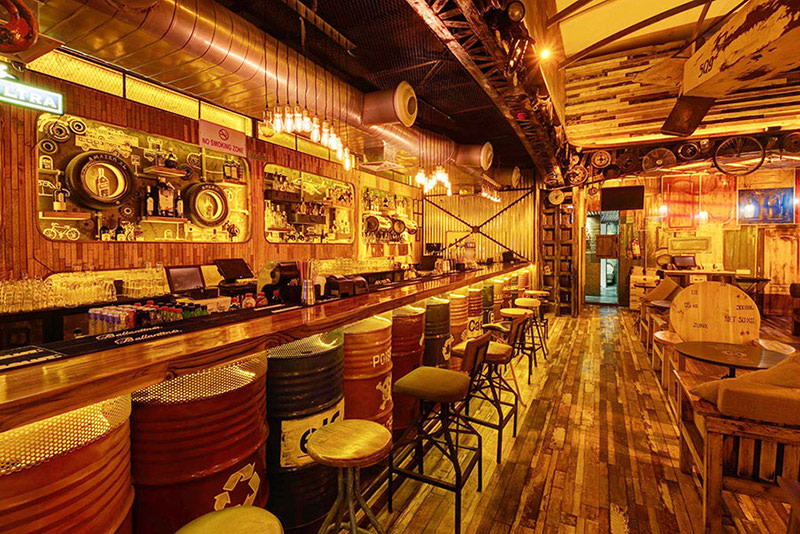 The first thing you realise when you enter this place is that it's so, so grungy! But hey, that's what makes it so cool. It is designed with junk - literally, and has a HUGE A*S airplane hanging from its ceiling. Their Edison Bulb Yard cocktails come in actual bulbs and some of their drinks also come in fake skulls (thank god for the fake thing, though!). You should also try their Stuffed Paneer Tikka and Mustard Fish Tikka while you're there. Come on by!
Where | Junkyard Cafe - CP & Saket
Meal For Two | Rs 1,500
Check Out Their FB Page | https://www.facebook.com/junkyardcafecp/
You have a list now and the weekend is just around the corner! Call up all your friends and make your plans already, guys!