Delhi
12 Perfect Places For Outdoor Dining In Delhi Right Now Keeping Social Distancing In Mind
Now that we're allowed to go out to eat, we are looking forward to spending our evenings or having brunches with our best friends and enjoying a good hearty meal outdoors. Luckily for us, there's no dearth of spacious and airy restaurants in our city, where we can sit outdoors or on the rooftop, and worry little about social distancing. Today, we have for you a list of some of these outdoor restaurants that you must check out the next time you wanna dine out, safely!
1. Hamoni: Cafe By The Greens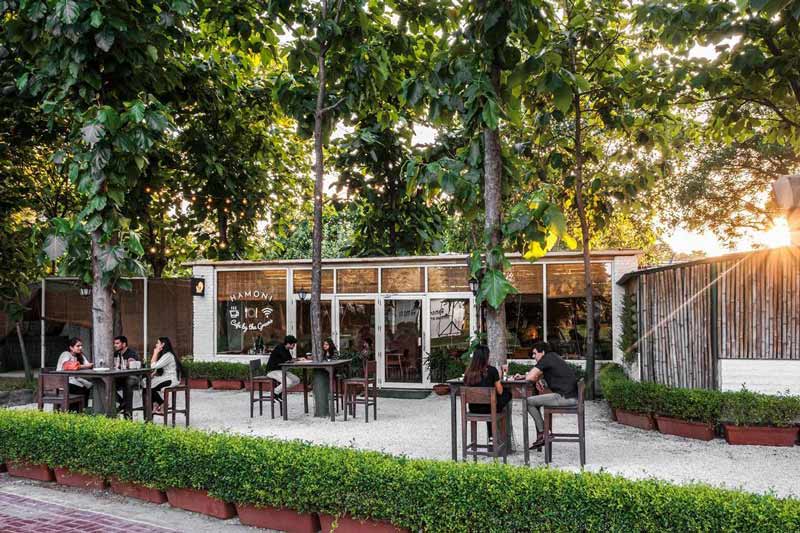 This cutesy cafe in Gurugram is like the ideal place for a peaceful brunch/dinner, surrounded by greenery and tranquillity. Set against the backdrop of teak wood trees and the lawns of Hamoni Golf Camp, its pebbled outdoor seating, cosy coffeehouse music, and fairy lights in the evening make it absolutely breathtaking. You can also enjoy an early breakfast since they have a lot of breakfast options. Other dishes you can try here are - BLT Focaccia Sandwich,  Falafel Wrap, Homemade Cheese Balls, Affogato, and of course, their delish coffees! 
Where | Hamoni: Cafe By The Greens - CK Farm, Carterpuri Village, Sector 23A, Near Sector 23, Gurgaon
Meal For Two | Rs 1,200
Call Them | +91 7290 038 887
Check Out Their FB Page | https://www.facebook.com/hamonicafeggn/
2. Unplugged Courtyard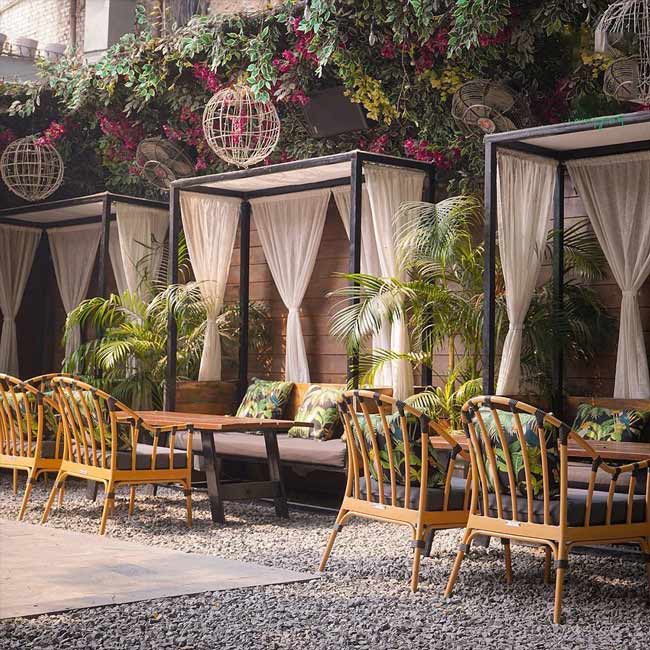 Of course, our fave cafe in CP HAD to be here! Unplugged Courtyard is the perfect place to 'unplug your sorrows and stress, and plug into happiness. This spacious courtyard has beautiful outdoor seating with a Neem tree in the centre making it an awesome and safe place in these times! In the mornings it's a chill place to unwind, which transforms into a hip place with live music in the evening! Now, they also have a branch in Udyog Vihar as well. Some of the awesome sauce dishes on their menu are - Chimichanga Rolls, Teekha Meetha Chicken Wings, Lebanese Mini Mezze Platters, Malawari Fish Tikka, and yep, The Warm Chocolate Brownie With Vanilla Icecream. 
Where | Unplugged Courtyard - CP & Udyog Vihar, Gurgaon
Meal For Two | Rs 1,600
Call Them | +91 9999 396 661
Check Out Their FB Page | https://www.facebook.com/UnpluggedCourtyard
3. Rustique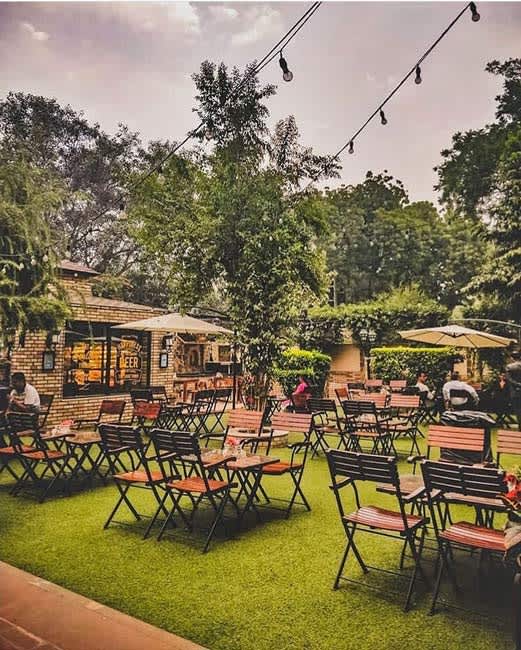 Picture Credits: /just.being.batman
It's a cosy little cafe with rustic interiors, as the name suggests, and offers a nice and warm environment for your evening chit-chat sessions. They serve the best Cappuccino and desserts and their sandwiches are must-tries. There's also a small, pretty garden area around if you wish to take a walk or perhaps click a couple of Insta-worthy selfies!
Where丨Rustique - Essex Farms, 4 Aurobindo Marg, Adchini
Meal For Two丨Rs 1,500
Call Them丨+91 9811 331 122
Check Out Their FB Page丨https://www.facebook.com/rustiquebyessexfarms
4. Cafe Dori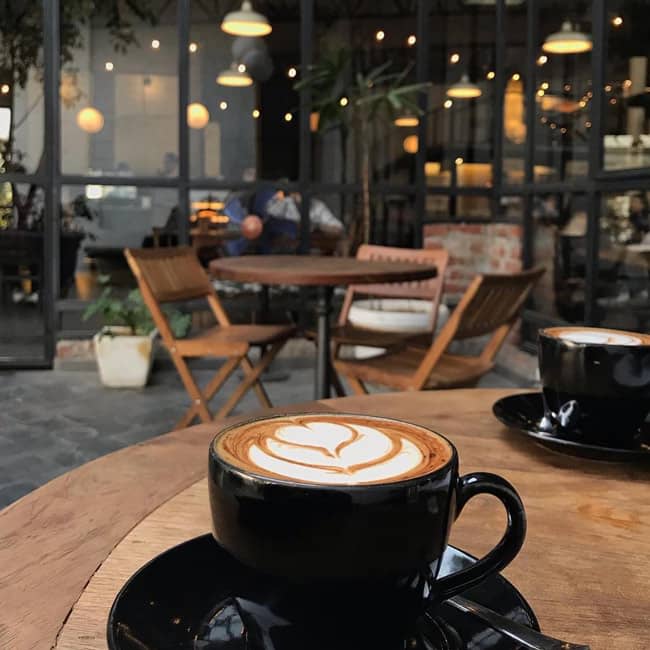 Picture Credits: Divyanshu Narang
Cafe Dori has featured prominently on all our social media feeds because it is just too darn pretty a place! We're happy to report that it is now open for dine-in and the best part is the seating arrangements where tables are placed far apart with contactless menus, service and payment. While here, you totes should try out Croffle, Garlic Fries, Avocado Toast, Coffee Caramel Pannacotta and much, much more. The food here is always on-point, and they have delicious coffee, so pop over stress-free soon!
Where丨Cafe Dori - Chhatarpur & Vasant Vihar
Meal For Two丨Rs 1,600
Call Them丨+91 11 4560 1122, +91 11 2630 2488
Check Out Their FB Page丨https://www.facebook.com/cafedorichhattarpur
5. 7 Old Town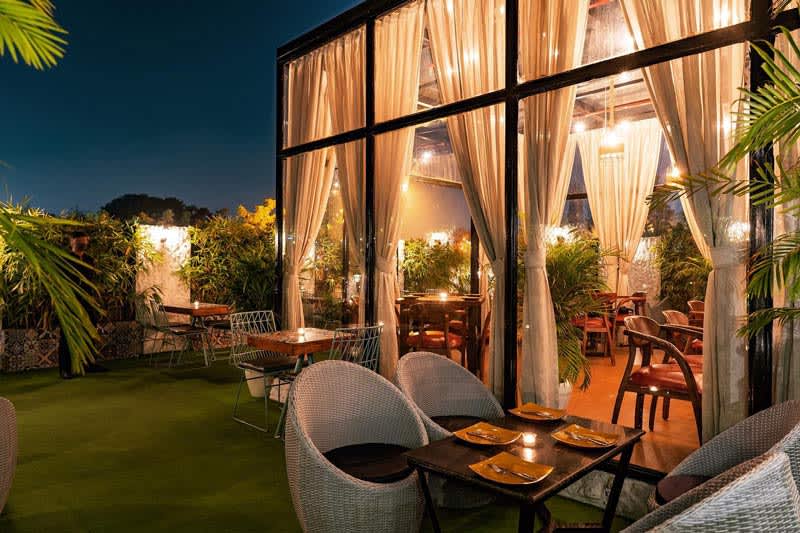 When it comes to super cool rooftop ambiences, 7 Old Town pub and cafe is pretty high up on that list. You can enjoy the epic ambience and live music in the evenings from 7.30 PM onwards, while you enjoy the spacious area with your gang. Some of the mouth-watering dishes you all can try to make your evening all the more better are - Black Dimsums, BBQ Chicken & Grilled Cottage Cheese Spicy Sandwiches, Classic Veg Open Burger, Butter Chicken Pasta, and the Chocolate Truffle Cake. Enjoy!
Where | 7 Old Town - 7, Aurobindo Marg, Near Essex Farms, Hauz Khas
Meal For Two | Rs 1,700
Call Them | +91 9870 333 148
Check Out Their FB Page | https://www.facebook.com/7oldtown/
6. Under The Neem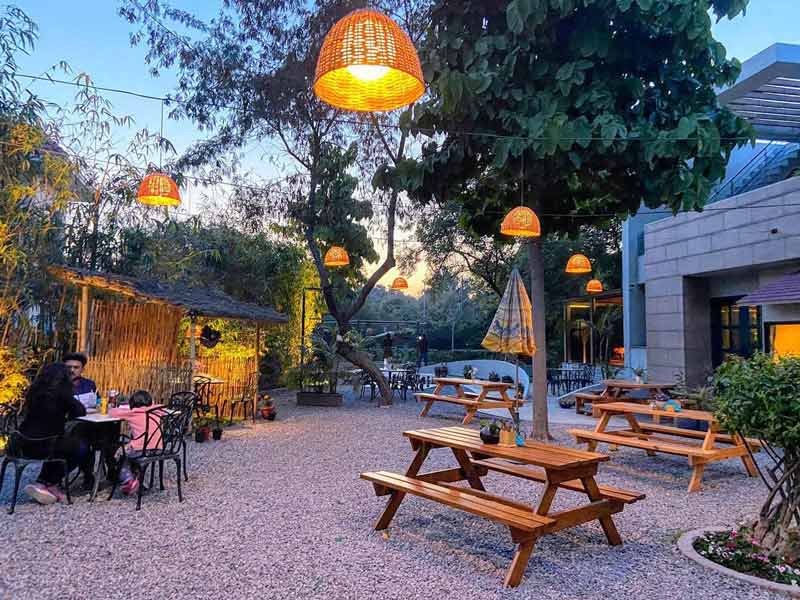 At Under The Neem, they take experiencing dining in nature's lap pretty seriously. They have a unique farm-to-plate concept, where most of their fresh vegetable produce is grown at their chemical-free farm. While you are sitting and enjoying your meal in the spacious and green outdoors, you can enjoy a game of chess or carrom, indulge in knitting, or relax and read. It sounds like the perfect day to take a break and slow down in style! Some of the heavenly dishes you can try here are Up & About Naashta Bowls, Picnic Pleasure Sandwiches, Crisp Waffles Made In Butter, Penne Arrabbiata, while sipping Masala Shikanji/ Cold Coffee!
Where | Under The Neem - Karma Lakelands, NH 8, Sector 80, Near Sector 83, Gurgaon
Meal For Two | Rs 2,100
Call Them | +91 8076 299 737
Check Out Their FB Page | https://www.facebook.com/kchalets
7. Nukkad Cafe & Bar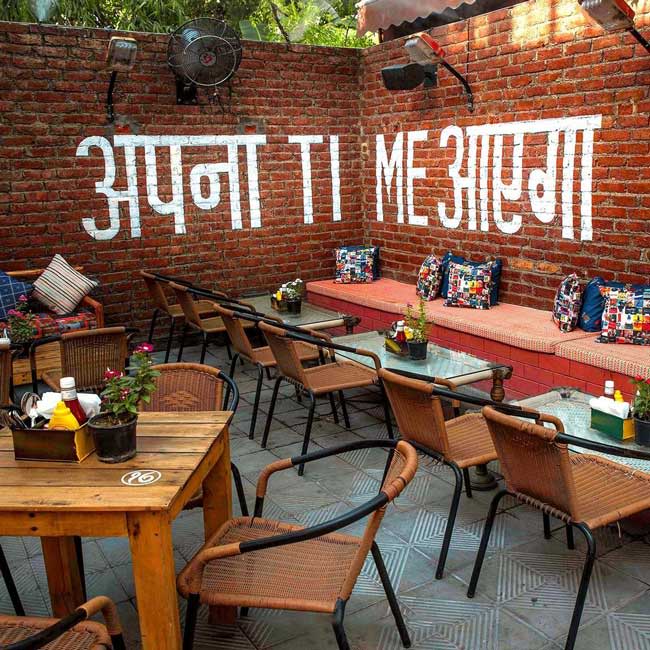 With the right mix of lively and chiller, this is the perfect place to catch up with your friends and family.  Delight your taste buds with appetizers like Mushroom Galouti, Lahsooni Chicken Tikka, and their Cheezy Butter Chicken Croquettes when you land up here. You can also enjoy their live music sessions in their gorgeous (and spacious) outdoor space filled with bright cushions and pretty lights. We'll see you there this weekend, then?!
Where丨Nukkad Cafe & Bar - C-23-24, SDA Market, SDA
Meal For Two丨Rs 1,200
Call Them丨+91 1141 083 311
Check Out Their FB Page丨https://www.facebook.com/nukkadsda 
8. Too Mikkii Tapas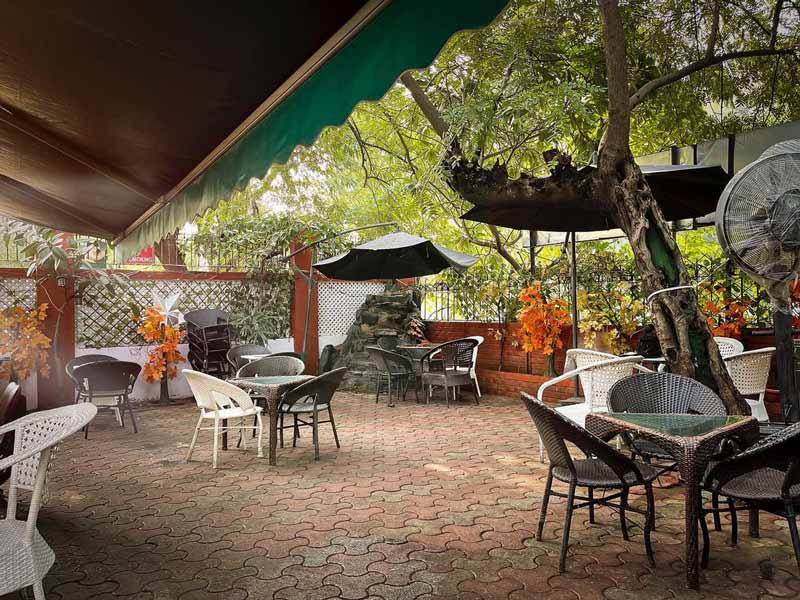 With a diverse menu to choose from, this place is thoroughly unique and one of our absolute favourites when it comes to nibbles with our bestie paired with some gossip. Their Hot Chocolate is too yummy for words, and you should order up their Pancakes, Smoked Chicken Risotto and Peri Peri Fries while you're here for sure!
Where丨Too Mikkii Tapas - Pallavi AWWA Complex, Alexander M Kadakin Marg (Opposite Taj Palace Hotel)
Meal For Two丨Rs 700
Call Them丨+91 9911 067 205, +91 11 4151 6733
Check Out Their FB Page丨https://www.facebook.com/toomikkiitapas.
9. Qla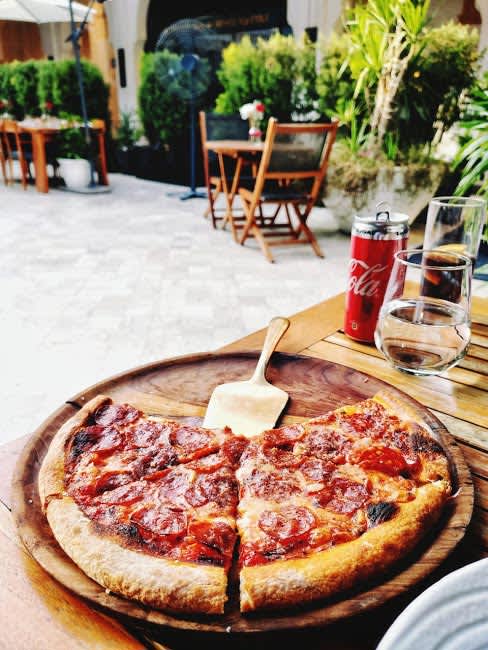 If you wanna go out on a date with BAE, this one's for you. Because nothing screams romance like Qutub Minar, right?! That's where this quaint European place called Qla is located. If you're someone who enjoys fine dining haute cuisine over fine wine, Qla is just for you. And you know what's the cherry on top? It is safe, spacious, and romantic! That's right, this place has romantic indoor-outdoor seating, graceful wooden decor, and an exuberant ambience. Do try out Grilled Prawn Salad, Potato Bravas, Roasted Chicken Breast, Kaffir Lime Cheesecake, Mango Pistachio Velvet, and their rich collection of wines!
Where丨Qla - 4-A, Seven Style Mile, Kalka Das Marg, Near Qutab Minar, Mehrauli
Meal For Two丨Rs 3,000
Call Them丨+91 8527 098 766
Check Out Their FB Page丨https://www.facebook.com/QlaOfficial/ 
10. Romeo Lane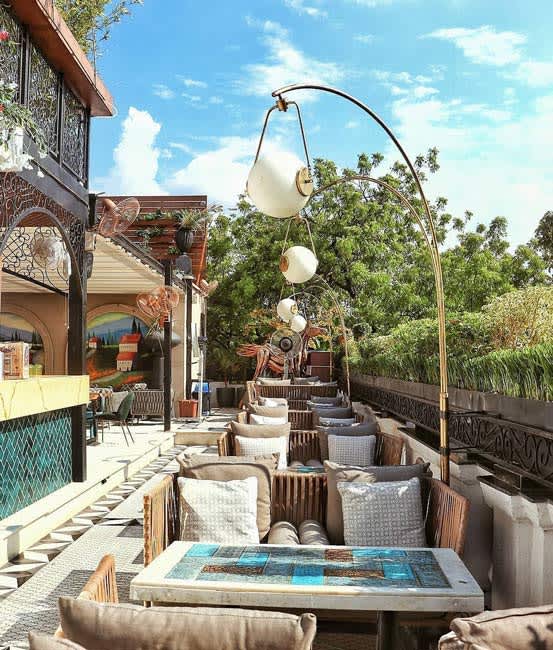 Located In Civil Lines, Romeo Lane is a lavish restaurant with both spacious outdoor and indoor seating. The rooftop ambience over here leaves people totally raving! The themed decor is charming and lovable, all in all, making it the perfect place to enjoy scrumptious meals safely. Some dishes y'all can try here are WTF Wings, Baked Mac N' Cheese, Cleopatra And Mark's Pyramid, Shah Jahan & Mumtaz Ka Taj Mahal, Jodha Akbar, and more!
Where | Romeo Lane - 13, 2nd Floor, Alipur Road, Civil Lines
Meal For Two | Rs 1,900
Call Them | +91 7065 111 172
Check Out Their FB Page | https://www.facebook.com/romeolanedelhi
11. Little Attock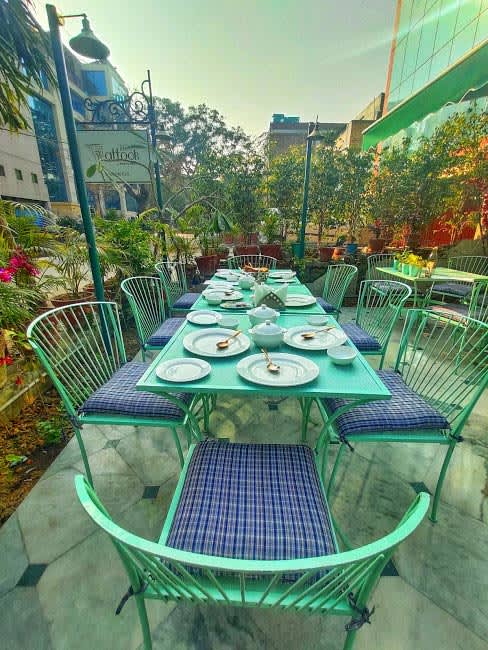 This quaint cafe will definitely give you the feel of sitting someplace in Europe with its relaxed and charming ambience. If you're looking for the perfect combination of good food and music, then this cafe isn't gonna disappoint you with their Gajar Ka Halwa' and Fusion Croquettes being crowd-favourites! Also, in addition to being a spacious and outdoor space, the staff at Little Attock is also vaccinated!
Where丨Little Attock - F 95, Okhla Phase 3
Meal For Two丨Rs 900
Call Them丨+91 9999 211 607, +91 7428 292 892
Check Out Their FB Page丨https://www.facebook.com/littleattock
12. Sevilla -The Claridges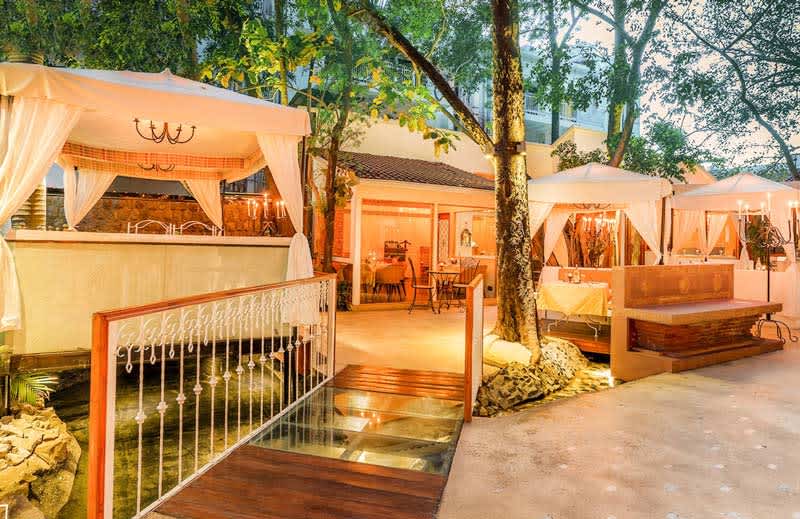 Delhi doesn't have a lot of Spanish restaurants, especially ones as gorgeous as Sevilla. In the evenings, beautifully lit cabanas festooned with fluttering drapes offer intimate dining spaces and we guarantee this place will leave you mesmerized! Try the Braised Pork Belly and Tiramisu for a foodgasm to remember!
Where丨Sevilla - The Claridges - 12, Dr A.P.J. Abdul Kalam Road, Aurangzeb Road
Meal For Two丨Rs 4,500
Call Them丨+91 11 3955 5096
Check Out Their FB Page丨https://www.facebook.com/TheClaridgesHotelsResorts/ 
So drive down to these places and gorge on some mouth-watering dishes and thank us later!