Delhi
7 Perfect Places For Outdoor Dining In Delhi Right Now Keeping Social Distancing In Mind
Disclaimer: Bearing in mind the current health crisis befalling the city and the world at large, we're tweaking our content policy and recommendations. Stay positive, keep hygiene levels up and don't fall prey to panic and misinformation.
Worried about the pandemic situation while dying to go out with your friends and bae for a mouth-watering meal? We've got you covered! Everything is opening up now as Delhi witnesses a better and safer environment, but there is still a fear that persists after all these months when it comes to hygiene and safety precautions being followed by our favourite eateries. But don't worry, 'cause we've handpicked these seven fabulous outdoor joints that are doing their best at keeping the virus at bay - read on and make your plans!
1. Rustique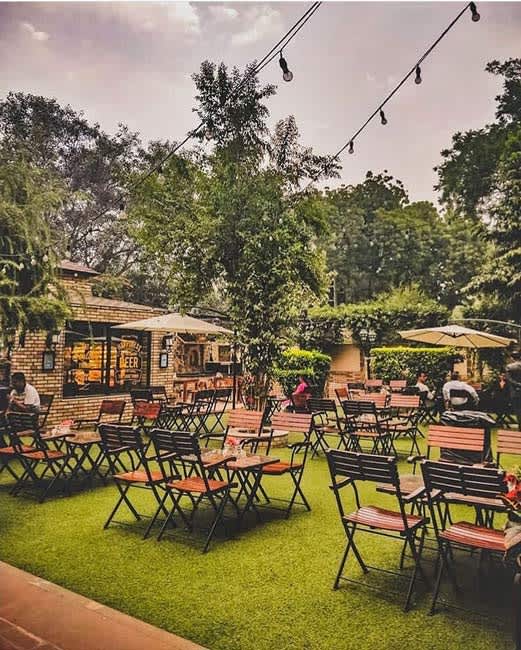 Picture Credits: delhimornings
It's a cosy little cafe with rustic interiors, as the name suggests, and offers a nice and warm environment for your evening chit-chat sessions. They serve the best Cappuccino and desserts and their sandwiches are must-tries. There's also a small, pretty garden area around if you wish to take a walk or perhaps click a couple of Insta-worthy selfies!
Where丨Rustique - Essex Farms, 4 Aurobindo Marg, Adchini
Timings丨10 AM - 11 PM
Meal For Two丨Rs 800 
Call Them丨+91 9811 331 122
Check Out Their FB Page丨https://www.facebook.com/rustiquebyessexfarms
2. Cafe Dori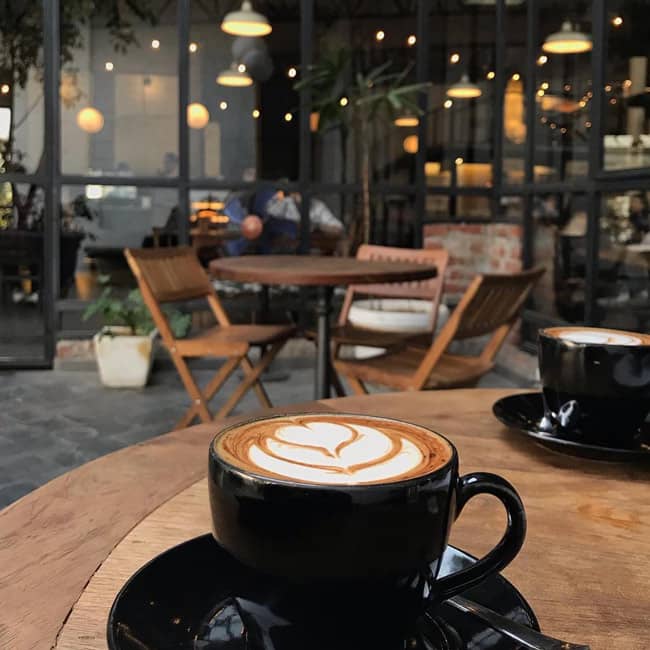 Picture Credits: Divyanshu Narang
Cafe Dori has featured prominently on all our social media feeds because it is just too darn pretty a place! We're happy to report that it is now open for dine-in and the best part is the seating arrangements where tables are placed far apart with contactless menus, service and payment. The food here is always on-point, and they have delicious coffee, so pop over stress-free soon!
Where丨Cafe Dori - Chhatarpur & Vasant Vihar
Timings丨10 AM - 7:30 PM
Meal For Two丨Rs 1,600
Call Them丨+91 11 4560 1122, +91 11 2630 2488
Check Out Their FB Page丨https://www.facebook.com/cafedorichhattarpur
3. Nukkad Cafe & Bar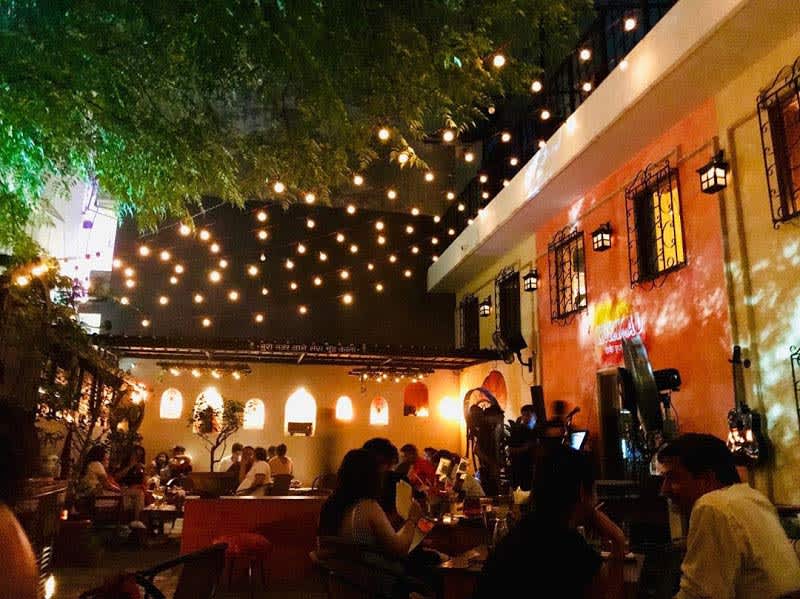 The right mix of lively and chiller, this is the perfect place to catch up with your friends and family.  Delight your taste buds with appetizers like Mushroom Galouti, Lahsooni Chicken Tikka, and their Cheezy Butter Chicken Croquettes when you land up here. You can also enjoy their live music sessions in their gorgeous (and spacious) outdoor space filled with bright cushions and pretty lights. We'll see you there this weekend, then?!
Where丨Nukkad Cafe & Bar - C-23-24, SDA Market, SDA
Timings丨11:30 - 12:30 AM
Meal For Two丨Rs 1,400
Call Them丨+91 1141 083 311
Check Out Their FB Page丨https://www.facebook.com/nukkadsda
4. Too Mikkii Tapas 
With a diverse menu to choose from, this place is thoroughly unique and one of our absolute favourites when it comes to nibbles with our bestie paired with some gossip. Their Hot Chocolate is too yummy for words, and you should order up their Pancakes, Smoked Chicken Risotto and Peri Peri Fries while you're here for sure!
Where丨Too Mikkii Tapas - Pallavi AWWA Complex, Alexander M Kadakin Marg (Opposite Taj Palace Hotel)
Timings丨11 AM - 12 Midnight
Meal For Two丨Rs 700
Call Them丨+91 9911 067 205, +91 11 4151 6733
Check Out Their FB Page丨https://www.facebook.com/toomikkiitapas.
5. Qla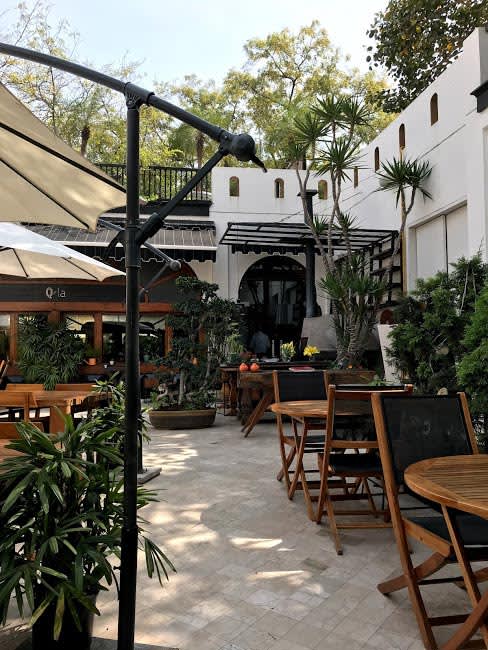 Picture Credits: Ghadeer AI-Ajmi
Qla deserves a mention for its stunning view of the Qutub Minar and an impressive menu for all the food snobs out there - their carefully curated list including European, Italian and Spanish cuisines will blow your mind! The Risotto and Crème Brûlée are popular choices here, so popover with bae for a decadent meal here super soon!
Where丨Qla - 4-A, Seven Style Mile, Kalka Das Marg, Near Qutab Minar, Mehrauli
Timings丨12 Noon - 12 Midnight
Meal For Two丨Rs 3,000
Call Them丨+91 8527 098 766
Check Out Their FB Page丨https://www.facebook.com/QlaOfficial/?ref=page_internal
6. Little Attock
Picture Credits: Priyansh Sarabhai
This quaint cafe will definitely give you the feels of sitting someplace in Europe with its relaxed and charming ambience. If you're looking for the perfect combination of good food and music, then this cafe isn't gonna disappoint you with their Gajar Ka Halwa' and Fusion Croquettes being crowd-favourites!
Where丨Little Attock - F 95, Okhla Phase 3
Timings丨11 AM - 9 PM
Meal For Two丨Rs 900
Call Them丨+91 9999 211 607, +91 7428 292 892
Check Out Their FB Page丨https://www.facebook.com/littleattock
7. Sevilla -The Claridges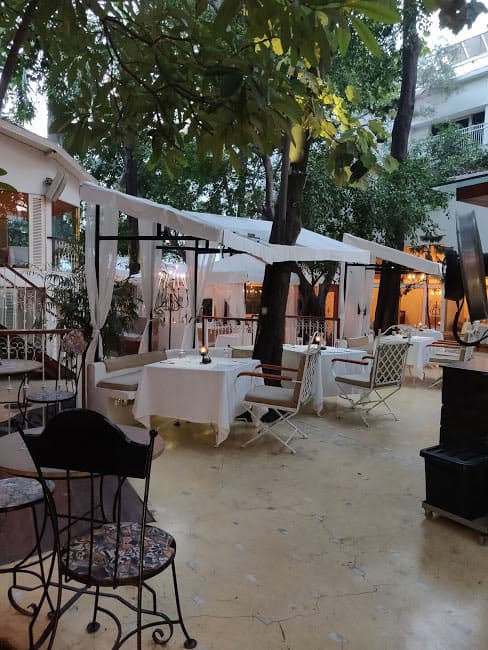 Picture Credits: Pulkit Ahuja
Delhi doesn't have a lot of Spanish restaurants, especially ones as gorgeous as Sevilla. In the evenings, beautifully lit cabanas festooned with fluttering drapes offer intimate dining spaces and we guarantee this place will leave you mesmerized! Try the Braised Pork Belly and Tiramisu for a foodgasm to remember!
Where丨Sevilla -The Claridges -12, Dr A.P.J. Abdul Kalam Road, Aurangzeb Road
Timings丨7 - 11:45 PM
Meal For Two丨Rs  4,500
Call Them丨+91 11 3955 5096
Check Out Their FB Page丨https://www.facebook.com/TheClaridgesHotelsResorts/
So drive down to these places and gorge on some mouth-watering dishes and thank us later!