Delhi
7 Offbeat Pizzas To Gorge On With Your Foodie Gang For A Memorable Hogging Sesh!
Are you bored of those boring pizzas and wanna try something new and offbeat? Well, then call up your squad and hop over to these places in Delhi to take your tastebuds on an adventurous roller coaster ride! These eateries have earned a reputation for dishing out the quirkiest and the tastiest pizzas that are simply irresistible and cheesy good and we're here to give a low down of some of the best pizzas to gorge on.
1. Spider Pizza At CAFE HUT-K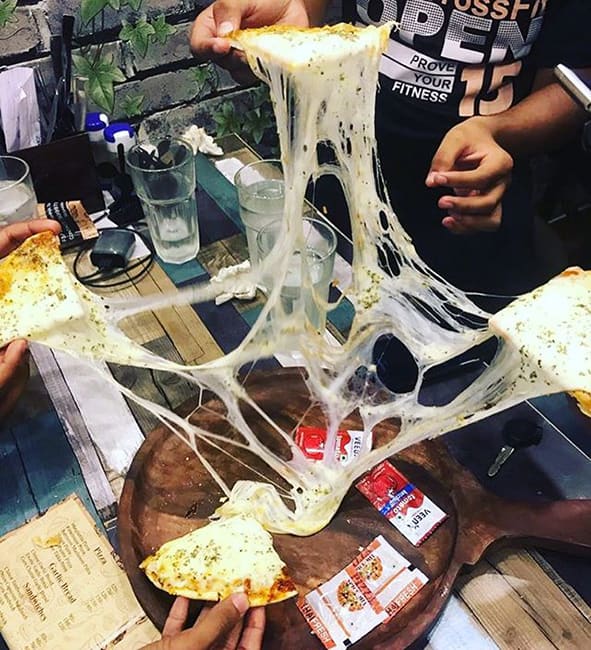 Picture Credits: delhi_ke_foodie
This scrumptious Margherita Pizza, better known as Spider Pizza at our fave go-to cafe, CAFE HUT-K in Krishna Nagar is loaded with mind-boggling cheesy goodness. This dish is so loaded with cheese that when you pull apart the slices, it looks like a legit spider cobweb. Besides, while you're there, you have to try their Watermelon Mojito, Chocolate Kebabs & Kit Kat Shake to wash the savoury dishes down with. Just grab your foodie buds and scamper over to this place right away!
Where | CAFE HUT-K - F-3/10, Krishna Nagar
Price | Rs 150
Timings | 12:30 - 11 PM
Call Them | +91 9999 730 372
Check Out Their FB Page | https://www.facebook.com/CAFE-HUT-K-215232232397499/
2. Black Charcoal Pizza @ Russmunch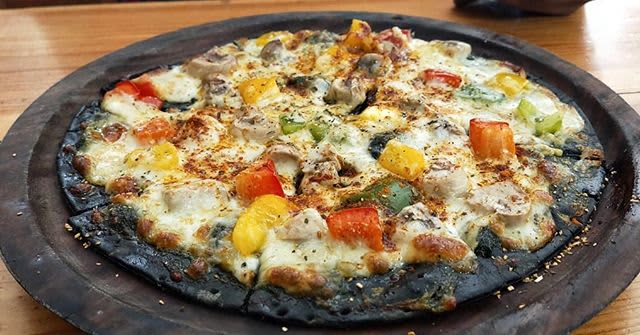 Picture Credits: miniimpact
We've all had off the wall charcoal ice creams and absolutely drooled over them, right? Well, now's the time to evolve your taste buds by trying this black charcoal pizza which is quirky AF! This super cheesy pizza with a black charcoal crust is topped with fresh veggies like bell peppers, onions, mushrooms, broccoli and more! Plus, you also gotta try their Bombay Sandwich, Falafel Wrap and other such quirky stuff. Refreshing drinks like their Watermelon Mojito and Kiwi Mojito amongst others ought to be in your list. Hop over with bae today and spend some fun time stuffing your tummies with this oddball Black Charcoal Pizza!
Where | Russmunch - 8, Chanderlok Enclave, Pitampura
Price | Rs 200
Timings | 10 AM - 11 PM
Call Them | +91 11 4508 4508 & +91 9811 753 722
Check Out Their FB Page | https://www.facebook.com/rusmunch/
3. Chur Chur Pizza At HotMess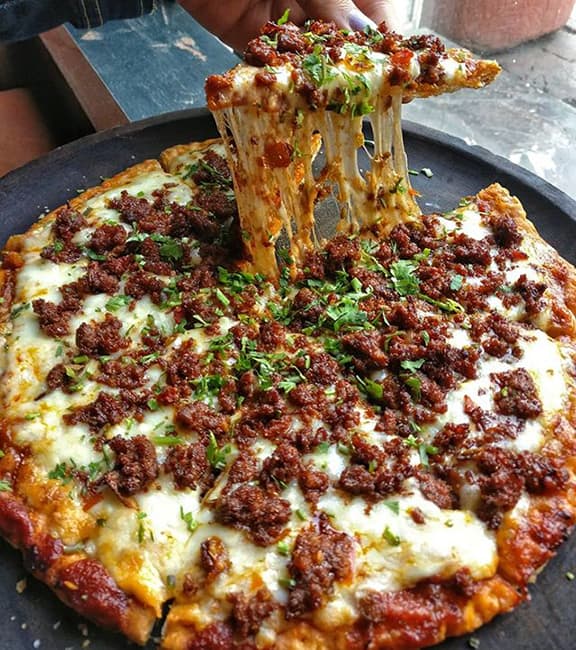 Picture Credits: thefooddestination
Food junkies, come let's add some desi tadka to these so called vilayati pizzas with this little gem in the heart of the city called HotMess! So, these guys, here at HotMess do this unique pizza that has changed the definition of pizza for us all! It's a pizza with a super crunchy base, with a heavy layer of creamy and tasty cheese. Best part? It comes in diverse varieties such as Spicy Cheez, Desi Cheez, Amritsari Cheez and tons more! Quirky dishes like Cocktail Sauce Pasta, Tulsi Paneer Tikka and a variety of paninis are some of the others from the menu that you gotta binge on!
Where | HotMess -  M-11, Middle Circle, CP
Price | Rs 330 Onwards
Timings | 11:30 - 12:30 AM
Call Them | +91 8743 061 313
Skim Through Their Insta Feed | https://www.instagram.com/hotmessdelhi/
4. Volcano Pizza At PhoneBooth Reloaded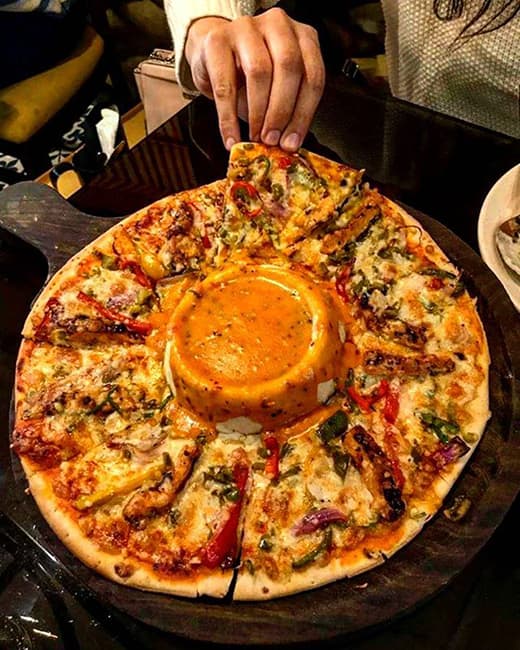 Volcano Pizza is a boon for all the cheese lovers out there and we aren't exaggerating. PhoneBooth Reloaded located in the student hub of the city, Hudson Lane, does this pizza that brims with oodles of smooth and creamy cheese which melts in your mouth. Folks, the Volcano Pizza holds true to its name by carrying a pool of gooey cheese right in the centre of the crust that is just heavenly! It's a legit volcano of cheesy goodness! So, scamper over to this place and demolish this oh so yummy pizza with your foodie troop!
Where | PhoneBooth Reloaded - G-14 B, Hudson Lane, Vijay Nagar
Price | Rs 299 (Veg) & Rs 325 (Non Veg)
Timings | 11 AM - 11 PM
Call Them | +91 9555 360 360
Check Out Their FB Page |  https://www.facebook.com/PhoneBoothReloaded
5. Cheeseball Loaded Star Shaped Pizza @ TFIF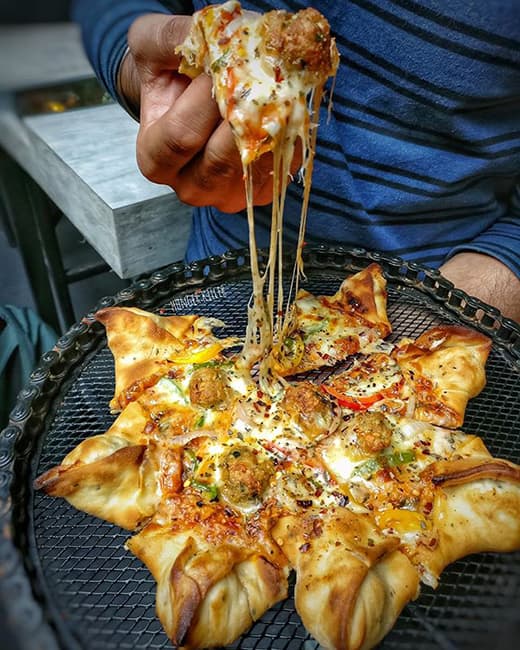 Picture Credits: hunger_killer_
This cheese and meatballs loaded star-shaped pizza called The Special Meatball Pizza is legit the best thing we tried! TFIF located in our fave shopping destination, Rajouri Garden does this lip-smacking and totes amazing pizza loaded with an abundance of cheese and meatballs! This pizza is wrapped up in the corners as little surprises for you! It sure looks like heaven and we can't wait to try it! Peeps, go and attack this irresistible quirky pizza and don't forget to click dozens of pictures for your Insta feed!
Where | TFIF (The Future Is Female) - A-6, Vishal Enclave, Rajouri Garden
Price | Rs 359
Timings | 12 Noon - 12 Midnight
Call Them | +91 8797 775 000
Check Out Their FB Page | https://www.facebook.com/TFIFDELHI
6. Fire Pizza @ Paparizza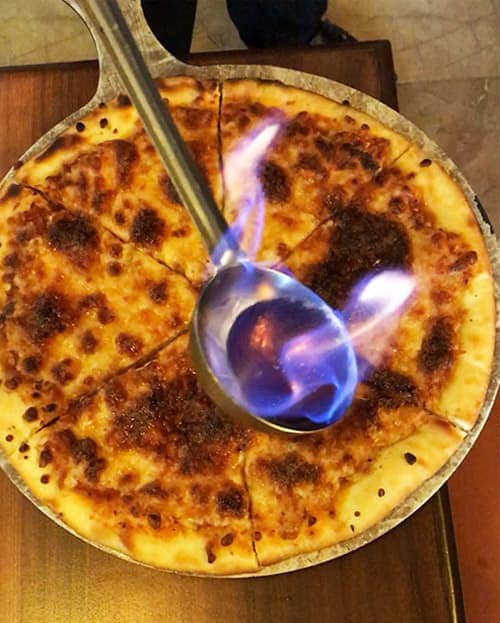 A pizza literally on fire. Who wouldn't wanna have a piece of that? This offbeat Fire Pizza is doused with heated alcohol, giving it a smokey rich flavour, with a tinge of boozy goodness! While you're there get yourself to try their utterly yummy burgers like Paneer Makhni & Butter Chicken and overload Mac & Cheese which is simply divine! Also, these guys deliver till 4 AM so you can now satiate your hunger pangs even at odd hours. 
Where | Paparizza - 2520, Hudson Lane, GTB Nagar
Price | Rs 500 Onwards
Timings | 11:30 AM - 12 Midnight
Call Them | +91 8178 585 024
Check Out Their FB Page | https://www.facebook.com/paparizzapizza/
7. Heart Shaped Couple Pizza @ Cafe99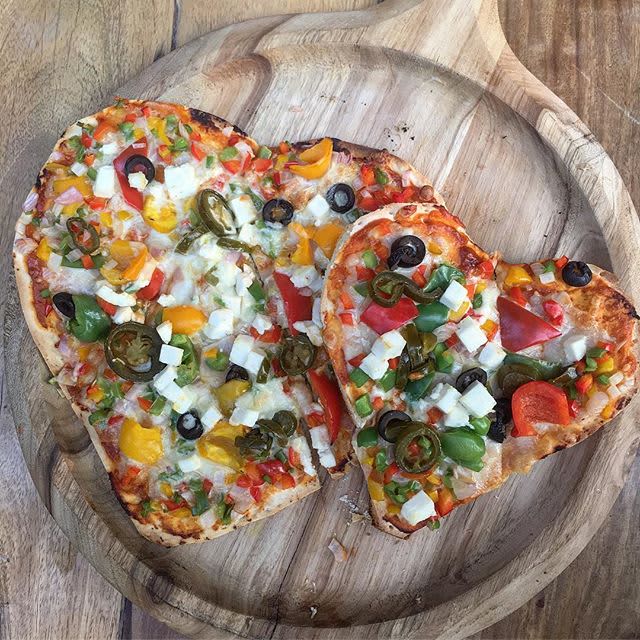 This one's for all the couples, especially, if you're in the early lovey-dovey phase of your relationship. This heart-shaped couple's pizza is a sure thing to try with your bae! And if you're wondering what on earth is a couple's pizza? It's basically a combo of two pizzas that are put together as hearts. Not cheesy enough for you? Well, oodles of cheese on the crust would suffice for that so don't you worry! They also whip up some other amazeballs dishes that every foodie ought to try like Pineapple Fruit Insider, Bombay Platter with typical Mumbai street food, Changezi Burger to name a few!
Where | Cafe99 - Indirapuram & Noida
Price | Rs 249
Call Them | +91 9582 337 790 & +91 9310 080 834
Timings | 11 AM - 11 PM
Check Out Their FB Page | https://www.facebook.com/Cafe99-2102685893160799/
Head over to these places and take a bite of the tastiest and the quirkiest pizzas in the town!