Delhi
6 Magical Reasons To Head To This Potterhead Haven Called The Hogwarts Kafe In Delhi
Disclaimer: Bearing in mind the current restrictions in the city and the world at large, we're tweaking our content policy and recommendations to focus more on staying indoors and exploring the digital world and all its wondrous offerings! Stay positive, keep hygiene levels up and don't fall prey to panic and misinformation.
Welcome home, Potterheads! Don't you miss those enchanted ceilings and moving staircases? We hope you do because we've hunted down a place for you that's closer to Hogwarts than the charging point next to your beds. Maybe we'll never see Nargles and there is a very high chance that Buckbeak won't let us pet him but the sustainable truth is that Hogwarts will always be there to welcome us back home and it did, right in the middle of Ashok Vihar, Phase II.
The Hogwarts Kafe is one of the most beautiful cafes you can ever come across on this magic blue ball. Perhaps we'll never board Hogwarts Express again and Platform Nine And Three Quarters will always be closed for us. But this cafe brings Hogwarts back to life. We've shortlisted six every-flavoured reasons why should find yourself at Hogwarts. Come, check them out!
1. The Yummy Food
Butterbeer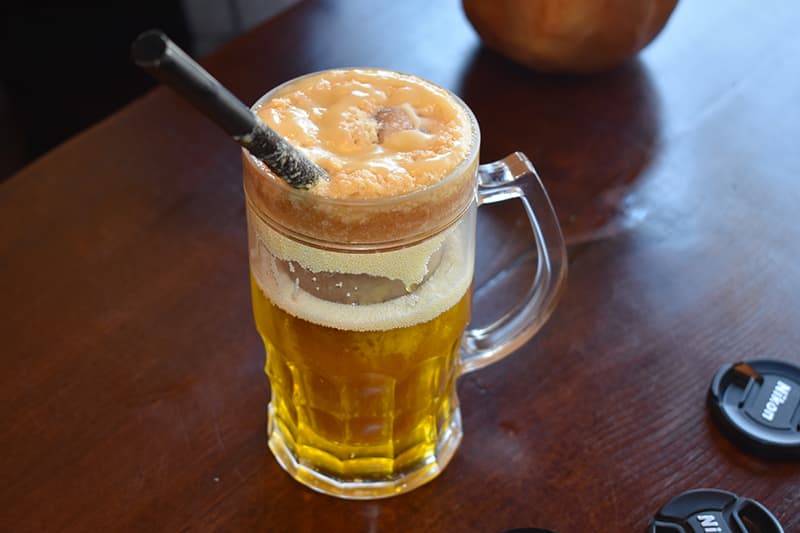 Bubbles? Check. Fizz? Check. Memories? Check. This butterbeer is straight out of the book. Let us warn you; it's not for the faint of heart. The drink is loaded with syrup and the piercing fizz that will make you wince in the joy of carbo bubbles hitting the back of your throat like cold spice. The drink is an essential brew of ginger syrup and vanilla flavouring with a lot, and we mean A LOT of creamy foam. It wasn't your average butterbeer with a casual blend of one or two syrups and soda. It was perfectly sweet and oozed of vanilla and ginger with the balance of soda. This drink was a sheer effort to provide a taste of the Three Broomsticks!
Price | Rs 225
Spider Web Nachos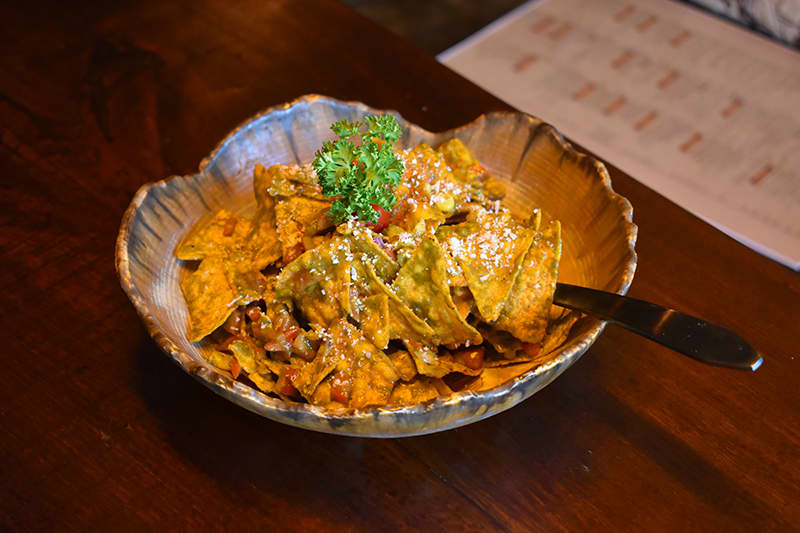 The name can be a little deceptive at first. This dish was a platter of crunchy Doritos coated in flavour. The tangy tamarind sauce lathered up every inch of the snack. Additionally, it was loaded with sauteed vegetables you might not like otherwise. The cute red tomato was the cherry on the top, literally. The nachos were crunchy and a mouthful of different sensations. A lot was happening in our mouths with each bite and we loved every bit while we were there!
Price | Rs 205
Snitch Ball With Keema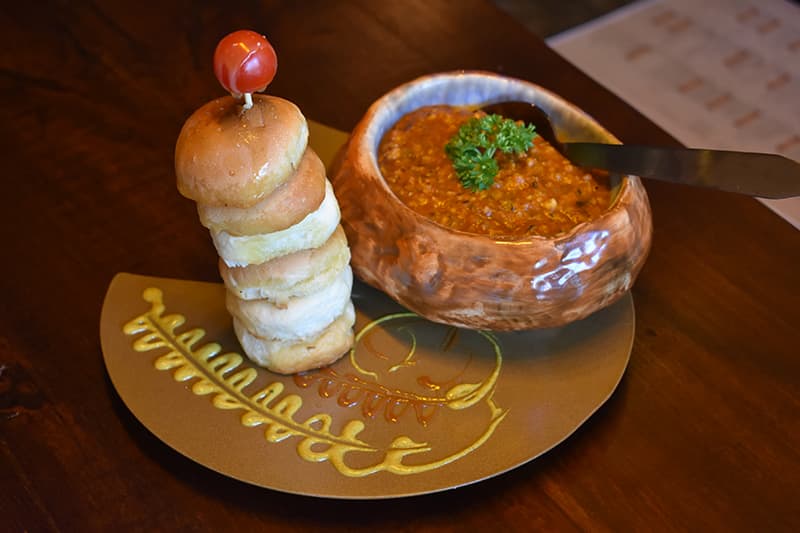 This dish was a bowl full of keema bhaji and small buttery buns of white bread with a cherry on the top. No, we mean it. The cherry tomato was cute for the presentation the bhaji oozed of spices & flavour and burnt an indelible memory in our minds.  And boy, was it spicy! The small granules of meat were an occasional delight to our bites. It tasted fresh and was a plethora of different sensations!
Price | Rs 345
2. The LIT Food Presentation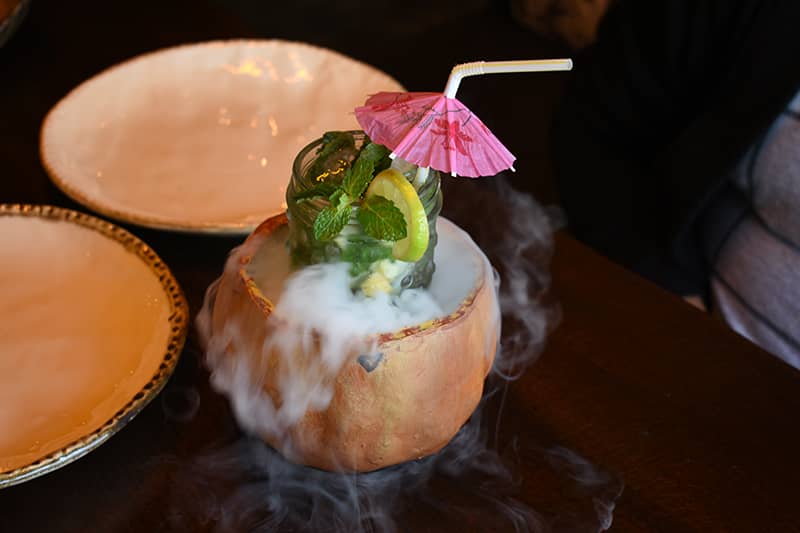 It's one thing to have presentable dishes & quirky serving bowls but completely another thing to be at The Hogwarts Kafe. This place is going to be a delight for those who are awed by the funky presentation of food items they're about to consume. We mean jaw-dropping, eye-popping, internal-screaming, giggle-squealing presentation that'll blow your mind. To begin with, our Butterbeer was brought to us in a cupboard that looked like a bubbling closet of witchcraft. It opened and the jug unveiled itself once the fruity smoke had settled.
It doesn't end there because the keema bowl was served in a pot that resembled a cauldron straight from the wizarding world. The Butterbeer was served in a bowl with the brim already filled with a coloured liquid to give the impression that the beer is still loaded in the huge mug full of vanilla butterbeer. As we said, the presentation is one thing and being at Hogwarts is absolutely another!
3. The Harry Potter-Themed Decor
When we said this place brings Hogwarts to life; we meant it. You name it and they have it. The first impression is the welcoming ghoul outside the cafe. It appears as though they've manipulated their chimney and the smoke comes out of the mouth of a ghoul. We're not complaining because modern problems call for modern solutions. You enter the cafe through the beautiful door of the Chamber Of Secrets and Dobby and Kreacher are there to welcome you. Right next to it is a statue of white-cloaked being that'll remind you why you should never visit the third floor at Hogwarts. Do you want the Dementors, the ones that prey on happiness? They have it, perhaps they're at home here because they've had infinite happiness to feed on!  Do you want Quidditch? They have decor displaying the hoops that made Cedric such a heartthrob. Do you want banners? They've got them all. The insides of the cafe are adorned with murals of Harry Potter characters and they're mesmerizing!
4. The Sorting Hat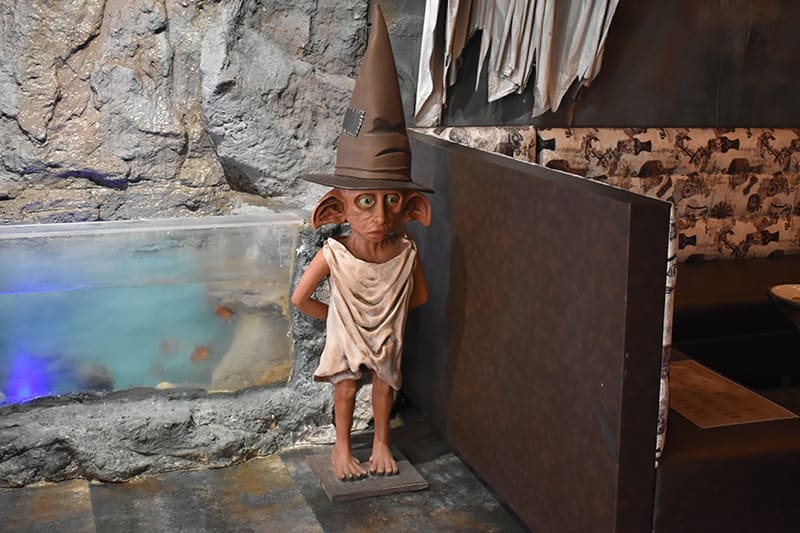 You don't need to worry about facing the wrath of the Sorting Hat here because this sweet, inanimate prop doesn't judge you and fun to wear. The leather gives it an authentic feel. The Hat is probably one of the best things you can enjoy here for it's sturdy and cute to put on!
5. The Robes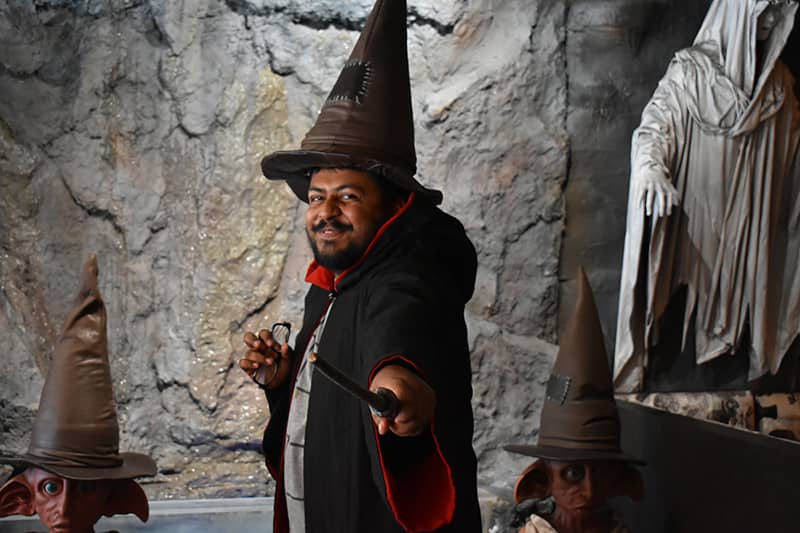 Yes. We did it. We wore the robes and we were flying. We flew to our dreamland and enjoyed the ride. The beautiful robes were kept there for everyone to enjoy and be at Hogwarts for once. The large hood gives it a grim and dark look but hey, as Ronald said, "What's life without a few dragons?"!
6. The Wands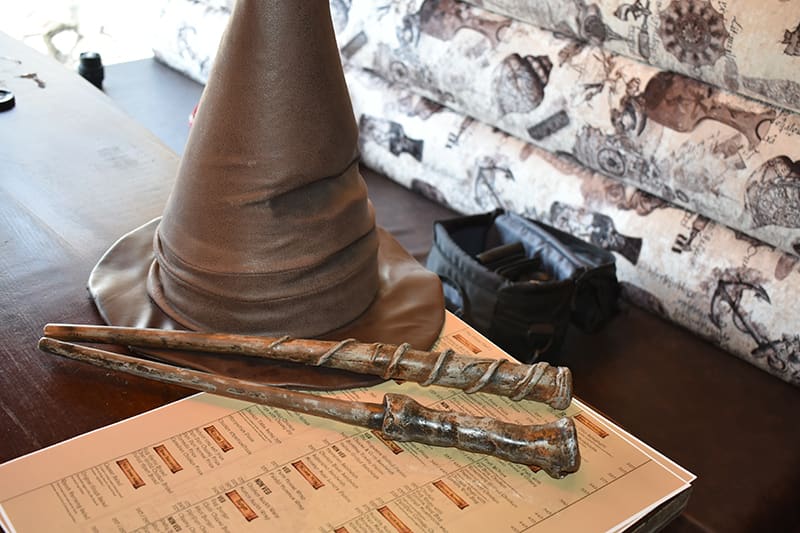 You might wish to attend the School of Witchcraft and Wizardry, but you need wands. Not just any wands. You want the ones from Ollivander's. These wands are a beautiful and peppy wooden prop to add to the overall magical experience. You won't be able to stop swishing and flicking once you get your hands on them fosho!
Hogwarts might be challenging to find due to all the enchantments, but The Hogwarts Kafe is as close it can be for you. The ambience is welcoming and the decor will make you stay longer than you'd imagine. The food is a distinct delight and the overall experience will leave you wanting more of the magical world of Harry Potter!
Where | The Hogwarts Kafe - C2/19, Ashok Vihar II
Timings | 11 AM - 11 PM
Call Them | ‭+91 9899 977 394‬
Check Out Their FB Page | https://www.facebook.com/Hogwartskafe/
Scroll Through Some More LIT Pics Of The Cafe!