Delhi
10 Legendary Monuments In Delhi That Are Basically The Mecca For Perf Photoshoots
Saddi Dilli is not just famous for its nightlife & ah-mazing food but also the rich heritage we share as a city. But of course, the common interest that unites us all is an abiding love for photoshoots, ain't it, peeps? And to strengthen this mutual bond, even more, we've listed the most stunning monuments spread over our beautiful capital city for your Insta-worthy picture needs! Take a good look at these gorgeous AF places & plan your next photoshoot location!
1. Safdarjung Tomb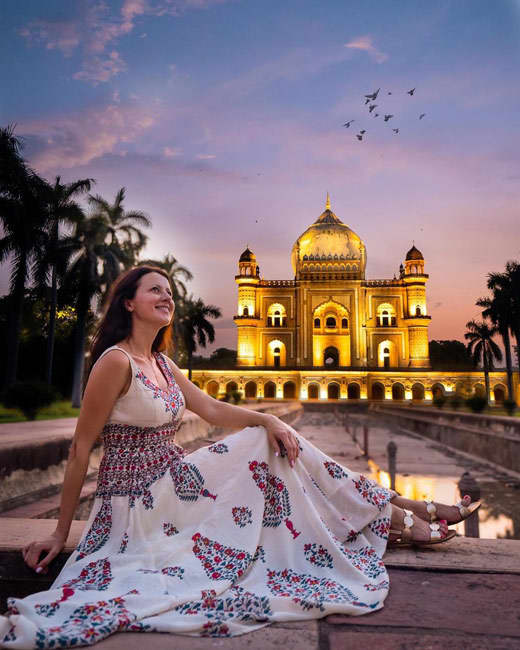 Picture Credits: lisa_travelstories
This grand Mughal mausoleum is all things royal not just by looks but also in terms of the vibe. The soothing, calm environment of the place is just a totes crowd-pleaser.  The photos are gonna be one of a kind fosho, bringing loads of colours, sandstone & marble to the aesthetics of your pictures. Basically, what we're saying is that this one's a must-visit to up your photoshoot game!
Where | Safdarjung Tomb - Airforce Golf Course, Delhi Race Club
Timings | 7 AM - 5 PM
Entry | Rs 25 
2. Mehrauli Archaeological Park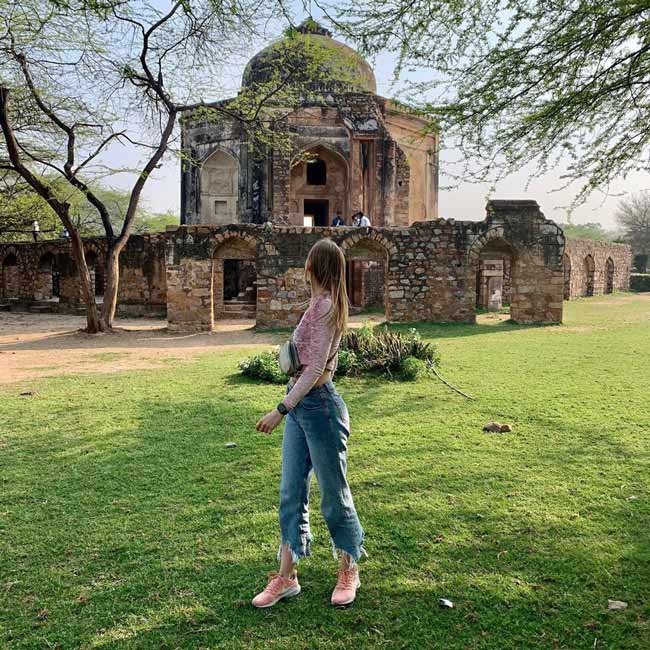 Picture Credits: katerin_borodina
Master the art of photography at this beaut archaeological area with over 100 historically significant monuments! You'll defo be able to look at nature at its finest & most organic form, with loads of animals and birds around to keep you company. The parks are well-maintained & look exquisite when captured with a camera. Head over to this wonderful place to fill up your camera rolls NOW!
Where | Mehrauli Archaeological Park - Anuvrat Marg, Opposite Qutub Minar Metro Station, Mehrauli
Timings | 5 AM - 6:30 PM 
Entry | Free
3. Vishwa Shanti Stupa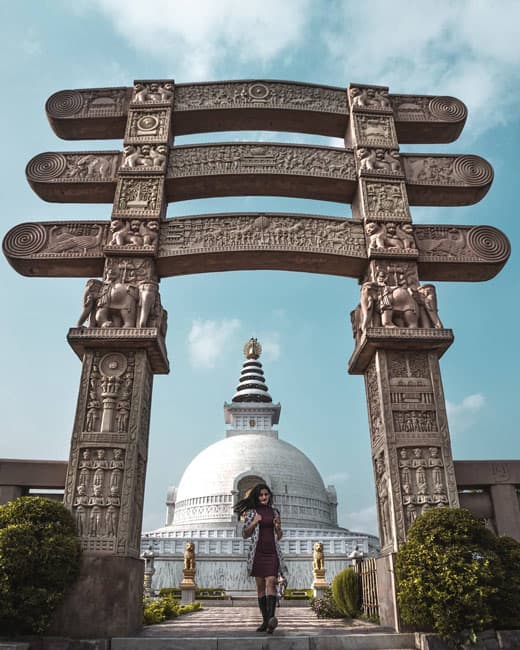 Picture Credits: aniketbhandari_
The magnificent dome in white marble gives off that aura of tranquillity, which translates so beautifully through pictures. Imagine visiting this gem of a place & being able to capture its essence, matched with your stylish outfit. What'll unfold is a one in a million kind of photo that you'll cherish forever. Visit this absolutely heavenly Buddhist temple to get countless memorable pictures!
Where | Vishwa Shanti Stupa -  Indraprastha Park, Ring Road, Salim Garh Fort
Timings | 7 AM - 7 PM
Entry | Free
4. Humayun's Tomb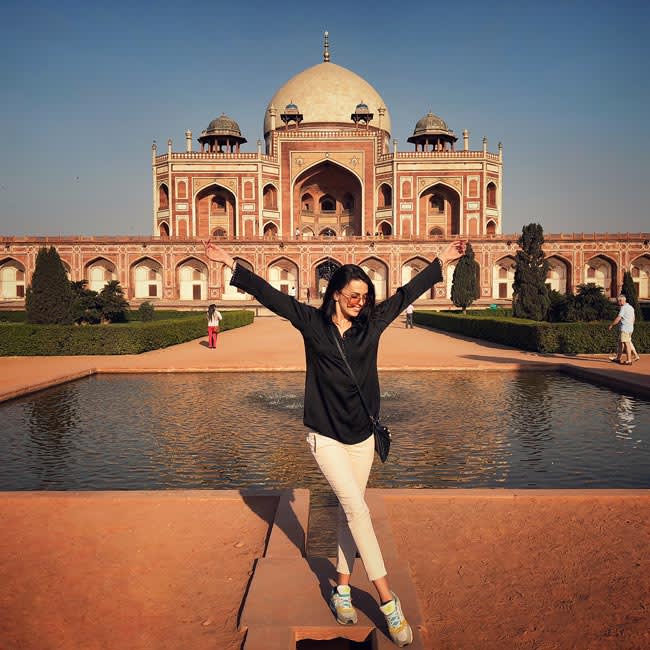 Picture Credits: armia_sveta
This UNESCO world heritage site has been featured in so many Bollywood films for a reason! The sublime Mughal architecture and the red & white stone design add so many textures to a simple picture, making it ideal for a photo shoot. The greenery of the garden & proximity to the Yamuna river makes it stand out from other monuments, which is why we're scampering over with our DSLRs ASAP, and you should, too!
Where | Humayun's Tomb - Mathura Road Opposite, Hazrat Nizamuddin Aulia Dargah, Nizamuddin
Timings | Sunrise - Sunset
Entry | Rs 10
5. Hauz Khas Fort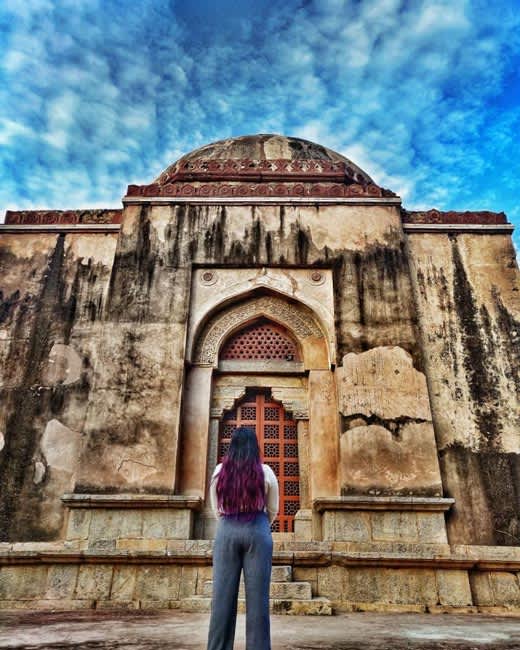 Picture Credits: themetropolitansoul
This place beautifully encompasses the true beauty of nature with the added touch of a spectacular monument. The fort houses a water tank, an Islamic seminary and pavilions that really bring out the aesthetic appeal of the fort. The lake in the midst of the complex ensures your photography will be on fleek, and what gives this site an edge over others is its location in the food & market hub of Delhi. Come check it out and moon over the gorgeous sights and sounds here!
Where | Hauz Khas Fort - Hauz Khas Village, Deer Park, Hauz Khas
Timings | 10:30 AM - 7 PM
Entry | Rs 25 
6. Agrasen Ki Baoli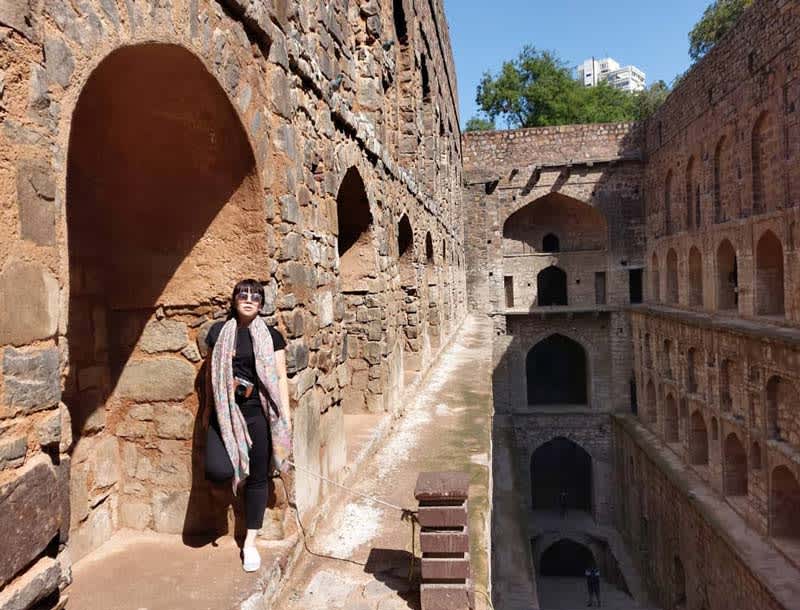 Picture Credits: queenollay1023
Designated a protected historical site by the ASI, this too-good-to-be-true place is pure amazeballs! This one's a Bollywood fave too, but we're in awe of the structure and colour it brings out in a photoshoot. This is a fashion bloggers' haven and for those of y'all looking for a staggering place to have a first-rate photoshoot, this place will light up your Insta feeds fosho!
Where | Agrasen Ki Baoli - Hailey Road, KG Marg, Near Diwanchand Imaging Centre
Timings | 9 AM - 5:30 PM
Entry | Free
7. Qutub Minar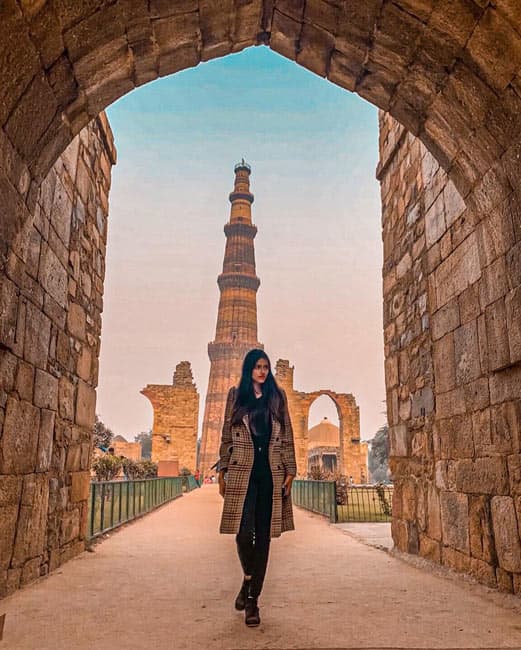 Picture Credits: apytravelstories
One very peculiar reason to visit this dazzling monument for a photoshoot is that it's the world's tallest minaret made out of stone *Woah*! Yeah, and that's not all, the supremely unique architectural style makes it so special that it defo deserves to be up on your social media handles. The contrast of colours & vibes of the environment is outstanding, so dust out your DSLRs and make your way over!
Where | Qutub Minar - Seth Sarai, Mehrauli
Timings | 7 AM - 5 PM 
Entry | Rs 35
8. Red Fort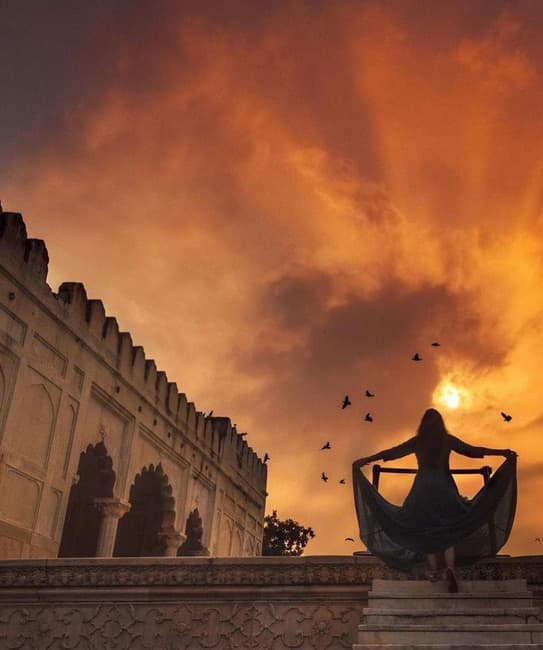 Picture Credits: blisss.eleven
This place doesn't need any intro! Without a doubt one of the most well known authentic landmarks in Delhi, the Red Fort is notorious and a vital construction settled in the core of the city. The monument is painted in red and you would be astounded by its structure. Pave your way to Red Fort and be prepared with a pose! Also don't miss the light show. 
Where | Red Fort - Netaji Subhash Marg, Lal Qila, Chandni Chowk 
Timings | 9:30 AM - 4:30 PM 
Entry | Rs 35 
9. India Gate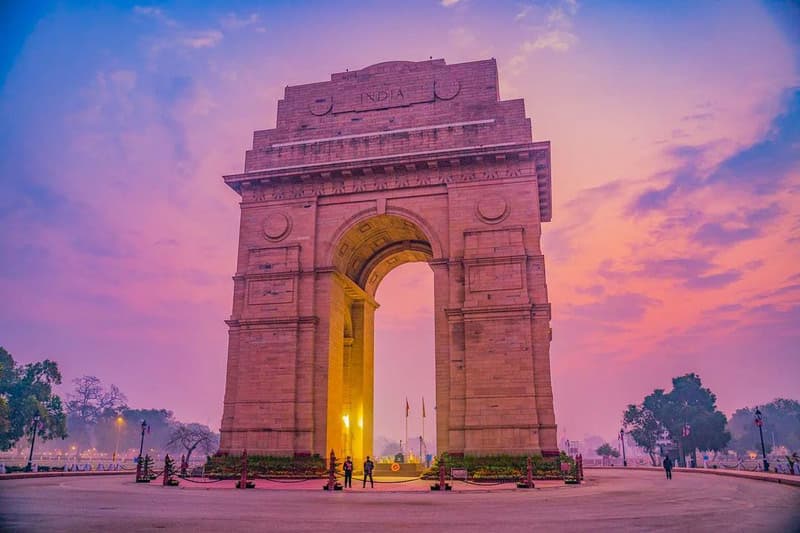 Picture Credits: travel_freak_03
India Gate is the most significant site in the city and the best place for a perfect photoshoot. The landmark is mostly visited around evening time as the Rashtrapati Bhavan near India Gate lightens up. If you visit during the daytime, you can get great pictures of the nursery, lake, flower gardens and more. So get ready to pose for those aesthetic shots and don't forget to click enough to spam your Insta. Cheers!
Where | India Gate - Rajpath, India Gate 
Timings | 7 PM - 9:30 PM 
Entry | Free 
10. Lodi Gardens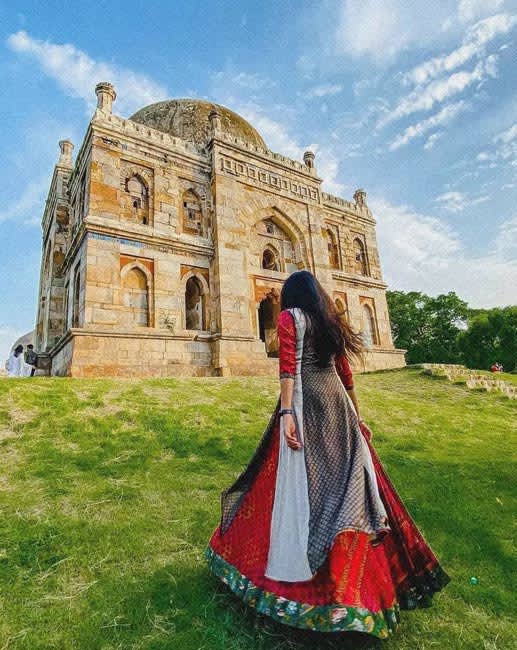 Picture Credits: turbanografer
Lodi Gardens is a super photogenic spot. Today, Lodhi Gardens is one of the most visited pots in Delhi by all of us who would love to spend a day relaxing in the sun and clicking tons of super pretty photos. It is likewise a most loved spot for nearby joggers, morning walkers, and yoga lovers. So head on over for a great date with your boo with the camera in tow! 
Where | Lodhi Gardens - Lodhi Road, Lodhi Gardens
Timings | 6 AM - 8 PM 
Entry | Free
So Dilliwaalas, scamper over to these breathtaking monuments for an ample collection of fab pictures! We'll just meet you there then, shall we?!