Delhi
7 Joyous & Thoughtful Holi Hampers You Can Gift Your Loved Ones This Year
The Festival Of Colours is also most definitely the festival of joy. People all around are laughing, gorging on delightful sweets and dancing to Holi music with their loved ones. The best part about joy is that it's best enjoyed when shared, and, if you're someone who is still looking for gift options, then you guys are absolutely at the right place, 'cos we have come to your rescue! Here's a list of places offering awesome Holi hampers that you can order up for your long list of guests, and gift them unforgettable memories!
1. Advait Living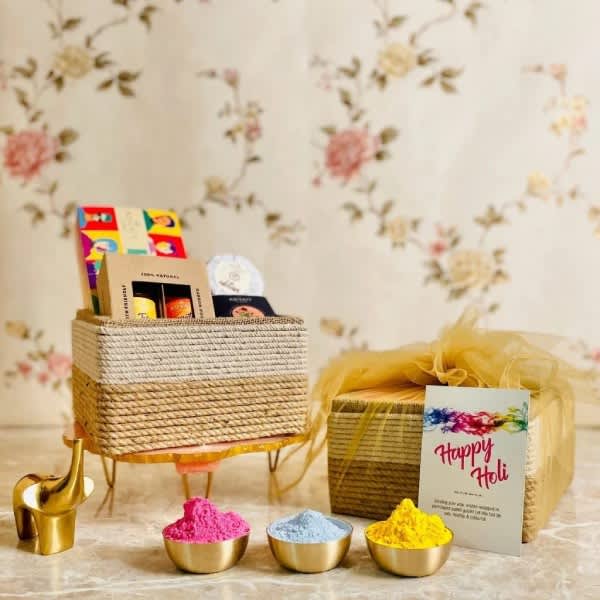 When Meenakshi Kishore, an MBA grad, left her corporate job to stay with her parents at their ancestral land in Agra, we got Advait Living, a regenerative farm practising organic farming. Skip to the part where today, they're offering 100% natural and organic Holi colours and beautiful Holi hampers to make your celebrations even more joyous. These hampers have their organic gulals, watercolours, chandan, spiced honey gulkand, ubtan bath powder, stylish wooden spoon, handmade jute organizer basket and a personalized Holi greeting card. How cool is that?
Price | Rs 1,790 Onwards
Shop Online Here | https://advaitliving.com/search?q=holi+hamper&options%5Bprefix%5D=last
2. Phool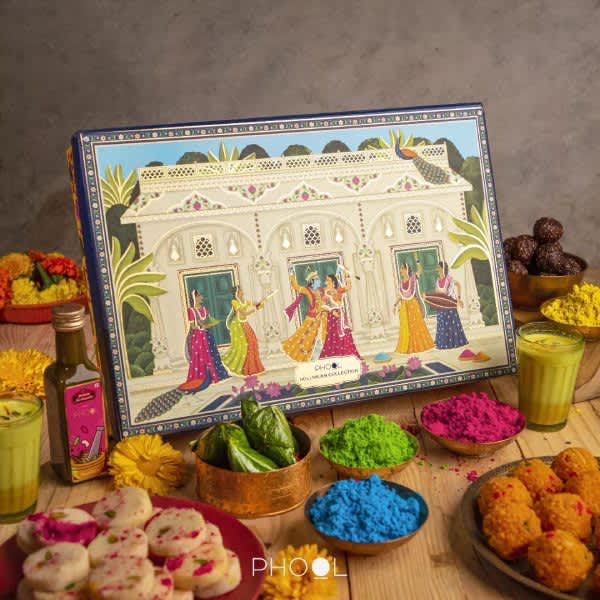 Phool is a brand born out of simply benevolent intentions. In an effort to save our holy river Ganga from the temple waste, these good folks reuse the waste flowers and turn them into natural and organic gulal. These gulals and a bottle of premium thandai from Varanasi packed in a beautiful box will make an ideal gift hamper for your loved ones, this Holi season!
Price | Rs 550
Shop Online Here | https://phool.co/collections/organic-gulaal/products/phool-organic-gulaal-1
3. The Baklava Box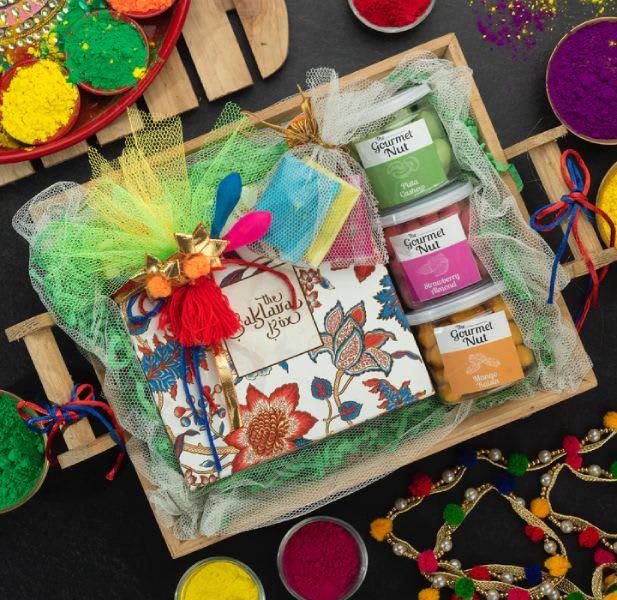 Now, what would be better than gifting an assortment of toothsome gujiyas, gourmet nuts and organic gulals to your loved ones this Holi season? The Baklava Box is known to offer a scrumptious array of sweets and to make your celebrations even more hip and happening, these good folks have curated an exclusive Holi hamper where you can get your hands on regalia gujiya, organic gulals and gourmet nuts like pista cashew, strawberry almond & mango raisin. So, what're you waiting for? Go, order up, right away!
Price | Rs 1,800 Onwards
Shop Online Here | https://thebaklavabox.com/collections/holi-special/products/holi-gift-box-regalia-baklava-box
4. Snackible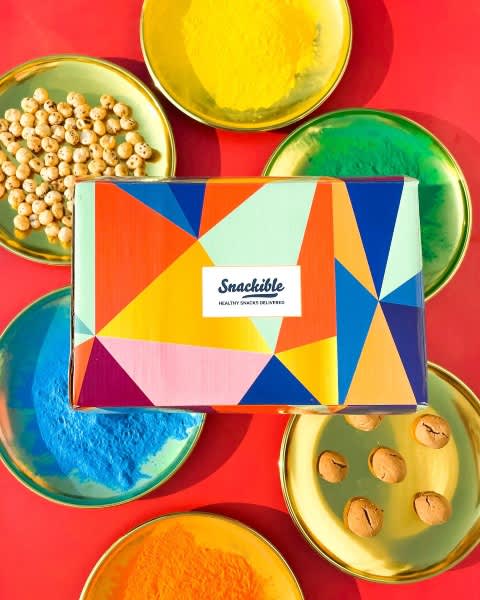 Snackible is a Mumbai-based brand that is known to offer a unique and delicious array of healthy snacks, healthy diet boxes and gift hampers. And, now these good folks have come up with an exquisite Holi box just in case you want to gift something thoughtful to your loved ones. How cool is that? So, go and order up this cutesy Holi hamper that has an assortment of classic healthy munchies, instant thandai powder and organic gulals to get you 'Holi-fied!'
Price | Rs 799
Shop Online Here | https://www.snackible.com/collections/our-snacks/products/copy-of-the-bestseller-box-perfect-for-first-timers-9
5. 21 Fools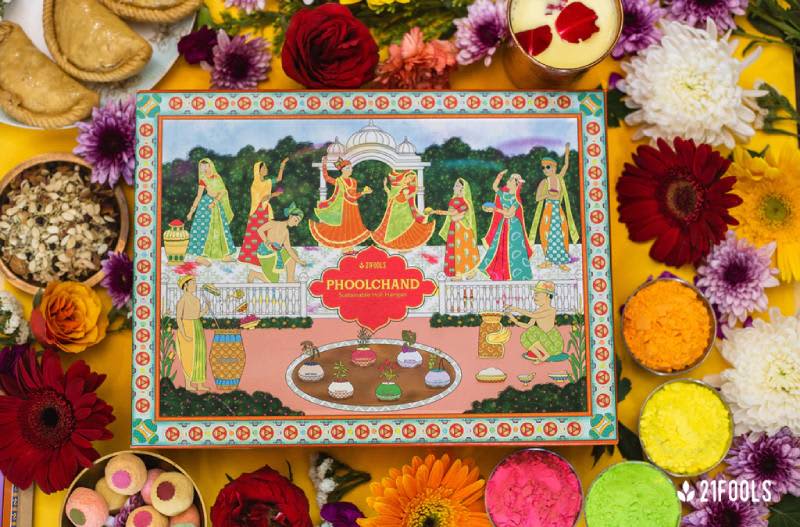 21 Fools' Holi hamper is more like a box of glee that is filled with all of our fave things including colourful gulals, gujiyas, thandai, seed balls and much more. And, the best part is this one-of-a-kind gift box boasts traditional Holi products that are made by local artisans from across India. So, this Holi, add joy to the life of your loved ones and these local artisans by ordering this cutesy box. So, hurry up!
Price | Rs 1,499
Shop Online Here | https://21fools.com/products/naya-phoolchand-herbal-gulal-jaggery-gujia-premium-thandai-seed-balls
6. Amala Earth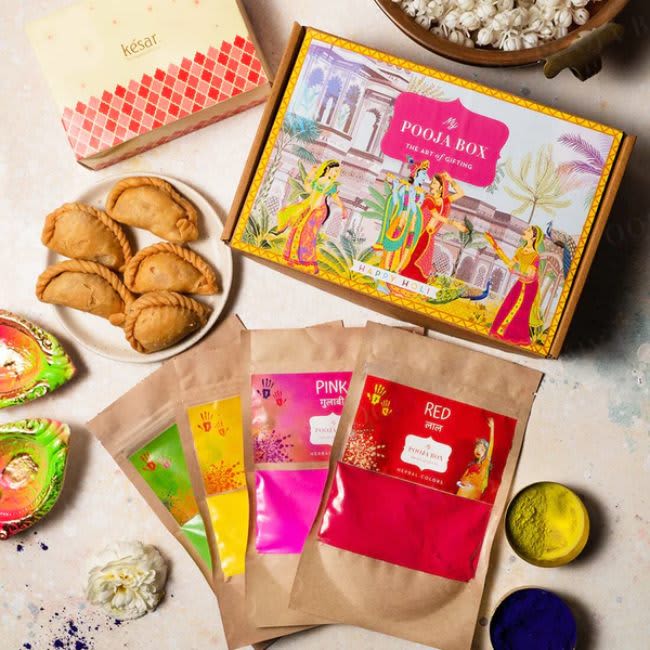 Still confused about gifting the perfect Holi hampers to your near and dear ones, fret not! As Amala Earth has got some of the best options out there with their Holi special hampers consisting of skin-friendly herbal colours, refreshing thandai mix and savour-worthy gujiyas. So, Order them now! 
Price | Rs 1,499 Onwards 
Shop Online Here | https://amala.earth/products/21fools-holi-gift-hamper-herbal-gulaal-thandai-powder-gujiya-sweets-set-of-12-21fools-holi-3-07022
7. IGP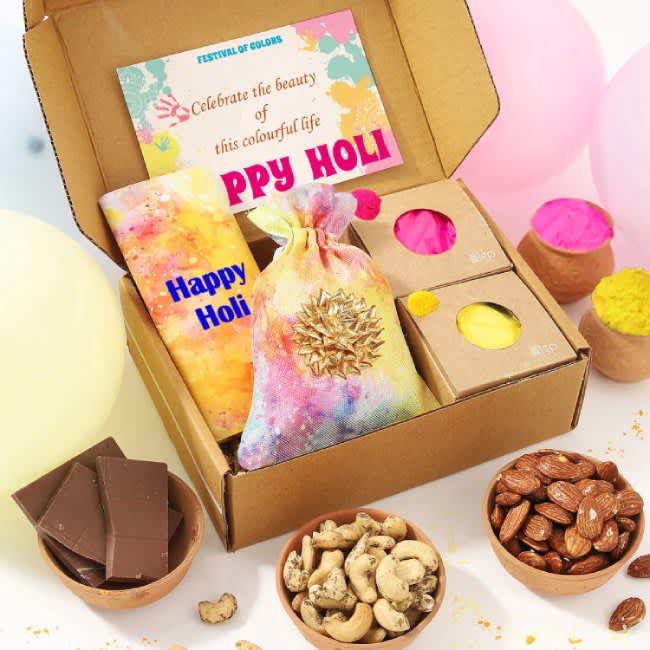 If you're looking for some more budget-friendly options then IGP is the way to go! They have got something for everyone with an assortment of non-toxic organic colours, special dry fruits, melt-in-your-mouth chocolates, desi mithais and colourful pouches and so much more. Gift something hatke this Holi season to your loved ones. Check 'em out for quirky Holi hampers! 
Price | Rs 995 Onwards
Shop Online Here | https://www.igp.com/holi
So, which of these hampers will you be ordering up?