Delhi
7 Yummy Snacks You & Your Pals Can Hog Under Rs 100 @ Manohar Bikaneri, Vijay Nagar
You didn't choose the broke student life; it chose you. If you relate with this, then we've got you covered. We went on a quest to find budget-friendly yet drool-worthy food and ended up at Manohar Sweets and Bikaneri in Vijay Nagar. They've been tantalising the populace of the area with their enticing sweets and cakes but turns out, they also whip up some delish savoury items too. We've compiled a list of everything under Rs 100 that you need to try at this joint when your pockets don't allow you to splurge!
1. Cold Coffee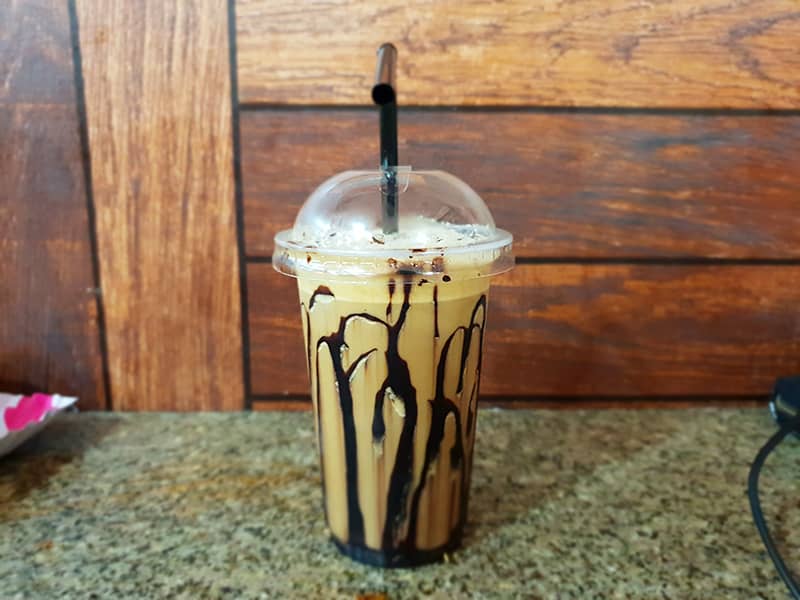 It's summertime and we have a thing for cold coffee anyway, so, when we saw it on their menu, we knew that we have to order it. We're glad to say that we made the right choice for it quenched our thirst and prepped us for a delightful binge session. The bitter-sweet flavour that every coffee should have was absolutely on point in this one, so, a huge thumbs up from our end!
Price | Rs 40 Onwards
2. Mega Crunch Veggie Sandwich
Being as scrumptious as it sounds, this sandwich is defo on top of our favourites list now. Oozing with cheese and freshly chopped onions, capsicums and tomatoes, it was grilled well and served to us all hot and crunchy. It also comes in the variant of brown bread which is just 10 bucks costlier. The best part of this dish was that its portion size was big enough to fill a person's tummy without burning a hole in their pocket!
Price | Rs 85
3. Grilled Burger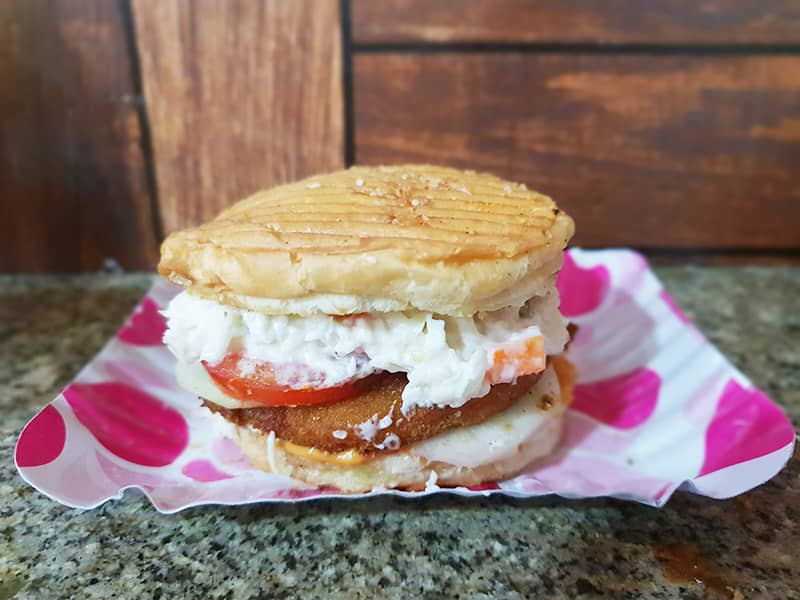 Burgers have always been and will be our go-to snack and we consider ourselves lucky that we got to try the desi rendition of it at this place. This burger comprised a crispy aloo patty, slices of cucumber, onions and tomatoes with a veggie mayo paste sandwiched between a golden brown grilled bun topped with sesame seeds. It made up for the average presentation with its appetising flavours. This item is something you all gotta try here!
Price | Rs 60
4. Red And White Sauce Pasta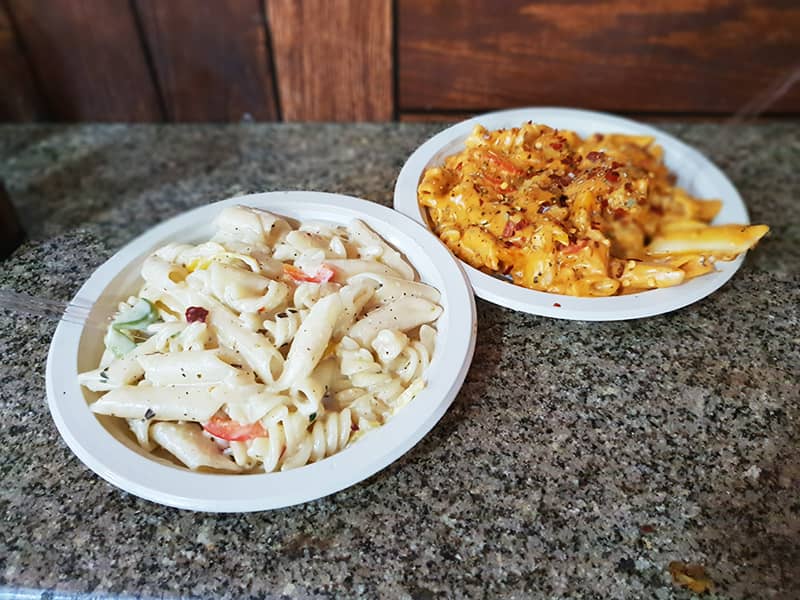 Pasta under 100 bucks? Yep, we too were equally surprised. We all love some binge on some sinful and flavourful pasta once in a while, don't we? So, we just had to include this one on the list. Their White Sauce Pasta was super creamy and perfect for people who aren't into spicy food. The Red Sauce variant that we had here was just as rich and as tasty but with slightly more tanginess and spice. So, pasta lovers, take your pick!
Price | Rs 95 Each
5. Pizza Pocket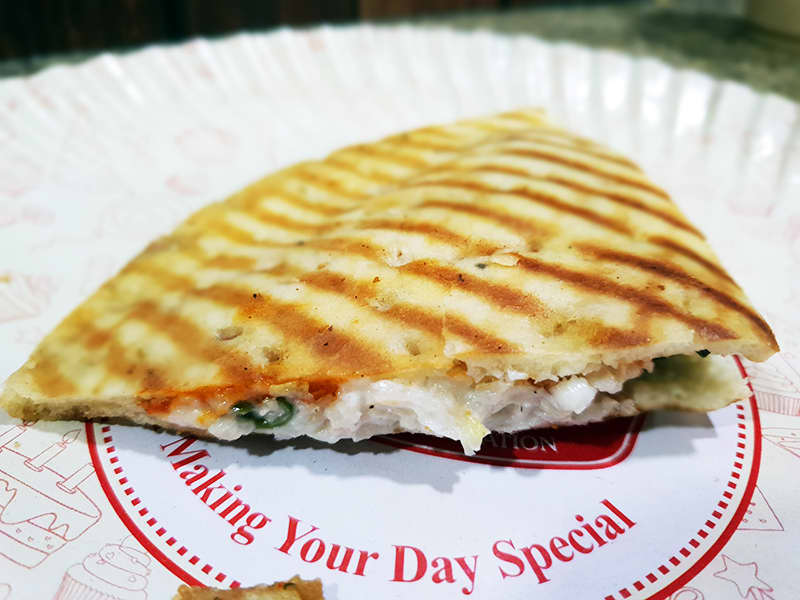 This one's absolutely bang for the buck and perfect as a side with something more filling. This item is especially great for the people who love paneer as it comes stuffed with a thick slice of cottage cheese. Apart from that, you'll also love the creaminess and mild flavours of this delicious snack. Whenever here, nosh on this item for sure!
Price | Rs 25
6. Exotic Garlic Bread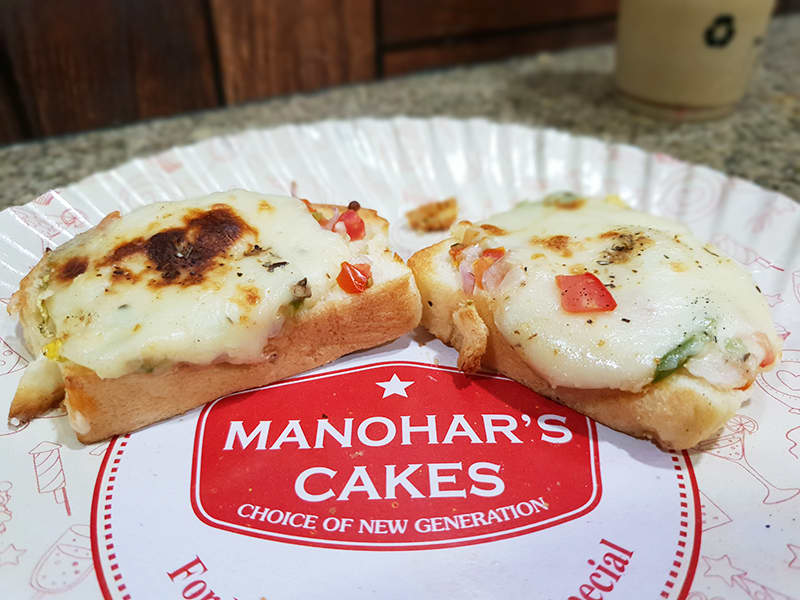 From a side dish for pastas to having its own varieties, garlic bread has come a long way and Manohar's exotic version of this item proves it. Their Garlic Bread came covered with well-chopped tomatoes, onions and capsicums & topped with loads of mozzarella cheese. To add that extra zing, oregano was sprinkled on it. As soon as we took the first bite of this inviting snack, our taste buds thanked us and yours will too!
Price | Rs 20 (2 Slices)
7. Cheese Hot Dog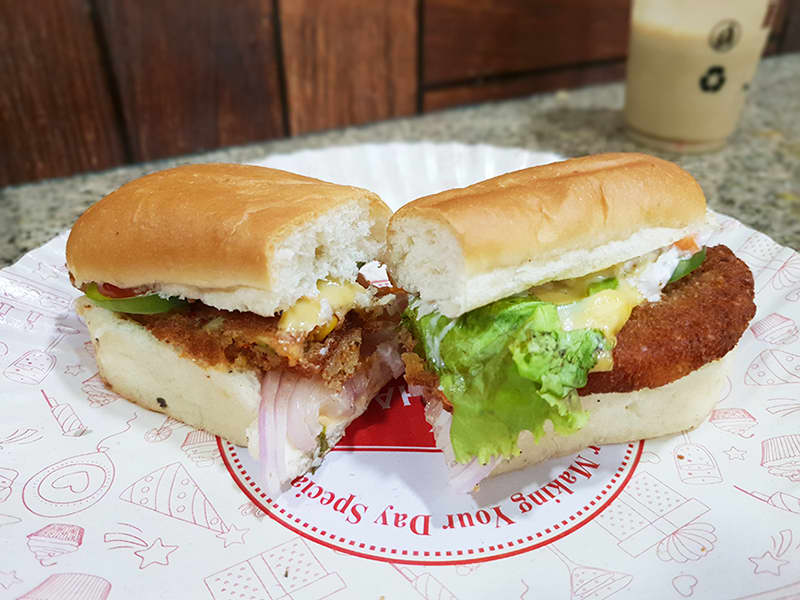 This incredibly attractive hot dog was a combination of a thick vegetable patty, assorted veggies and lettuce with mustard and mayo served between a fluffy bun. We loved the balance of flavours in this dish and would totally recommend it if you wanna have a quick and tasty snack on the go!
Price | Rs 48
What more is that you get BOGO (Buy One Get One) offers here on their Mega Veggie Crunch Sandwich, pastas and grilled burgers all year round and rest assured, there's no catch to this! Apart from that, they have some healthy snack options starting at just Rs 30 and the priciest item on the menu being for just Rs 110. They even have a vast assortment of sweets, pastries, ready to eat snacks and street food items like momos and gol gappas. So, we'll give this place full marks for quality, quantity, affordability along with variety. All in all, it's a haven for broke students!
Where | Manohar Cakes & Bikaneri - C 28-29, Double Storey, Vijay Nagar, GTB Nagar
Call Them | +91 9212 665 596 & +91 9212 125 596
Timings | 11 AM - 11 PM