Delhi
7 Insanely Delicious & Overloaded Thalis That You NEED To Try Once In Delhi!
If you're a true bhukkad, then you'd agree when we say that the toughest moment in a restaurant is when we have to order our choice of food from the menu 'cause we love 'em all, isn't it? And because we know the struggle, we come bearing a list of the most overloaded thalis in Delhi that literally have more than you can eat (no kidding!). But hey, some of these places might be shut at the moment because of the current scenario, so you might want to remember these places when you do get to visit 'em again!
1. Super Se Upar Thali @ Nona's Kitchen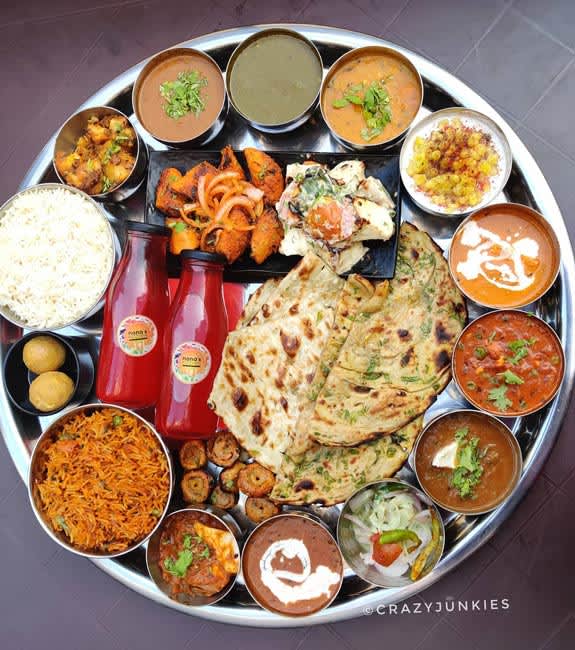 Picture Credits: /crazy.junkies
Their Super Se Upar Thali is a soul-satisfying meal with small portions of a multitude of dishes. With chole, dal makhani, kadhai paneer, shahi paneer, rajma, aloo naan, rice and so much more, we can legit call it a cultural explosion on our tongue! What's more, is that they also have a non-veg thali which includes popular dishes like butter chicken and lassi to accompany the delightful feast.
Where | Nonas Kitchen - A 224, Supermart 1, DLF Phase IV, Gurgaon  
Price | Rs 2,100 (Veg) & Rs 3,100 (Non-Veg)
Call Them | +91 8287 543 191
Check Out Their FB Page | https://www.facebook.com/Nonas-Kitchen-466289767514741/ 
2. Kutumb Sampurna Thali @ Kutumb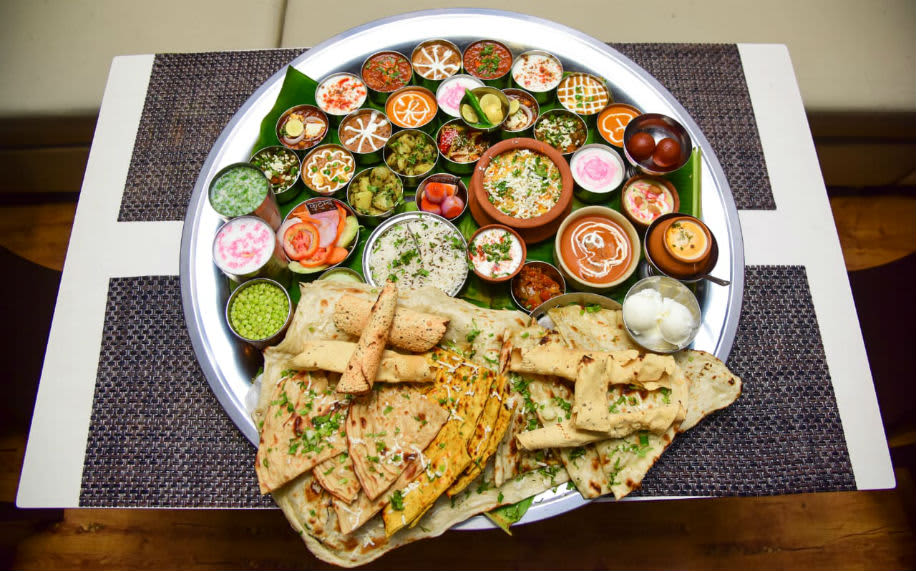 When we're talking about overloaded, how can we forget about the humongous veg thali served by Kutumb which is a true haven for the Rohini peeps. Their special Kutumb Sampurna Thali is touted to be India's largest THALI with 45 varieties of dishes including 14 types of dals and curries, Veg Handi Biryani, jeera rice, 4 kinds of raitas, 4 desserts, 7 variants of salads and accompaniments, 3 yummy beverages, 6 types of breads which also comprises their 24 inch large Family Naan, soup and 5 roasted papads (say whaaat!). Get your spoons ready, people!        
Where | Kutumb - G/A 10, Sector 10, Metro Walk, Rohini
Price Per Thali | Rs 2,000 
Call Them | +91 11 4987 6122
Check Out Their FB Page | https://www.facebook.com/kutumb.net/
3. Khalibali Thali @ Ardor 2.1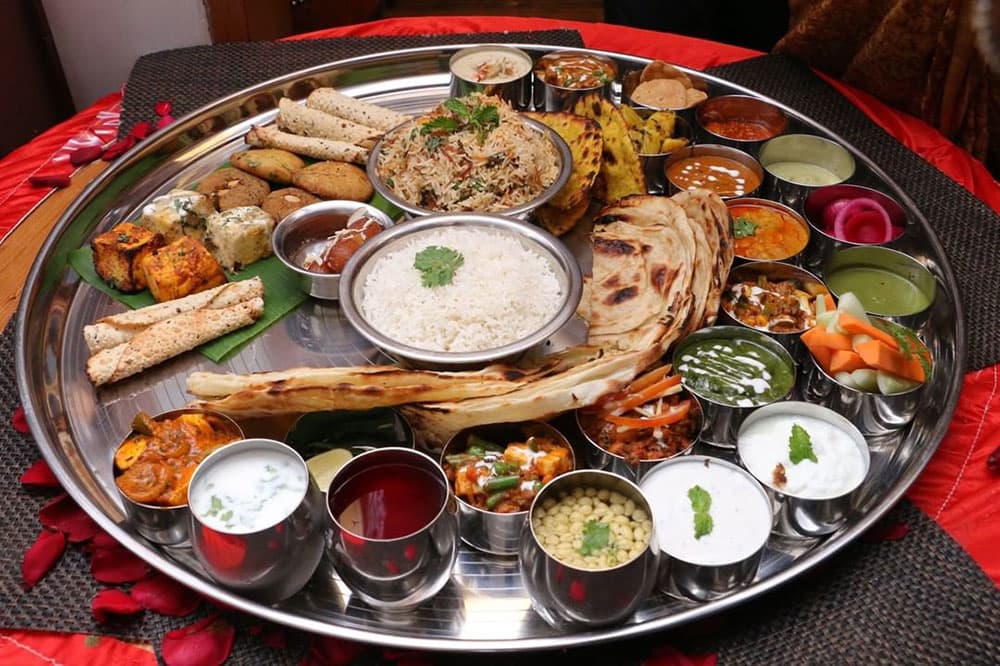 If you think you have an insane appetite, you definitely should try your hand at the massive Khalibali Thali at Ardor 2.1 that comes loaded with scrumptious dishes. This 56 inch platter weighs more than 5 kgs and comes laden with 35+ varieties of dishes. So, head here on an empty stomach and put your hogging skills to test!
Where | Ardor 2.1 - N-55/56 & 88/89, Outer Circle, CP
Price | Rs 2,309 (Veg) & Rs 2,609 (Non-Veg)
Call Them | +91 7625 031 848
Check Out Their FB Page | https://www.facebook.com/Ardor/
4. Punjabi Satrangi Thali @ Mellow Garden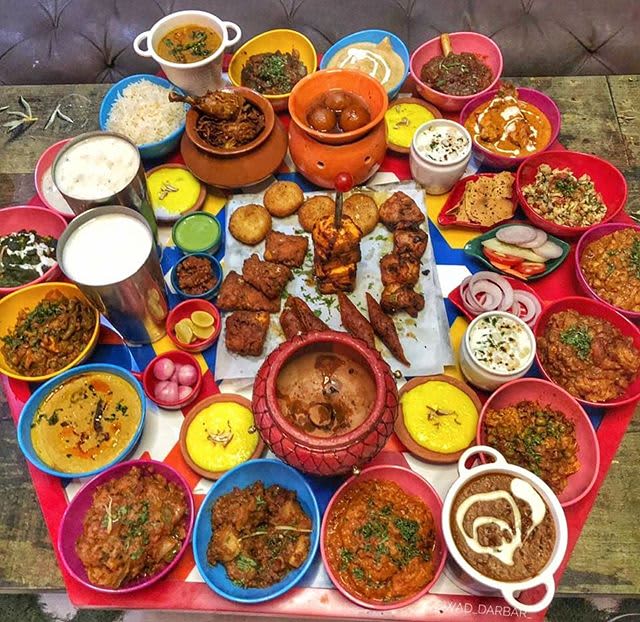 Picture Credits: swad_darbar_
Delhiites, we know you love your food like nothing else and hence we're telling you about this immensely HUGE Punjabi Satrangi Thali served at the Mellow Garden. This newly launched yummy is stacked with over 30+ dishes and weighs more than 25 kgs (crazzy!). It comes in both veg and non-veg variants and offers 5 types of kebabs, 5 starters, almost 13 main course dishes, 5 desserts, Chhach, Meethi Lassi, raita and salad. The exciting part about this thali is that it's UNLIMITED, meaning, you can ask for more, and more and more, till you burp!
Where | Mellow Garden - J2/7, 2nd & 3rd Floor, BK Dutta Market, Rajouri Garden
Price | Rs 1,200 (Veg) & Rs 2,000 (Non-Veg)
Call Them | +91 7292 052 000
Check Out Their FB Page | https://www.facebook.com/mellowgardenrajouri/
5. United India Thali @ Ardor 29 Brewpub & Terrace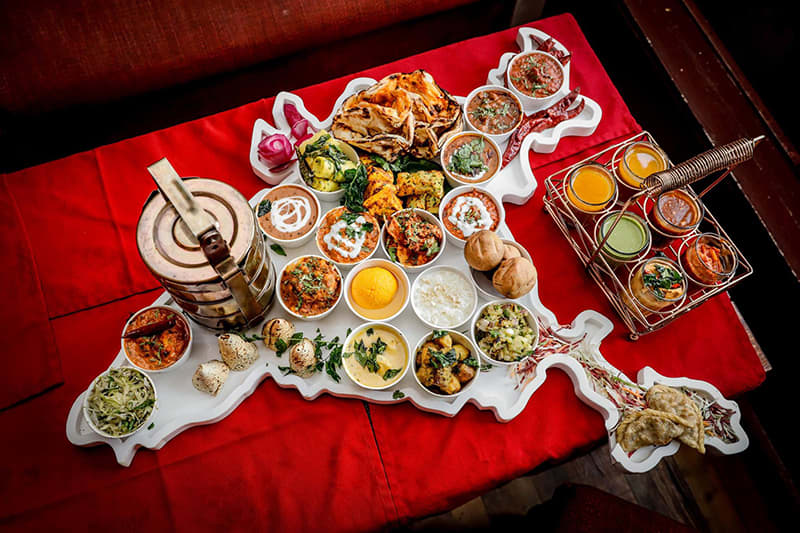 Taking inspiration from Article 370, the guys at Ardor 29 came up with this 10.5 kgs United Thali a while back that will spoil you with the diverse flavours of all of India. From Kashmir to Kanyakumari, this Thali has dishes from all the states of our country, meaning that you can get a taste of the entire country, under one roof. Featuring everything from momos, Gongura Pachdi, Kosha Mangsho and Galouti Kebabs to Goan Fish Curry, Litti Chokha, Bisi Bele Bath & oh-so-much more, prepare for a binging sesh like never before!
Where | Ardor 29 Brewpub & Terrace - SCO 25, Sector 29 Gurugram
Price | Rs 2,736 (Veg) & Rs 3,083 (Non-Veg)
Call Them | +91 11 3014 6022
Check Out Their FB Page | https://www.facebook.com/ardor29/
6. Delhi Belly Thali @ Seasonings - The Spice Mysteries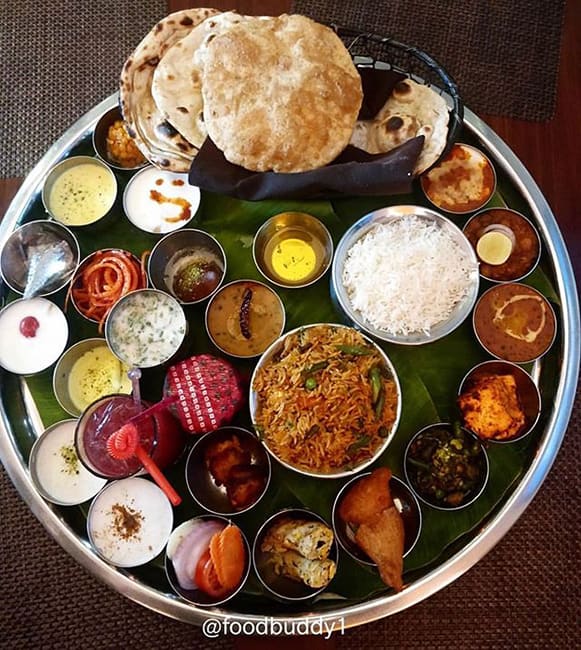 Picture Credits: foodbuddy1
Delhiites are the real foodies and are always hunting for something hatke yet delhicious.
Seasonings - The Spice Mysteries is a true gem hidden in Ashok Vihar and has managed to draw our attention with it's oh-so-huge Delhi Belly Thali. It has over 28 dishes and weighs somewhere about 7 kgs, *SAY WHAA*. Heaping with yummy starters like Paneer Tikka, Veg Biryani & Dal Makhani and desserts such as Matka Kulfi for your sweet-tooth cravings, you'll love them all. So, troop over to this place with your bhukkad buddies and devour this royal feast!
Where | Seasonings - The Spice Mysteries - B-1/6, Ashok Vihar Phase II
Price | Rs 1,400
Call Them | +91 11 4561 3555
Check Out Their FB Page | https://www.facebook.com/SeasoningsTSMDelhi/
7. Ekta Thali - The Golden Bird India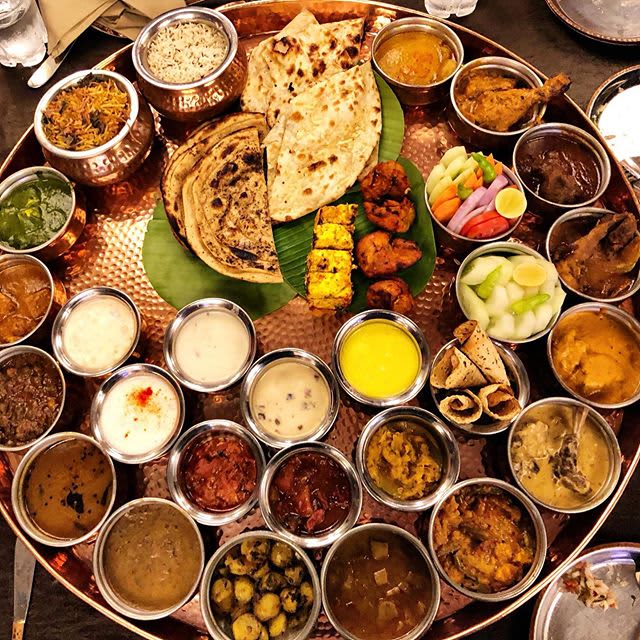 Picture Credits: ikreatepassions
India has always been known as the 'sunehri chidiya' and this restaurant clearly takes its inspiration from the diversity of our culture. The newly opened restaurant, The Golden Bird has decided to win the hearts of all us foodaholics with their Ekta Thali which has numerous cuisines from various states across the country. Chock-a-block with quirky dishes like Amrood ki Sabzi, Safed Maas, Walnut Raita and tons more, all of them which are totally worth trying. So, what are you waiting for?
Where | The Golden Bird - M 31, 2nd Floor, M Block Market, GK II
Price | Rs 2,699 Onwards (Veg) & Rs 2,949 Onwards (Non-Veg)
Call Them | +91 70 65 736 573
Check Out Their FB Page | https://www.facebook.com/The-Golden-Bird-381143619368339/?ref=br_rs
So, the list is complete and all you've gotta do is learn these places by heart or you can just bookmark it. Do tell us which one are you going to try first when the pandemic is over?!