Delhi
7 Handpicked Webstores To Shop For Sarojini Like Accessories Online
Disclaimer: Bearing in mind the current health crisis befalling the city and the world at large, we're tweaking our content policy and recommendations. Stay positive, keep hygiene levels up and don't fall prey to panic and misinformation.
Jewellery pieces are the perfect additions to all our outfits. Whether it's a delicate string of pearls with an elegant outfit, long feather earrings to lighten our serious dress or a big attention-catching statement piece to brighten up our monotonous attire - accessories are a girl's best friend. Whether you love necklaces, rings, bracelets, anklets, elbow cuffs, earrings, ear cuffs or belts - you'll find the biggest and most beautiful varieties of it all at these 'dream come true' stores. We all do miss the colours of the jewellery stores but the pandemic has deterred us from visiting our favourite Jhumke wala bhaiya in Sarojini and Lajpat. So here are some online stores for you to order in from in the meantime, 'cause why should the lockdown stop you from slaying your outfits even if they are just for virtual meetings?
1.  PraDe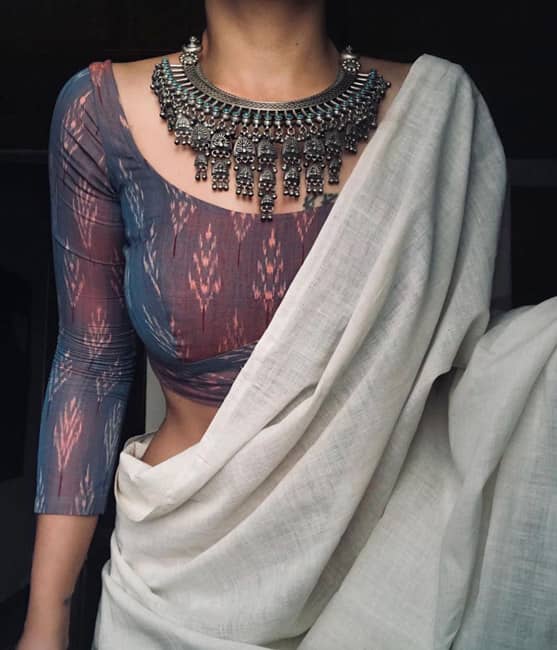 Picture Credits: margazhidesigns
Your one-stop destination for all sorts of accessories, PraDe, based in Chennai, provides those perfect earrings and nose pins to match those ethnic outfits you ordered during the quarantine. They have a range dominated solely by silver jewellery that looks fab on ethnic as well as western wear. We have a special crush on their gorgeous statement neckpieces and ear cuffs.  For more inspiration, don't forget to check out their Insta page for that sari jewellery inspiration. 
Price | Rs 1,500 Onwards
Shop Online Here | https://tamarachennai.com/collections/silver-jewellery
Skim Through Their Insta Feed | https://www.instagram.com/pradejewels/ 
2.  Silver Streak Store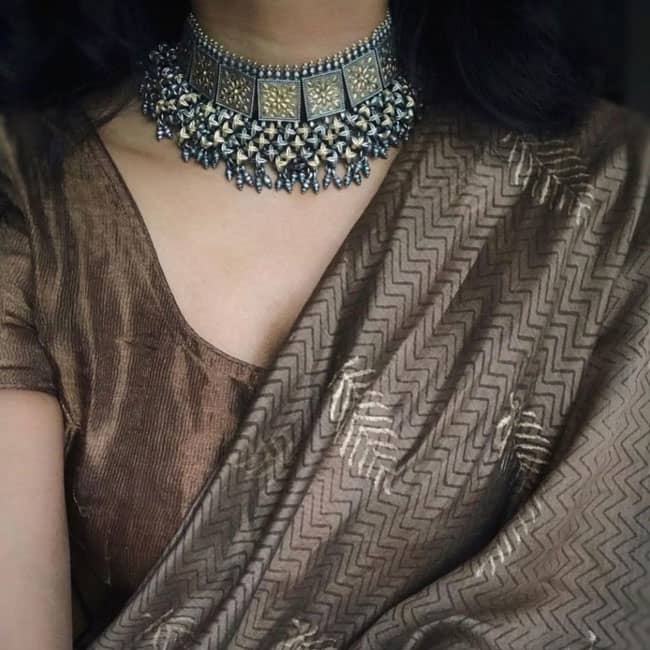 The Silver Streak Store, as the name suggests, offers a variety of products ranging from earrings to statement neckpieces and gorgeous bracelets, all in silver, gold and colourful stones. If you're the kind who loves decade-old pieces that excuse heritage, Silver Streak is for you. Their pieces have been spotted on various actresses including Jahnvi Kapoor, Kajol, and Dia Mirza. So, don't forget to channelize your inner Piku with their signature designs.
Price | Rs 2,500 Onwards
Skim Through Their Insta Feed | https://www.instagram.com/silverstreakstore/ 
3.  Daivik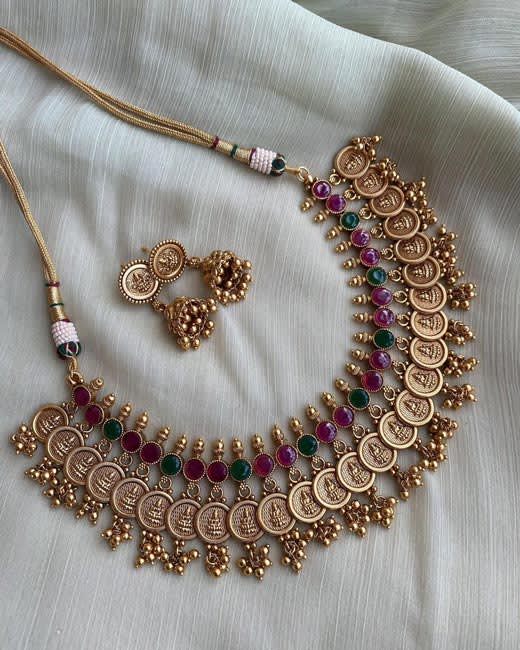 If you're looking for some Indian jewellery to team up with that gorgeous saree, Daivik should be on your list. Daivik has a wide collection of jewellery ranging from exquisite Temple Jewellery to daily wear oxidized jhumkas. Their pieces come in such beautiful colours that you're sure to find stunning chokers, jhumkas and rani haars to match all your dress colours. What's more, is that they also have a cute collection of floral jewellery that looks fab in those sun-kissed selfies. So if you're a fresher just starting college, or a senior prepping for her farewell, or just someone looking to attend a lot of parties with ethnic dress codes, fret not, for Diavik has you covered.
Price | Rs 550 Onwards
Shop Online Here | https://daivik.in/
Skim Through Their Insta Feed | https://www.instagram.com/daivik.in/
4. SamAsha Jewellery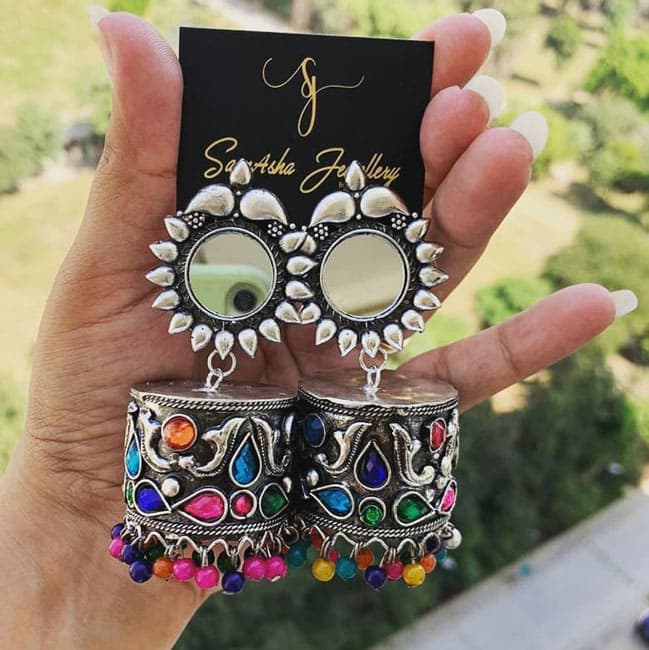 If you're a girl who swears by her Jhumkas, SamAsha Jewellery will spoil you rotten. With elegant yet fun Jhumka designs available both in Oxidized Silver and Gold, you know where everyone's eyes are going to be the next time you rock that kurta. Don't forget to buy those black metal earrings to rock those oh-so-candid pictures. But our favourite piece has to be the ring with feminist inscribed in Hindi - oh just so chic and bold. 
Price | On Request
Skim Through Their Insta Feed | https://www.instagram.com/samashajewellery/
5. The Tassel Story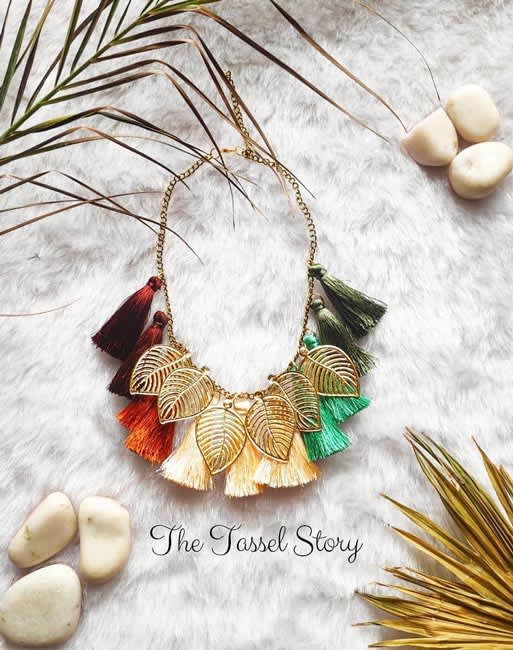 Umm hello! Who said jewellery on haldi cannot have as many options as all other jewellery pieces? The Tassel Story will drive all brides and bridesmaids crazy as they have the biggest and most stunning collection of floral pieces for you. The Tassel Story also provides customized jewellery for bridal wear, so your Insta pictures can look nothing short of perfect! But wait even non-bridal girls must visit The Tassel Story for their chic jute pieces and mirror and tassel earrings. 
Price | On Request
Skim Through Their Insta Feed | https://www.instagram.com/the_tassel_story23/ 
6. Teejh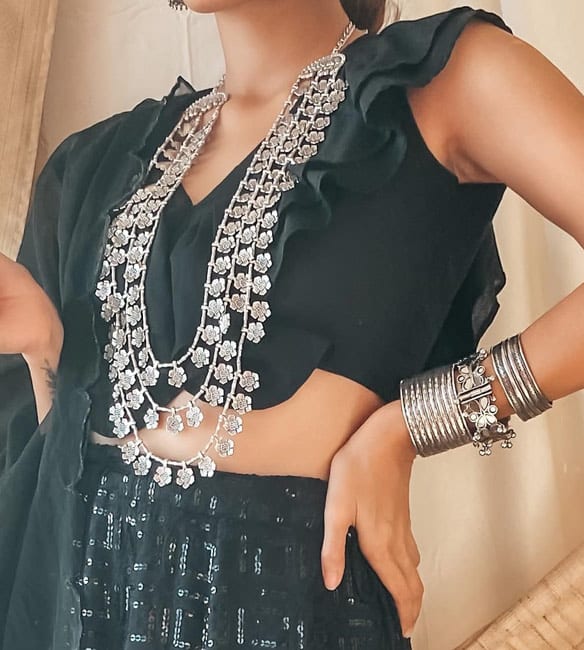 If you're a fan of Modern Indian pieces, Teejh will be your next favourite place. With elegant and hand-crafted laser-cut designs, your kadas and neckpieces will be the talk of the next party. We're particular fans of their Afghan and Rajwada Collections as they have regal pieces that are so fun to layer together for that perfect look. Be sure to also hold out for their eye-catching rings that are just too stunning to be missed. 
Price | Rs 499 Onwards
Shop Online Here | https://www.teejh.com/
Skim Through Their Insta Feed | https://www.instagram.com/teejhindia/ 
7.  Alankaara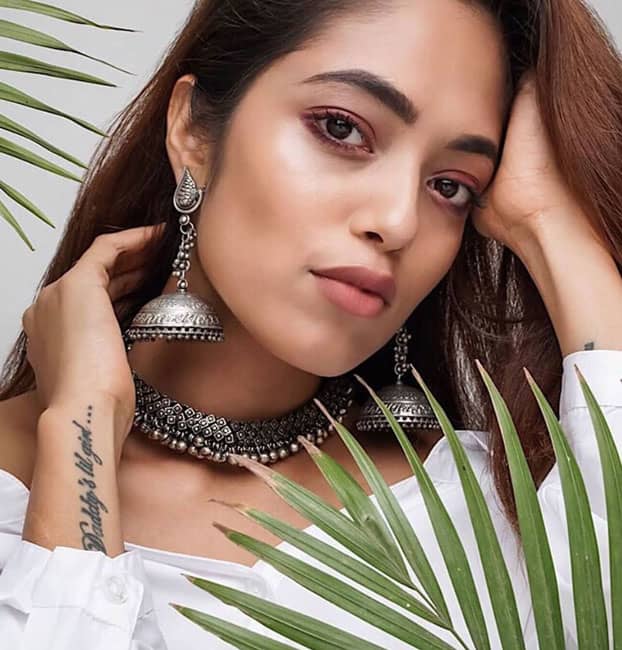 Fitted with stone or mirror work, their jewellery is sure to make anyone look at you twice. With various combinations and chandbalis that can make anyone's heart go dhak dhak, Alankaara should be on your list while buying accessories for that Diwali party. If you're a fan of strawberries, we have had our eye on their quirky strawberry earrings for a while now. If not, their bird earrings and evil eye bracelets are too cute to keep too. 
Price | On Request 
Skim Through Their Insta Feed |  https://www.instagram.com/_alankaara_/
So, keep those credit cards ready and shop away to glory at these cutesy shops so you can flaunt that fabulous necklace at the next zoom meeting.