Delhi
10 Handpicked Hidden Gems In Delhi You May Not Have Known Existed!
Delhi isn't just a place, it's an emotion that's hard to fully experience in a day, week or even a year. For what it's worth, Delhi isn't just a city of lavish malls, fancy restaurants and expensive cars; the real essence of Delhi is situated in every forgotten nook and cranny and all you need to do is look, and look deep. This is why we've made for you a list of under-explored and lesser-known spots in the city which won't fail to amaze you! Read on and head on over!
1. Delhi War Cemetery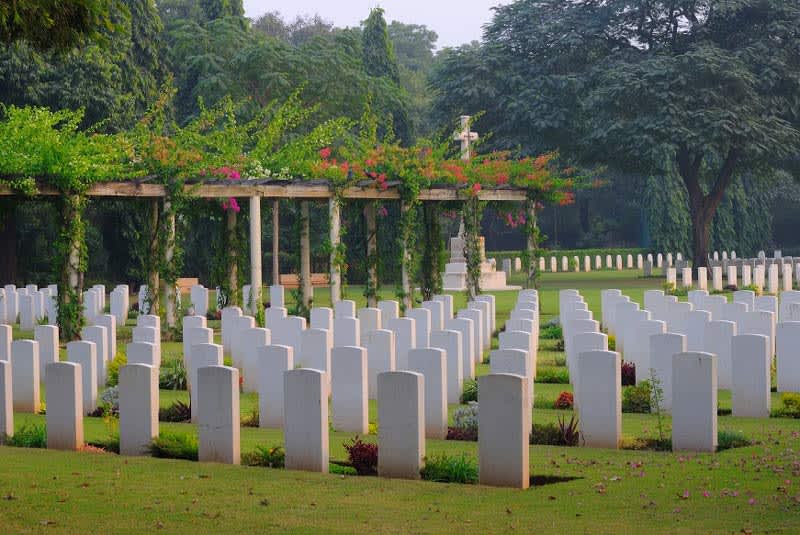 A place to pay your respects, the Delhi War Cemetery, situated in the Delhi Cantonment Area is a war memorial for soldiers of Indian, British, and Dutch origin who laid down their lives fighting for Allied forces during both the World Wars. Manicured lawns and well-maintained compounds make this place a must-visit to dive deeper into a very important phase in Indian history.
Where | Delhi War Cemetery - Delhi Cantonment Area
Call Them | +91 11 2569 1958
Check Out Their FB Page | https://www.facebook.com/delhi.war.cemetry/ 
2. Mizo Diner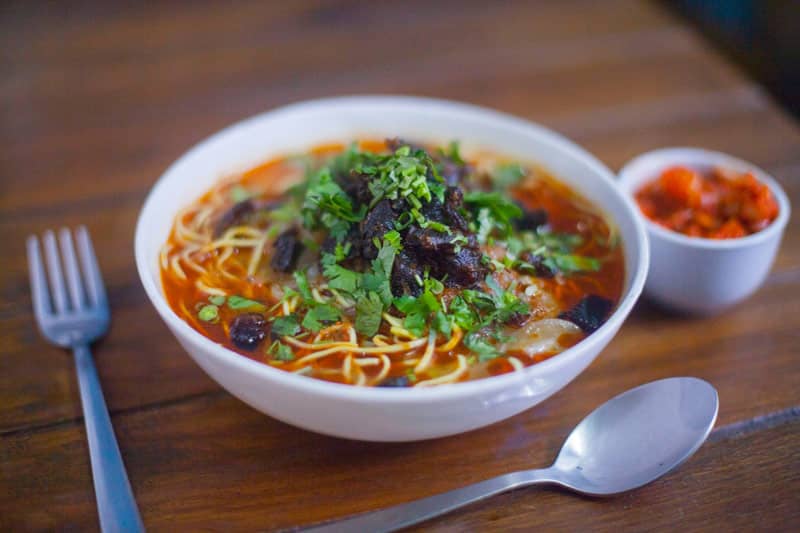 One of the most underrated restaurants in Delhi, this one serves up the most authentic and mouth-watering food straight from the state of Mizoram. A peaceful little restaurant set up in the lanes of Humayunpur, these guys do a good variety of traditional dishes, be it their Pork Chilli, Vawksa Rep, or any meat curry on their menu. The lady who runs the place will greet you with the warmest smile and make you feel comfortable instantly. Head over for the choicest Mizoram delicacies and thank us later!
Where | Mizo Diner - 85, Humayunpur, Safdarjung
Meal For Two | Rs 600
Timings | 12 Noon - 11 PM
Call Them | +91 8447 584 361
Check Out Their FB Page |  https://www.facebook.com/mizodiner/ 
3. Begumpur Masjid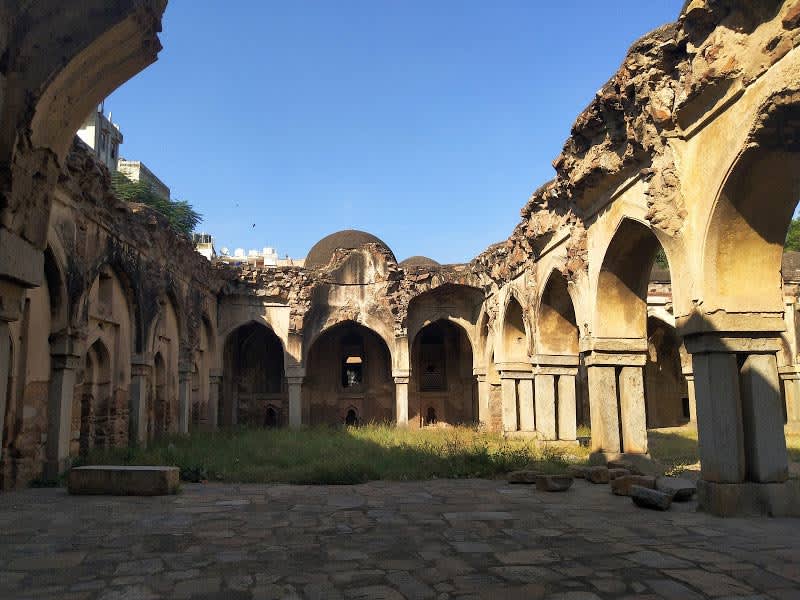 Picture Credits: Mehboob Ali
Forgotten, ignored and abandoned, Begumpur Masjid has stood the test of time only to be left out in the list of mainstream historical attractions in this city. We're here to remedy that! Begumpur Masjid lies quietly in Begumpur Village in South Delhi and it's one of the biggest mosques in the city and once served as an administrative centre back in the 12th century. Built using quartzite and mortar, the monument is a sight to witness! And if you're still not convinced, the place serves as the perfect location to have an epic photoshoot, so come drop by with your camera in tow!
Where | Begumpur Masjid - Begumpur Village, Malviya Nagar, Near Mata Mandir
Call Them | +91 9811 699 177
Check Out Their FB Page | https://www.facebook.com/BegampurMasjid/?rf=840601302814906 
4. Santushti Shopping Complex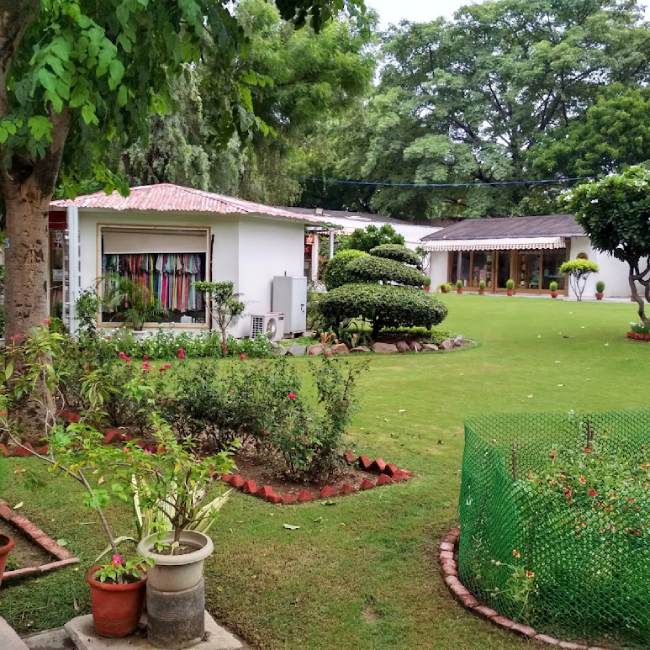 Picture Credit : Madhulika Liddle
Far away from Delhi's hustle bustle yet in the heart of the city, lies Santushti Shopping Complex. Started by the Air Force Wives' Welfare Association, this complex has everything one needs in order to spend a relaxing and eventful day shopping and eating. From Insta-worthy adorable cafes to exquisite apparel stores, the atmosphere of the place is one we bet you haven't experienced in Delhi before as it's a true hidden gem, right in the heart of Delhi! P.S. - This place has their very own Diggin, so now you HAVE to pop by!
Where | Santushti Shopping Complex - Panchsheel Marg, Chanakyapuri
Call Them | +91 11 2410 6086
Check Out Their FB Page | https://www.facebook.com/SantushtiShoppingComplex/ 
5. IGNCA: Indira Gandhi National Centre For The Arts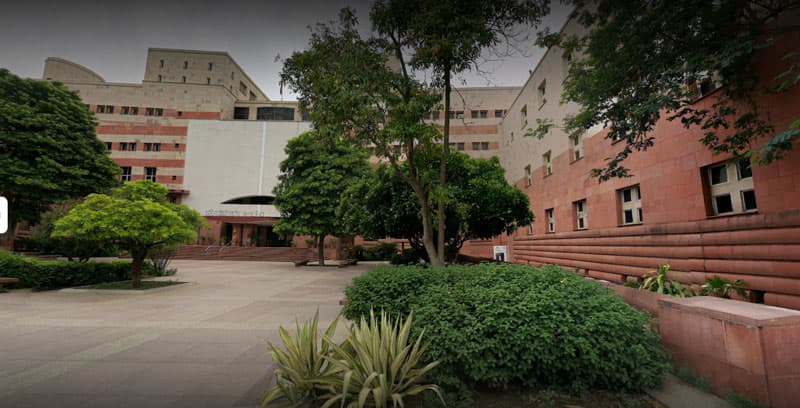 Established in memory of Smt. Indira Gandhi, IGNCA is the leading hub of all cultural advancements in the country. It's a one-stop destination to get to know about the vast expanse of India's culture and how rich our heritage really is. You can choose from a plethora of cultural courses and workshops to immerse yourself in learning more about this country and experience it first-hand from the best. Go check it out fosho!
Where | Indira Gandhi National Center For The Arts - Janpath, Opp. The National Archives Building
Call Them | +91 9599 443 393
Check Out Their FB Page |  https://www.facebook.com/IGNCA/
6. The Treat - Rajesh Khanna Food Van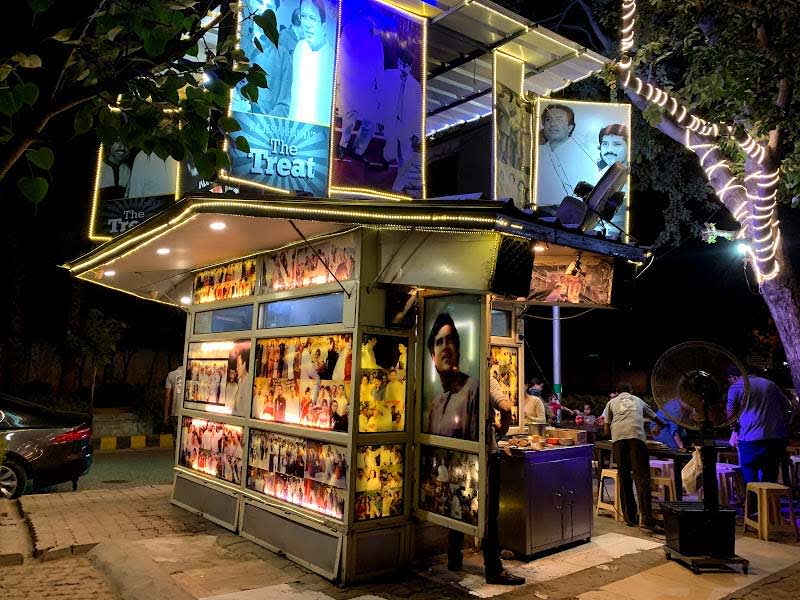 Picture Credits: Suruchi Mittal
"Zindagi Badi Honi Chahiye, Lambi Nahi Babumoshai" is the motto Mr Vipin Kumar Oberoi lives by - the owner of the Rajesh Khanna-themed food van in Chanakyapuri which serves up the star's personal favourite dishes. The food van is covered with images and memories of Rajesh Khanna and has also been visited by the star multiple times. This cool AF place stays open till late at night and is the perfect place for some good food and more importantly, a trip down memory lane!
Where | The Treat - Dr Jose P Rizal Marg, Behind Jesus & Mary College, Chanakyapuri
Meal For Two | Rs 600
Timings | 12:30 PM - 1 AM
Call Them | +91 9999 780 101
Check Out Their FB Page | https://bit.ly/3llGnjR 
7. Chor Minar In Hauz Khas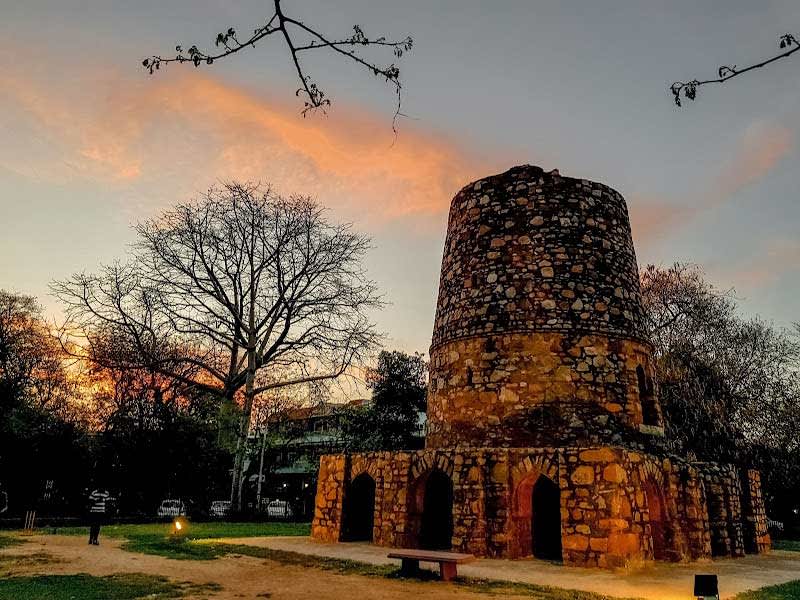 Picture Credits: Abhishek Rustagi
Now, this is a slice of some gruesome history of Delhi. Built under the rule of Alauddin Khalji, (yes, Ranveer Singh from Padmavat) according to the local legend, this was the 'tower of beheading' - a place used by the king to punish the criminals & thieves. *Yikes* The severed heads of thieves were displayed on spears through its 225 holes, to act as a deterrent to thieves. Anyhoo, now, the lush green garden around it is a fine place to spend an evening, and obvio, with a history like that, it calls for some exploring! 
Where | Kharera, 2, Chor Minar Road, Kaushalya Park, Kausalya Park, Block L, Padmini Enclave, Hauz Khas
8. Sulabh International Museum Of Toilets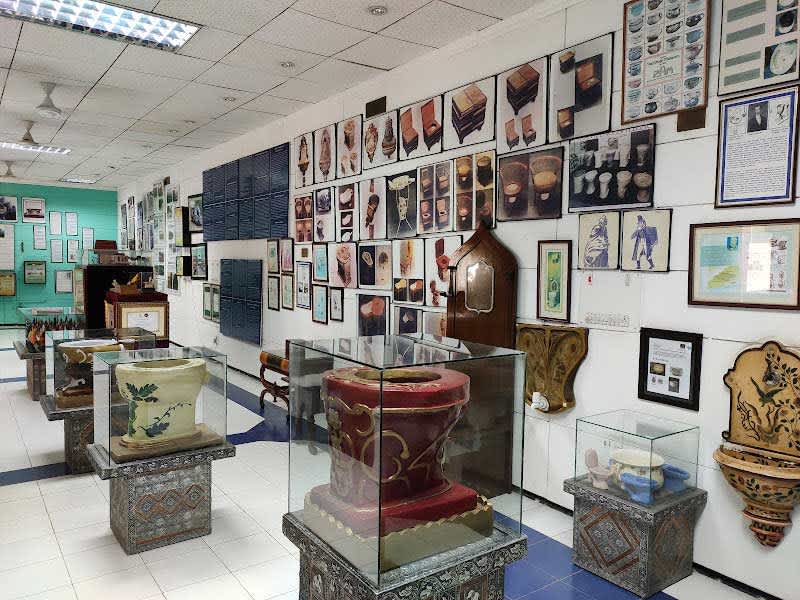 Picture Credits: Garima
One of the quirkiest museums of the WORLD, yes, a museum dedicated to toilets exists in Delhi. Talking about the history of sanitation & hygiene, you can look at the displays of ages-old toilets and how they've come to the form they are in now. Did you ever think you'd be able to look at a Victorian-era toilet, or the sewage systems of Harappan & Indus Valley Civilisations, or the toilets of kings and queens? Would you wanna visit this place?
Where | Sulabh Bhawan, RZ-83, Palam - Dabri Marg, Mahavir Enclave
Call Them | +91 11 2505 3646
Check Out Their FB Page | https://www.facebook.com/SulabhInternational/
9. Tughlaqabad Fort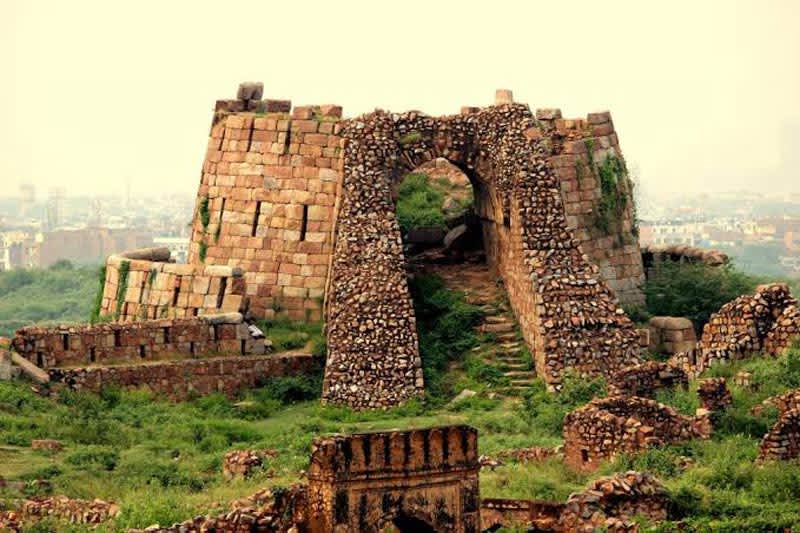 Picture Credits: Govind Chaudhary
One of the lesser-known yet must-visit forts in Delhi, Tughlaqabad Fort, though mostly in ruins, is a fun place to visit. Mostly because you can climb up the broken walls in many places and look at some bewitching views of Saadi Delhi, especially during sunset! Guys, chaloo ASAP.
Where | Tughlaqabad Fort - Tughlakabad
Call Them | +91 11 2336 5358
Check Out Their FB Page | https://www.facebook.com/TughlaqabadFort
10. Madras Coffee House In CP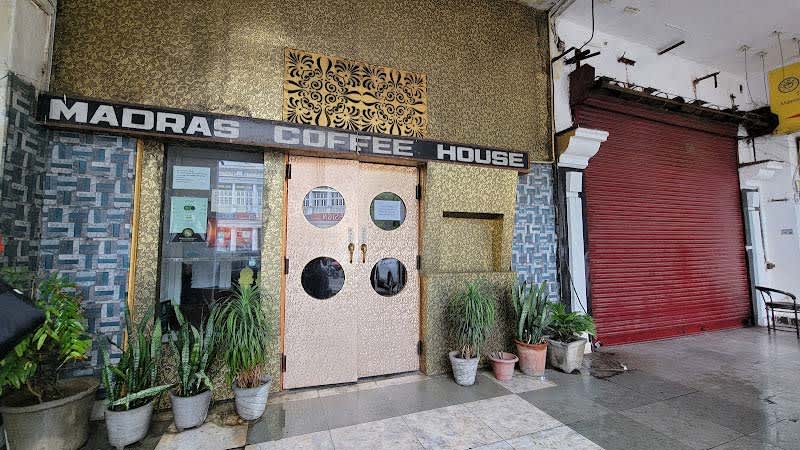 Picture Credits: Himanshu Mehta
Now that CP is brimming with great cafes and eateries one after another, it's easy to miss this humble and small place, which looks like it has not changed an inch over decades. Ever since 1935 in the capital, Madras Coffee House is a humble place that will surely feel as if you've walked back in time. Which is why it definitely deserves a visit! So the next time you're craving dosas & idlis & coffee, you know where to go. 
Where | Madras Coffee House - P-5/90, Outer Circle, CP
Meal For Two | Rs 700
Timings | 11 AM - 10 PM 
Call Them | +91 11 2336 3074
That was it from us, folks - go out and explore your city like never before, and don't forget to tag us in your photos!