Delhi
10 Great Concept Stores In Delhi Where You Can Shop AND Eat Away To Glory!
We're always on the lookout for something new, an enterprise which combines interesting concepts together and amazes us with creativity and ingenuity like never before! And so, we hunted down a list of great places in Delhi that combine two of our most ardent passions - food and shopping! These concept stores are killing it with their fresh concept and you gotta swing by - read on, get, set, go!
1. Cafe Dori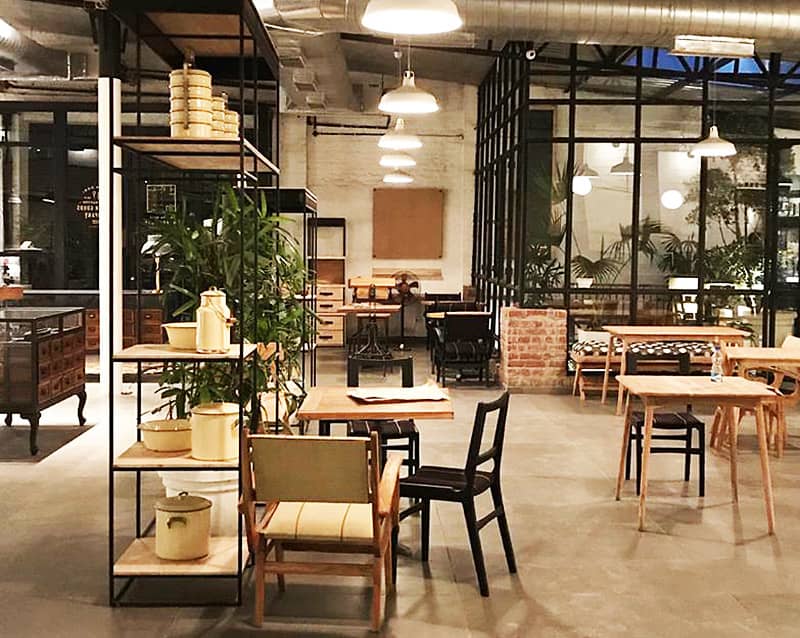 One of the biggest and best brands for leather products in the city, Nappa Dori has this cutesy studio-cum-cafe where you can take up one of their Indie magazines and lounge about while you sip on some yummy coffee. Perfection! What can be a better way to spend a day than browsing through their amazing products, sipping some coffee and just hangin' around! 
Where | Cafe Dori - Dhan Mill Compound, 100 Feet Road, SSN Marg, Chhatarpur
Meal For Two | Rs 800
Check Out Their FB Page | https://www.facebook.com/nappadori/
2. NicoCaara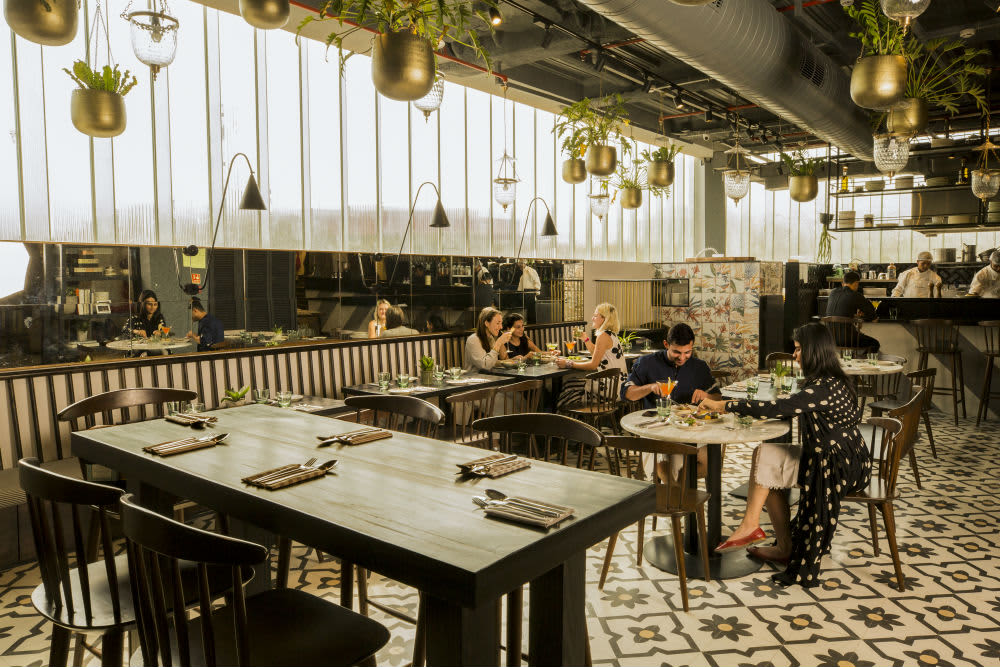 When our fave clothing line, Nicobar meets this RAD cafe called Caara, we Dilliwallas get this awesome cafe-cum-store called NicoCaara! Located in DLF Chanakya, this place offers us scrumptious Indian and Asian delights, along with a live kitchen and Insta-worthy decor! With an awesome collection of clothes for the contemporary Indian, Nicobar has already stolen our hearts away with its great collection and together, they're wowing all us Delhiites! 
Where | NicoCaara - DLF Chanakya, Chanakyapuri
Meal For Two | Rs 1,000
Here's Their Website | https://www.nicobar.com/
Check Out Their FB Page | https://www.facebook.com/nicobarstudio
3. Beyond Designs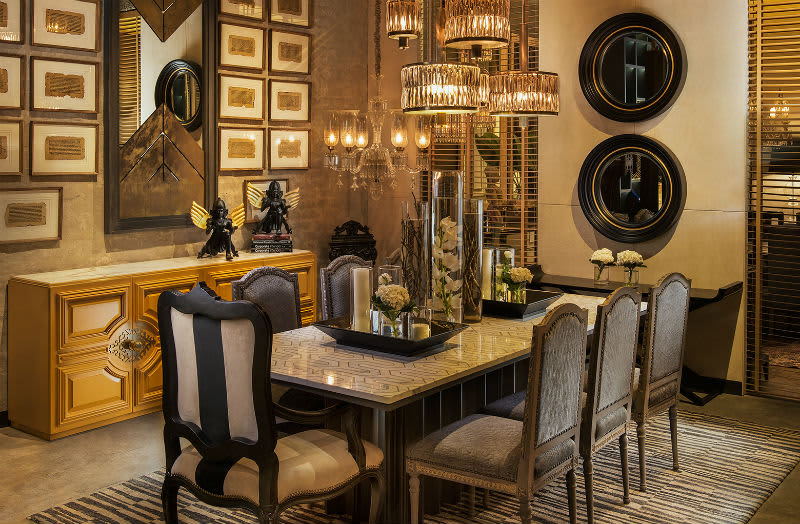 This 18-year old Delhi-based interior accessories & furniture brand called Beyond Designs has a huge flagship store in Mehrauli which also features a cafe called Cafe We. Located on the Mehrauli-Gurgaon road, this is an incredible space where some really classy designs meet scrummy food!
Where | Beyond Designs - Beyond Designs, Sultanpur, MG Road
Meal For Two | Rs 1,000
Browse Through Their Website | http://beyonddesigns.in/
Check Out Their FB Page | https://www.facebook.com/beyonddesignsIN/
4. Serendipity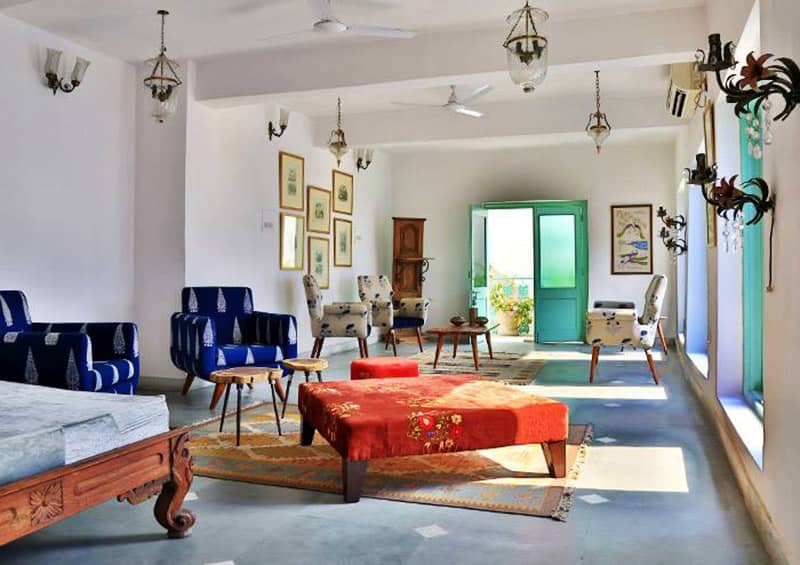 A lovingly-restored haveli, this travel-inspired concept store sure is a sight for sore eyes! The haveli was restored and converted into a lifestyle store by Kuldeep Kaur and boasts of the finest textiles, gorgeous furniture and vintage finds from international markets which makes it totally Insta-worthy. It's got the most exquisite stuff, from princely cushion covers to classy hand-woven sarees to graceful jewellery AND has a gorgeous rooftop cafe overlooking historic Mehrauli environs to boot. Now that's called killing two birds with one stone!
Meal For Two | Rs 1,000
Timings | 11 AM - 7 PM
Where | Serendipity - 238/4, Jonapur Village, Mandi Road
Here's Their FB Page | https://www.facebook.com/SerendipityDelhiConceptStore
5. Basanti - Kapde Aur Coffee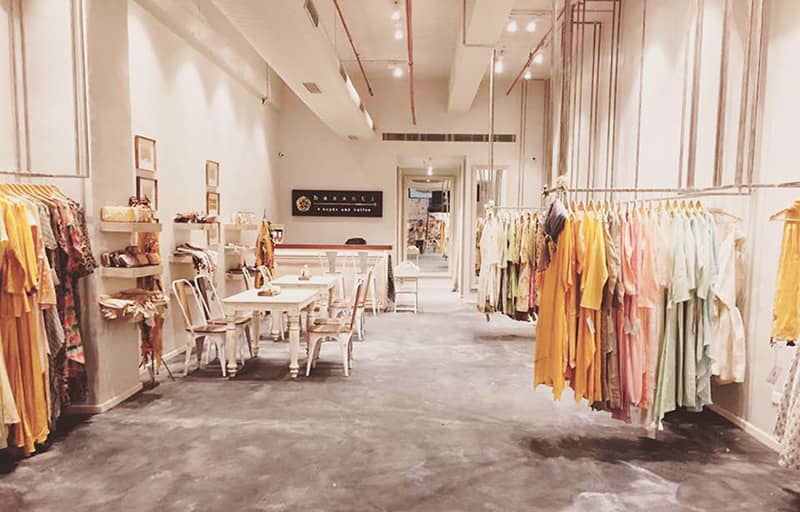 Basanti, apart from iconic dialogues, now also gives us minimalistic-yet-charming clothes along with rich coffee! With a dreamy concept of browsing through chic clothing whilst sipping on good coffee, what's not to love here?! It's got ethnic wear and jewellery that will make you feel like a princess without being too over the top, with intricate work on subtle pastel shades with juttis and clutches to mix-and-match with and channel your inner- ethnic goddess. Before you walk out with some gorgeous clothes, do sip on some coffee in this lovely store!  
Where | Basanti - Kapde Aur Coffee - 84-85, The Meharchand Market, Lodhi Road
Here's Their FB Page | https://www.facebook.com/basantikekapde
6. The Mad Teapot - The Wishing Chair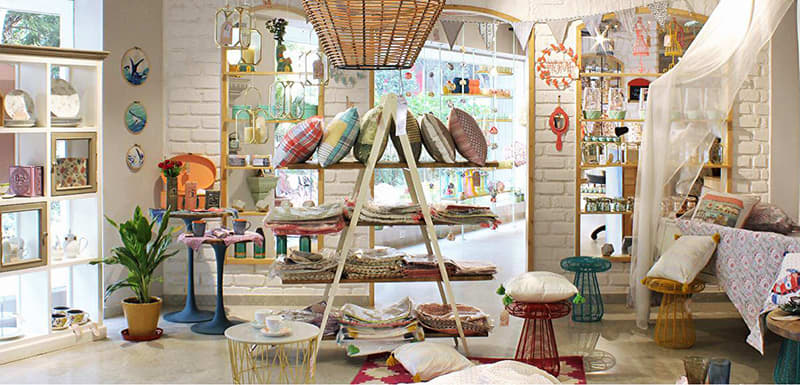 How we wish that we could just live here! This beautiful lifestyle retail brand has got everything from home accessories to decor and quirky little gifting items! This store describes itself as an "amalgam of childhood memories and adult ingenuity" and we say, bang on! With a strong creative and aesthetic sense, this one has whimsical designs and products like mannequin jewellery stands, quirky mugs and a hanging shelf for our planters. This store also houses a cutesy cafe which is just tailor-made for long conversations!
Meal For Two | Rs 1,000
Where | The Mad Teapot - The Wishing Chair - 86 A, Near UCO Bank, Shahpur Jat
Here's Their FB Page | https://www.facebook.com/WishingChair/
7. Threads Cafe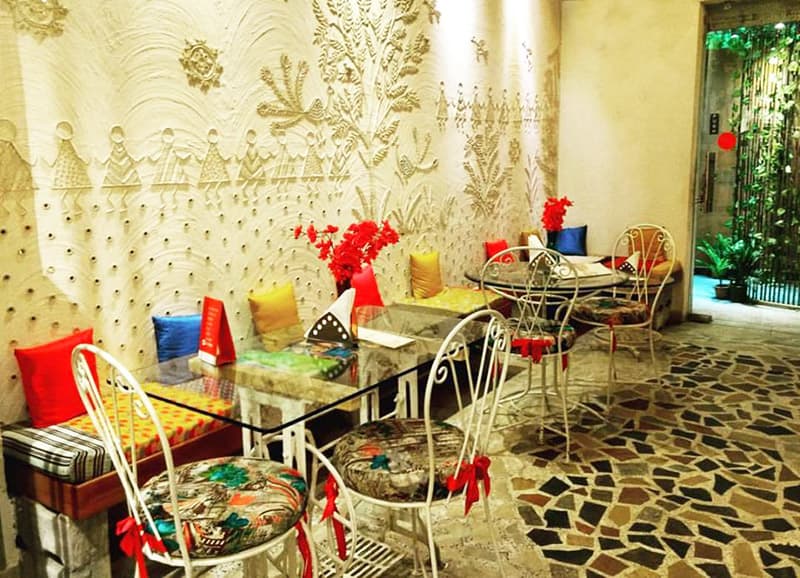 The concept of shop-while-you-eat is one we support wholeheartedly and Threads cafe does it beautifully! Run by a mother-son duo, this part boutique and part cafe when comes together is #Goals. With beautiful clothes and a charming vibe, and of course food - this one has got us salivating over both! Come here for a relaxing lunch with your girlfriends, and admire the designer wear or retire to their lovely painting room if you're feeling artistic. This cafe's concept is 100% satisfaction, it seems!
Meal For Two | Rs 700
Where | Threads Cafe - 253, Shahpur Jat
Here's Their FB Page | https://www.facebook.com/CafeThreads/
8. Good Earth 
This stylish luxury retail brand's concept is rooted in telling a story about a particular tradition or culture through every collection, every year. Situated right on the second floor of this store is their cafe, Latitude 28, which is created for food lovers with a passion for classics from around the world. You've get best of both world with this one - a store with an impeccable design aesthetic, along with a cafe to add a classic vibe to your food and mood. A visit to this store and cafe is a must!
Meal For Two | Rs 2,000
Where | Good Earth - Shop No.9 A.B.C., Khan Market
Here's Their FB Page | https://www.facebook.com/goodearthindia
9. GREENR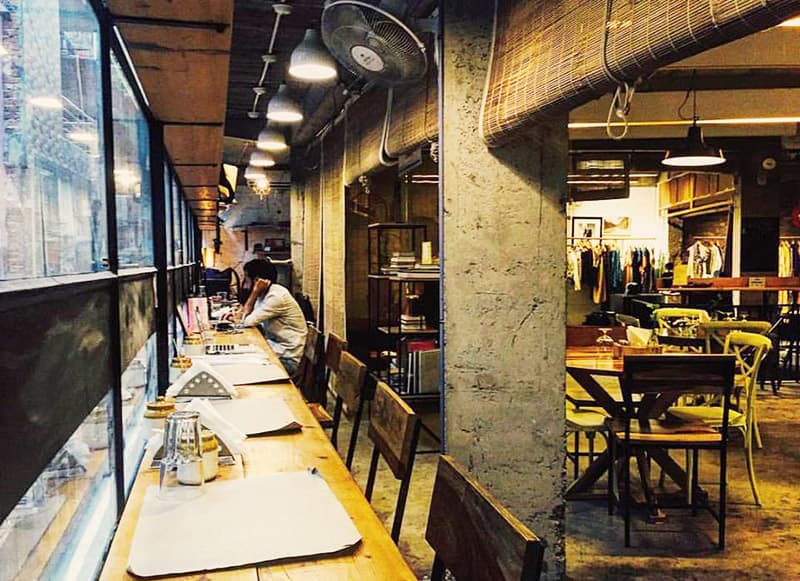 Step in and absorb the subtle hipster vibes of this place! The ground floor here houses underrated gems (literally) in the accessories department like Nimai and Dhora and a bunch of furniture, merchandise and fashion wear. This might seem like your regular run-of-the-mill boutique but hold up, it does all of this in "harmony with the planet" with conscious consumption and value-oriented products. With that concept, it doesn't surprise us that its cafe has a vegetarian and vegan menu but we didn't quite expect it to be a co-working space too! Head here for a chill day of great veggie food and net surfing on your laptop!
Meal For Two | Rs 1,100
Where | GREENR - 416, Gora Street, Behind Dada Jungi House, Shahpur Jat
Here's Their FB Page | https://www.facebook.com/begreenr/
10. Fab Cafe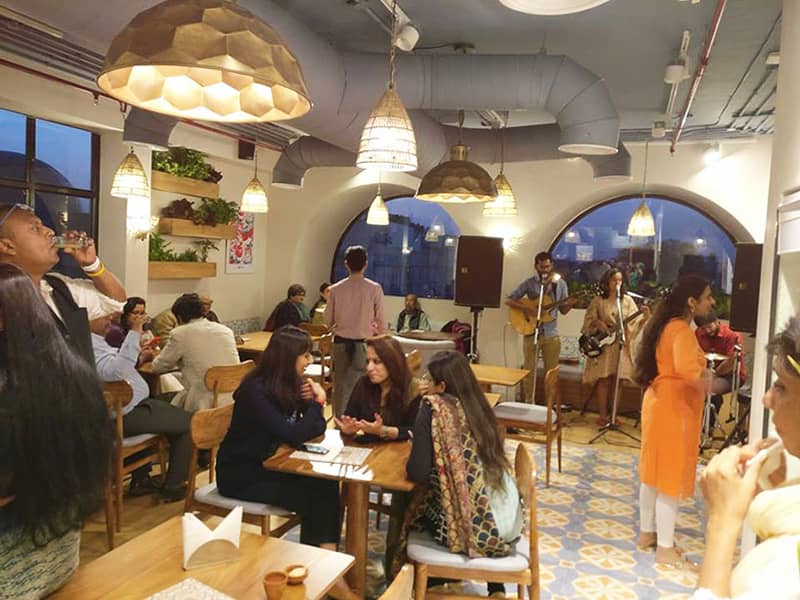 A cafe inside the most the most humongous Fabindia store in Vasant Kunj, this health cafe has a menu that will have even your most diet-conscious friend happy! This place doesn't only have a menu with heavy descriptions and extremely light yet filling food, it also has a play area for your kids to have some fun of their own! A place for you to come together and connect with people, with digital fabrications like 3D printers and laser cutters, this cafe is blowing our mind with its concept!
Meal For Two | Rs 1,200
Where | Fab Cafe - Shop 10, Local Shopping Centre, Nelson Mandela Marg, Vasant Kunj
Here's Their FB Page | https://www.facebook.com/Fabindia/
Head to any of these places for a relaxing time with food and shopping and come back with a smile and a heart filled with happiness. What a concept!