5 Gorgeous Rooftop Eateries Overlooking Heritage Views For Those Chilly Winter Evenings
There's a certain charm and aura about sitting in the beautiful settings of restaurants in open air and looking out at the beautiful view and scenery sprawling everywhere the eye can see. This, coupled with the winters of Delhi and you're good to go for the next 3 months, warm and cosy in your bomber jackets, sipping some delightful wine hand in hand with your loved ones! And on that note, we've gone and found 5 amazing and pretty AF rooftop eateries that overlook beautiful heritage views - take a look and head on over!
1. La Belvedere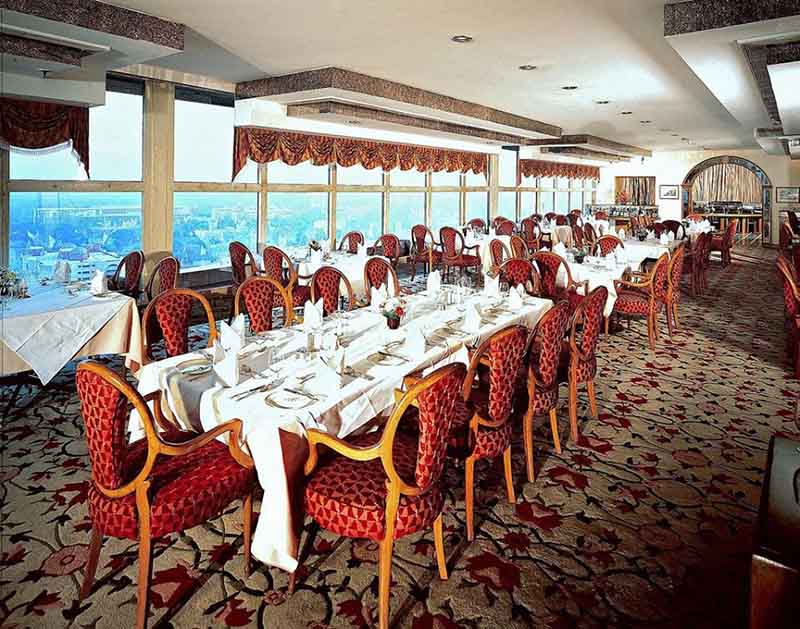 A beautiful rooftop restaurant in the iconic and luxurious hotel Le Meridien in CP, this place has a stunning view of the entire Lutyens Delhi. From the Parliament to the Supreme Court to the Rashtrapati Bhawan, the view from this place is simply breathtaking! Head over to this fine dine rooftop restaurant to enjoy your fill of imported liquors, wines and some delectable gourmet fare!
Where | La Belvedere - Le Meridien, Janpath
Timings | 12:30 PM - 12:30 AM
Call Them | +91 11 6610 3566
Meal For Two | Rs 5,000
Check Out Their FB Page | https://www.facebook.com/LeMeridien.NewDelhi/
2. Haveli Dharampura
Set against the backdrop of the Walled City, with intricate carvings on the walls and doors, and the Jama Masjid minarets within touching distance - say hello to Haveli Dharampura! This haveli-turned-restaurant is the perfect place to have a satisfying meal while drinking in the sights and sounds. We recommend you rev up your engines right away and head here!
Where | Haveli Dharampura - 2293, Gali Anar, Bazar Gulian Road, Dharampura
Timings | 7:30 AM - 10:30 PM
Meal For Two | Rs 2,500
Call Them | +91 11 2326 3000
Check Out Their FB Page | https://www.facebook.com/HaveliDharampura/
3. Lavaash by Saby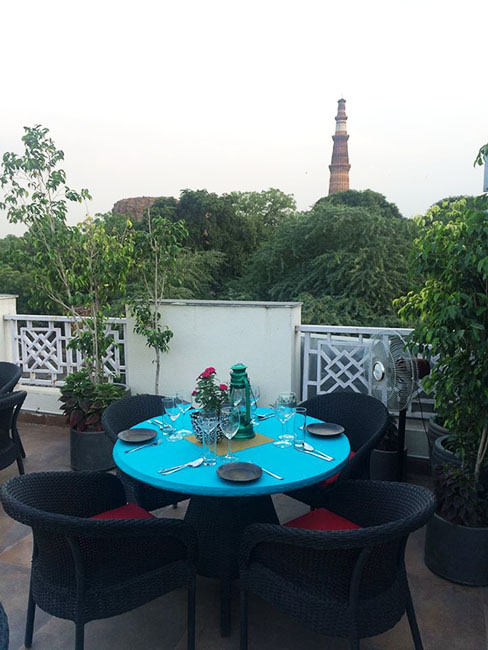 Another spectacular restaurant with a spectacular view and an even more dazzling array of items on the menu! This restaurant overlooks the symmetrical and grand Qutab Minar, winning our hearts straightaway. With such pretty heritage views, the feel of devouring lip smacking Armenian cuisine here is next-level! They've even strung pretty fairy lights to give off those La La Land feels!
Where | Lavaash By Saby - H5/1 Ambawatta 1, Kalka Das Marg, Mehrauli
Timings | 12 Noon - 12 Midnight
Meal For Two | Rs 2,000
Call Them | +91 7827 044 055
Check Out Their FB Page | https://www.facebook.com/lavaashbysaby/
4. Dramz Delhi
It seems that restaurants have taken a liking to the ever beautiful Qutab Minar and the surrounding jungles of Mehrauli to provide an unforgettable experience to their patrons! A high-end restaurant with chic interiors and the most stellar whiskey selection in the city, this place offers a spectacular view to guests! We recommend Dramz as the perfect escape from the concrete jungle that is Delhi!
Where | Dramz Delhi - 1580/1, KD Marg, Near Qutub Minar, Mehrauli
Timings | 12:30 PM - 1 AM
Meal For Two | Rs 3,200
Call Them | +91 9667 392 384
Check Out Their FB Page | https://www.facebook.com/Dramzdelhi/
5. HKV Social Chhat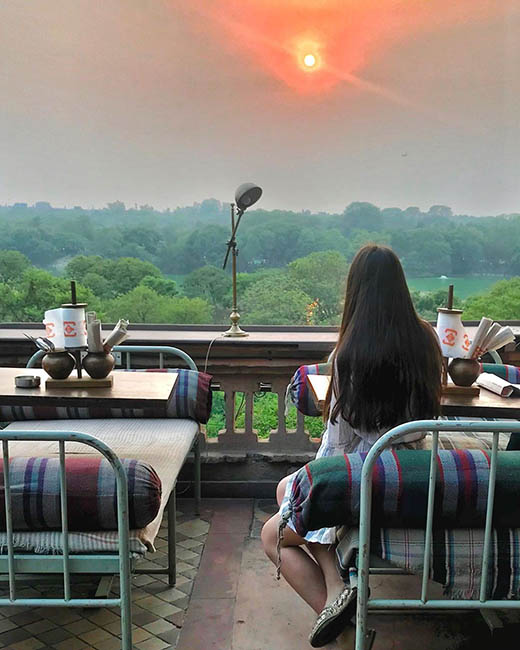 Picture Credits: yanetbrunette
We would be doing a disservice to the people of Delhi if we didn't put Social HKV's Chhat on this curated list! Social remains beloved on the party circuit and with every item on the menu rocking the palates of its patrons, the Chhat of Social in Hauz Khas Village comprises beds to relax in, all overlooking the grand lake of the historic Hauz Khas fort! If y'all haven't been here already, it's time you head on over!
Where | HKV Social Chhat - 9-A & 12, HKV
Timings | 11 AM - 12:30 AM
Meal For Two | Rs 1,300
Call Them | +91 7838 652 814
Check Out Their FB Page | https://www.facebook.com/HauzKhasSocial/
Book your favourite heritage view rooftop place for that perfect sunny brunch or a wintry date night in the coming weeks!