Delhi
9 Cray Dishes That Deserve To Be On Every Foodie's Insta Feed This Winter Season!
Disclaimer: Bearing in mind the current restrictions in the city and the world at large, we're tweaking our content policy and recommendations to focus more on staying indoors and exploring the digital world and all its wondrous offerings! Stay positive, keep hygiene levels up and don't fall prey to panic and misinformation.
We are a generation that's addicted to Instagram and we won't be exaggerating if we say that we refresh our feeds every five minutes. So, if you too are one of those millennials who're addicted to social media and love food as much as we do, then continue reading as we've listed below food items that beg to be clicked and Instagrammed!
1. Fried Ice Cream @ Rood Dude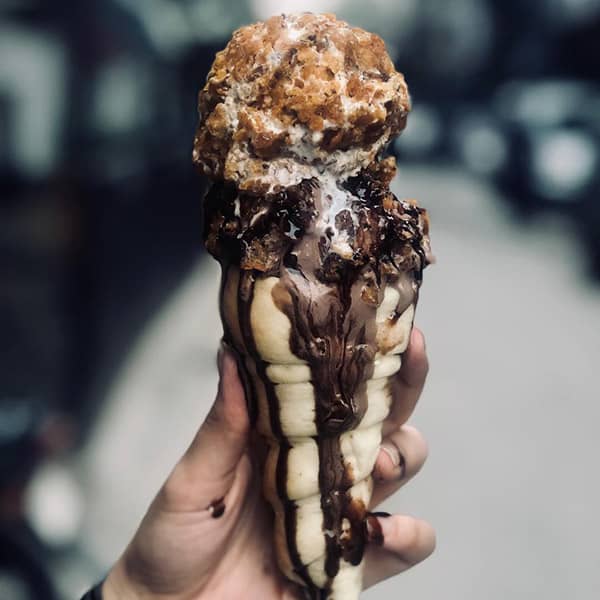 Ice Creams are loved by all and whether it's summer or winter, we can never say a NO to them! Fried Nutella Ice Cream with Crispies from Rood Dude is what you need to savour and post a selfie with to make your feeds look chocolatey and utterly drool-worthy!
Where | Rood Dude - Shop No - 282/4, Satya Niketan
Price | Rs 129 Onwards
Timings | 11 AM - 10:30 PM
Call Them | +91 7982 019 330
Check Out Their FB Page | https://www.facebook.com/MaakanMridul
2. Tandoori Chai @ Alpha'ss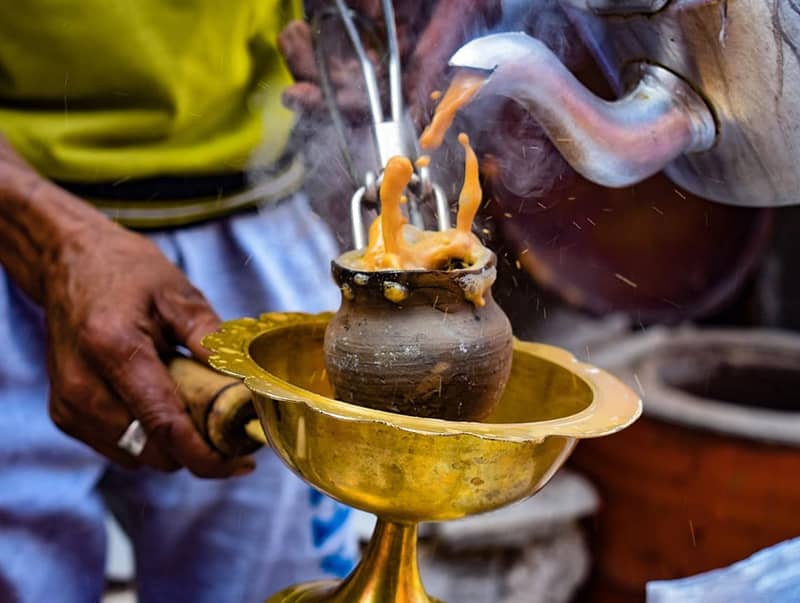 We love our chai a bit too much and can slurp it down with almost every meal of the day! With different types of tea varieties coming up, Tandoori Chai is the latest addition to the family and it's all we need in this freezing Dilli ki sardi. This chai has a smoky, earthy taste and we are totally loving the hot kulhads that it comes in and the unique taste that it leaves behind on our palettes! And you know what? The steam of the hot chai makes the perfect frame for your #trending picture on IG!
Where | Alpha'ss Tandoori Chai - Shop No. 6, Commercial Complex, Mukherjee Nagar
Price | Rs 20
Timings | 8 AM - 11 PM
Call Them | +91 9667 880 624
Check Out Their Insta Page | https://www.instagram.com/alpha.sstandoorichai/
3. Fries In A Jar @ Jack 'N' Chill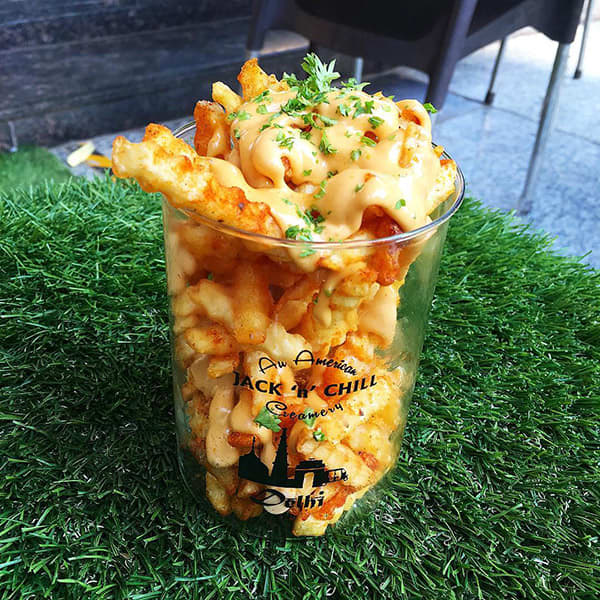 Picture Credits: arihantjain94
French fries are our soul food and trust us, we love all sorts of them. This new American snacks hub offers over ten varieties of french fries and they look as fancy as their name. We are definitely posting a picture of their vegetables and cheese loaded Pizza Fries, Peri Peri Fries and Nutella-loaded Nutella Fries too!
Where | Jack 'N' Chill - Anand Vihar, Vijay Nagar & GK I
Price | Rs 80 Onwards
Timings | 12 PM - 11 PM
Call Them | +91 8800 769 007
Check Out Their FB Page | https://www.facebook.com/jacknchillindia/
4. Hot Jalebis @ Old Famous Jalebi Wala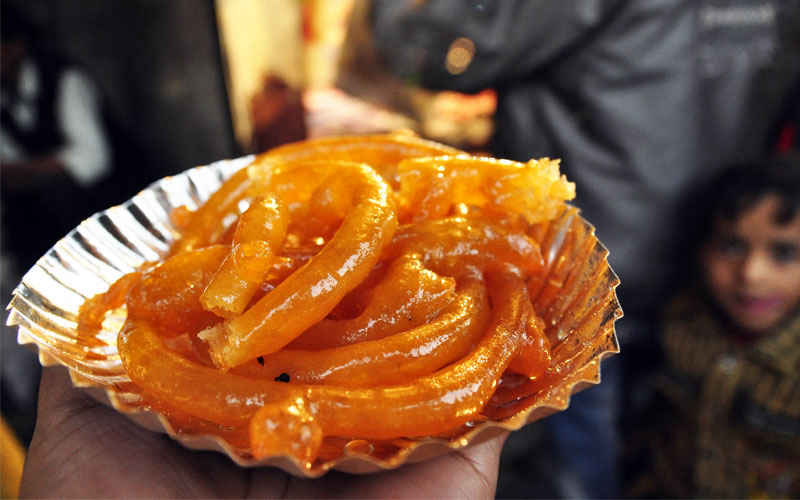 Situated in the famous eatery hub pf Chandni Chowk, this jalebi shop is more than 130 years old and offers juicy samosas and jalebis. These deep-fried, sugary treats are topped with their special rabri and are perfect for the spine-chilling weather of the city. So foodies, resist yourselves from wolfing these sizzling hot delights down before you post a perfect picture of them! 
Where | Old Famous Jalebi Wala - 1797, Dariba Corner, Chandni Chowk
Price | Rs 500 (Per Kg)
Timings | 8 AM - 10 PM
Call Them | +91 11 2325 6973
Check Out Their FB Page | https://www.facebook.com/pages/Old-Famous-Jalebi-Wala
5. Crunchy Kachoris @ Sharma Kachoriwala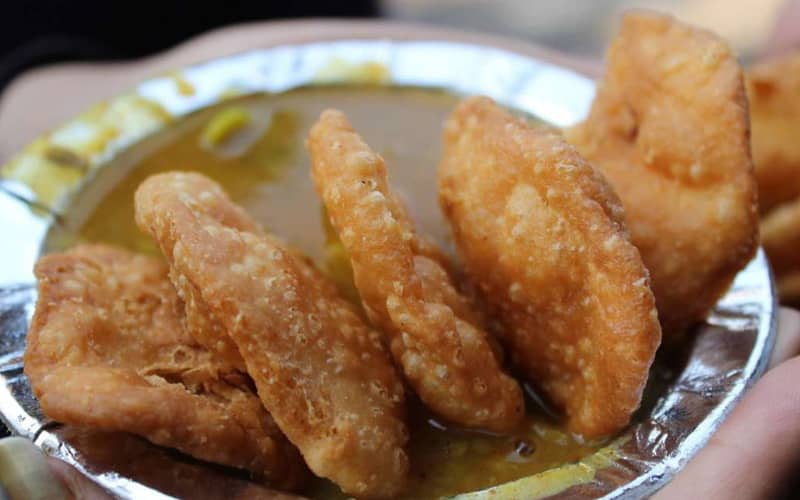 The very mention of kachoris made your mouths water, didn't it? Well, we heart them too and this shop called Sharma Kachoriwala is our fave in K Nags for these fried golden scrummies. We love each bite of their crunchy, fresh and tasty Kachoris and Aaloo Sabzi that comes mixed with yummy chutney. Apart from the scrumptious taste and crispy texture, their vibrant colours will certainly help you step your Insta games up!  
Where | Sharma Kachoriwala - 38/A, Satyawati Marg, Kamla Nagar
Price | Rs 22 For 5 Kachoris
Timings | 7:30 AM - 9:30 PM
Call Them | +91 8800 818 189
6. Momos @ Dolma Aunty Momos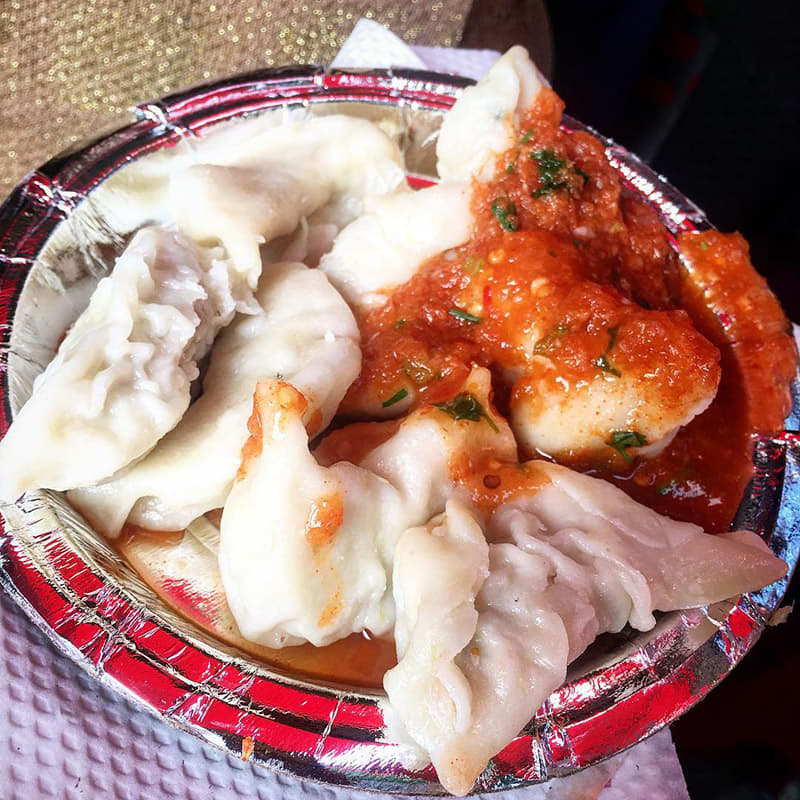 Picture Credits: bhukkad_ghumakkad
Momos and Delhi go hand-in-hand and this place with its outlets spread over Kamla Nagar, Lajpat Nagar and CP is one of the best momos stalls in the city. This eatery's offerings are tasty, fresh, mouthwatering and the spicy red hot chutney adds the perfect spice and colour to the plate. Head over and grab your share of these steamed or fried balls of happiness and get clicking!
Where | Dolma Aunty Momos - Shop D 44, Central Market & Other Outlets
Price | Rs 50 Onwards
Timings | 12 PM - 9 PM 
Call Them | +91 9810 654 581
7. Hot Chocolate @ Cafe Wanderlust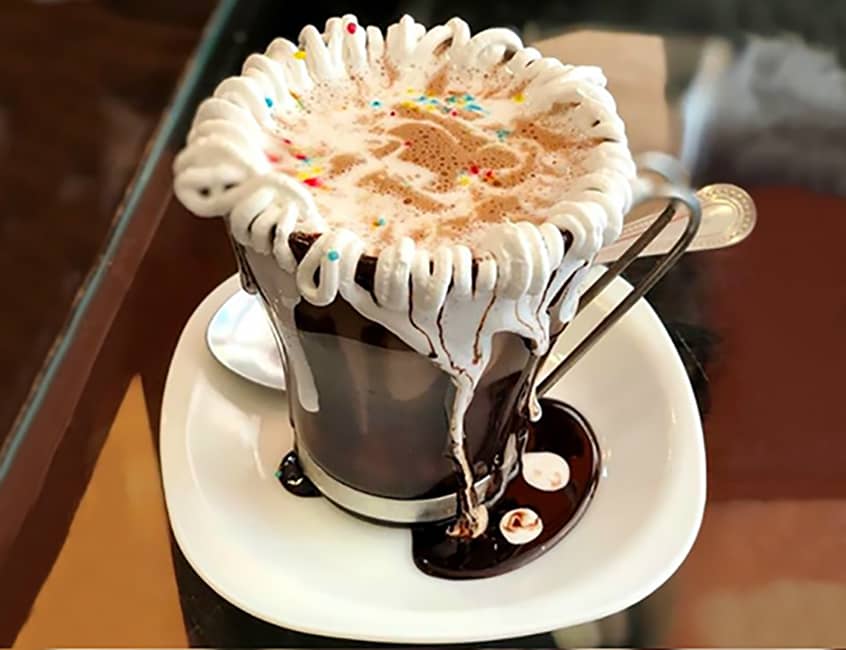 We're sure you've heard a lot about the overloaded freak shakes at Cafe Wanderlust but we bet, from the very first sip of their Wanderlust Special Hot Chocolate, you'll be transported to a cocoa wonderland! This rich & decadent beverage comes messily splashed with tons of whipped cream that's poured to the brim of the mug with a few vibrant sprinkles adding just the right amount of colour to the drink that'll pop up nicely on your feeds!
Price | Rs 185
Where | Cafe Wanderlust - SF-53-54, 1st Floor, DLF Galleria, DLF Phase IV, Gurgaon
Timings | 10 AM - 11 PM
Call Them | +91 9643 206 207
Check Out Their FB Page | https://www.facebook.com/cafewanderlust 
8. Daulat Ki Chaat @ Jaspal & Sunil Kumar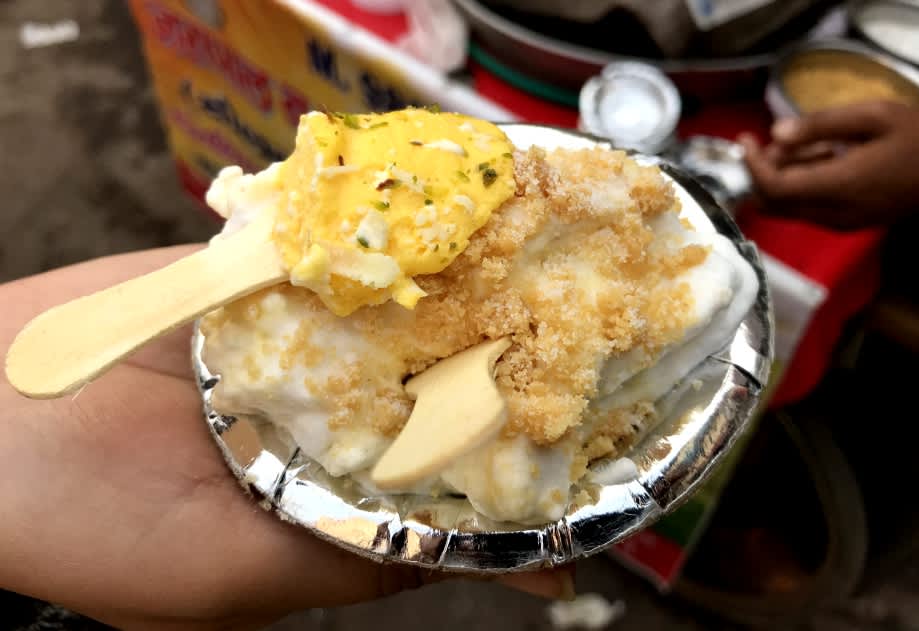 Owing to the huge demand of this dessert, this guy puts up two thelas in the area and boasts proudly that both his thelas manage to empty their produce before the chaat goes milky! He loads a spoonful on his bowls mixed with powdered sugar, ground nuts and crushed chena to make it one of the tastiest preparations in all of Old Delhi. This guy can be spotted right outside Shyam Sweets and also has a thela at the beginning of the Dariba Kalan Market when coming from Chandni Chowk, so come drop by and get clicking!
Price | Rs 50
Where | Jaspal & Sunil Kumar - In Front Of Shyam Sweets, 112, Barshah Bulla Chowk, Chawri Bazar
9. A Variety Of Chur Chur Naans @ Sanjay Chur Chur Naan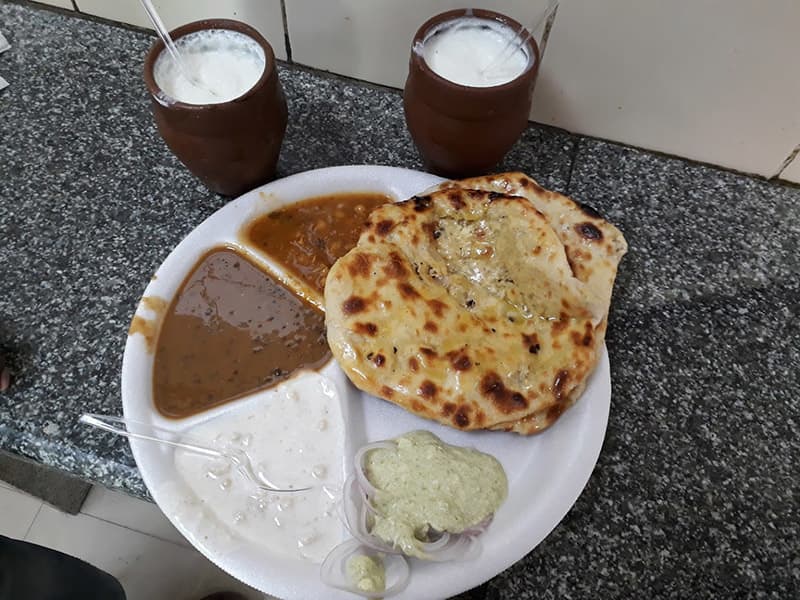 Picture Credits: Mohit Mishra
Many say commercialisation has hit this super famous place right in the gut but we still consider it a frontrunner for Delhi's best! It might be the extra oodles of butter or the trust of hundreds who stop at this eatery but Sanjay still has got this place running like a well-oiled machine. From Paneer Chur Chur Naan to Aloo Pyaaz to Mix, this guy has a huge menu and serves chola, dal makhani and raita to go with your scrummy naans! 
Price | Rs 106 Onwards
Where | Sanjay Chur Chur Naan - Moolchand & Kalkaji
Call Them | +91 9205 052 938
Timings | 10 AM -11 PM
These were our top picks for your Instagram feeds and stories this season. What are you waiting for? Go and get clicking already!