Delhi
8 Exciting Diwali Gifting Ideas Starting At Just Rs. 500 For Your Loved Ones
The day of merrymaking and awesome Diwali bashes is right 'round the corner, folks, and obviously, this day is sure to entail loads of gift exchanges, gulping down melt-in-your-mouth mithai, and stuffing ourselves with delish food fit for the gods! But many of you may be down in the dumps 'cause the current health situation isn't really ideal ATM. 
But hey! We don't need large gatherings and loud, crowded parties to have fun this Diwali, do we?! We're perfectly capable of having a chiller time in a small get-together with close family attending! Are we right, or are we right?! *Wink* And we're here to make this Diwali even more special by bringing you a list of food joints and online stores that'll bring the food, merriment, and joy of Diwali shopping, right at home. So scroll on for all the info! 
1. The Luxx'Aura Potli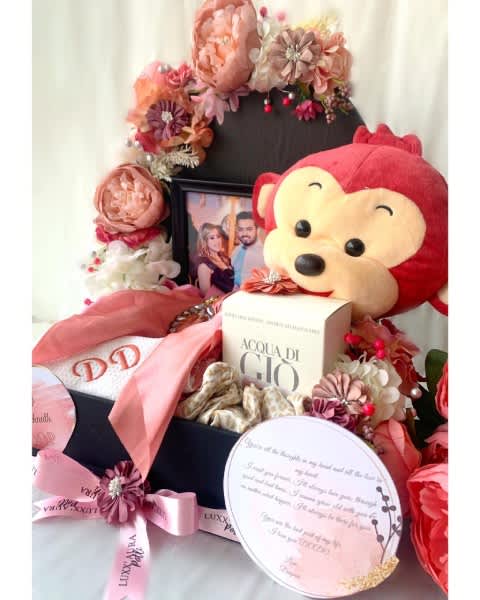 Luxx'Aura Potli is all about curating the essence of Luxury in customized gifts for your loved ones and make for some rad gift options for your near and dear ones this Diwali. They follow a unique concept of personalizing both formal and informal gifts for all occasions, including wedding trousseau, festival gifting, bachelorette party hampers, birthdays, corporate gifting, and the likes. They also curate these lovely and super cute hampers, starting at Rs. 1000, which goes up according to the vision and creativity of customers. After all, you're the one who's behind the helm in the creation of these masterpieces. We'd say that sounds absolutely fantastic, so go and carefully curate your version of a gift hamper for your loved ones this season of cheer and glee! 
Price | Rs 1,500 Onwards
Call Them  |  +91 9899 311 195 & +91 9899 267 292 
Check Out Their FB Page | https://www.facebook.com/LuxxAuraPotli/ 
Skim Through Their INsta Feed | https://www.instagram.com/theluxxaurapotli/?igshid=16fb8h0xm2acx 
2. Healthy And Hygiene Tea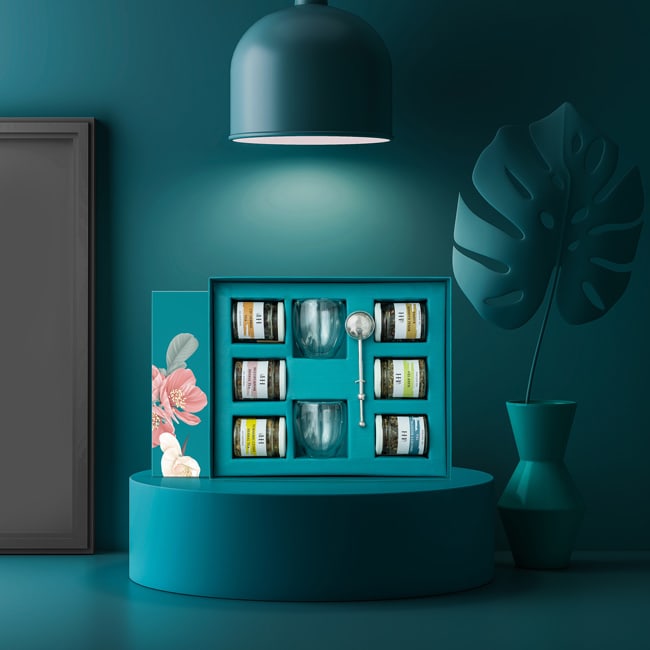 Healthy And Hygiene Tea is a brand that vows to serve its customers with 100% natural and hygiene products, and their tea products combine earthy and all-natural herbs and spices to provide people with these incredible and aromatic green teas & herbal teas, that are beneficial in fighting various ailments and diseases. What's more, they have decided to make our Diwali ten times healthier by coming up with 2 different gift boxes - Healthy Indulgences Gift Box and Healthy Celebrations Gift Box, that make a perfect gift for your loved ones. These Gift boxes compile premium blends of tea jars, along with 2 double-walled glasses for you to enjoy your tea, and 1 Brass Tea Infuser to add the final touches to this beautiful gift! We're completely sold and can't wait to grab 'em for our own families. What 'bout you, folks?!
Price | Rs 1,899 Onwards 
Here's Their Website | https://healthyandhygiene.com/ 
Check Out Their FB Page | https://www.facebook.com/Healthy-and-hygiene-tea-107646694461047 
Skim Through Their Insta Feed | https://www.instagram.com/healthyandhygienetea/ 
3. Worldofmadake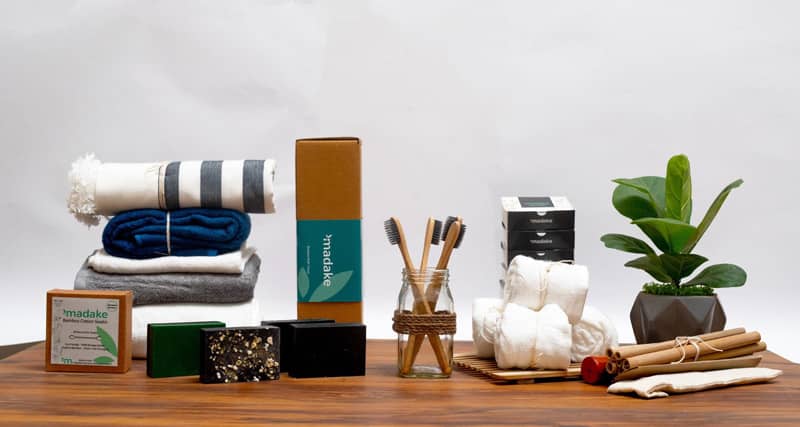 Worldofmadake is an online store that aims at developing innovative and state-of-the-art,  day-to-day bamboo products for their users. They believe in using sustainable resources to avoid excessive exploitation of non-renewable resources like oil and freshwater! They're doing their bit to save the environment for y'all, so why not join their vision and purchase their Box of Happiness gift hampers and the new Diwali Gift boxes they're launching this festive season? 
They contain their signature products like the White Terry bamboo bath Towels, face towels, bamboo Cotton Swab, bamboo toothbrushes, and more such products that are bound to bring joy into the lives of you and your fam, as well as help you save the planet, as you do so?! Sounds like a plan to us! 
Price | Rs 999 Onwards 
Here's Their Website | https://madake.in/ 
Check Out Their FB Page | https://www.facebook.com/worldofmadake 
Skim Through Their Insta Feed | https://www.instagram.com/worldofmadake/ 
4. Sancha Tea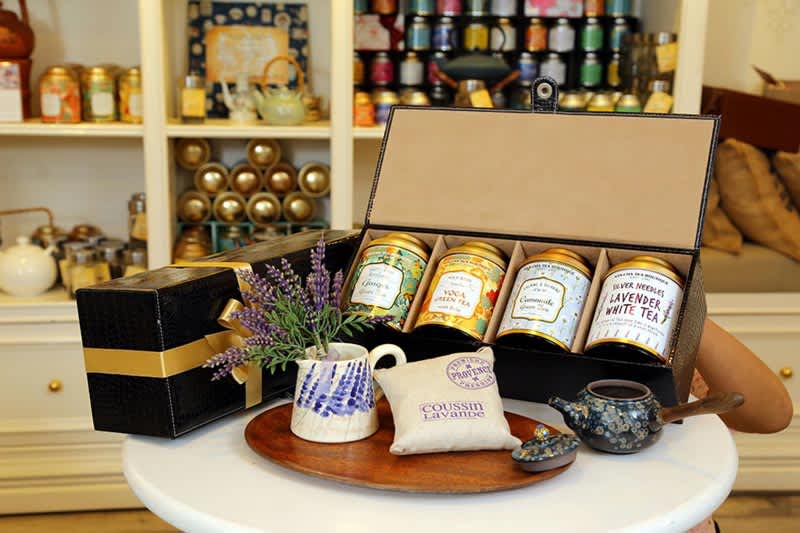 San-Cha Tea, India's first gourmet tea store, was launched in Old Delhi back in 1981 and has since evolved into an established brand in India and Japan, Korea, and Russia. Known for its high-quality tea, they've decided to increase our Diwali cheer this holiday season with their new Diwali Gift hampers, which include beautifully curated selection of various teas, along with tea brewing equipment in gorgeous gift boxes! 
This festive season get yourself & your loved ones the gift of health with these specially curated blends by Sancha Tea Boutique! Get ordering or visit their store to grab these refreshing tea blends. We're totally going gaga over these exquisite gift boxes, and we're sure you'll love them as much as we do, so go ahead and check out their website for more details!
 
Price | Rs 500 Onwards
Where | Select City Walk, Chanakyapuri & Cross Point Mall, Gurgaon
Call Them | +91 9811 828 681
Here's Their Website | https://www.sanchatea.com/ 
Check Out Their FB Page | https://www.facebook.com/SanchaTeaIndia/ 
Skim Through Their Insta Feed | https://www.instagram.com/sanchateaboutique/
5. Dipinn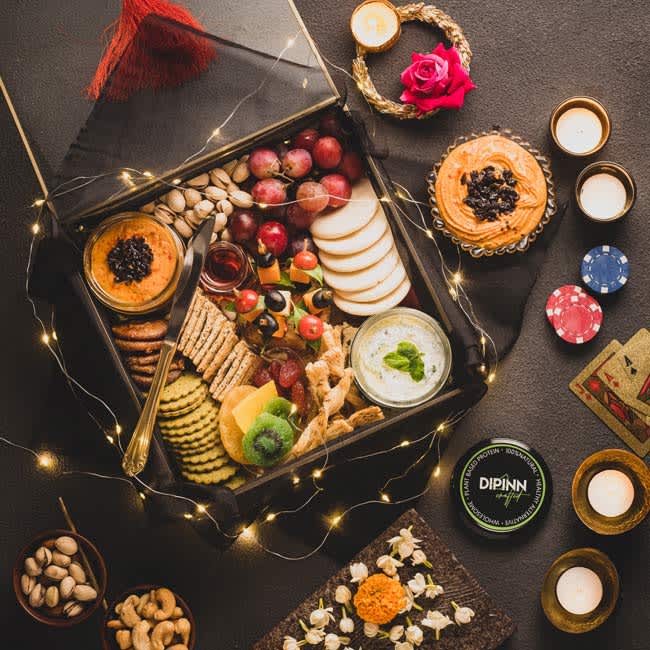 Dipinn is a brand where you can get scrummy and super healthy Dips, Crackers & Fondues, which are said to be crafted with the utmost care and attention! They also promise to bring their customers the freshest ingredients for their products that contain plant-based protein, ZERO preservatives, are 100% natural, without compromising your taste buds in the least. Said to be made from the perfect balance of spices and love, we're already drooling after skimming through their feed.  They have also curated 6 Diwali hampers and platters this season that contain their signature dips and assorted crackers, along with herbed olives, compound butter/cheese, exotic dehydrated fruits, honey, dry fruits, crostinis, grapes, and more. These are thoughtfully put together in an aesthetically pleasing hamper that is sure to completely light up your Diwali! So get to ordering, right now!  
 
Price | 1,500 Onwards 
Call Them | +91 9315 700 642
Here's Their WhatsApp Link | https://wa.me/c/919315700642
Skim Through Their INsta Feed | https://www.instagram.com/dipinn_crafted/ 
6. Rad Living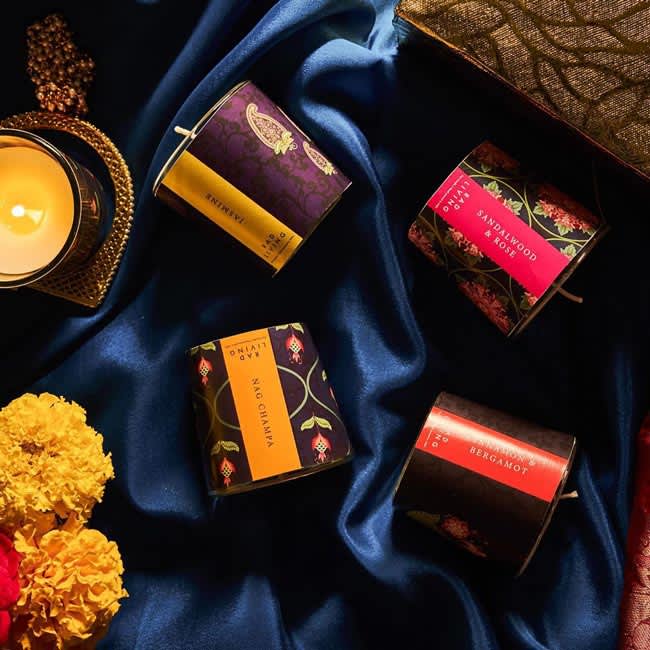 If you're looking for those perfect candle jars this Diwali to gift your friends and fam, then look no further. Rad living is planning to illuminate your Diwali with their gorgeous and fragrant Soy Double Wick Candle Jars. The candles come in a wide variety of fragrances for you to choose from, like Nag Champa, Jasmine, Sandalwood, Rose, and so much more. They also have these stunning Soy Pillar Candles in varied fragrances, gleaming colors, and quirky shapes and designs, which will fosho enhance and brighten up your space, while bringing you warmth and joy. If these sound like the perfect Diwali gift, which we're sure they do, check out their website and get to ordering ASAP! 
Price | Rs 799 Onwards
Here's Their Website | https://www.radliving.in/ 
Check Out Their FB Page | https://www.facebook.com/radlivingofficial 
Skim Through Their Insta Feed | https://www.instagram.com/radliving_/ 
7. The Dekor Company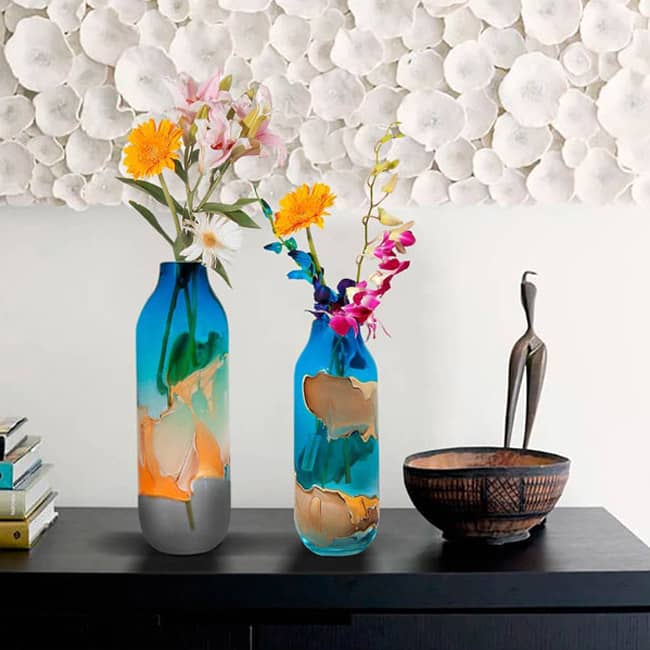 For all those obsessed with amazing wall decor, here's the solution to your artistic fantasies! The Dekor Company brings to you memorable and unique wall decor items like unique wall accents, mirrors, Decorative vases, metal finishing, canvas wall art, hand-painted wall art, wall shelves, and the likes. 
Their wall painting and metal artwork will grab your attention immediately and is sure to look stunning, whatever wall they grace. Their products also make for thoughtful gift options and would be a perfect gift for everyone looking to completely revamp their living space this Diwali! So visit their website and grab anything you like cause your fam is sure to adore everything from here!  
Price | 2,000 Onwards
Here's Their Website | https://www.dekorcompany.com/ 
Check Out Their FB Page | https://www.facebook.com/thedekorcompany/ 
Skim Through Their Insta Feed | https://www.instagram.com/thedekorcompany
8. Surabo By Radhika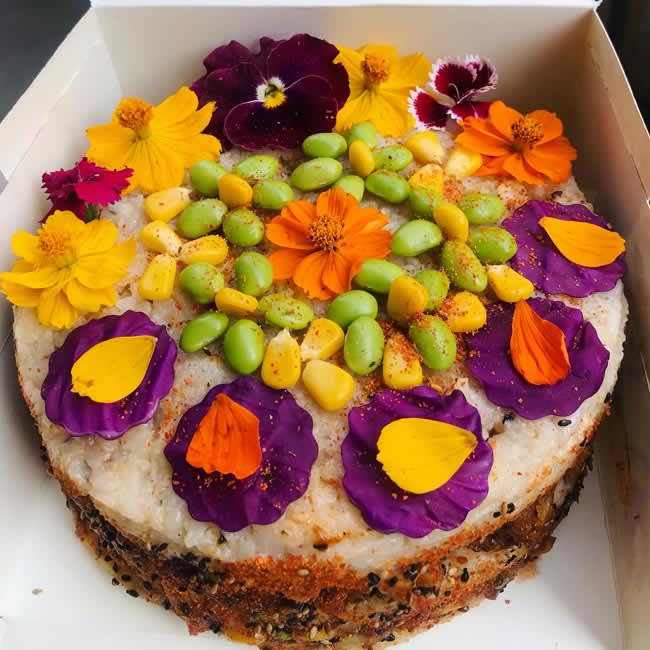 Surabo By Radhika is a food delivery service that recently started their business on the 5th of August and we're completely taken in by the unique and new twist they've given to the food they cater, which is super innovative. They call their burgers 'Burgs' and serve various Chinese, Indian, Italian, and Mexican 'Burgs', taking their concept from Japanese Burgers and Taiwanese Bubble Tea! And what's more, they're 100%  vegetarian, everything is homemade, and they even have vegan options! And here's the best & most fun part; their Burgs do not have bread buns; instead, the buns are made of ramen, Hakka noodles, sushi rice, fried rice, spaghetti & Mexican rice! Yup, we just got our minds completely blown! They're also serving something called Shushi cakes *What* which will defo spark joy to your Diwali parties, dinners & more. We'd recommend trying their Ultimate Mexican Burg and the Apple Cinnamon Bubble Tea for a blissful meal This Diwali. Order 'em up for the entire family and fall head over heels in love with the food! 
Price | Rs 1,250 Onwards
Order From Here | https://urordr.at/surabobyradhika 
Call Or WhatsApp Here | +91 9910 625 711 
Check Out Their FB Page |  https://www.facebook.com/SuRaBobyRadhika/ 
Skim Through Their Insta Feed | https://www.instagram.com/surabobyradhika/ 
If we've lifted your spirits with this list, even just a teeny tiny bit this holiday season, we consider that a win! Don't forget to check all of them out and have a marvellous Diwali, y'all!