Delhi
7 Delicious Dishes We Scooped Up @ Our Puppy Date At Pawsome Fur Ball Story Cafe
This cafe has been conceptualised by three young, dynamic professionals who happen to be true blue dog lovers. There are seven (yeah, you can read that again) in-house doggos whom you can play with, ranging from shihtzus and labradors to golden retrievers *awwwing so hard RN*. The cafe has both indoor and outdoor seating to suit all seasons. The dog biscuits kept on the table and the hand sanitiser handily placed there tell you exactly how much painstaking detailing has gone into executing the concept of this cafe.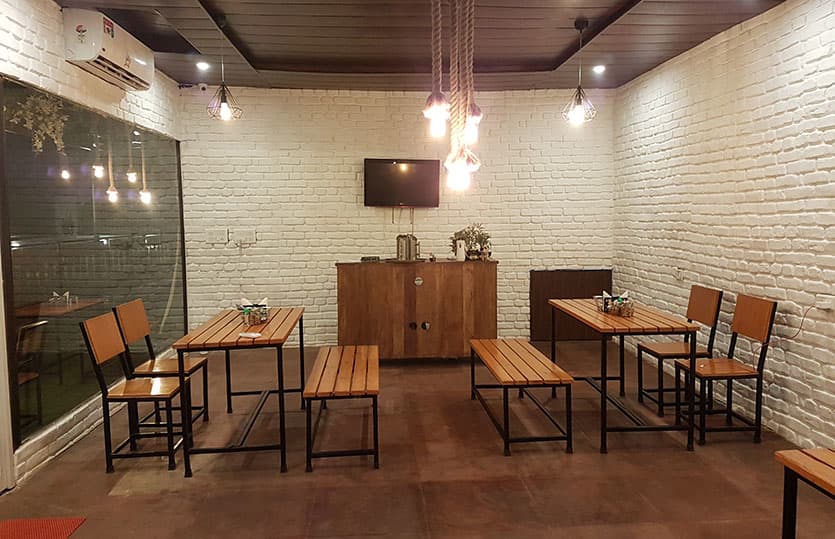 A multicuisine menu for pets and their hoomans, a specially curated dog food menu by a renowned nutritionist, doggie dabbas and a safe place to leave your pets when travelling- this place is much more than just a lunch hangout joint, it's a haven for pets and their parents! The best thing is you that don't have to worry about your pets while chatting or lunching. The pet managers take over that responsibility the minute you enter this place, tails wagging of course!
Diving in, here's everything we laid our hungry forks on, so read on!
1. Green Chilli Maggi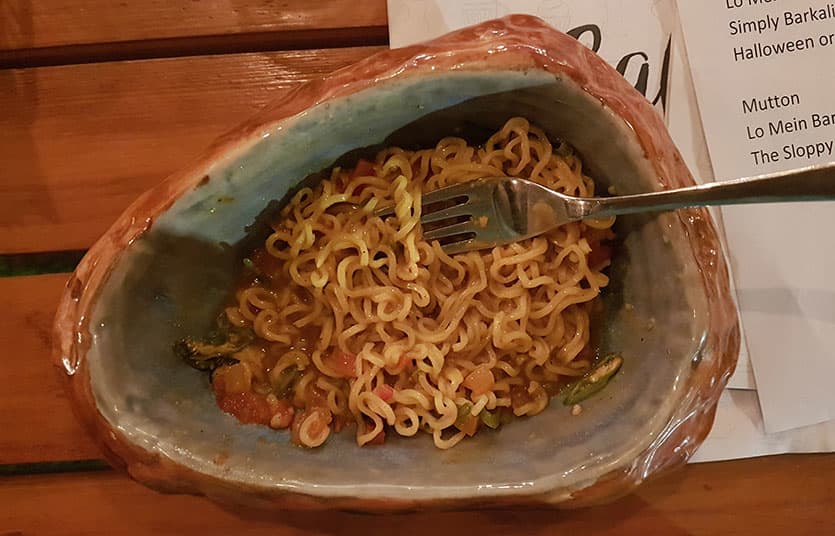 This dish came in a beautiful Flintstones-inspired stone bowl! Their Green Chilli Maggi was well boiled, came with enough masala gravy to please us, small tomato chunks and green chilli bits that made our mouths water (and our eyes too). Maggi is... well... Maggi, always yummy and soul-satisfying and this one was delicious. It was a great start to the meal fo' sure!
Price | Rs 69
2. Hummus Pita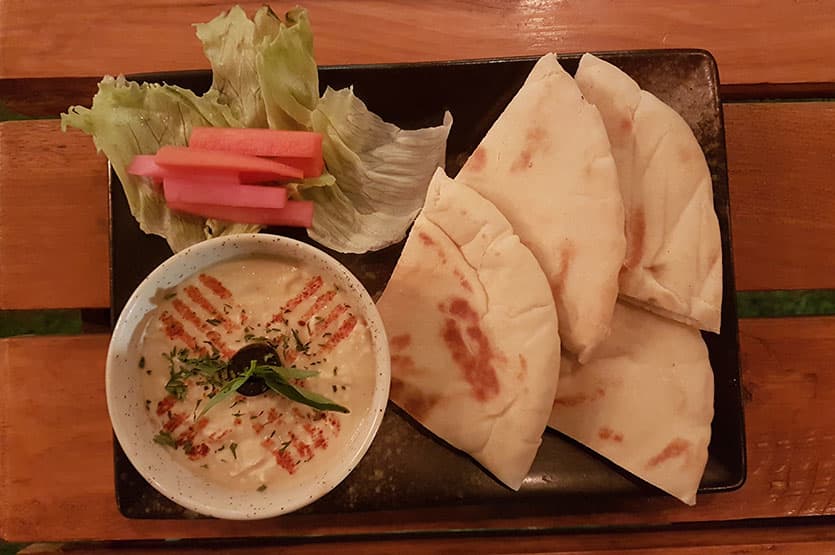 This particular dish was well presented with four quarters of pita bread with salad and lots of hummus. The hummus was finger-licking good and we finished this dish before you could say - *Pita Bread*! The salad comprised carrot pieces and lettuce and the hummus came garnished with olives, basil leaves and red chilli powder. The hummus was made in-house, we were told, and defo tasted fresh, but overall we felt the dish was priced on the higher side. 
Price | Rs 149
3. Margherita Pizza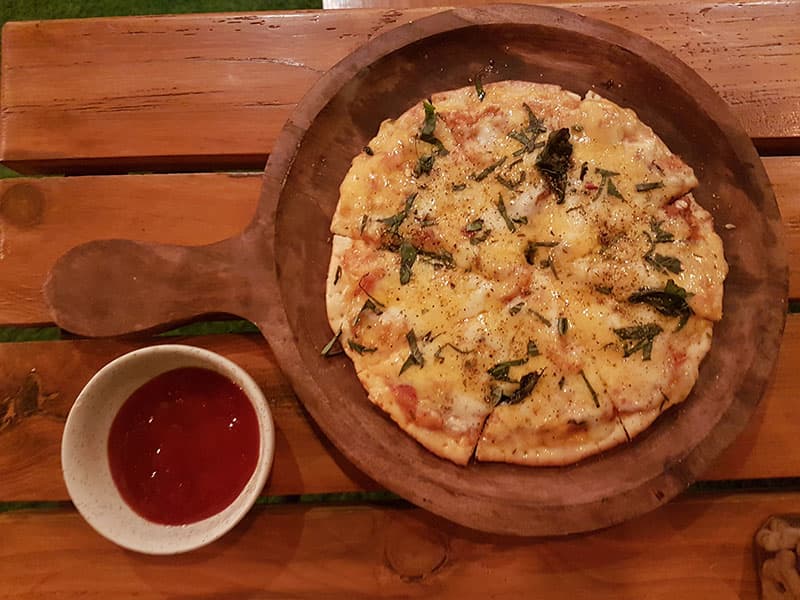 This tiny pizza packed quite a punch - and we mean that! It was super yummy, ULTRA cheesy and we wanted to gobble down at least four more of 'em. The serving portion wasn't too generous, so we suggest you order your own 'coz you won't want to share (not even with your bae)! The cheese was not hard or chewy; it was soft and totally gobble-worthy!
Small cafes usually do not risk operating a proper wood fire oven for pizza, which is why we were REALLY impressed! The pizza crust was neither too thin nor too thick, neither overcooked or undercooked. The cheese was fresh and in perfect harmony with the base sauce, with none of the ingredients overpowering the other. The pizza was topped with basil leaves and oregano - overall, it was just ah-mazingly divine!
Price | Rs 179
4.  Chicken Lollipop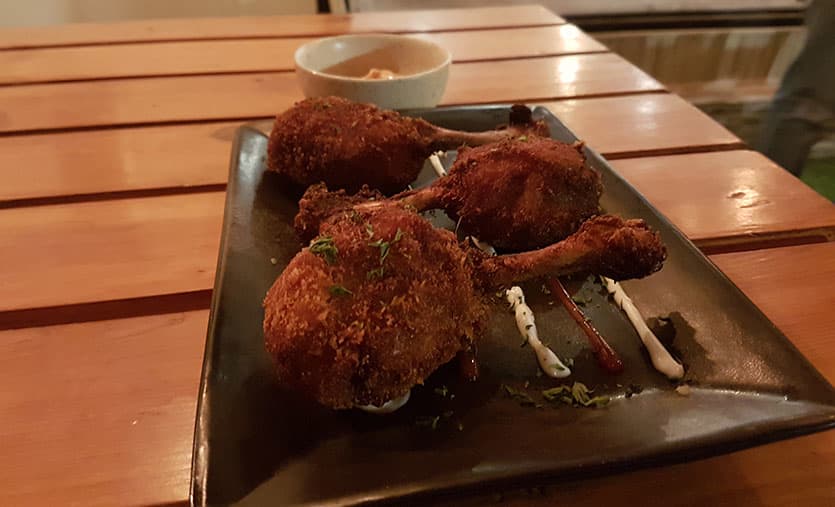 This dish was presented beautifully - three pieces of fat, juicy chicken legs over a black plate sprinkled with mint leaves and lines drawn with ketchup and mayo. A bowl of southwest sauce came alongside this concoction. They seemed a tad over-fried for our taste but as we bit into them, they tasted just heavenly! Juicy and tender, the marination was perfect, and not in the least bit raw. We hungrily devoured 'em in no time!
Price | Rs 149
5. Masala Omelette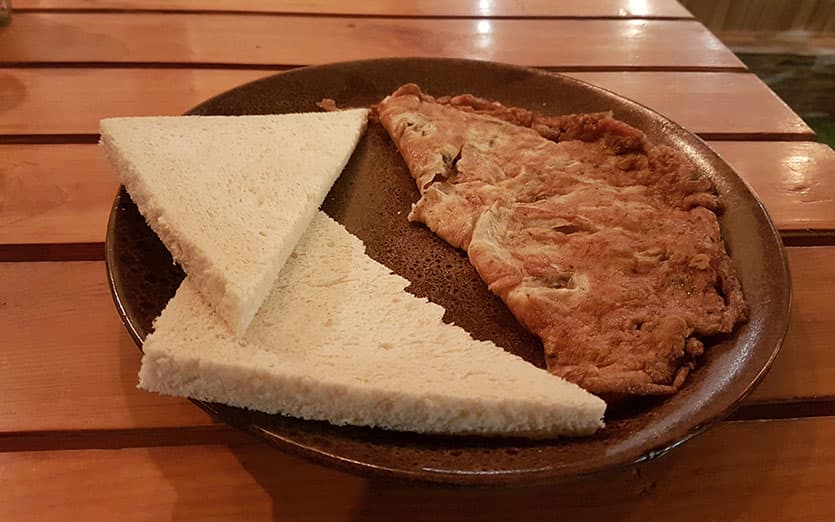 We would have preferred the bread to have been toasted or buttered, and didn't enjoy them served cold and raw. The omelette wasn't too special, despite being well-made with tomatoes, onions and green chillies. It was neither undercooked nor overcooked and came with dollops of ketchup. All in all, a lukewarm thumbs up for this one!
Price | Rs 89
6. Sliders (Burgers)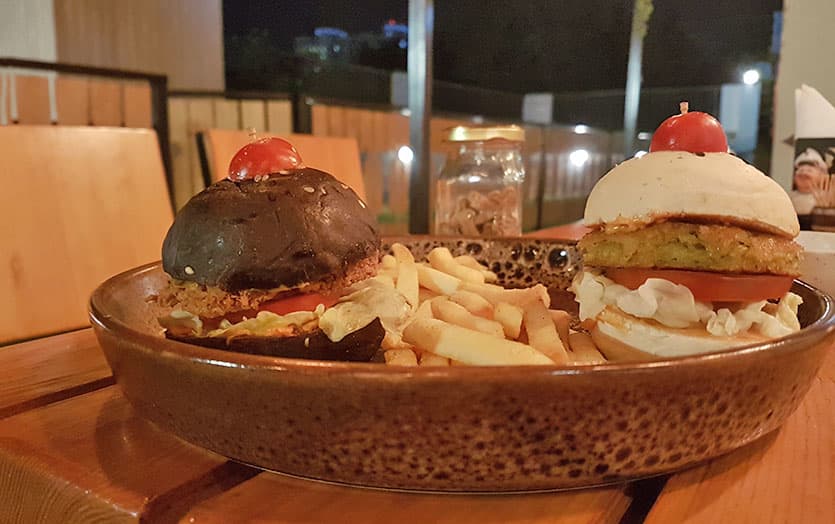 We ordered these as we were intrigued by their special black buns! We thought the black buns would be healthy, made of oats or grains but it turned out to be food colouring. It came as a set of two - one veg (aloo tikki) and one non veg (lamb) burger. They looked pretty cute, topped with cherry tomatoes, with a side of fries, ketchup and Thousand Island dressing. 
The fries were well done, not over fried or oily - just the way we like it.  But the burgers were a disappointment - the buns were chewy, tasted of raw flour and the patties were nothing to write home about. Yay to the fries, but a thumbs down for the burgers though - you can do better guys!
Price | Rs 179
7. Chocolate Overloaded Bubble Waffle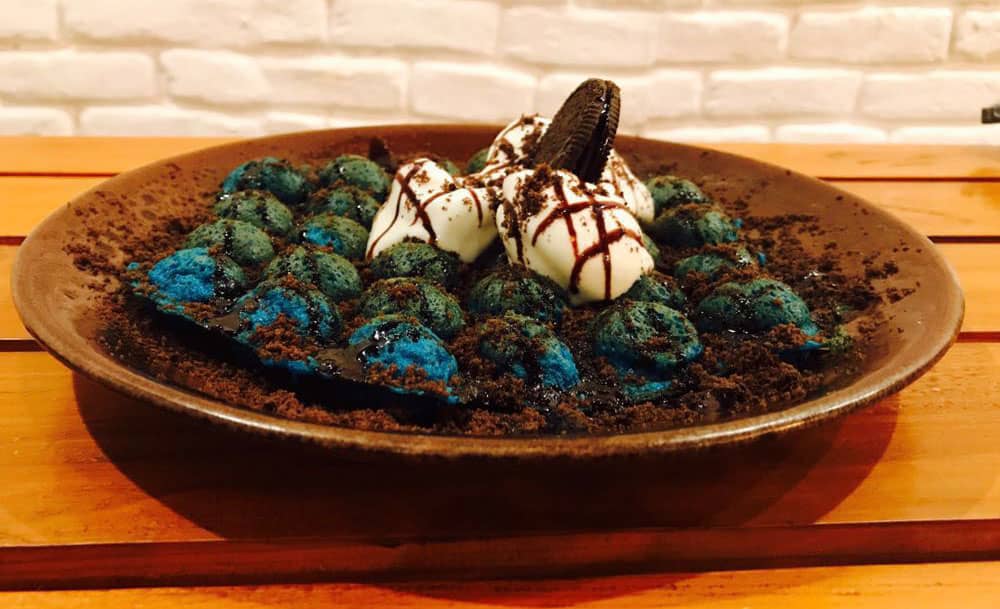 We sidestepped the most popular choice (Nutella Waffle) for a more interesting one. The Chocolate Overloaded Waffle came as a great surprise to us - it was different from the industrial varieties we see at every nook and corner. This one was different - it was thin, did not taste of kacha maida, and instead was scrumptious and came along with ice cream scoops and chocolate Oreos. A sweet end to a very satisfying meal! 
Price | Rs 159
They also have a counter selling dog snacks, pet accessories and toys here at Fur Ball Story cafe. So plan your play date with your pet or a lunch date with your bestie soon. Let your pets interact with others, cool off in the doggie pool, gorge on yummy food and also get a *doggie bag* packed for your pooch!
Meal For Two | Rs 800
Location | Fur Ball Story Cafe - 31, Saraswati Kunj, Near Vatika Towers, Golf Course Road, Sector 54, Gurgaon
Check Out Their FB Page | https://www.facebook.com/furballstory/
Browse Through More images: