Delhi
7 Awesome Getaway Places Under Rs 2K Where You Can Escape Delhi's Humidity
Disclaimer: Bearing in mind the current restrictions in the city and the world at large, we're tweaking our content policy and recommendations to focus more on staying indoors and exploring the digital world and all its wondrous offerings! Stay positive, keep hygiene levels up and don't fall prey to panic and misinformation.
The COVID situation is deteriorating rapidly and sinking prospects of our annual summer vacations with equal speed. With a lot of our offices and schools not opening any time soon, we are all tired of the same old work from home setup and are vying for a holiday home to take us away from the dreariness of our routines. With most hotels still out of service or just too risky to venture out to, these cute Air BnBs provide the perfect respite. They are inexpensive, easy to book, well equipped and located on stunning hilltops that have perfect weather conditions, and have enough signals for you to continue your work/study from home. So what are you waiting for? Grab your laptop and your favourite book and run for the hills NOW!
1. Gotal Homestay, Leh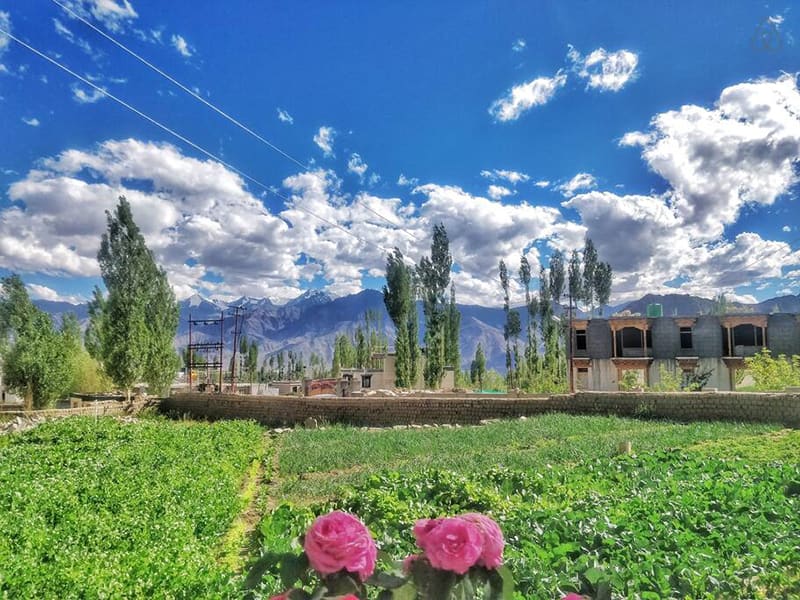 Connect with nature and unwind at this stunning homestay in Leh with your gang at this traditional Ladakhi house which has big rooms that offer a majestic view of the Himalayas and the veggie garden whose produce will be used to make the food you'll be having here. You can enjoy a lively bonfire in the evening and sing your fave songs along with your pals. The property boasts of 7 bedrooms and 3.5 shared bathrooms, so take your whole gang along or go on a solo trip and say goodbye to Delhi's summer!
Where | Gotal Homestay - Leh
Tariff | Rs 1,500
Book Your Stay On Airbnb Online Here | https://www.airbnb.co.in/rooms/35691951?source_impression_id=p3_1597214757_n9Zp%2FlCjLWP5F0IF
2. Bohemian Grove, Nainital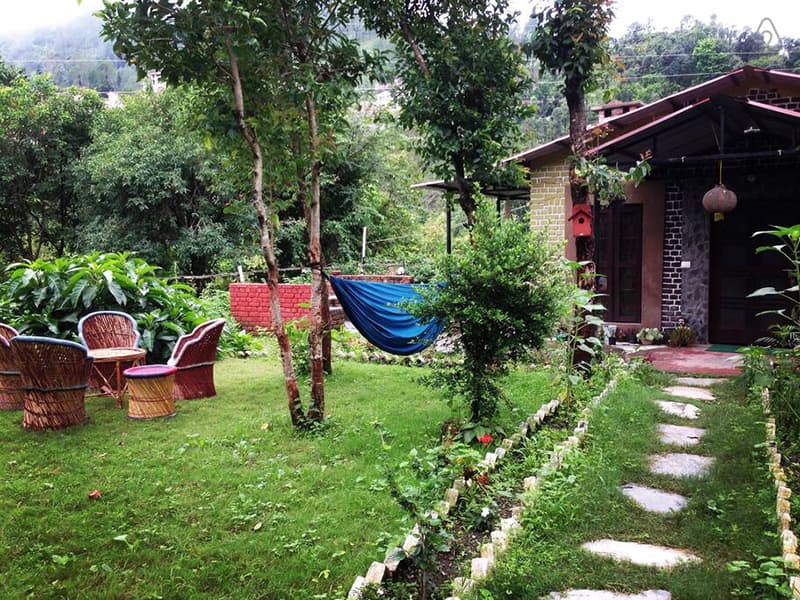 With just a 5 minutes walk away from the forest, this stylish place is what all bohemian dreams are made of! A brilliant fireplace, funky posters, cosy rugs and a hammock in the yard, Bohemian Grove is the ultimate spot for a chillax weekend with your buddies. The cottage has 2 bedrooms and 2 baths and up to 10 guests can stay at a time. You can also play board and card games in the evenings & enjoy a nice cosy bonfire wrapped up in a blankie. This sounds too good to be true and we can't wait to pack our bags and land up here!
Where | Bohemian Grove, Cottage In The Woods - Nainital
Tariff | Rs Rs 3,600
Book Your Stay On Airbnb Online Here | https://www.airbnb.co.in/rooms/26838626
3. Mountain Woods, Manali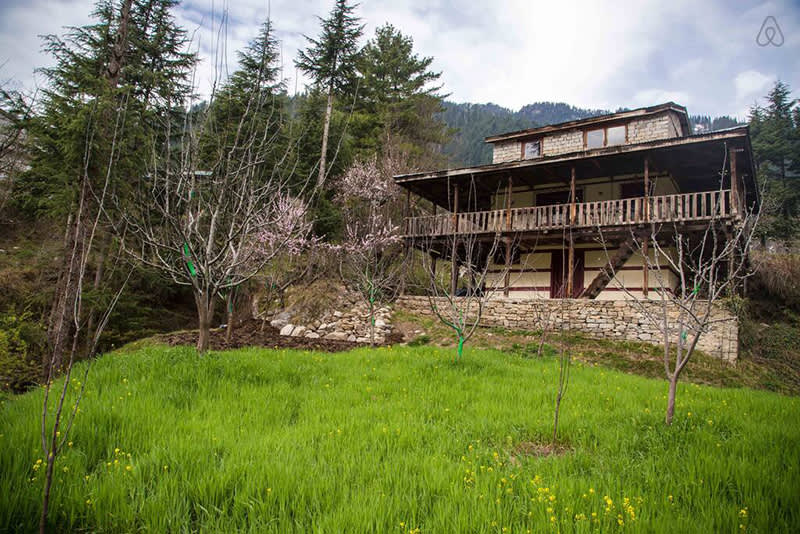 Mountain Woods is a 50-year old property overlooking the Beas river. The house is made in traditional Himachali style and has beautiful wooden work done all over. The porch of the place offers a breathtaking view of the flowing river and a 360 degrees view of the mighty mountains surrounded by lush green forests. There's even a trail that leads you right into the forest (don't worry, it's completely safe) and you can even go on a hike. This cosy homestay has a cute bedroom that can accommodate two which makes it the perfect getaway spot for you and bae to flee the scorching city heat!
Where | Mountain Woods - Manali
Tariff | Rs 1,400
Book Your Stay On Airbnb Online Here | https://www.airbnb.co.in/rooms/18606992
4. Delightful Stay, Dalhousie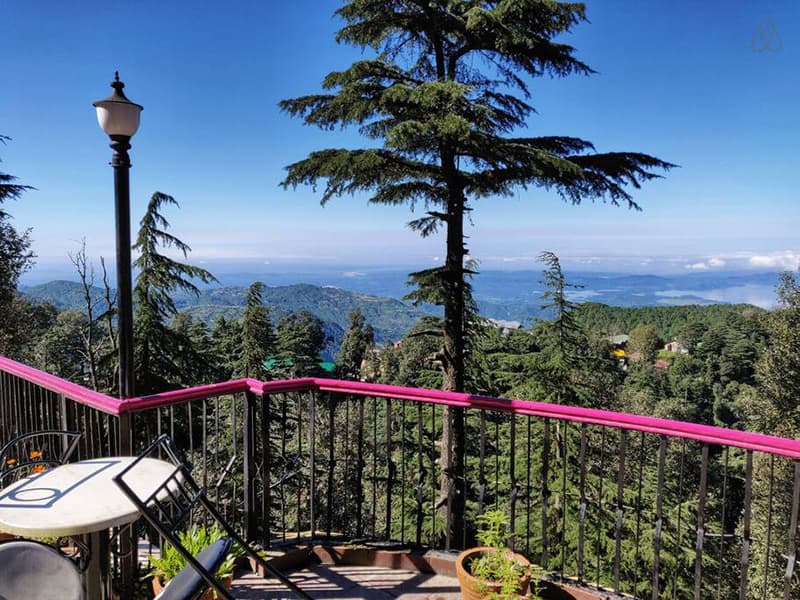 These folks promise that you won't get homesick here and the experience they'll proffer will be of home-away-from-home, which sounds pretty darn interesting to us. Nestled between the mountains of Dalhousie, the property has 1 bedroom and 1 bath & can accommodate up to 3 people. The terrace area provides a bird's eye view of the city and offers a cosy vibe to all the guests. Book your stay ASAP and scamper over here with your bae for some quality time!
Where | Delightful Stay - Dalhousie
Tariff | Rs 1,700
Book Your Stay On Airbnb Online Here | https://www.airbnb.co.in/rooms/29325757
5. Greenville Guest House, Leh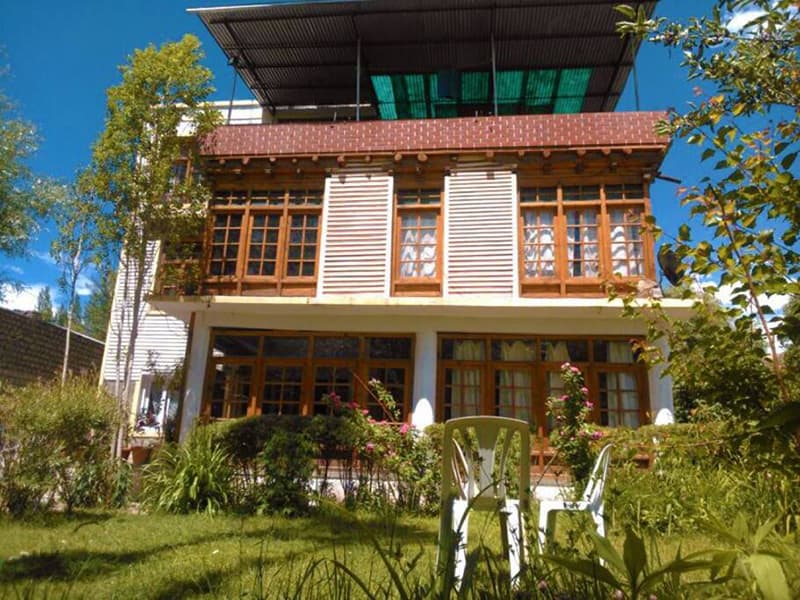 This bed and breakfast in Leh is the ideal place if you're done with Dilli ki garmi. Situated next to a melodious stream, the top floor of the property is for guests while a lovely family stays on the floor below. The guests are welcome to talk and share their experiences with the family members and even enjoy their lunch and dinner with them. And you can also meet an occasional visitor known as Lady Di, a furry little kitty who only shows up when she's hungry! The B&B has 4 bedrooms and 4 baths & can accommodate up to 12 guests, so book your stay with the fam and head over for a chilled AF time!
Where | Greenville Guest House - Leh
Tariff | Rs 1,200
Book Your Stay On Airbnb Online Here | https://www.airbnb.co.in/rooms/13022914
6. Farm Stay And Trekking, Shimla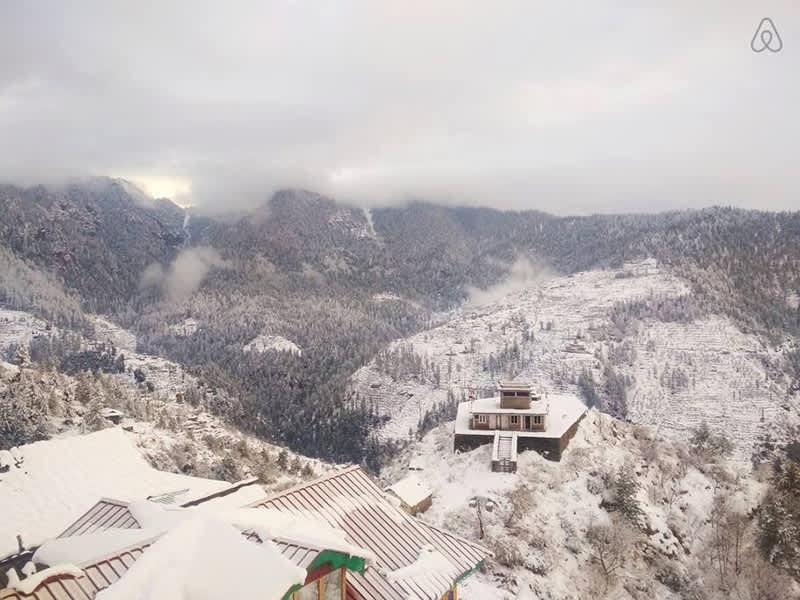 The first name that pops up in any Delhite's mind when you mention hill station is Shimla. Break free from the chaos of the city and experience the farm life with this snowy Farm Stay & Trekking in Gagna, a wee little village, 80 kms away from Shimla. This super affordable homestay lets you stay with a village family where you can enjoy home-cooked food. You'll get a separate room of your own in the family house and there are 4 separate rooms with an occupancy of 12 people. You can also embark on a trek to Churdhar peak. so plan a getaway to this serene place surrounded by apple orchards and snowy peaks!
Where | Farm Stay And Trekking - Gagna, Shimla
Tariff | Rs 2,530
Book Your Stay On Airbnb Online Here | https://www.airbnb.co.in/rooms/30313214
7. Crystal House, Dharamshala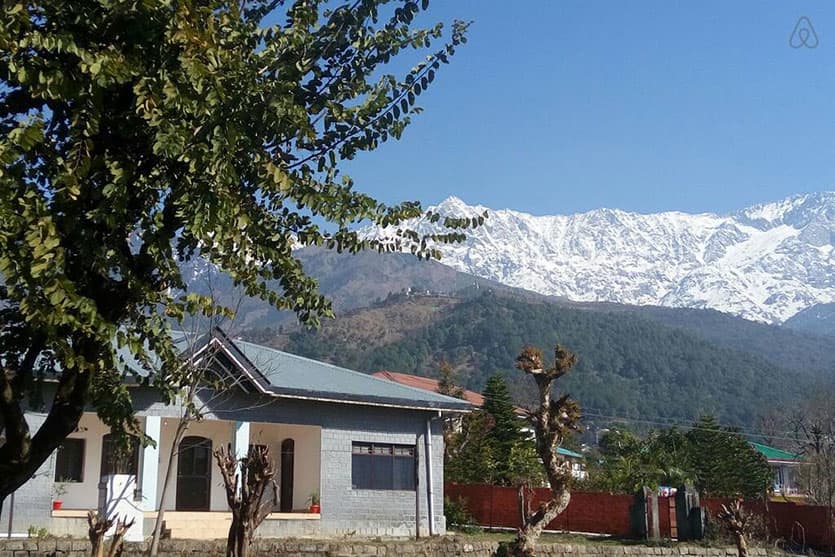 A tiny cottage in a peaceful neighbourhood overlooking the Dhauladhar mountains is the perfect escape from the hustle bustle of the city and not to mention the scorching heat. Crystal House is a serene villa that's perfect for a tranquil vacation for people looking at affordable stay options in Dharamshala. Wrap yourselves in a cosy blanket and marvel at the mighty mountains at this gorgeous property. This place boasts of 2 bedrooms and 2 baths which are well maintained by the host. So call your bosses and tell them that you're going away for a few days and relax in Dharamshala!
Where | Crystal House - Dharamshala
Tariff | Rs  2,222
Book Your Stay On Airbnb Online Here | https://www.airbnb.co.in/rooms/14782694
P.S. - Tariffs As Recorded On 12th August, 2020
We're sure you're just fan-girling all over these beautiful pictures already so pack your bags and ensure your laptops are fully charged so your next zoom call can have the backdrop of actual hills, rather than virtual ones!