Delhi
7 Awe-Inspiring Places In North-East India That Have Living Root Bridges
Meghalaya, nestled in the far northeast corner of India is an abode of the cloud. Deemed as the wettest state in India, this place is a paradise flushed with lush green mountains and river valleys.  But this isn't the only attraction which draws tourists to this northeastern sister state. Deep in the Meghalayan forests' vegetation, lies its most famous attraction, the living root bridges. Crafted and curated by the local Khasi tribes, the bridges are built from the roots of rubber trees and carefully guided across spaces utilising the straight trunks of betel nut trees. Fascinating, isn't it? Scroll down to explore these wild and earthy structures. 
1. Shnongpdeng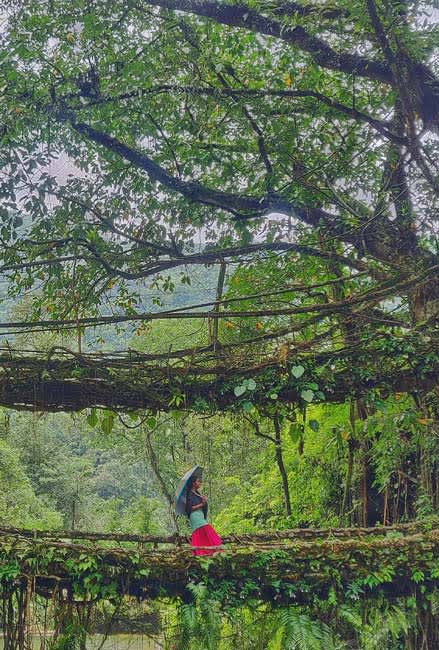 Picture Credits: joti009
Wobbly and adventurous, the suspension bridge in Shnongpdeng guarantees you all the fun with a side of thrill. You can take in the magnificent spectacles comprising the stunning boats that float aimlessly on crystal clear waters. The surreal beauty looks mesmerising and leaves quite an impact to last for days to come. Shnongpdeng bridge only allows 7-8 people at a particular time so balancing and tip-toeing your way through this intricately built bridge will provide you with one of the most ah-mazing experiences you'll have ever gained!
Where | Meghalaya 
2. Nongbareh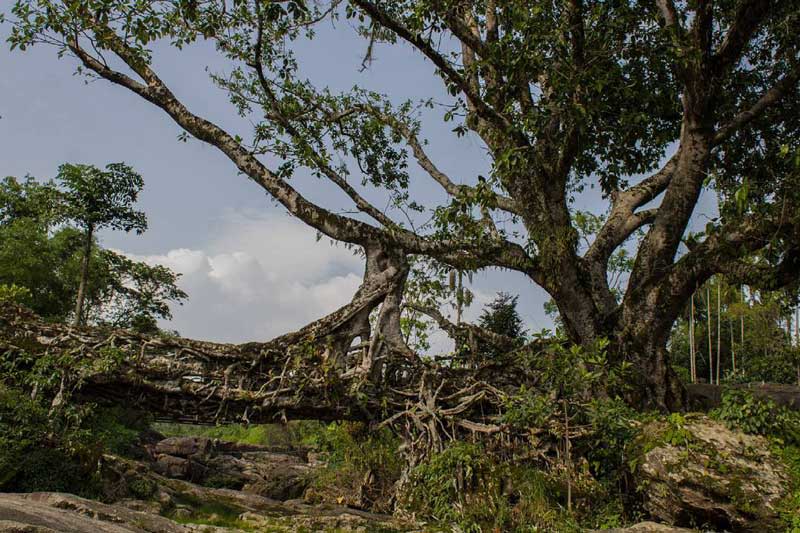 Picture Credits: b.s.syngkrem
Situated right in the heart of the village, Nongbareh living root bridge is famous and renowned for its transfixing beauty. An extensively unusual structure, this bridge has a double span and a path leading to the river Umngot. A bridge made from trees, it connects the two banks together and offers an architectural elegance which is one of its kind. More than 100 years old, this bridge immortalizes the art of constructing these living bridges that have been gradually dying out and hence a handful of these entail a sparkling history! 
Where | Meghalaya 
3. Khonglah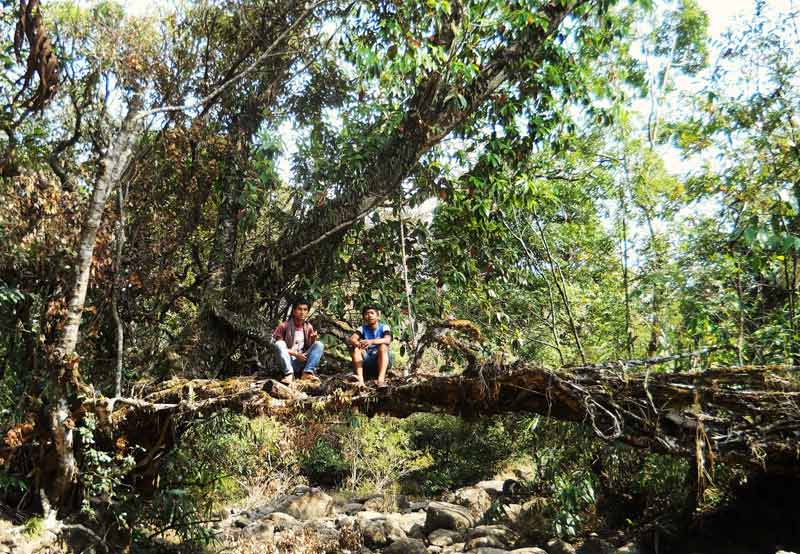 A small bridge constructed on flat ground, Khonglah bridge is characterized by its ruggedness as well as gentle rolling limestone. With a puzzled and attractive layout, this bridge is maybe one of the strongest among all the living root bridges. Khonglah is nestled at the side of a relatively steep slope and any visitor would be surprised by its reasonably good shape. This bridge is an approximately 100-feet long-living structure that spans over Amdep creek. It also houses several clear-water swimming holes that offer bespoken visuals!
Where | Meghalaya 
4. Padu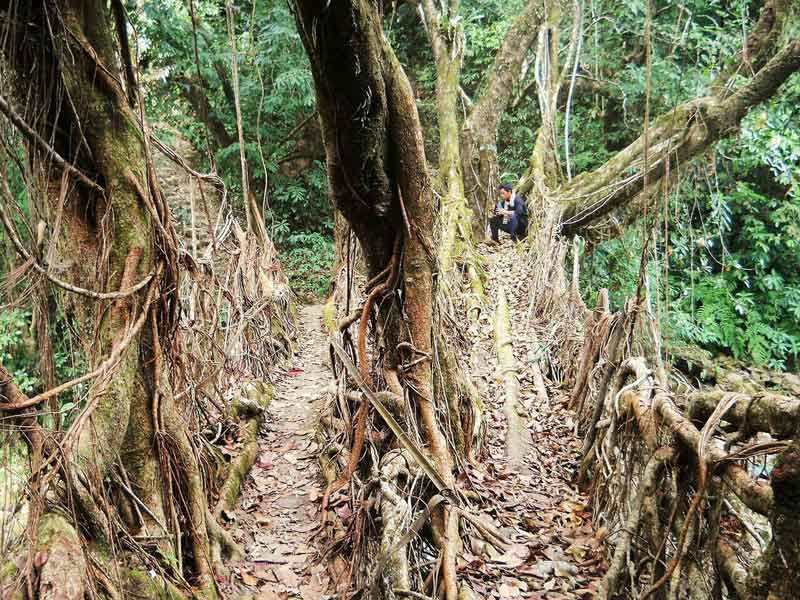 Picture Credits: i.pinimg.com
Relatively more obscure than the Nongbareh and Khonglah bridges, Padu admits a trickle of visitors. Padu Bridge serves as one of the most beautiful yet unknown examples of the living-root bridges of Meghalaya. The bridge is instantly recognizable for its distinct root above the span that seems to be held up by a sort of load-bearing member. This sort of arrangement entails an unsolved mystery that would pique the interest of visitors further. Padu Bridge also houses an unseen phenomenon in the concrete column to the right, which seems to have been shoring up the entire structure, thus piquing your interest even more!
Where | Meghalaya 
5. Kudeng Thymmai Kudeng Rim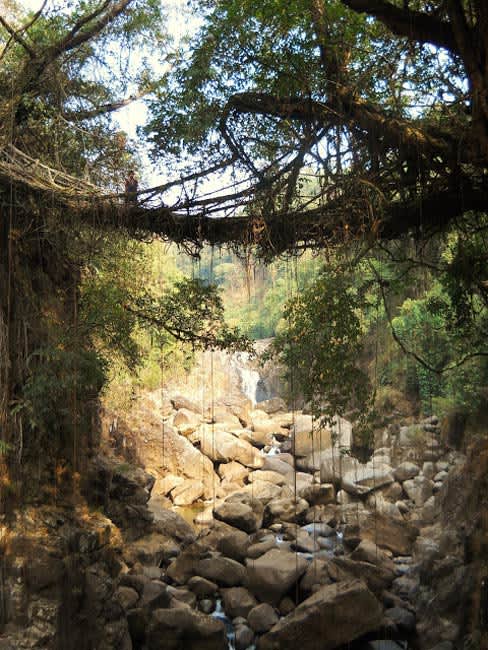 A beauty that is far from being captured, Kudeng Rim bridge offers one of the most astonishing views in all of Meghalaya. The bridge itself is well elongated and consists of two spans, one after another. The considerable distance of the bridge from the streams it crosses becomes a noteworthy feature. The great bridge of Kudeng Rim is about 60-70 meters above the water. Offering magnificent specs of elegance, the bridge is a host to many bewildering sights such as a waterfall with a blue-water plunge pool. An adventurous and risky experience, Kudeng rim challenges all your inner strengths.
Where | Meghalaya 
6. Umshiang Nongriat Village Bridge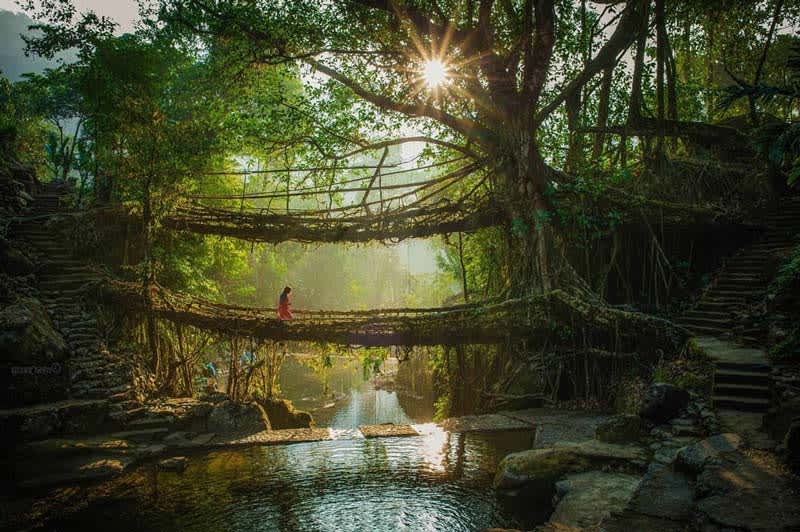 Picture Credits: ujwal.balan/
One of India's finest offbeat destinations, Umshiang, the double-decker bridge in the village of Nongriat, is the undeniable showstopper of the list. Climbing and hovering through the deep as well as steep paths, you finally reach and witness this ah-mazing bridge lying amidst a robust scenery. This 150 years old human-made wonder, is a hidden gem lying on the road less travelled. It is believed that the second level of the bridge was built after a heavy monsoon that caused the river beneath to reach the first level. Chart your way out, to this marvellous double-decker bridge and allure your senses. 
Where | Meghalaya 
7. Double Decker Root Bridges Of Cherrapunji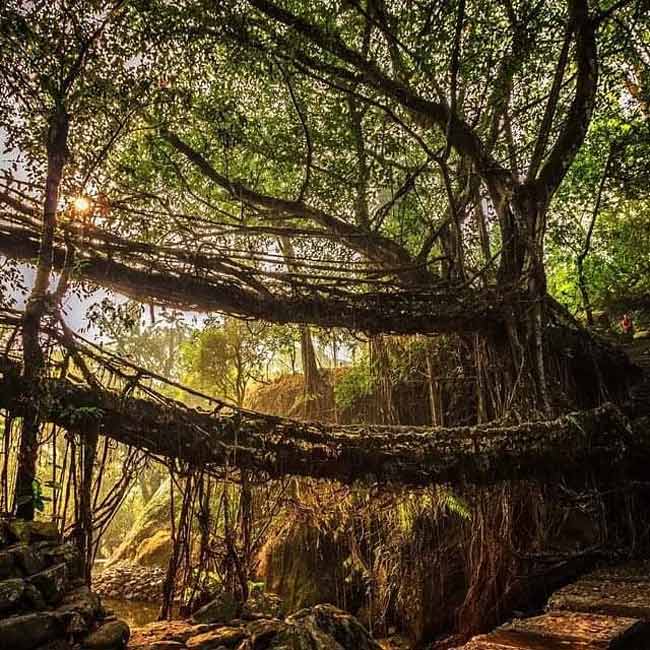 Picture Credits: khedgikarabhijeet
The hilly regions of Meghalaya are a host to many unmissable living root bridges and the double-decker root bridges of Cherrapunji are a must to visit. In the east of Khasi hills, Cherrapunji, several root bridges lie and are found in the villages of Tynrong, Mynteng, Laitkynsew and others. It is believed that these bridges are about 50 metres in length, however, no one can confirm. Comprehensively long structures built of infused roots is a delight to watch and experience. The landscape around Cherrapunji bridges is mind-blowing and a true reflection of Meghalaya's surreal beauty. 
Where | Meghalaya 
There you go, folks! A complete list of some ethereal and mesmerizing living-root bridges in North-East India. Now the only thing left to do is to head out and witness the natural wonders.