Delhi
7 Absolutely Crazy Brands From Where You Can Snap Up Pretty & Funky AF Footwear!
Winter is that time of the year when you want to show off your inner fashionistas but then you change your minds at the last moment 'cause of the biting cold, don't you? But now, move over those same old boots & uggs and make way for these refreshing and funky footwear that'll defo snazz up your next OOTDS. So check out these awesome brands that'll spice up your wardrobes this season!
1. Kanvas Closet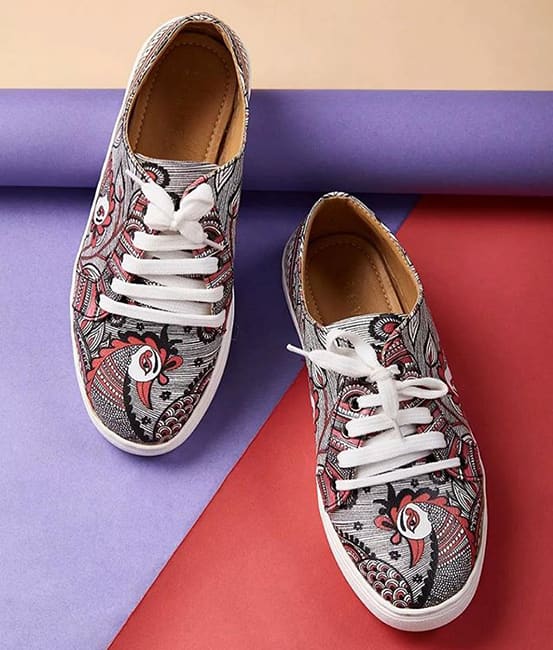 Men, don't you feel left out because we have got your backs as well. Kanvas Closet has a super swaggy range of footwear for both men and women. Their printed shoes are handmade and will definitely find a way into your closets for they'll win your hearts the moment you set your eyes on them. From sneakers for men to stilettos, they have it all!
Call Them | +91 9870 234 124
Check Out Their FB Page | https://www.facebook.com/KanvasKloset/
Shop Online Here | http://kanvaskloset.com/
2. Banjaaran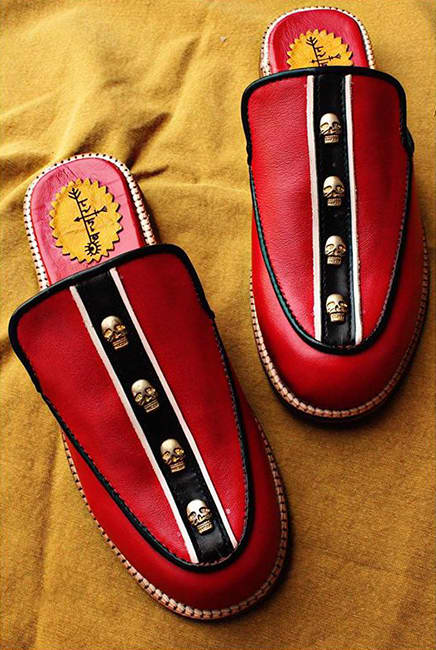 Banjaaran is one brand that will help you turn your swag metre higher than ever! Their hella quirky, trendy and desi all at once. A clear example of this are these Red Leather Handcrafted Mules that have brass embellishments on it! Now, don't they look super-duper funky?
Call Them For Orders | +91 9999 951 149
Check Out Their FB Page | https://www.facebook.com/banjaaran.diaries/
3. Poshampa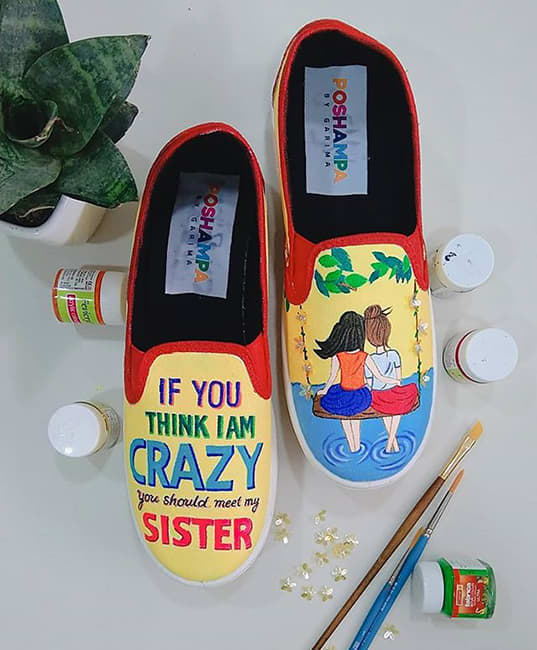 Ladies, if wearing ethnic clothes is a nightmare for you, just because it involves wearing heels then we've found just the right label for you. Poshampa by Garima is a brand that deals with funky AF shoes that you can team up with your Indian attires. They have a range of footwear including loafers and sneakers. For instance, these prettily painted shoes which reflect sister bond are totally amazeballs!
Call Them For Orders | + 91 9910 019 457
Check Out Their FB Page | https://www.facebook.com/poshampabygarima/
4. Al Artz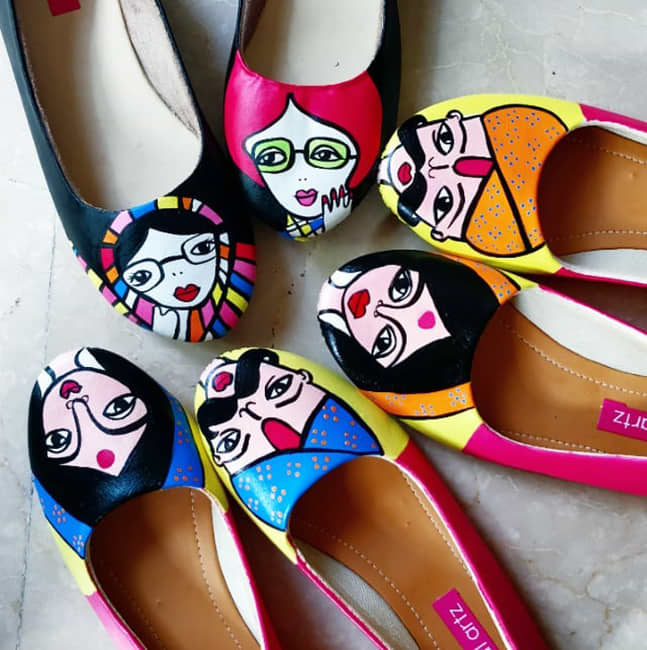 These designers and artists not just paint your walls or jackets but they also customise your footwear as per your wishes! They have only one motto and that is, to bring your imaginative ideas for shoes to life. These belle flats, for instance, are hand-painted with bright colours that will surely add a touch of spark and happiness to this gloomy weather!
Where | Al Artz - 5 C Jungi House, Shahpur Jat
Call Them | +91 9810 003 460
Check Out Their FB Page | https://www.facebook.com/AlArtz.quirky.handpainted/
5. Crave Connect
Women, if you love to splurge on some good old hand-crafted shoes with great detailing, this is just the brand for you! These amazing peeps have a collection of stylish and desi sandals that will blow your minds away with their great craftsmanship. Snap up their chic, leather Jacquard Band Leather Flats and never go through the trauma of walking in heels ever again!
Check Out Their FB Page | https://www.facebook.com/craveconnectlabel/
Shop Online Here | http://www.craveconnect.com/#/shop   
6. The Shoe Garage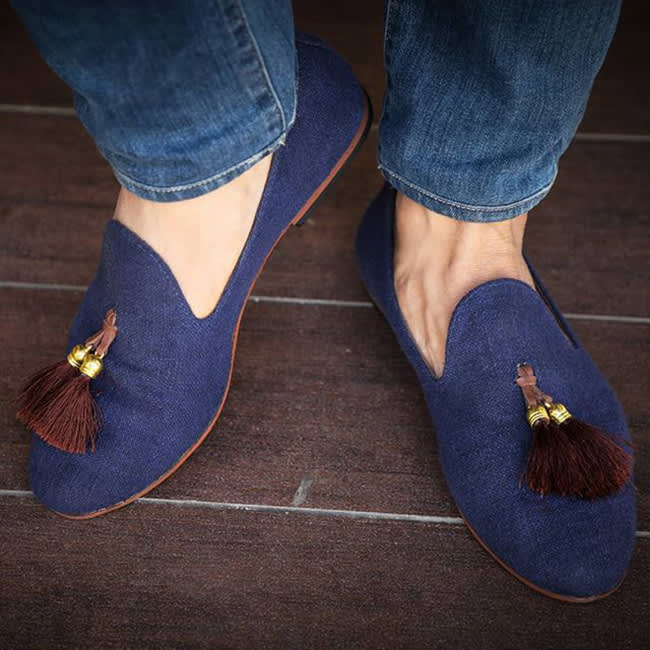 Now, this brand is for all the lovely guys out there. The Shoe Garage offers you an experience like none other. Their shoes are elegant and completely hand-made. These shoes are works of sheer perfection and will go well with both traditional and casual wear. Their Blue Denim Tasselled Juttis for men is just what you need to add a little funk to your traditional attire!
Where | The Shoe Garage - 118 B, Shahpur Jat
Check Out Their FB Page | https://www.facebook.com/artimen/ 
Shop Online Here | https://artimen.in/?fbclid=IwAR2AtAndmq5YDLumqokH72nkRCYrrBoKpSrn8bxE9SZ6EkfcD1-r5bWhwus
7. The Sole Sisters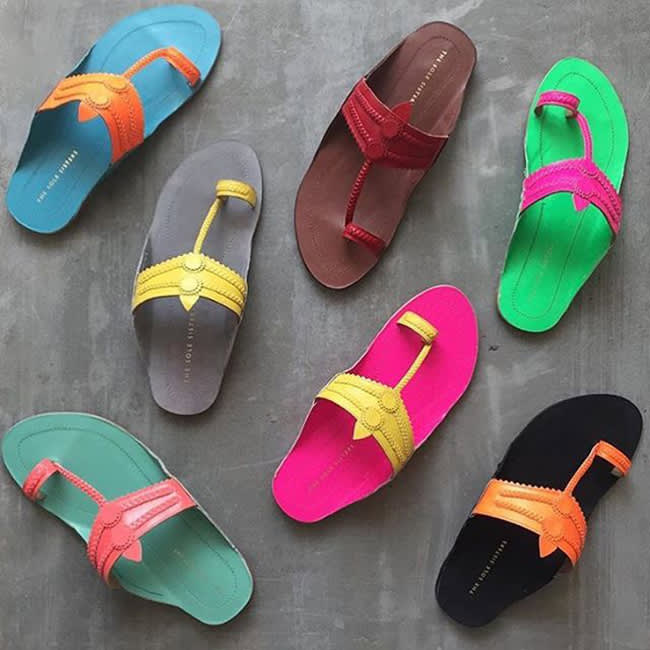 If you love Kolhapuri sandals yet find them only in boring colours, these amazing peeps have a solution for you. The Sole Sisters are an upcoming label that offers you some trendy and chic dual-toned sandals. They have a quirky blend of colours like brown & maroon or even in black & orange, sounds interesting, doesn't it? So shop away to glory from this brand and you'll never complain of the same boring colours crowding your shoe racks!
Check Out Their FB Page | https://www.facebook.com/thesolesisters/
Skim Through Their Insta Feed | https://www.instagram.com/mysolesisters/
So Delhiites, it's time to go on a shopping spree and add some trendy shoes to your closets and amass an enviable collection!