Delhi
6 Yummy Delicacies Like Black Pepper Chicken & Spicy Avocado Rolls We Tried @ Tanoshii Trail
With places serving authentic pan Asian food popping up at every corner of the city, it becomes a tad difficult to stand apart but again, some places just don't fail to amaze us. With an unconventional concept, this place going by the name of Tanoshii Trail has popped up in the heart of GK I market where they have done away with the traditional way of serving food. Here, these guys use a conveyor belt that keeps on moving between tables bringing us appetizers, sushi and salads and a robotic slate that starts from the kitchen carrying our food to our table, pretty cool, right?  
This fully automatic restaurant serves everything and anything you could wish for from a truly extensive menu featuring Pan Asian dishes. Located on the first floor, this place welcomes you with an oriental ambience with comfortable couches around the conveyor belt, a live kitchen on the left along with seating for smaller groups in the remaining portions. The interiors are a striking combination of the contemporary and the exotic, with exposed concrete walls, richly coloured silks and chandeliers to add warmth to the atmosphere. Finally, glancing towards the menu, we tried out these 6 dishes, check 'em out 
1. Crystal Dimsum Veg

Our evening started with these perfectly shaped soft dumplings, steamed to perfection, which were presented to us searing hot. The filling comprised minced veggies, bamboo, ginger, chilli, coriander and carrots. The dumplings were squishy and zesty with the essence of spices lingering on. 
2. Pop Cheng Du Chicken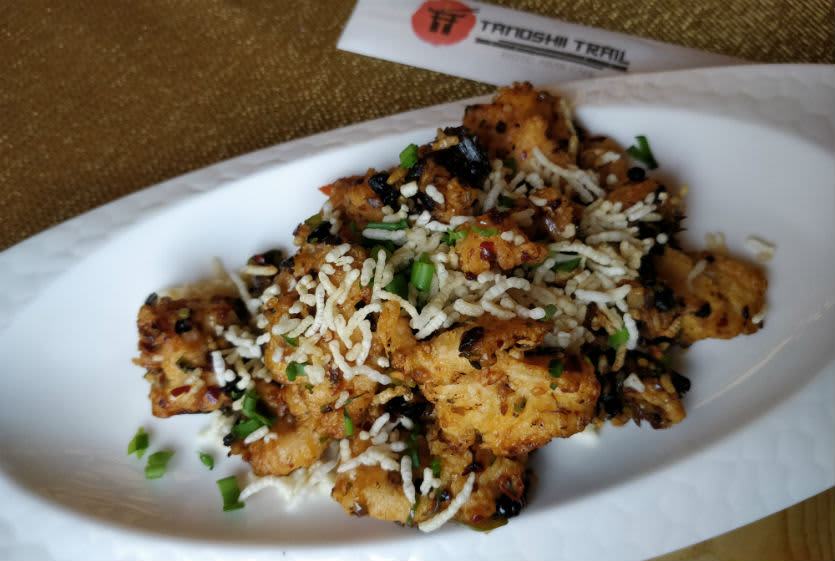 Tender chicken pieces, evenly marinated in a unique blend of Chinese sauces and spices were stir fried along with spring onions making them crispy on the outside and leaving the soul of chicken intact before being served on a bed of garlic. The use of soy sauce and pepper acted as a catalyst in enhancing the taste of the dish. Garnished with roasted rice puffs and spring onions, the chicken was succulent, tender and juicy with the essence of spices being felt with every bite, leaving us utterly satiated!
3. Cheung Fun Chicken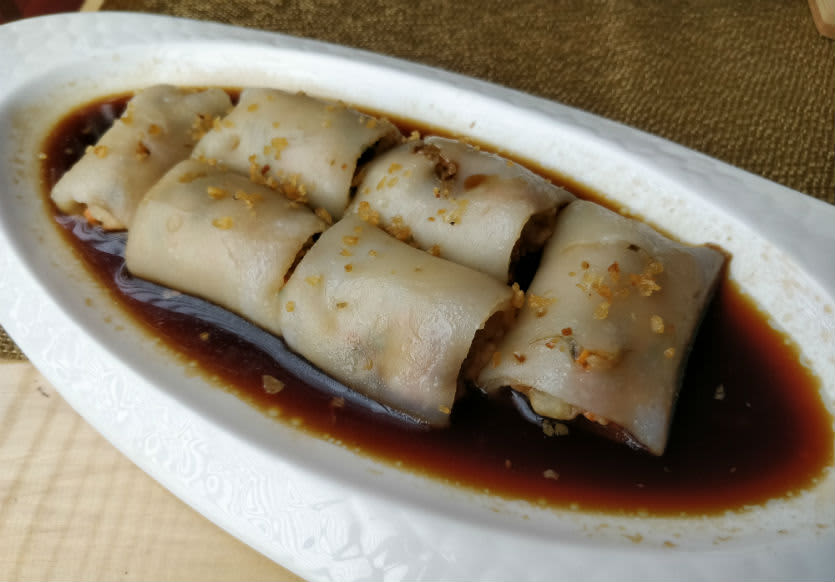 With rolls made up of rice flour and filled with minced roasted chicken and sautéed veggies, we were in awe of this dish! Served on a bed of soy sauce, the outer layer was smooth and glossy and the rolls had absorbed the essence of the sauce completely. The actual taste could be felt only when the rolls were popped in mouth all at once with soy sauce. The smoky flavour of the chicken was easily felt in every bite, making this dish an exceptional yet delectable one.
4. Spicy Avocado Rolls (Sushi)
Spicy Avocado Rolls aka veg sushi was what we tried next. Cucumber, avocado and a mixture of mayo and sriracha was neatly arranged and covered with rice to form rolls in this dish. Garnished with avocado paste, a drop of mayo and served with wasabi and gari - sweet, thinly sliced young ginger marinated in a solution of sugar and vinegar, this dish is one of their signature ones and a must have for all! So don't even think about missing this one out. 
5. Tanoshii Styled Noodles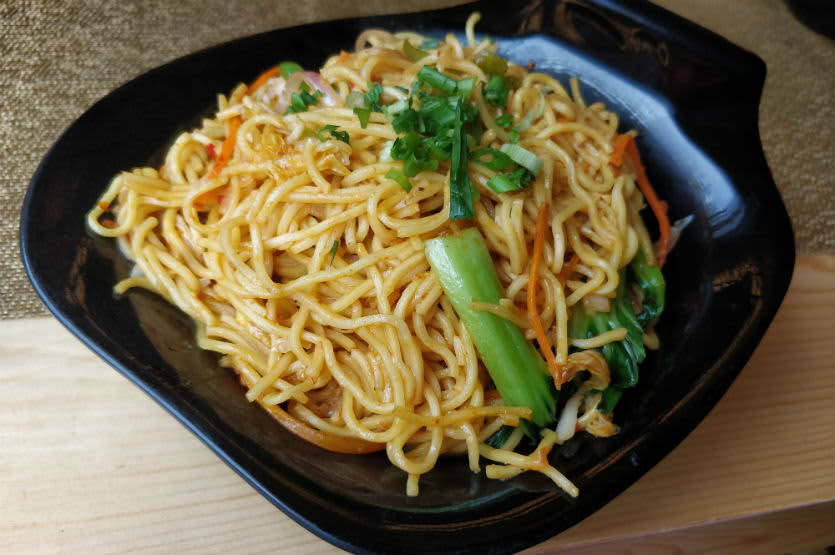 Being at an Asian restaurant and not trying their version of noodles is a sin! We ordered their Tanoshii Styled Noodles where we were served evenly boiled rice noodles that were nicely sautéed with diced veggies in a unique blend of spices along with soy sauce and vinegar with the presence of ginger and garlic vividly evident. Nicely done, Tanoshii!
6. Black Pepper Chicken with Crispy Rice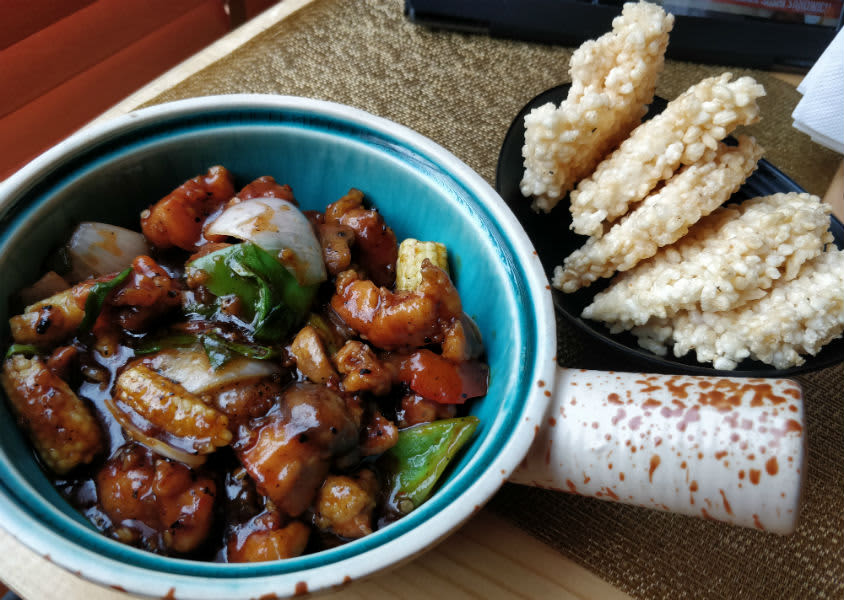 This dish was the highlight of the evening! With diced onions, capsicums, spring onions, broccoli, boiled cubed mushrooms, baby corns and fried chicken chunks, blended together in a special Thai curry bearing a sweet and sour flavour - this dish was a delight to the taste buds. The chicken was succulent and you could feel the essence of the curry to the core with the inside being utterly mushy with other ingredients working towards the success of this dish. The puffed rice served with this dish were roasted to perfection and needless to say, we loved every last bite!
 
All in all, the tantalizing flavours, innovative presentation and stylish and contemporary interiors of this place ensures a feast for the senses, with fabulous service guaranteed! Whether you are a sushi lover or just go gaga over authentic Asian food, Tanoshii Trail is the place to be. Happy munching!
Meal For Two | Rs 1,400
Location | Tanoshii Trial - M-18, First Floor, M Block Market, GK I
Check Out Their FB Page | https://www.facebook.com/pages/biz/new-delhi/Tanoshii-Trail-788898657965494/