Delhi
6 Yummies You All Gotta Devour Under Rs 80 With Your Gang @ Teasta In Sector 37, Noida
We all have our favourite addas where we love to hangout, relax and unwind, away from the daily atrocities bestowed upon us. Noida has, in the recent times, come up with various such hideouts and our most loved among them is this place in Sector 37, famous among every genre of human being and commonly known as The Tea Shop. From a person owning a cycle to one boasting of a Jaguar, everyone can be easily spotted here. As the sun sets, the place is enlivened with artists, such as a group of youngsters just jamming or having an unplugged singing session and sometimes even photographers trying to capture their perfect shot.
The place has been serving a great variety of teas and coffees since 1996. Teasta moved with the time and added multitudinous items to its menu along with its original recipes of their beverages. So, this time when we visited them, we decided to get a hold of the newly introduced items and ended up gorging on the following!
1. Hazelnut Cold Coffee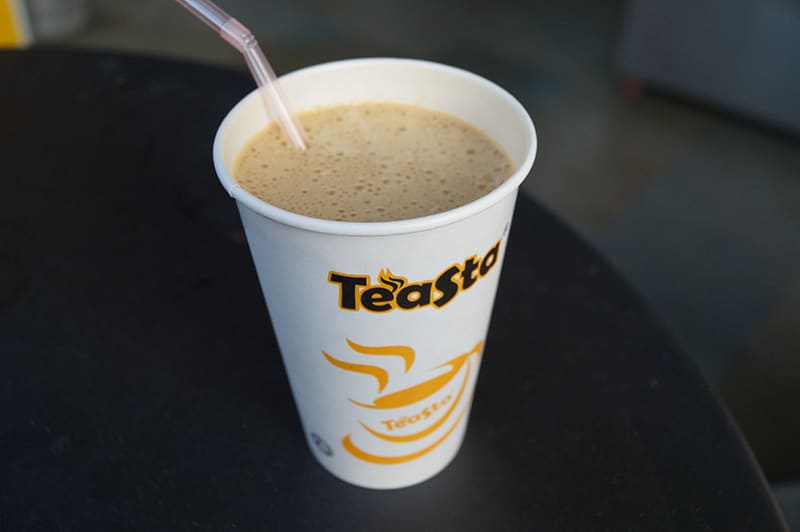 The place boasts about serving one of the finest Hazelnut Cold Coffee among its peers and we couldn't agree more. Coffee powder, cocoa, toned milk, apt amount of hazelnut syrup and a dash of chocolate syrup when blended to perfection results in this masterpiece. Hazelnut, if not used in the correct amount, can be catastrophic but this drink here proves that the barista of this establishment knows his way around the kitchen. The taste begins on a sweet note followed by the essence of coffee hitting you in full force and finally the soul of roasted nuts lingers on the palate for a long while. Drooling yet?
Price | Rs 80
2. Litchi Iced Tea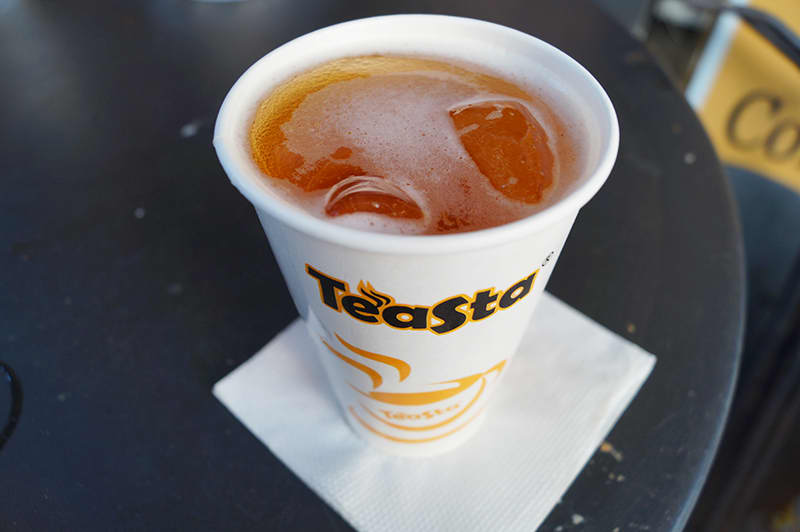 Though we are lemon ice-tea fanatics but wanted to try the litchi version, which turned out to be a rejuvenating option to pair with our meals. Fresh mint leaves were crushed along with lemon slices before filling half of the glass with unflavoured soda and the remaining half with cold water and finally adding litchi syrup with a hint of sugar syrup topped with ice cubes. The sweet and sour taste in every sip made the drink worth every penny and for a second made us forget about our favourite lemon version. Cheers!
Price | Rs 50
3. Veg Momos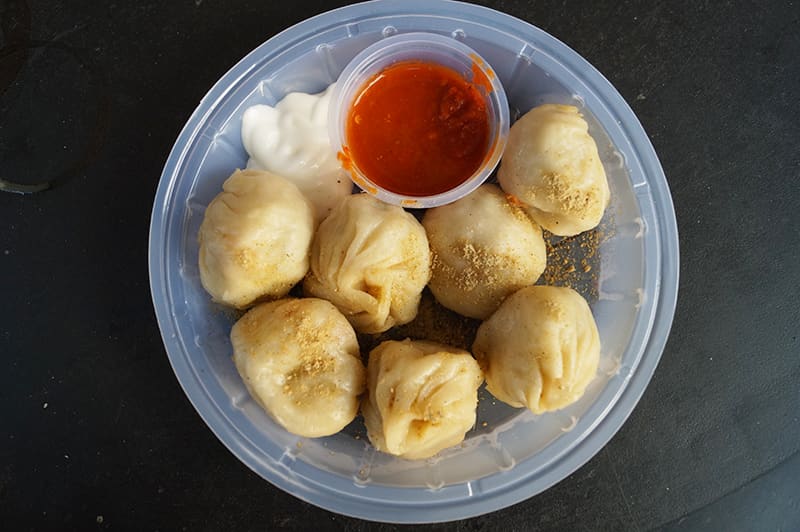 Right outside the shop is their momos kiosk and we just couldn't resist ourselves from ordering their veg version. We were served with searing and evenly steamed pieces from heaven that carried a filling of minced veggies with superb flavouring that made every bite count. Sprinkled with chaat masala and served with spicy chutney and mayo, this is the most enticing item in their food section!
Price | Rs 40
4. Veg Cheese Burger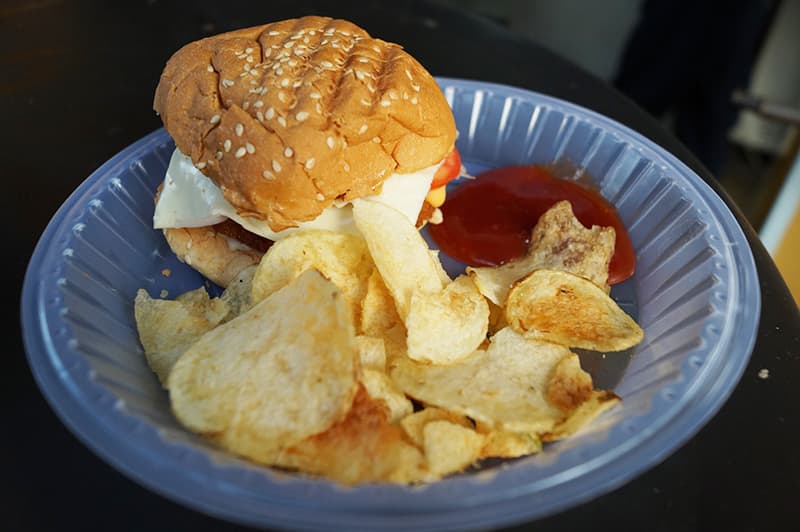 Among the new entrants on their menu is their Veg Cheese Burger which consists crunchy patty of mashed potatoes and veggies tucked between two mushy buns along with diced onions and tomatoes and a piece of cheese slice that adds the zing to this snack. The burger is slightly grilled and served along with a portion of potato chips and ketchup. The patty is super spicy that compensates for the blandness of the buns. It's the perfect item to munch on as you chat away with your pals here over a cup of tea!
Price | Rs 70
5. Corn Cheese Sandwich
We love corns, we love cheese and we definitely love sandwiches and just imagined how we felt when all of these were amalgamated? Yeah! Brimming with excitement, we ordered their Corn & Cheese Sandwich where we were served with a triangled slice along with potato chips and ketchup. Mozzarella and cheddar mixed with evenly boiled sweet corns formed the filling of the sandwich which was then grilled to ensure it had the right crisp on the outside without disturbing the constituency on the inside. However, the sandwich failed to make a mark majorly because of the insipid filling and sogginess of the bread slices. This item can work for a casual eat without expecting too much from it!
Price | Rs 60
6. Brownie With Ice Cream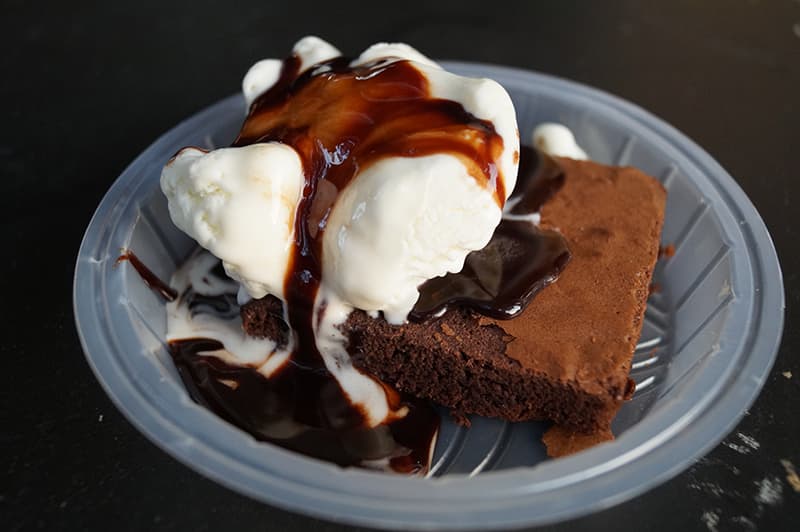 We're in love with Teasta for introducing this long awaited item, the classic Brownie with ice-cream. Squishy, airy and fluffy brownie formed the base topped with a dollop of vanilla ice cream and finally embellished with chocolate sauce all over. The conjunction of hot brownie and cold ice cream had our taste buds titillating and it satiated us to the core forming the perfect end to our meal!
Price | Rs 70
All we can say is that this place acts as a kryptonite to your daily problems and can assure a wonderful time and memories spent here. On top of that the food served here is hygienic, affordable and worth every penny. What are you waiting for? Go, have fun, take your loved ones, have a merry time and thank us later. Don't be surprised to find us munching there too, right next to you!
Where | Teasta - The Tea Shop - 16, Godawari Complex, Sector 37, Noida
Call Them | +91 1204 276 365 & +91 9818 894 695
Timings | 10:30 AM - 9:30 PM
Check Out Their FB Page | https://www.facebook.com/TeastaTheTeaShop/