Delhi
5 Yummies Like Super Chicken Jalandhari & Zakasi Omelette You Must Feast On @ Rahul Eggs
Eggs have been an important part of our daily routine but what happens when someone takes them to a whole new level altogether and makes them look and taste egg-iliscious? That's exactly what one can expect from this outlet, that goes by the name of Rahul Eggs, famous for serving MORE THAN 500 sumptuous recipes of omelettes!
Nestled just below Keshav Puram Metro Station, two shops have been combined together where one is dedicated entirely to the kitchen area and the other shop is styled as a sitting area which can accommodate around 30 people at a time. All the items served here are of sizeable portions and we took it upon ourselves to bring you the best out of the myriad of options they were offering. Here's what we tried, take a look!
1. Premium Garlic Bread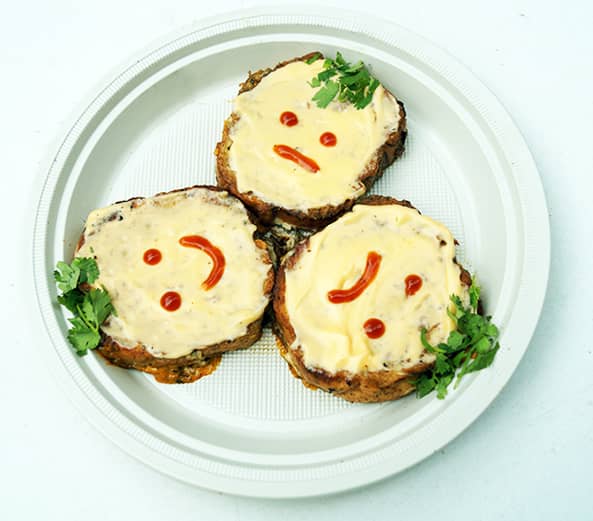 So this dish was basically three portions of garlic bread that were glazed with spiced whisked eggs on both sides and cooked in a pan with a generous amount of butter before being garnished with Thousand Island Mayo on the top. We loved how they fashioned these garlic breads into different emoticons with the help of ketchup. The bread was beautifully crisp on the outside and utterly squishy on the inside, with the distinct taste of garlic mingled with oregano which enhanced the flavour of every bite we had. This one definitely calls for a try!
Price | Rs 120
2. Premium Monako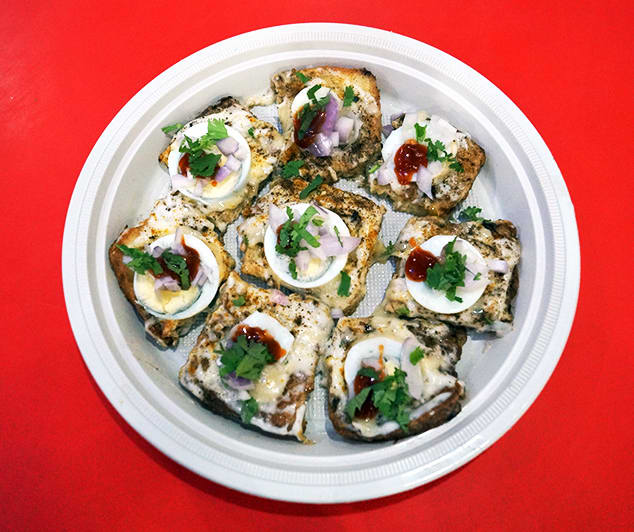 The Premium Monako we had here consisted of a half fried omelette on brown bread with the toppings of super creamy cheese, a sliced boiled egg, a tad bit of mozzarella and the final garnishing of tomato sauce, diced onions and coriander along with black pepper & salt. The bread was cut into fours and had a crispy-cum-creamy flavour with the pepper marking its dominance. The exquisite taste of this dish remained on our palates for a long time. Drooling yet?
Price | Rs 120
3. Super Chicken Jalandhari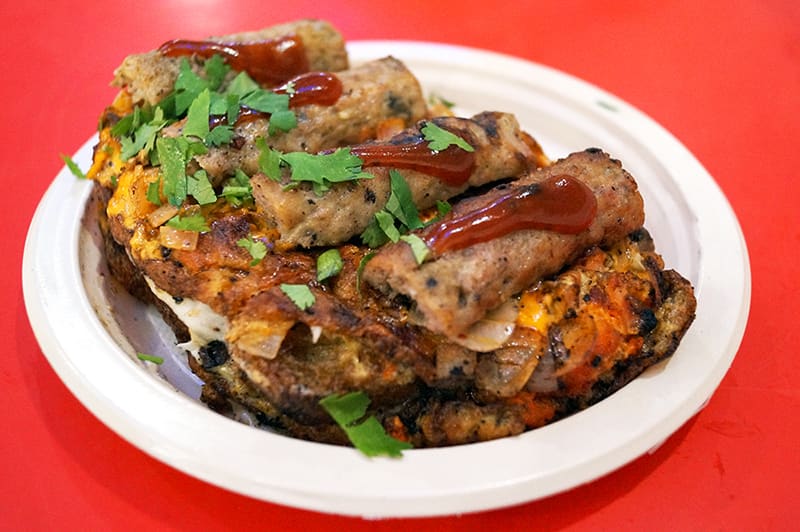 This item was every non-veg lover's ultimate dream where eggs were whisked aggressively to form a nice airy froth along with pan fried chicken chunks, diced onions, tomatoes, ground ginger and finely cut garlic along with black pepper, white pepper, red chili & salt before being cooked on a pan in tons of butter, two slices of brown bread and finally garnished with pan fried chicken seekh pieces that were cut into halves, smeared with tomato sauce and sprinkled with coriander. 
Due to vigorous whisking, the omelette turned out to be super moist with a slight crisp on its edges. The succulent and juicy chicken chunks make their abundant presence felt in every bite. Needless to say, we were downright in love with this one. We know you're tempted already, so drop by for your share!
Price | Rs 210
4. DJ-C (Chicken)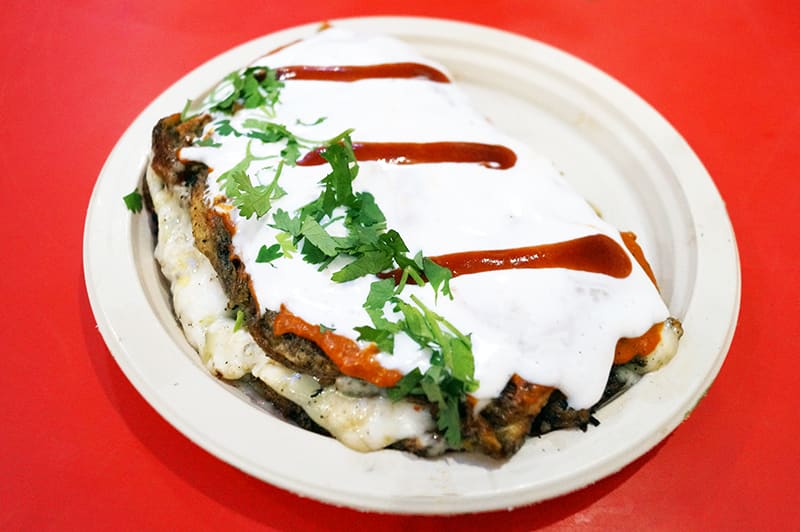 A desi version of cheese omelette is what we would like to call this one, where eggs were beaten along with sautéed minced chicken, diced onions, tomatoes, ginger & garlic along with pepper, salt and oregano & cooked beautifully in butter with slices of brown bread. A generous amount of mozzarella cheese along with cream cheese was layered between the two pieces of bread before smearing it with a sweet creamy sauce on the top and finally it was garnished with tomato sauce and coriander. 
With every scoop, we could witness cheese oozing out, making us impatient to devour it whole. The omelette carried a spicy feel in the beginning and slowly moved towards a sweeter taste, which we especially loved. The only downside was that the bread inside had turned soggy due to the presence of their cream based cheese which was kind of a turn-off. But overall, it was one helluva dish, something we can't wait for you to try!
Price | Rs 155
5. Zakazi Omelette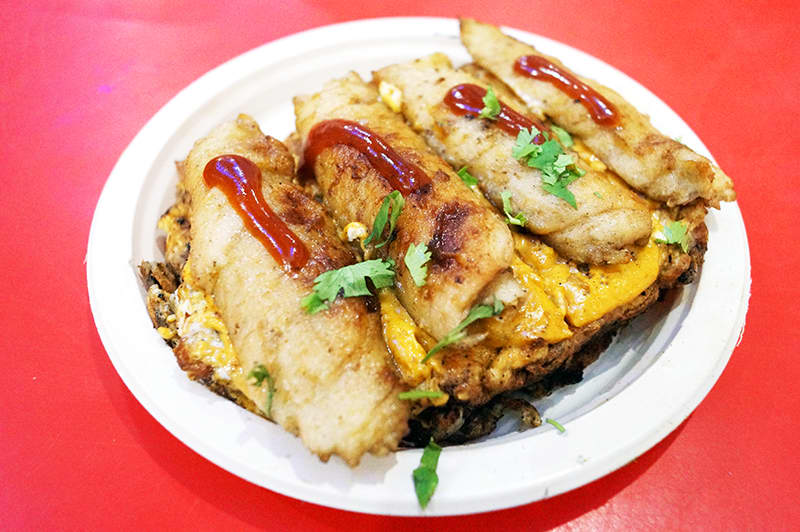 Zakazi was one of the most piquant and sought after variants at this shop where eggs were whipped vigorously along with diced onions, ginger, garlic, green chilies, red chilli, salt, black and white pepper, before being cooked in luscious butter with two slices of brown bread layered with spicy mustard sauce & mint mayo between the slices and finally being garnished with pan fried soya chaap, coriander and smeared with tomato sauce. This scrumptious omelette tingled our taste buds to the core and also had us running for water, hence, it is only recommended for spicy food lovers!
Price | Rs 145
All in all, a hygienic environment, finger-licking food, humongous servings and a wonderful experience is what one can expect from Rahul Eggs. We were utterly satiated by their offerings and welcoming hospitality. Don't be surprised to find us munching there again, very soon. So, see you there?
Where | Rahul Eggs - B-4/300A, Lawrence Road, Near Keshav Puram Metro Station
Timings | 1 - 10 PM
Call Them | +91 9899 830 062 & +91 9716 412 312
Meal For Two | Rs 400
Check Out Their FB Page | https://www.facebook.com/Rahul-Eggs