Delhi
6 Types Of Dosas Like Nutella Brownie & Cheese Volcano You Oughtta Try @ The Great Indian Dosa
Dosa isn't just food but a feeling, a yummy crunchy feeling served with piping hot sambhar and varieties of chutneys. This highly loved South Indian dish is hard to resist and what do you do if you get to choose from over 100 renditions of it? Well, we're talking about the all new restaurant, The Great Indian Dosa, that recently popped up in the food hub of North Delhi, Hudson Lane. This place will have you spoilt for choice with scores of varieties of dosas and other absolutely delish delicacies. So when we visited this place to check it out, we gotta admit, we had a really tough time making up our minds on what to order but here's finally what we tried!
1. Pav Bhaji Dosa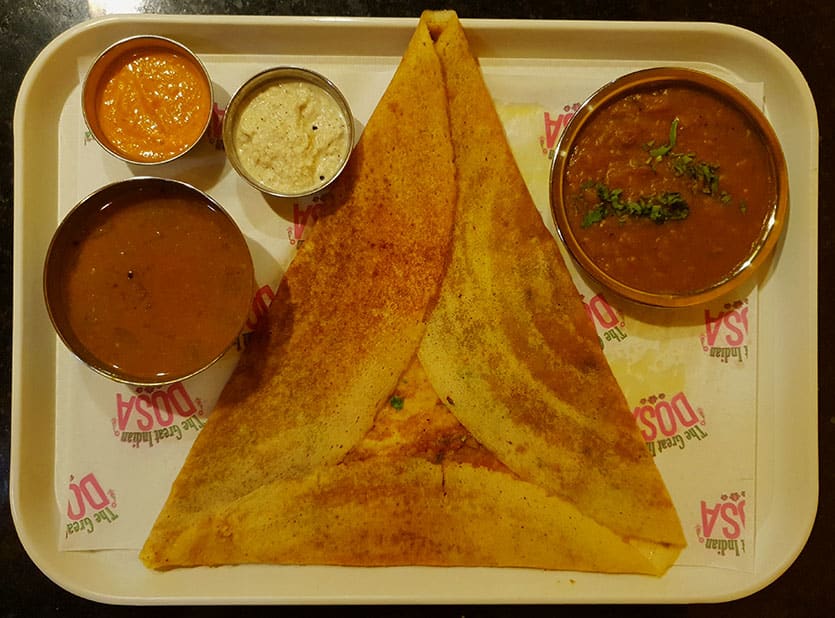 The perfect amalgamation of flavours from Maharashtra with our very own South Indian dosa, this one was a treat for the taste buds. Served with flavourful potato bhaji and covered with masala, this dish had us smacking our lips. Paired with their coconut and tomato chutneys, it was a communion of all the yummy flavours in one bite. We commend this place for finding the right match between both cuisines. So, go ahead and defo give it a try!
Price | Rs 160
2. Masala Taco Dosa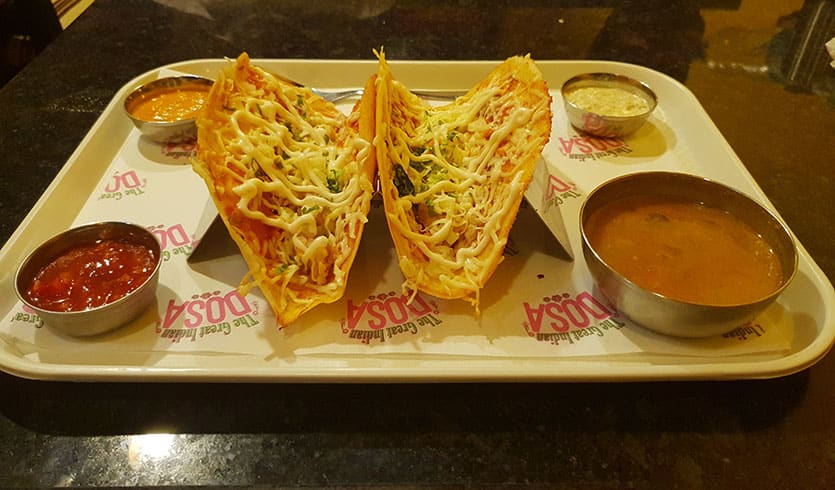 The South Indian version of the Mexican dish, you might just mistake this one for the original tacos, just bigger. It was served filled with a tangy sauce, loads of cheese and tangy masala making it a delicious snack for all tastes. It came with a salsa sauce that perfectly complemented the flavour of these dosa tacos. But you'll be surprised at how well this item matches with the traditional chutneys as well. This one had us saying  delicioso.
Price | Rs 180
3. Cheese Spring Roll Dosa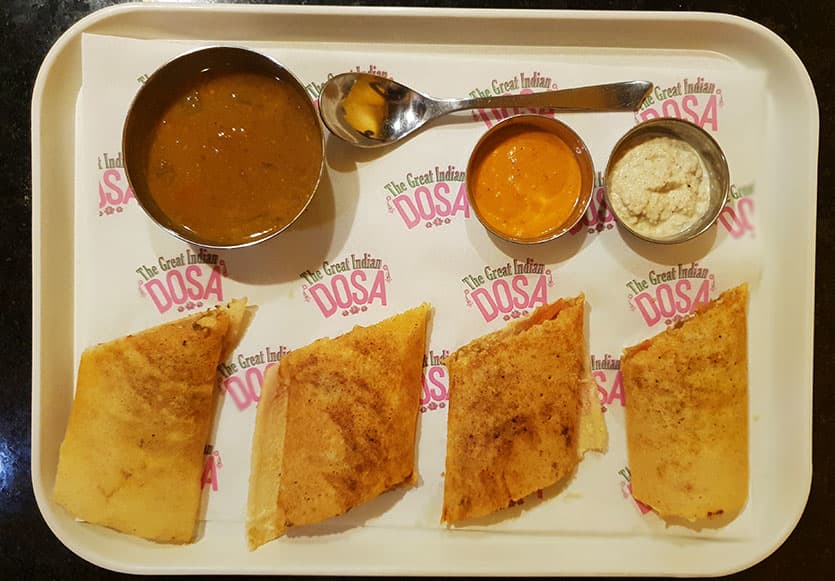 Dosa is truly the most versatile dish of all and this seemed true when we tried this one. Served as a spring roll cut into pieces, this dosa had a cheesy filling with veggies and spices which hit home perfectly. It reminded us of cheesy pizza toppings and crispy dosas all at once and seemed to go well with the sambhar served with it. If you're a cheese lover, this one's for you!
Price | Rs 150
4. Onion Capsicum Pizza Dosa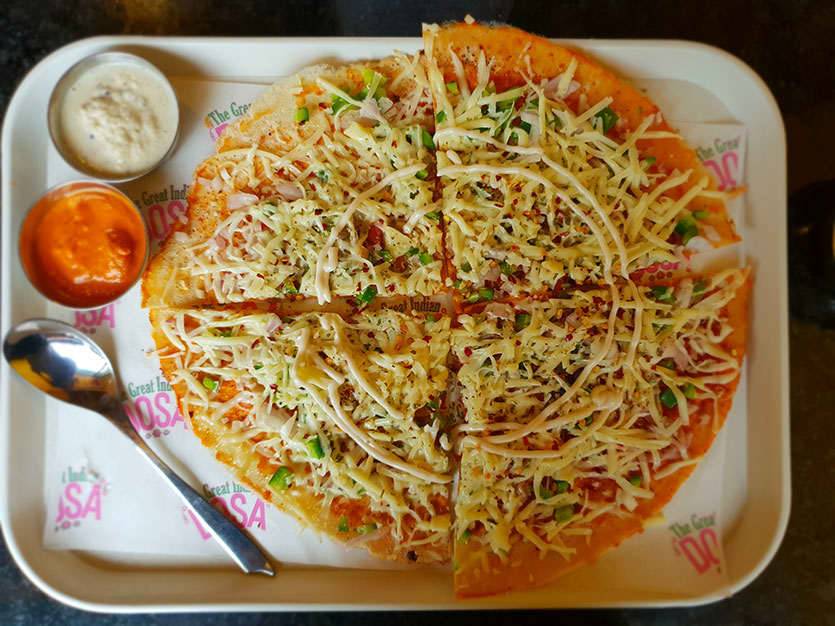 You name a fusion dosa and they have it. This one takes thin crust pizza to another level with the crispy golden dosa base topped with all things good. Covered in pizza sauce, onions, tomatoes, capsicums and loads of mozzarella cheese and mayo, this one made a home in our hearts and filled our bellies as well. We loved the presentation and came accompanied by some delish coconut and garlic chutneys. You can even choose various other pizza dosas like Spinach and Corn and Three Peppers Pizza here!  
Price | Rs 180
5. Cheese Volcano Dosa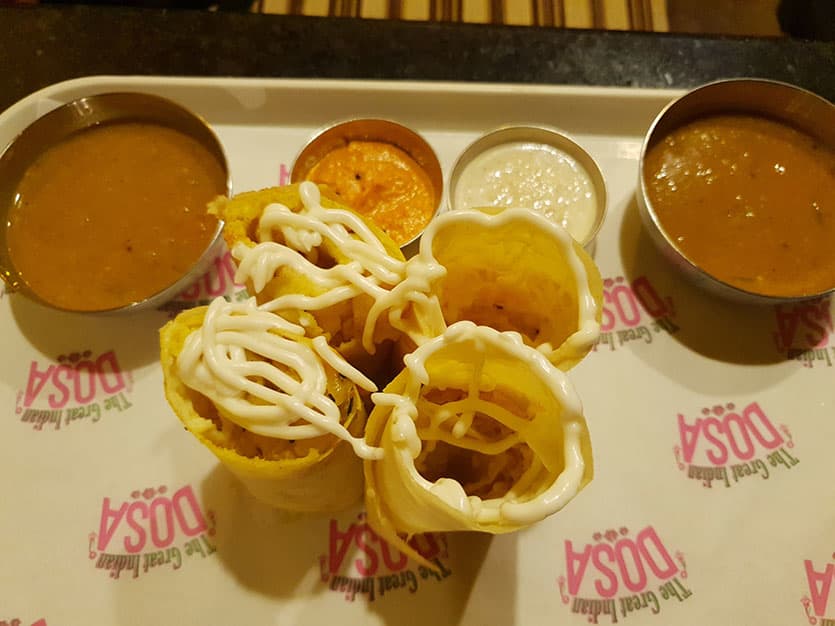 Put your hands up if you're a cheese person just like we are. Well, looks like we found the perfect dosa to put an end to your cravings. This one's loaded with the classic potato masala and a thick layer of cheese inside and then topped with more liquid cheese for a burst of flavours. It was extremely delicious and we were left wanting for more!
Price | Rs 200
6. Nutella Brownie Dosa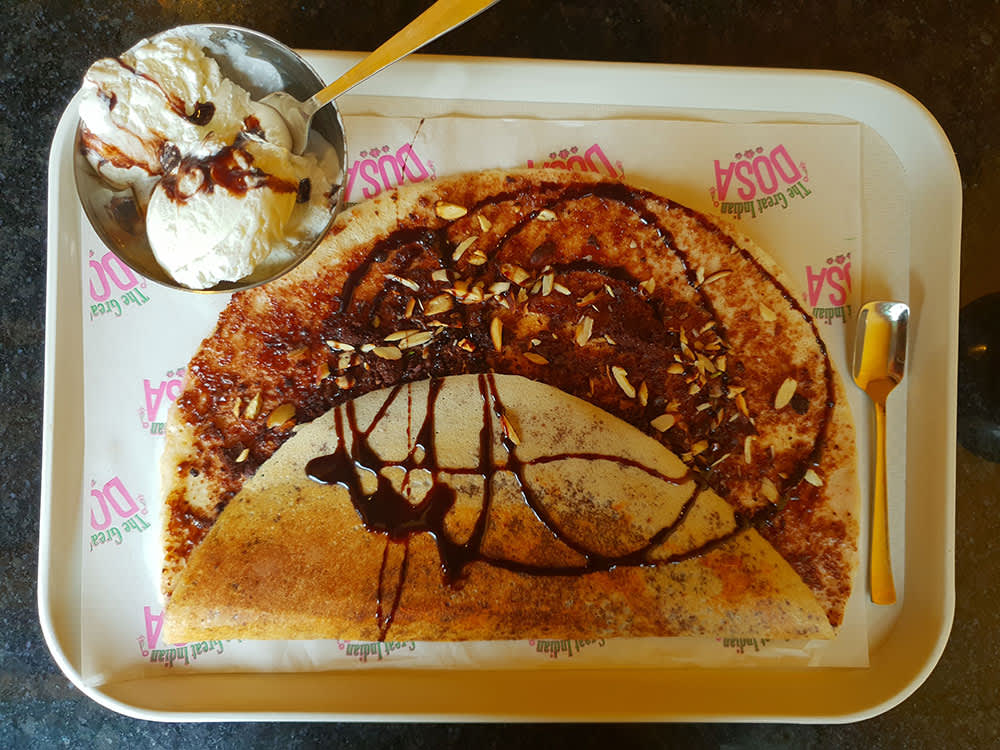 Drooling already? Well, we understand completely because it was Nutella and brownie together on a dosa. Sounds kind of bizarre but it was the perfect sweet twist to our beloved dish. Loaded with layers of Nutella, bits of brownies and nuts, this one's a heaven for people with a sweet tooth. It's served with scoops of vanilla ice cream for adding that touch of perfection. We'd prefer the savoury ones more but this one's worth giving a try! You can also go for the Oreo or blueberry version if you're not a Nutella person.
Price | Rs 190
So, we're defo going back again to get our hands on some other dosas. They also have a range of uttapams and starters in case you want to try those instead. So, without further ado, head over to The Great Indian Dosa because it's So Delhi approved!
Where | The Great Indian Dosa - 58, Edward Lane, Opposite Laxmi Ice Cream, GTB Nagar
Call Them | +91 9899 016 008
Meal For Two | Rs 500
Timings | 9 AM - 11 PM
Check Out Their FB Page | https://www.facebook.com/thegreatindiandosa