Delhi
6 Things We Highly Recommend Sampling @ Bliss Bakery in GK I
Only a handful of things define bakeries - cakes and desserts and the adjective bliss would surely be one of the top contenders for it. So when Bliss Bakery started their operations in the neighborhood of GK I's M Block Market, we knew it was going to create a storm in the sweet hearts of many! Nestled in the back alley of the upscale market, bliss bakery spells chic and luxurious interiors similar to the bygone era of English cafes where leisurely high tea was indulged in.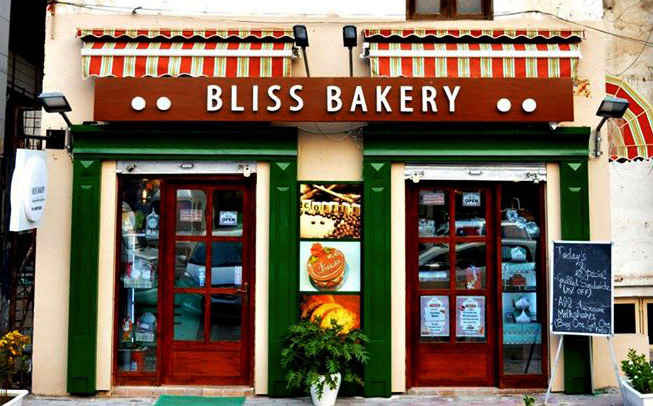 Mahak, the head chef and the owner of Bliss bakery started baking owing to her passion and love for desserts. An engineering graduate herself, she had different plans altogether, and scripted a new life for herself which is sure to inspire many. She takes immense pride in the fact that her bakery uses only pure butter for patisserie, contrary to other bakeries which use inferior-quality substitutes of butter. We sampled some of the bakery's specialties and have mostly good reviews to give to our readers.
1. Mangolicious Cake Slice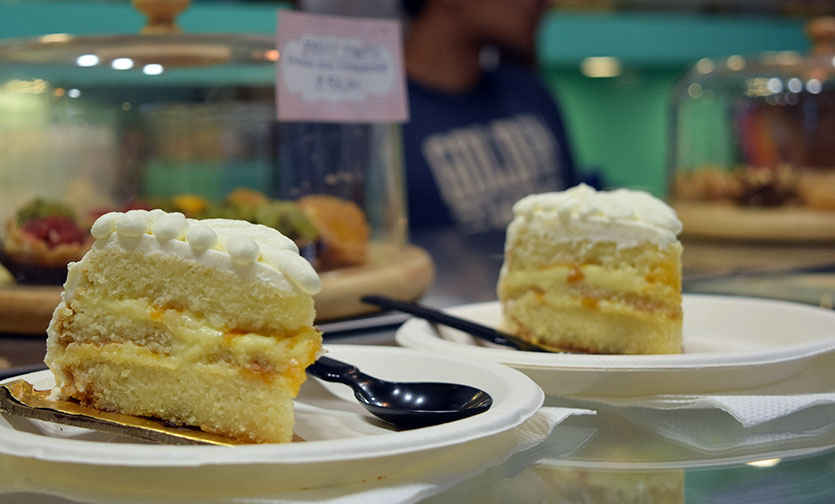 Our dessert experience started with the bakery's mangolicious pastry, which did justice to the king of fruits in every which way! Small mango chunks lathered in a heavy portion of cream combined with the softness of the sponge took us by surprise. This pastry needs to be devoured by all the mango lovers!
2. Double Chocolate Whammy Cake Slice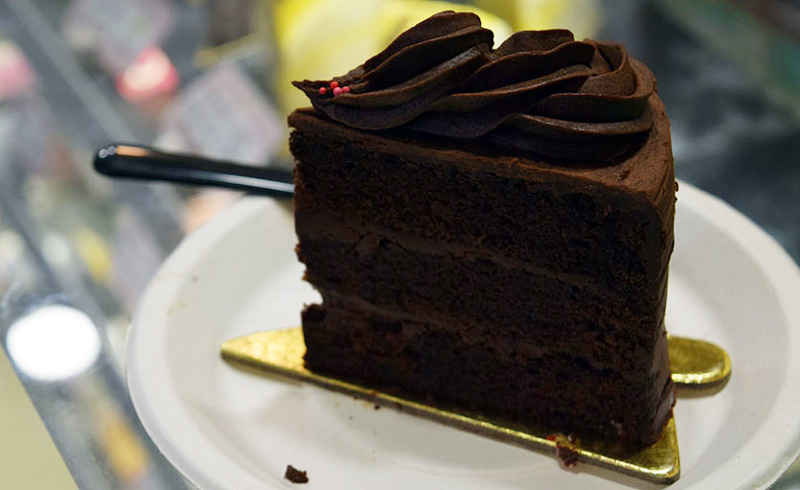 Their chocolate truffle did not turn out to be too much of a hit. The chocolate sponge was spot on, but the chocolate icing was a little underwhelming. We were informed that the bakery does not use gelatin due to which the glaze on the truffle was amiss. However, people who prefer their chocolates without gelatin will have a blast with this creation.
3. Macarons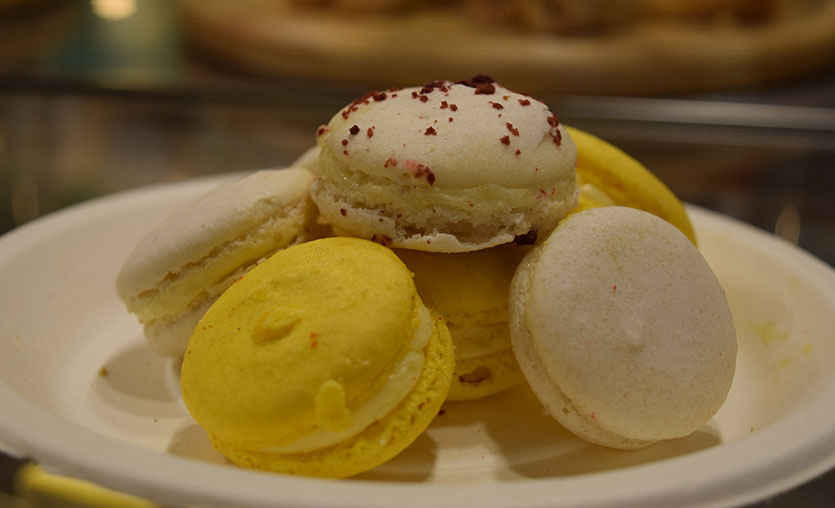 It's not just easy but rather extremely difficult to get the appropriate texture and filling for macarons right, but Bliss Bakery gets their macaron game totally on point! Their Coffee, Lemon and Vanilla variants of macarons totally bowled us over. For what it's priced at, each macaron is quite a steal, so go gobble up asap!
4. Chili Cheese Toastie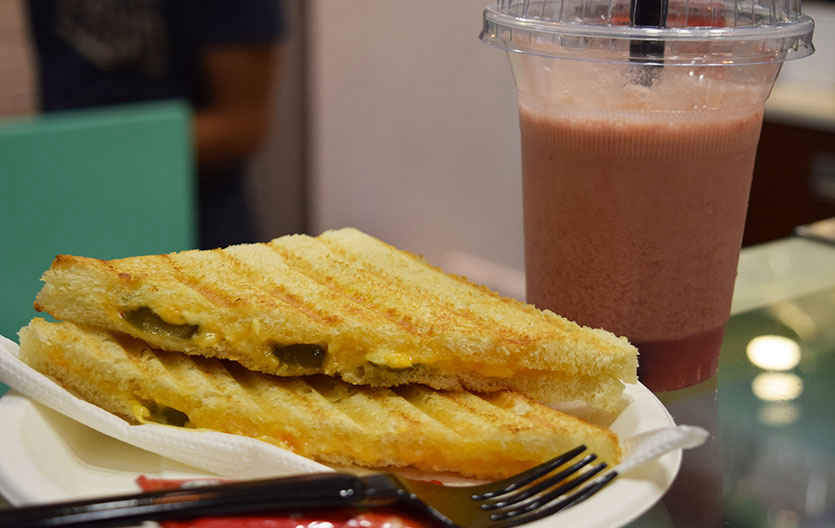 While here, if you do get a sugar overdose, the bakery always has a couple of options for the savoury lovers all lined up too! Their Chili Cheese Toasties are simply loaded with oodles of cheese and spicy jalapenos. Pair it up with their Vietnamese cold coffee or one of their freshly prepared shakes and your evening snack is a go!
5. Red Velvet Cake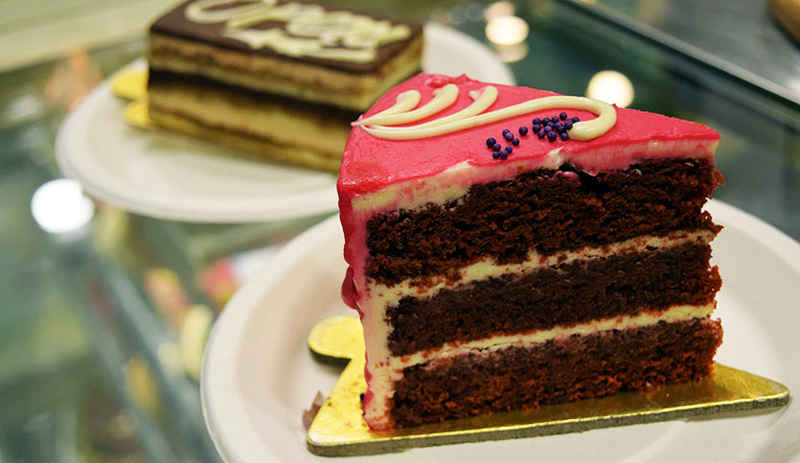 This particular flavor has caught the entire nation with a storm in recent times, and with every bakery trying to perfect it, Bliss Bakery gets it perfectly right. Their thick wedge of Red Velvet is the prettiest looking dessert we've seen, and with two layers of cream cheese, you know you're not getting a better bargain than this!
6. Opera Cake Slice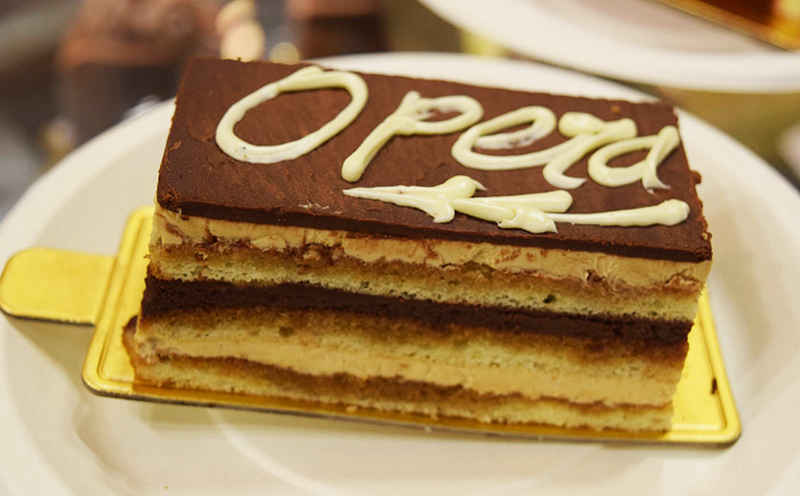 This is one of the most sophisticated desserts on offer in bakeries today, and Bliss Bakery indeed bakes it well. It is made using almond flour and not your regular flour. The preparation of the Opera renders a truly unique texture to this pastry. It comprises of numerous layers, and every layer has a different story to tell, be it the chocolate, coffee or the cream. The coffee lovers will have a new favourite after finishing this off!
Apart from the desserts that we tried, this place also serves some fresh in-house breads, quick bites for your evening pangs of hunger, shakes and coffee, healthy as well as some quirky ice cream flavours, pure butter cookies and gift packs as well for your loved ones.
All in no time, Bliss Bakery has become a one stop shop for all your bakery and confectionary needs in a market which since forever had lacked the presence of such an establishment!
Meal For Two | Rs 500
Location | M-2, Near M Block Market, GK I