Delhi
6 Things To Try Like Butterbeer, Dragon Eggs & More @ This Harry Potter Themed Cafe In Rohini!
Disclaimer: Bearing in mind the current health crisis befalling the city and the world at large, we're tweaking our content policy and recommendations. Stay positive, keep hygiene levels up and don't fall prey to panic and misinformation.
June 26, 1997 was the day when lives changed, forever. The boy living in the cupboard under the stairs taught us hope, friendship, bravery, sacrifice and determination unlike any other book series. We defended the sorcerer's stone, we uncovered the secret chamber, we rescued the prisoner, we were chosen by the goblet, we joined the Order, we learned from the Prince and we mastered the hallows. We are the proud Harry Potter generation and there lies a small teleporting cafe which will take you straight to the School of Witchcraft and Wizardry, right here in Delhi!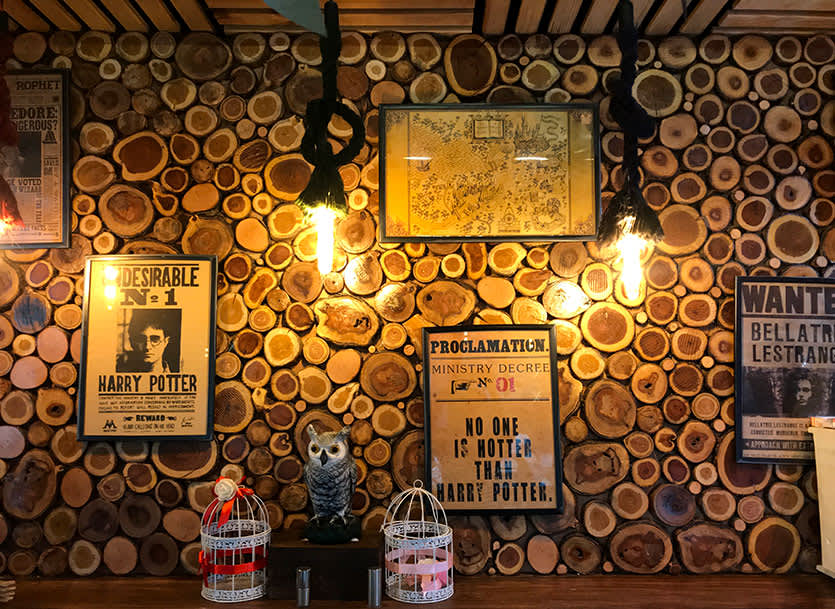 The Hogwarts Cafe, located in Rohini, is a humble eatery designed and based on the intricate details of our beloved Harry Potter world. From the warm toned ambience to the minute props placed inside, this place will apparate you to the magical world that defined and helmed most of our childhoods. The place is very compact, seating 5 to 6 people inside and 2 to 3 people outside with ease. The fascinating menu has dish names inspired by the characters and objects from this beloved series and will make you giggle while you're ordering. Here's a list of what we had for lunch when we landed up here!
1. Frozen Butterbeer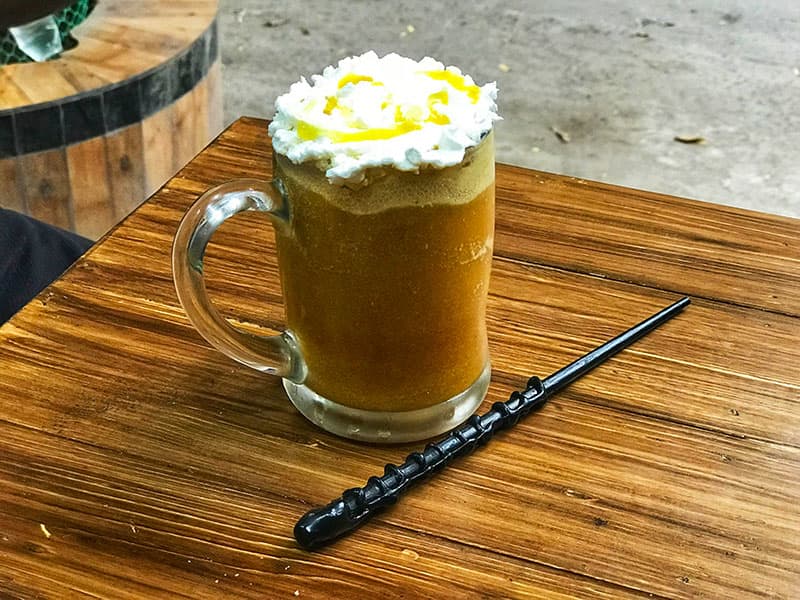 The signature drink of the wizarding world perhaps needs a little restructuring here. The sizzling golden beverage looked beautiful and was our most awaited order. The mountain of whipped cream topped with a drizzle of syrup welcomed us to a whiplash of strong ginger flavour. The drink had an essence of sweetness to it, but the flavour of ginger juice added just the right amount of zing to every sip.
The whipped cream was grainy and not at all smooth. It almost seemed like it was…frozen! This drink is for anyone with a mind quirky enough to wonder why Fred and George never bothered to mock Ron all those years about the fact that he'd been sleeping with a man named Peter Pettigrew every night, ever since they came in possession of the Marauder's Map!
Price | Rs 155
2. Peri Peri Phoenix Tears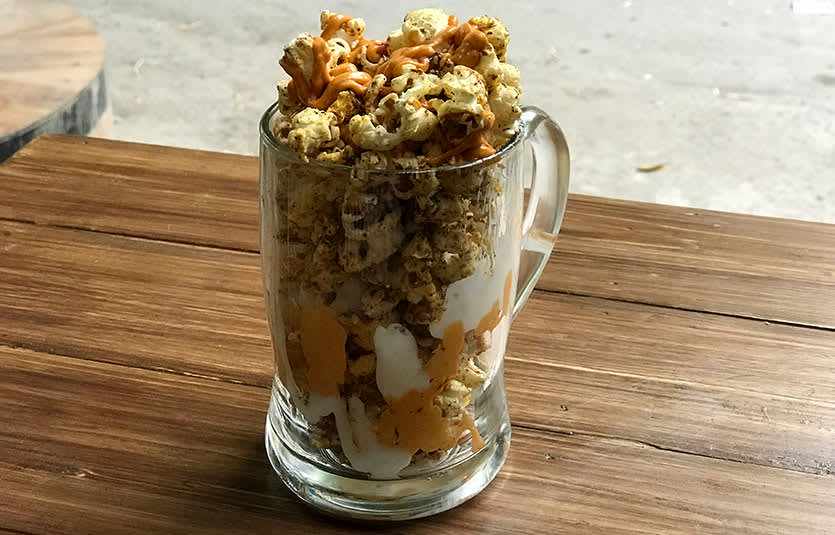 This pile of spicy popcorns coupled with orange sauce and mayonnaise is a brilliant idea, but was challenged by the inevitable sogginess. The popcorn had become soft by the time they reached us and the sauces made the overall flavour a bit too creamy for our taste. The flavour of popcorn on its own was really good but the texture threw it off slightly.
Price | Rs 75
3. Dragon Eggs With Ice Cream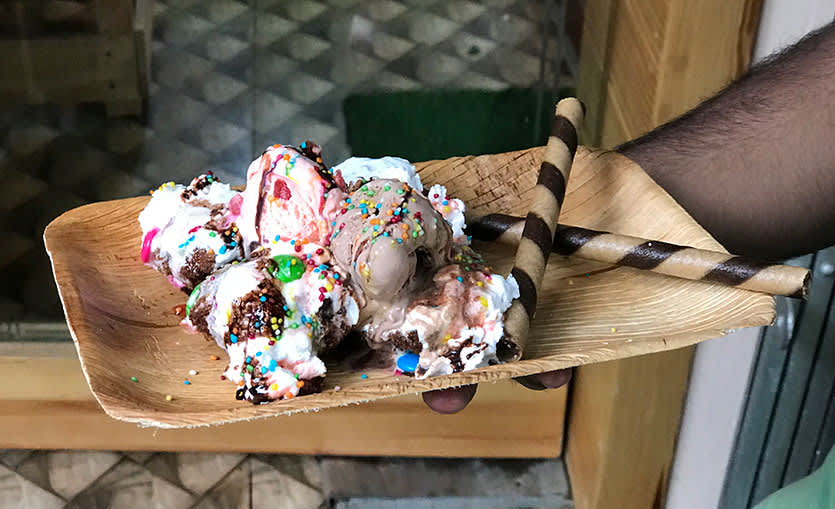 This sweet dish is one of a kind which blends Oreos and ice cream together so perfectly, even Khaleesi wouldn't mind and she wasn't even from this world! Crispy balls of softened Oreo crumbs, packed and shaped to look like tiny eggs sat on our plate along with scoops of chocolate and strawberry ice cream. The 'eggs' were topped with whipped cream and chocolate syrup which really enhanced the flavour. 
The dish was garnished with Gems, sprinkles and fruity bits. The warm eggs when matched with the cold ice cream will tell you why Ron was such a foodie! Served with two chocolate wafer sticks on the side, the dish was so toothsome that we polished off the entire plate in no time at all!
Price | Rs 125
4. Spider Web Nachos Platter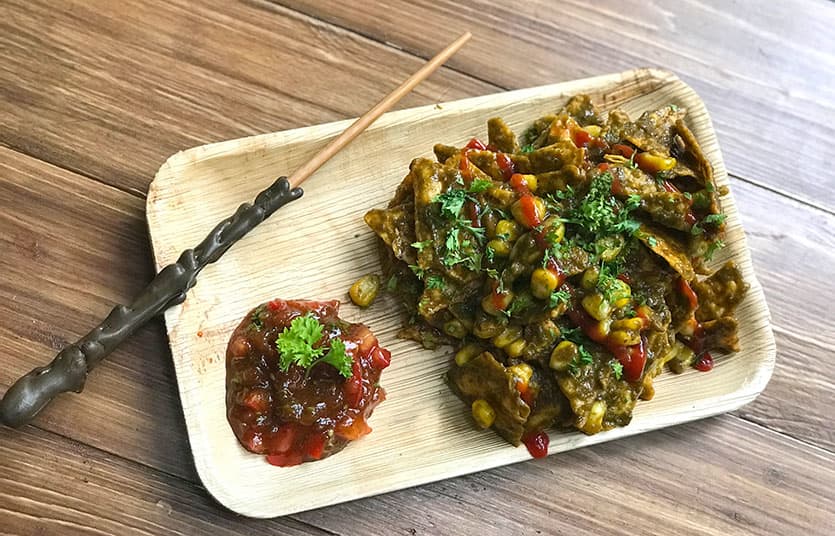 Perhaps the spiciest dish we had, this mound of piquant nachos served with salsa sauce made us breathe fire of flavours and tanginess. The triangled chips were coated in pesto sauce with hints of mint and tamarind. The salsa dip had tomato chunks and a tinge of sweet ketchup which slightly sweetened its overall taste.
Stir fried sweet corns were mixed with the nachos, making this a perfect snack to munch on while we debated on what a Ravenclaw student does when they can't answer the riddle but need to get into their dormitory?
Price | Rs 125
5. Peri Peri Fries Lovers Pizza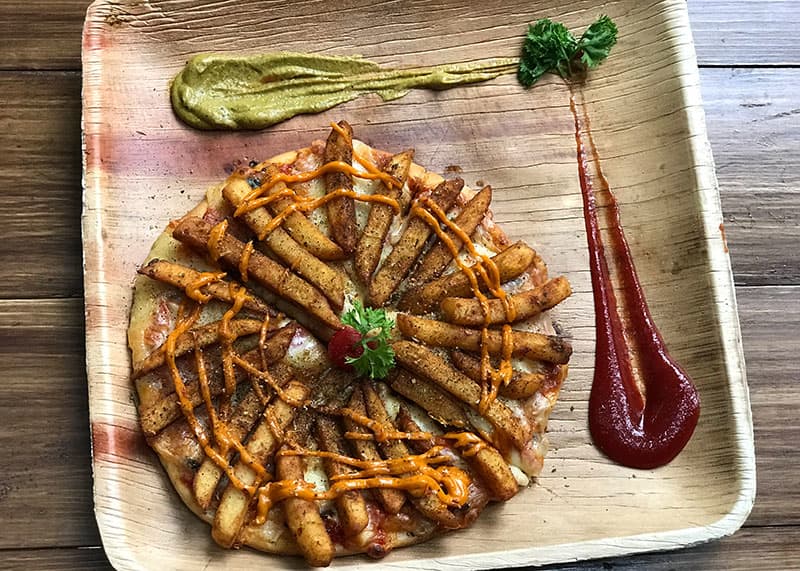 Why did McDonald's stop serving their Peri Peri again? Nevermind, because this dish brings it back for you. This item was a margherita pizza topped with aligned peri peri fries and served with tomato and mint mayonnaise. A single beautiful cherry tomato sat in the middle of the wheel of fries along with a cluster of coriander leaves. The precision of arrangement made us fall in love with the dish altogether!
The mint mayo was a successful experiment since it was probably one of the few times we liked a sauce with pizza that wasn't ketchup. A drizzle of orange sauce, tandoori and mayonnaise mixed together was a pleasant surprise. This one is a must try for the novelty factor, if not anything else!
Price | Rs 155
6. Italian Grill Sandwich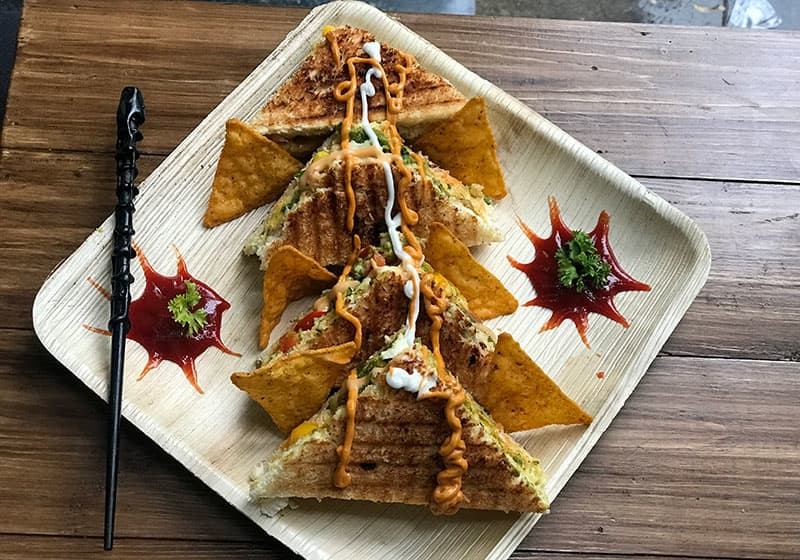 This dish was one of the cutest from our list. Four small triangles of sandwiches loaded with vegetables and spreads were served along with ketchup & nachos which looked like bunny ears protruding from the pieces. Two layers of dressing between three slices of bread might seem like a small quantity but was actually very filling and delicious. It was stuffed with sauteed vegetables like baby corns, zucchini, mushroom and bell peppers, with a generous amount of chipotle and sandwich spread. 
The mint sauce too was beautifully coated in between the layers. If you're ready to get your hands dirty while eating these yummies, dripping with flavour when paired with their orange sauce and mayonnaise, then this sandwich is your Patronus!
Price | Rs 145
The best part about dining in this small place is that the presentation of all their offerings won't stop astonishing you. All the items were fresh and aromatic to the last bite. This place is a must visit for anyone who ever wanted to experience how it must've been in the world of those young wizards. So Potterheads, why don't you get set and floo network there already? 
Where | The Hogwarts Cafe - Pocket - B5, 397/398, Sector 3, Rohini
Timings | 1 - 11 PM
Call Them | +91 9899 977 394 
Check Out Their FB Page | https://www.facebook.com/hogwartscafe934/