Delhi
6 Things Salazar Slytherin Sandwich & More You Can Try Here ONLY For Your Love For Harry Potter
It's September already which means the session at Hogwarts has begun and yet again, the magical quill has not added our names to the list of pupils attending Hogwarts - School of Witchcraft and Wizardry. It's the same story every year, where we expect our letters but don't receive them and express our sorrow by reading the iconic Harry Potter series and eating tubs full of ice cream. Always dreaming of going on an adventure with Ron and Hermione by our sides, killing a basilisk or breaking into the Ministry of Magic or better yet, saving the school and the entire wizarding community from You-Know-Who....haven't we all been there? Alas, all we can do is dream about all that!
But we realized, one thing we could do was check out a place which was Harry Potter themed to get rid of all our FOMOs and so, we did exactly that. Wrappy Potter and The Prisoner of Taste is a delivery only outlet in Rani Bagh, Pitampura. After sauntering around the entire area, we finally found this little place tucked between two other tiny shops. Very much like The Hogwarts' Cafe, this place, too, tries to ride the Harry Potter inspired cafe wagon but fails at it. Ambience wise, they've still got a long way to go to genuinely sell the theme. Read on to find out what we thought of the food here!.
1. Rictumsempra Cold Coffee With Brownie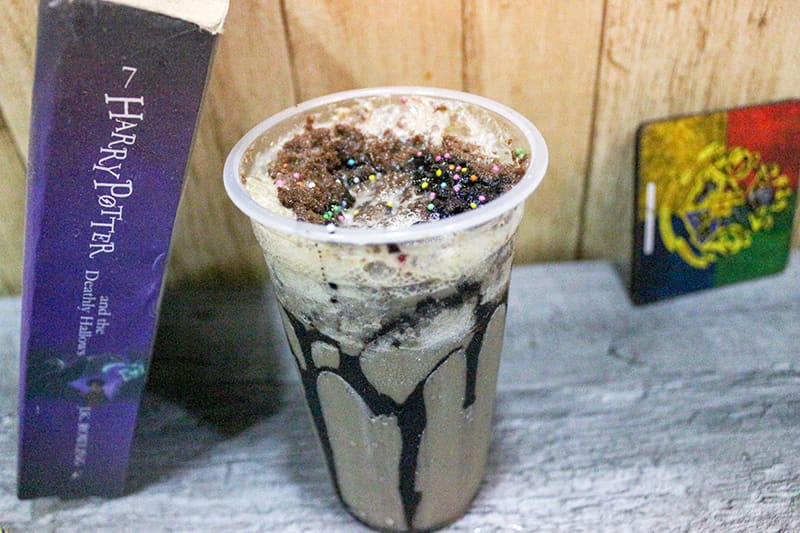 The Rictumsempra (Tickle Spell) Cold Coffee with Brownie was a delight. It might not have tickled us but it did make our insides happy, to say the least. The coffee was brewed a little on the darker side but was still aptly sweet.  The bits of chocolate glazed with coffee were amazing to taste. The brownie had already sunk and dissolved in the coffee but it definitely added to the taste. This beverage gets a double thumbs up for us!
Price | Rs 80
2. Hermione's Magic Butter Chicken Wrap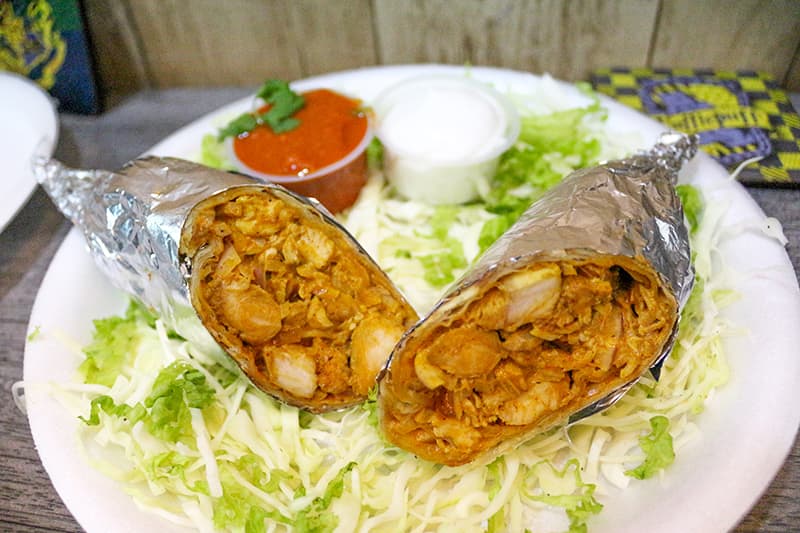 If there's anything to know about Miss Granger at all, it's that that she's a perfectionist. Remember, "It's Levi-O-sa and not LeviosAR"? And much to our dismay (because we don't compromise with our beloved chicken dish), this wrap was anything but butter chicken. Uh oh! Miss Granger, whose highly logical brain allows her to look past extraneous details and perceive clearly which others often overlook, won't be happy.
No doubt, the chicken was completely cooked and the wrap was jam-packed with meat chunks, had a fresh aroma, was perfectly spiced up but it was named a Butter Chicken Wrap and we didn't get any of those buttery, glossy, lip-smacking, finger-licking worthy flavours. If you're looking for a wrap that actually reflects its name, you're surely going to be disappointed but otherwise, it can pass as a filling, flavourful chicken wrap that's worth the money.
Price | Rs 110
3. Marietta Edgecombe Chicken Crunchy Momos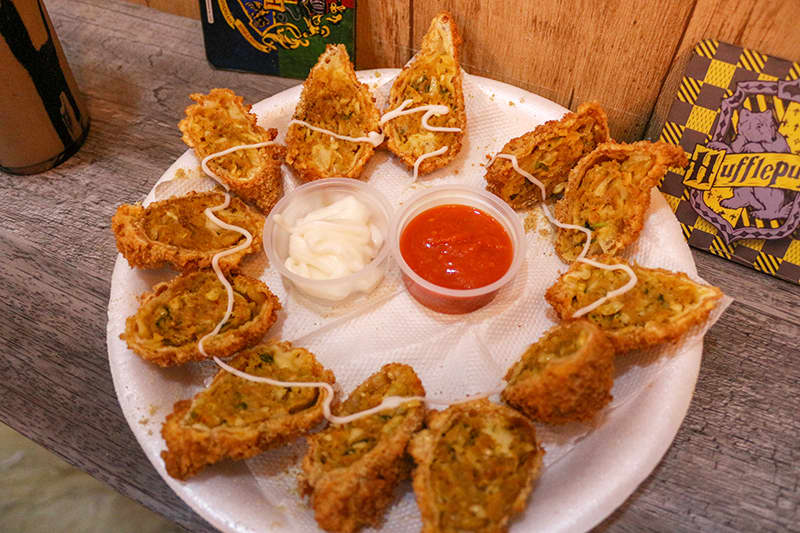 What looked like an appetizing snack when it was served to us, was truly the most disappointing dish we had here. Chicken Crunchy Momos were placed in a circle on the plate with the hot-red fiery momo chutney and mayonnaise in the centre. When we bit into it, we realized what was wrong with this snack. The crust was definitely crunchy but the chicken was very chewy and had a weird aftertaste. We were done with these momos in one bite and never looked at them again!
Price | Rs 100
4. Helga Hufflepuff's Nacho Corn Pasta
Now, this dish was pasta prepared in mixed sauce and covered with nachos on top. We were doubtful about the quantity of the item in the beginning but as we worked our way through it, we realized it was sufficient to satisfy one's hunger. Not much can be said about its flavour though because it tasted like any regular pasta. It was cooked al-dente, the veggies were crispy and the sauce was also okay-ish. The ones who don't like to experiment with food can always try this dish and they would be happy!
Price | Rs 120
5. Salazar Slytherin Paneer Grilled Sandwich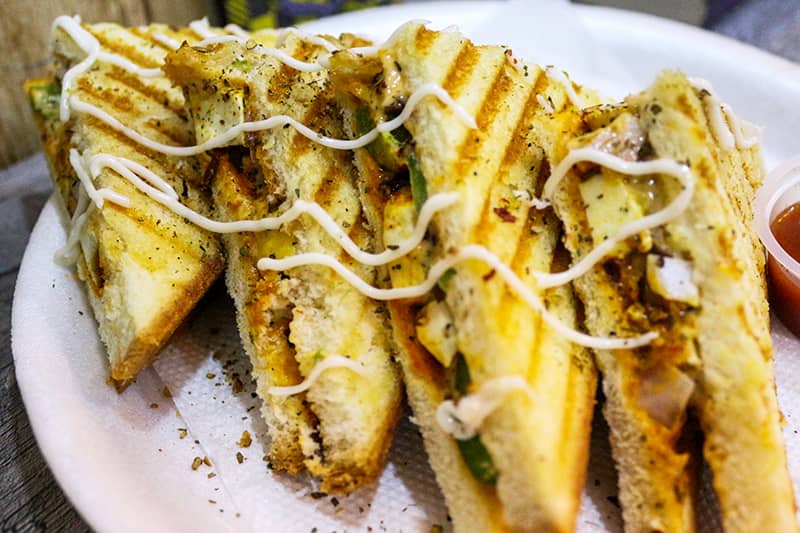 Contrary to how much we dislike Salazar Slytherin because of his classist and racist views, we loved this snack. The sandwiches were loaded with paneer and veggies. In one bite, one could actually taste mayonnaise, (which was used but in a very less quantity, thankfully) and the tandoori sauce. One might think that the quantity was insufficient but actually, being loaded with corn, assorted vegetables and paneer, it was quite filling. This amalgamation of the sauces with all the other ingredients stuffed between two bread slices is worth the buck and one must try these here for sure!
Price | Rs 90
6. Tom Riddle Sr Schezwan Sauce Maggie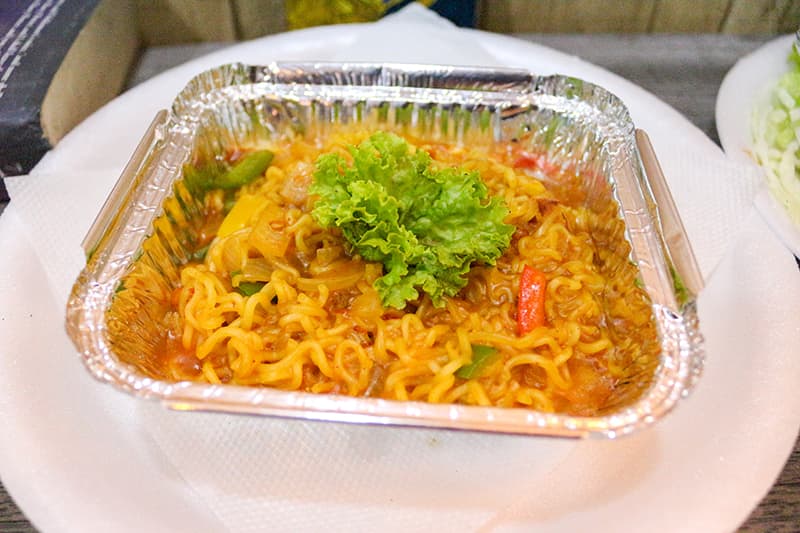 One thing's for sure, if you introduce Maggie in any preparation to the magical world, they'ill go gaga over it. They'd fancy it the same way Mr. Arthur Weasley liked rubber ducks. So, when we saw a whole section of the menu dedicated to this dear snack of ours here, we ended up ordering their Tom Riddle Sr Schezwan Sauce Maggie. This dish was a pleasant preparation comprising loaded vegetables in a tangy and spicy sauce. The Maggie was not only piquant and zesty but also had an interesting twist to it. We're sure you'll love this one just as much as we did!
Price | Rs 70
Wrappy Potter and The Prisoner of Taste is only a month old delivery outlet which still has a lot to improvise. The staff was cheerful and happy. One can go and try out their other dishes too and let us know if they've different opinions on this place!
Where | Wrappy Potter And The Prisoner Of Taste - WZ- 1778, Shop No. 3, Rani Bagh, Pitampura
Call Them | +91 7290 039 555
Timings | 11:30 AM - 11 PM
Check Out Their FB Page | https://www.facebook.com/wrappypotter02/