Delhi
6 Scrumptious Dishes Like Badhshaimomos & Prawn Spring Onion We Tried @ Spotlight Kitchen And Bar
Another weekend and another place to be crossed off from the ever growing list of places mushrooming in this sweltering heat of Delhi! We are talking about the Punjabi capital of Delhi AKA Rajouri Garden which *btw* is a swanky market full of run of the mill cafes and restaurants!
Spotlight Kitchen And Bar looks like yet another restro in this busy locality but the food in here surely separates it from the rest! Not a fancy menu, just simple dishes sticking to basics and delivering on quality is what makes this place tick with the masses! 
We plomped ourselves on the comfy sofas, emptied two glasses of their yummy Strawberry Smoothie and Virgin Pina Colada and ordered some finger licking food! We now recount our experience and list out the top dishes for y'all which are a must-have at this place!
1. Palak Patta Chaat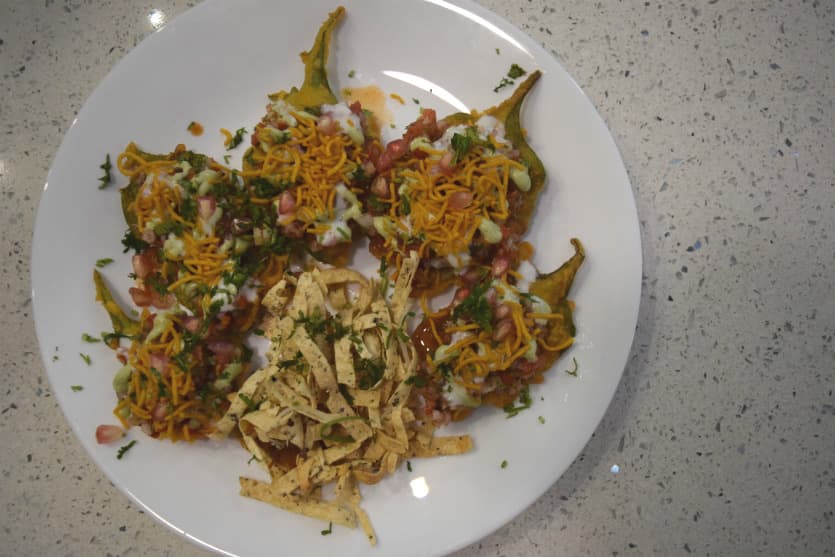 Having become something of a rage in recent times, the palak patta chaat has caught on with the chaat world as a snobbish sibling of the street food papdi chaat! This dish is basically, leaves of spinach perfectly fried to a crisp and then garnished with chutney, chana, sev, potatoes and pomegranate! What comes out as an end result is something so satisfying that we bet you just could not have one!   
2. Arancini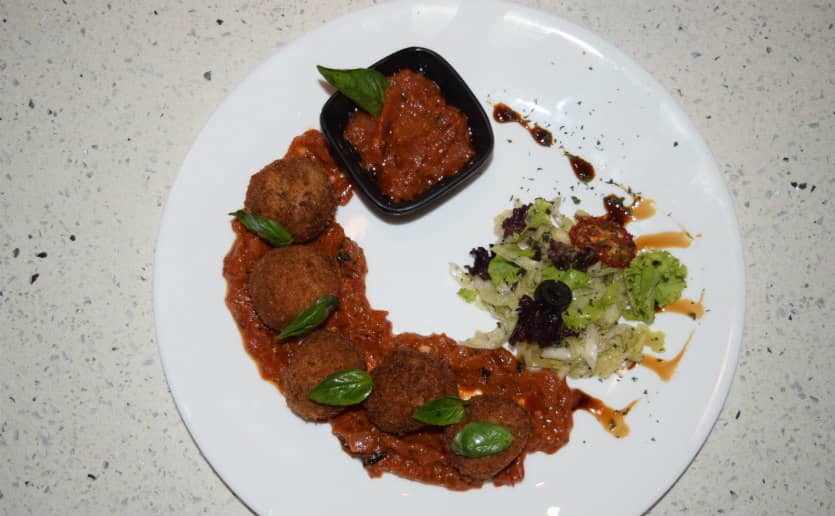 We still don't know what brought about a revolution in menus all over Delhi to include Arancini as an appetizer but it works well here for sure! Made from rice, rolled into balls and cheese, the Arancini breaks open at our slightest touch and we apply generous amounts of the tomato based gravy that is served along with this dish! So don't forget to try 'em out!
3. Prawn Spring Onion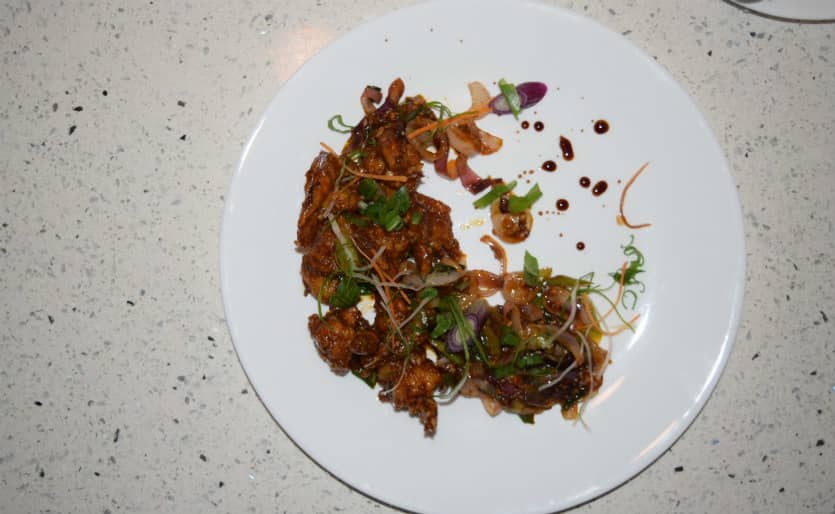 If you love the proteins from the sea, then this dish is crafted just for you! A Chinese style crunchy prawn preparation which is then rolled in crispy spring onions and garnished with micro greens giving it all the fancy feels. So, all those who love dunking prawns with booze, Spotlight is just the right place to be!
4. Badhshaimomos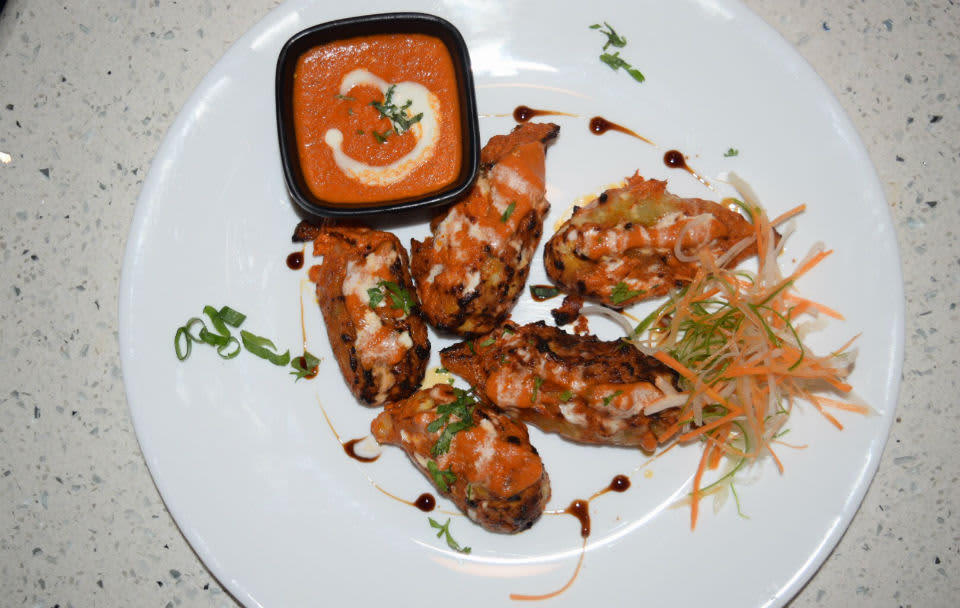 We were as stumped as anyone by the name of these momos but on enquiry, turned out that these were indeed the butter chicken momos! Being in the Punjabi dominated area of Rajouri and not to have butter chicken would be a crime and we were in no mood to commit one! The Badshaimomos are first roasted in a tandoor and then added to a yummy, finger licking gravy of butter chicken! So foodies, what are you waiting for? Scamper over this place right away! 
5. Dal Makhani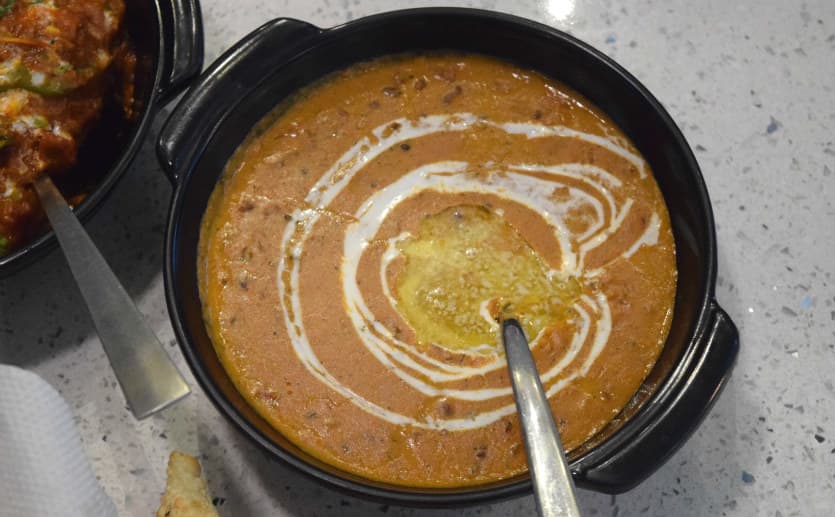 Trust West Delhi to serve a lip smacking Dal Makhani which is as buttery as one could be! The Dal Makhani is one of their best sellers and could be seen on every table. We absolutely loved the consistency of this classic dish and recommend you to pair it up with their crispy garlic naan to enjoy what really Spotlight is all about!
6. Kadai Paneer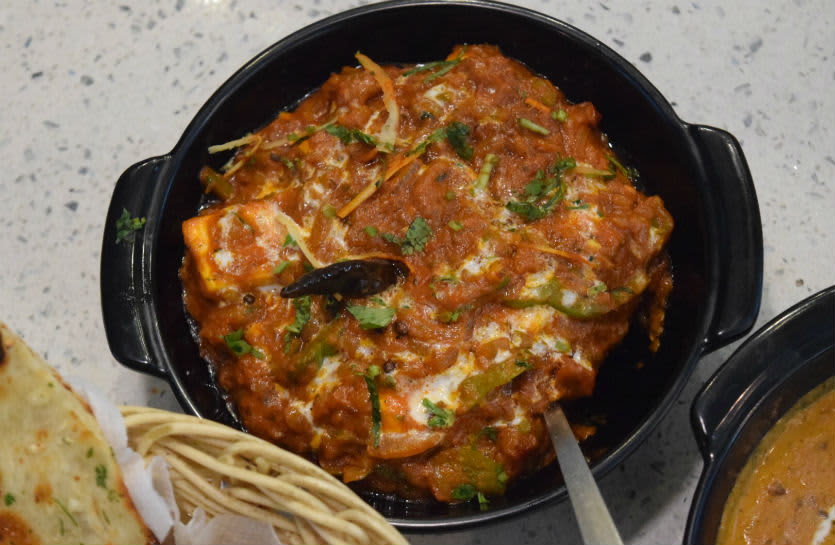 Another classic dish that stole our hearts and how! Huge paneer pieces in an absolutely striking orange curry paired up with our favourite sirke wale pyaaz *yum, yum*! We loved the smoothness of the gravy and the paneer was so soft that it melted in out mouths. Go try it out today and thank us later everyone!
We loved Spotlight Kitchen And Bar for every bit of it, be it the ambiance, the quality food or the stellar drinks! So if you haven't checked out this place already, we say you go right away and treat your inner bhukkad with their scrumptious food! 
Meal For Two | Rs 1100
Location | Spotlight Kitchen And Bar - J-2/19, Ground Floor, BK Dutt Market, Rajouri Garden
Check Out Their FB Page | https://www.facebook.com/SpotlightKitchenandBar/