Delhi
6 RAD Reasons That'll Make You Prance Your Way To This Super Fun Indoor Trampoline Park
Hey, there! What's your definition of a fun day? Well, for us, it's literally just bouncing around like a crazy little kid. And what if we tell you that this fun recreation also helps us stay fit? As crazy as it sounds, it's the gospel truth! And without beating around the bush anymore, we'll tell you exactly where we head to to indulge in our dose of jollification. We're talking about the newly opened BounceFitness indoor trampoline park that lets you bounce around and more while you burn those stubborn calories! Forget the mainstream gym workouts for BounceFitness is here to provide y'all with pleasurable and exciting ways to get your hearts pumping!
It's located at DLF Star in Gurgaon and offers tons of things for you to do as you frolic around this trampoline haven. For all you curious folks out there who're on the lookout for such adventurous activities, here's a list of reasons for you to visit this crazy fun place right away!
1. Trampolines Everywhere!
Do you really need any more convincing? Your inner kid-like soul will defo take charge once you get to prance around from one place to another on trampolines. It's pure bliss & fun and guess what? They have them in different sizes and forms so you can choose the one you like and jump away. In case you're more of a slide away person, they also have waterfall trampolines, how cool is that? To make sure you don't get bored with just bouncing around from one end to another, the lovely folks here have added obstacles of varying difficulties for you to cross and challenge your friends to!
2. Climb A Wall Or Swing & Fall!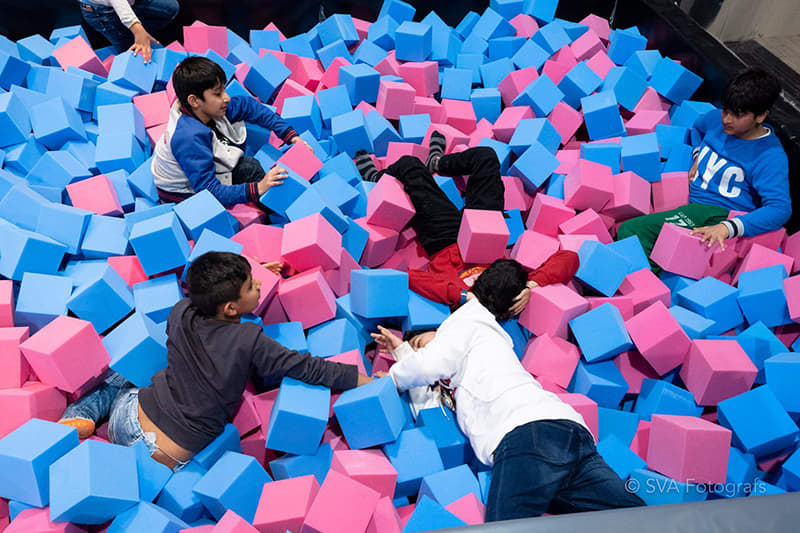 The part that we probably liked even more than the trampolines were the two foam pits that are chock-a-bloc with colourful foam cubes. You can literally hop from one place to another or have a foam cube fight without the fear of getting hurt. They even have ropes for you to swing around from that'll give you all those legit Tarzan vibes as you sway your way into the foam pit. Or you can test your arm strength by climbing a rope in the middle of the pit and getting an adrenaline rush by falling back into it. For all the rock climbing enthusiasts, there's a vertical wall for you to climb that tests your skills and lets you fall without hurting yourselves. And after you're completely spent, you can just lie down and chill in the pit.
3. Basket Your Way To Glory!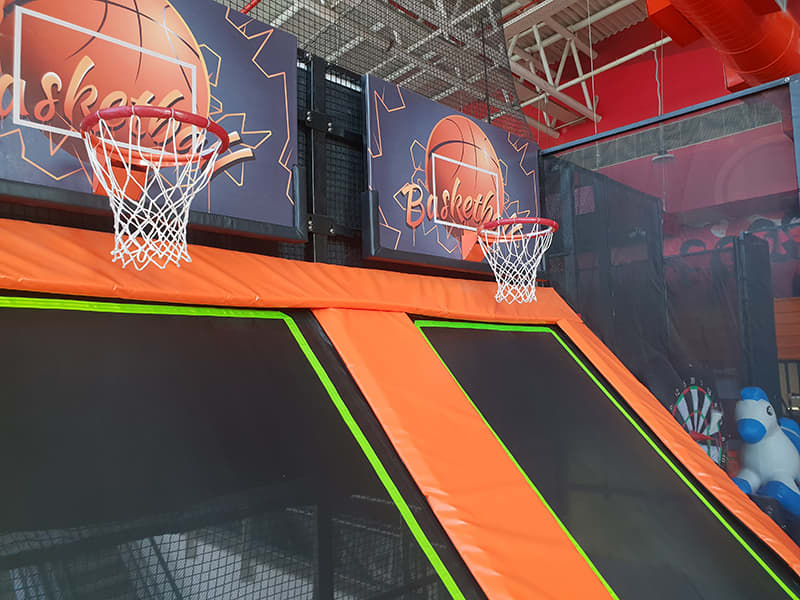 Who doesn't love games but what's better than playing games is playing them while you jump around on trampolines? These guys have 2 small basketball hoops, magnetic dart games as well as a virtual reality simulator! Our favourite of the lot has to be the Body Zorb for you to battle it out with your gang wearing a giant plastic ball! They also have a different section filled with games for the little ones. Or you could just fulfill your lifelong dream or riding a unicorn, but this time bouncing with it!
4. Grab Yummy Bites!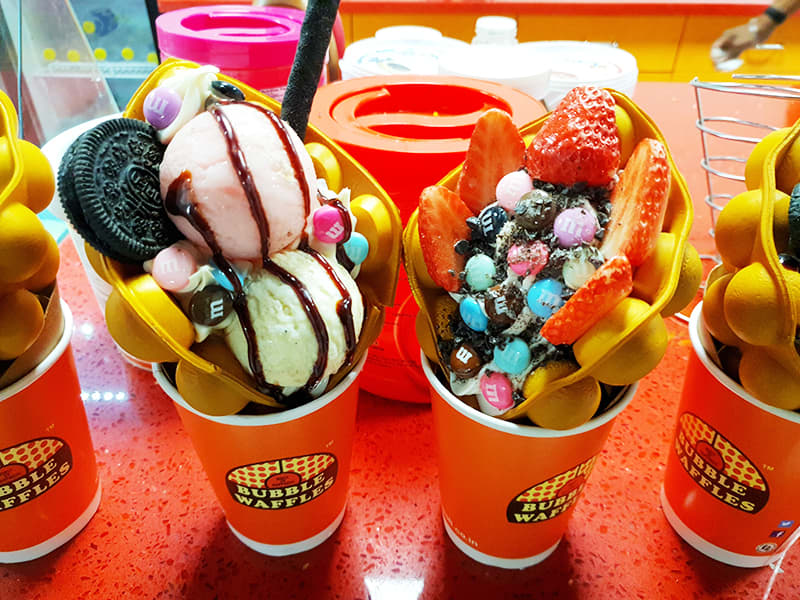 We know that jumping around and having tons of fun can be tiring and you need the energy to continue. So, there's a small cafe here with ample amount of seating where you can easily grab some yummy pizza, decadent waffles or maybe a refreshing drink. If you like to treat yourselves a little, order some flavoured cotton candy which these guys whip up in unheard of flavours such as Watermelon and Cola - wow!
5. Trained & Professional Staff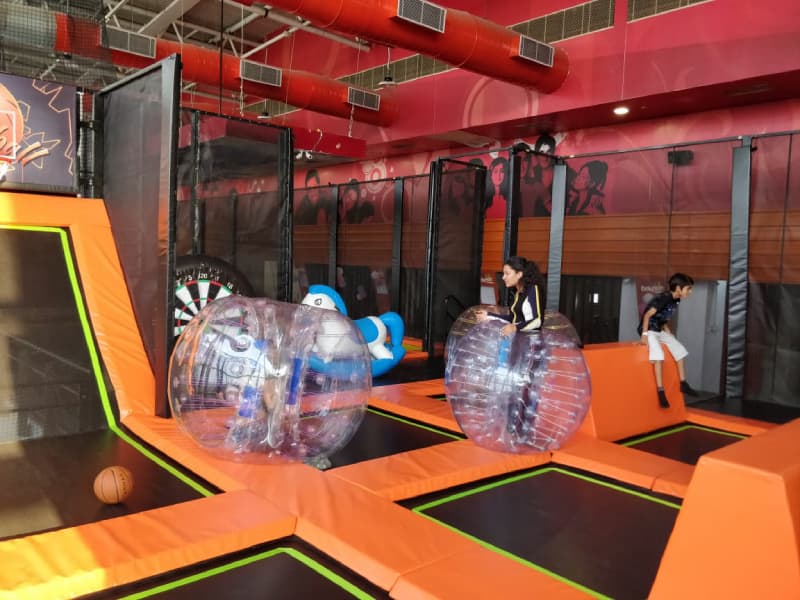 For running a place that blends fun and fitness, a highly trained and professional staff is a must and these folks are well-equipped with that. What's more is that they're incredibly amicable and proactive in helping you out, making your experience here, memorable. The staff also helps you click fun crazy pictures and record you doing the craziest things in this park!
6. Discounts For Everyone!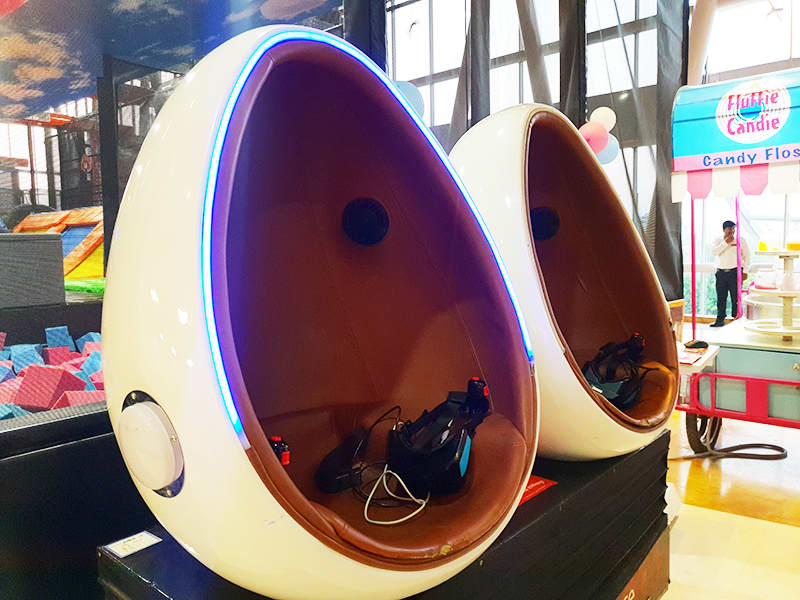 This place is big on discounts and they're offering 20% off on weekends and 25% off on weekdays. Yes, we're as gobsmacked as you are!
So, now that we've given you enough reasons to hop your way to BounceFitness, why don't you head over? Don't forget to carry a pair of socks. P.S. - They also provide locker facilities, so you don't have to worry about your belongings. So head over today and might as well get a membership for the place for we know you'll keep coming back fosho!
Price | Rs 350 Onwards
Where | BounceFitness - DLF Star, Block A, Sector 30, Gurugram
Timings | 11 AM - 10 PM
Call Them | +91 9818 270 099
Check Out Their FB Page | https://www.facebook.com/bfgurgaon/
Here's Their Website | http://bouncefitness.in/newwebsite/