Delhi
6 Quirky & Yummy Dishes You Can Hog On With Bae Under Rs 200 In A Block, Janakpuri
What can be more fun than hopping through fantastic street food joints and exploring mind-blowing dishes you've never heard of before? We've been exploring through the lanes of West Delhi and found our very own little food paradise in the streets of A Block in Janak Puri. If you're bored of eating the same old dishes in the same old cafes and would like to go on a foodie adventure in this lovely weather, hogging on quirky and unheard-of yet delicious dishes, we've found just the right places and delicacies for you to try! Here's what we found while exploring through the streets of A Block in Janak Puri!
1. Detox Juice @ The Juice Lawn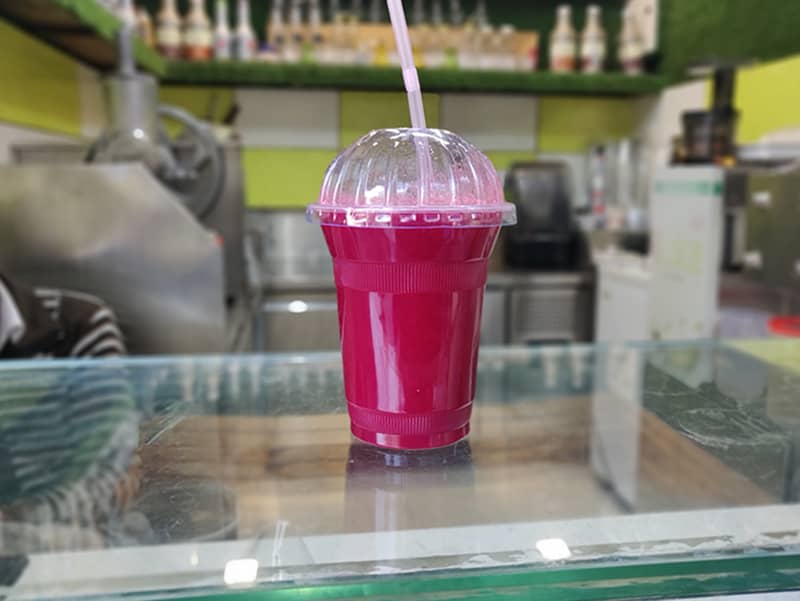 We figured it was best to start our foodie escapade with some liquid delicacy, as well as something healthy for digesting all the calories we were about to gain. And for that, we went to a lovely little outlet called The Juice Lawn, which offered a variety of mixed combos for juices, out of which we ordered the Detox Juice which was a blend of kiwi, beetroot, carrots and pineapple. It tasted fresh and unique, almost like a mixed fruit juice but with the kiwi and pineapple adding a slightly different flavour to the drink. Couldn't have asked for a better start, honestly!
Price | Rs 90
Where | The Juice Lawn - Block A3
2. Noodles Dosa @ Ganapathi Food Court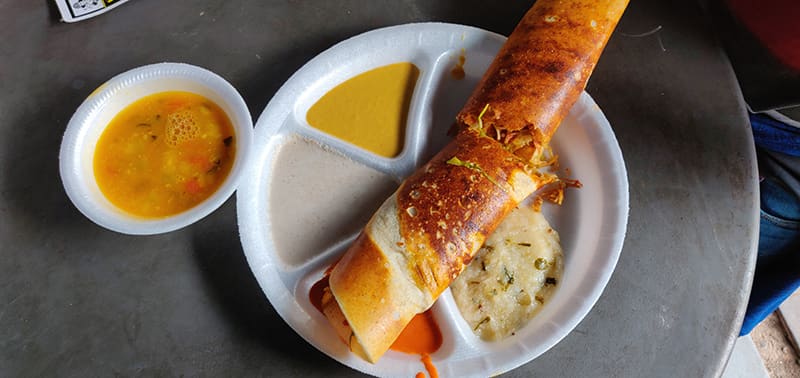 We're sure you've never heard of something like this before and as weird as this experiment sounds, we are glad to tell you that it actually works. The Chinese flavours went pretty well with the South Indian delicacy and the chutneys actually worked as savoury dips. The flavourful noodles added spice to the dosa, which was incredibly soft and well cooked. Overall, we think this crazy sounding experiment made for an amazing treat!
Price | Rs 120
Where | Ganapathi Food Court - Shop 3, A4C, Besides Francis School
Call Them | +91 9160 045 644 & +91 9654 077 645
Timings | 10 AM - 10 PM
3. Pizza Momos @ Crave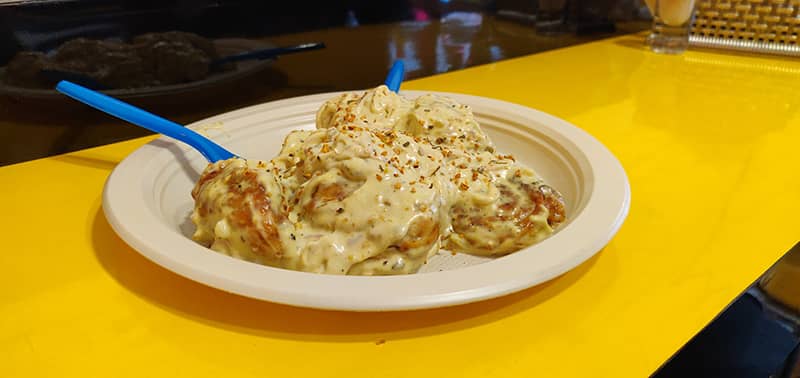 We've had a lot of variety of gravy momos, but this one caught our eye since it wasn't just loaded with gravy on the outside but also had cheese and pizza sauce on the inside! The momos were also filled with finely chopped veggies to complete the unique experience and we were happy to note that the dish actually did have the taste of pizza, instead of just tasting like any other variety of momos. They were a little spicy but just enough to make us love them. This saucy dish turned out to be something you must defo try out!
Price | Rs 90
Where | Crave - A4C/186A
Call Them | +91 9810360932 & +91 9971764932
Timings | 1 - 11 PM
4. Kebab Gravy And Rumali Roti @ Chaska Chaap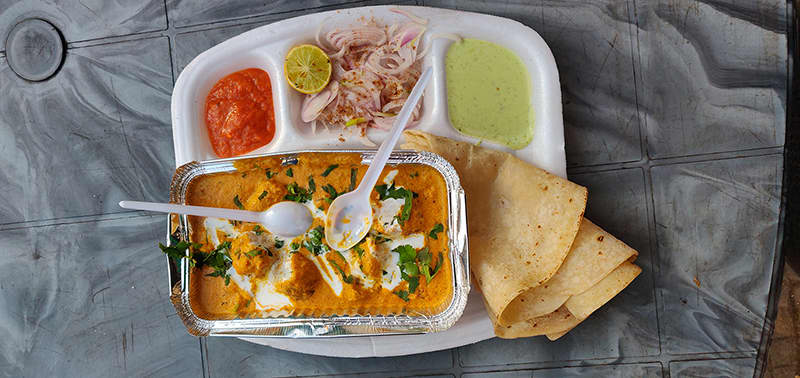 After trying these South Indian and Chinese flavours, we wanted ourselves some good old North Indian delicacy, so we ordered this vegetarian kebab with gravy along with rumali roti. The dish was spicy and was made with just the perfect balance of masalas, which went well with the rumali rotis and pyaaz and gave us a full desi dhaba experience. This is one of the outlets in the lane that also offers seating, so you won't have to finish your thali standing up!
Price | Rs 180
Where | Chaska Chaap - A-4/C, 199A
Call Them | +91 9210 848 515
Timings | 12 Noon - 11:30 PM
Check Out Their FB Page | https://www.facebook.com/Chaska-Chaap
5. Rainbow Paan @ Saurav Pan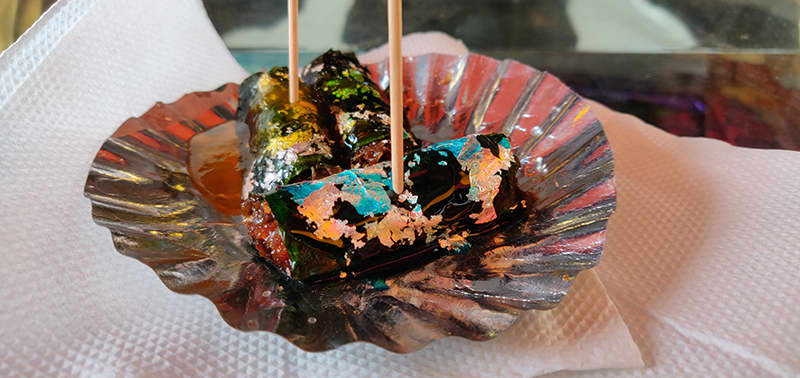 How can we talk about street food and not mention paan? This little food joint had numerous varieties of the desi treat with everything from kiwi to mango and we chose to order the one dish that had the yum factor in multitudes - The Rainbow Pan! It offered a mix of kiwi, mango and blueberry flavoured paans, none of which were a fail. These delights were covered in fruit flavoured syrups and their sweet & tangy taste made this snack something we'll remember for a long time!
Price | Rs 50
Where | Saurav Paan - Shop A4C-193-A
Call Them | +91 9312455238
Timings | 8 AM - 12 Midnight
6. Chocolate Gol Gappas @ Crave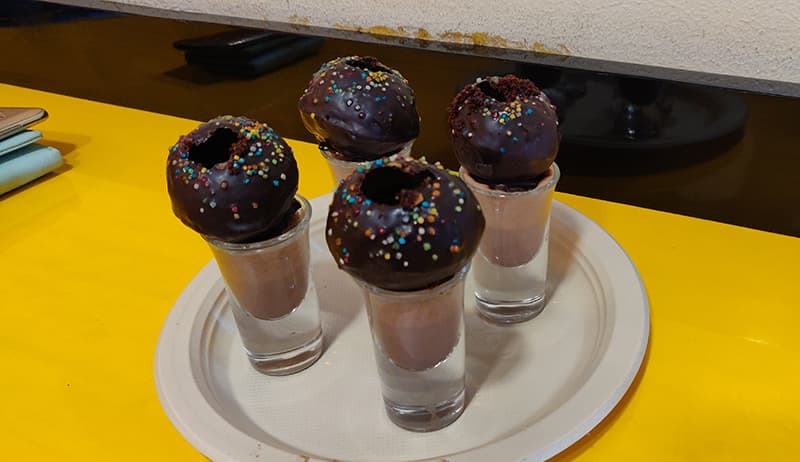 Now that chocolate momos have become a thing of the past, there's a need for a more quirky and yummy experiment for our sweet tooths and chocolate gol gappas fit the bill perfectly! Unlike the traditional, spicy AF gol gappas, these were sweet, coated with chocolate and sprinkles - in short, making them totally Insta-worthy! The frozen chocolate layering complemented the crunchiness of the gol gappas. They were served with chocolate milkshake as the filling and all the elements together made up for an amazing dessert to end our trail!
Price | Rs 80
Where | Crave - A4C/186A
Call Them | +91 9810360932 & +91 9971764932
Timings | 1 - 11 PM
So, the next time you and your friends are wondering where you should go out to eat, ditch the old routine and go try out these hidden gems in A Block Janakpuri!