Delhi
6 Places Selling Shimmering Chandeliers, Stunning Turkish Lights & More In Bhagirath Palace
There's practically nothing you CAN'T buy in Chandni Chowk. A market that houses separate lanes for food, books, juttis, shades, fabrics, lehengas and what not, the walled city is the place where you'll find everything you're looking for and more. And in these crowded streets lies Asia's largest electrical market, Bhagirath Palace. Here, you can find everything, from small light bulbs to customised crystal and Turkish lights. So, we've got you a list of must visit shops at this place, in case you're redecorating.
1. Make In India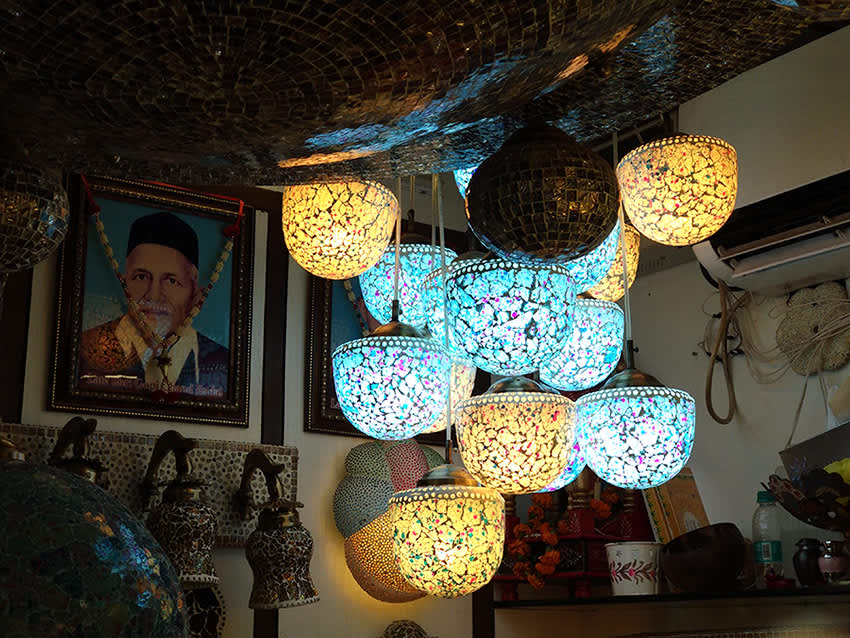 If you don't get googly-eyed upon entering this store, then we aren't BFFs anymore! This little shop has so much to offer, it's astonishing. It harbours the most amazing and innovative designs for lights, as well as some decor items. Their beautifully handcrafted Turkish lights totally blew our minds. Also, they even custom-make the lights according to your demands. So, don't wait for Diwali anymore to make your house twinkle!
Where | Make In India - Shop No 1495
Call Them | +91 9990 440 440
Timings | 10 AM - 8 PM
2. Vicky Enterprises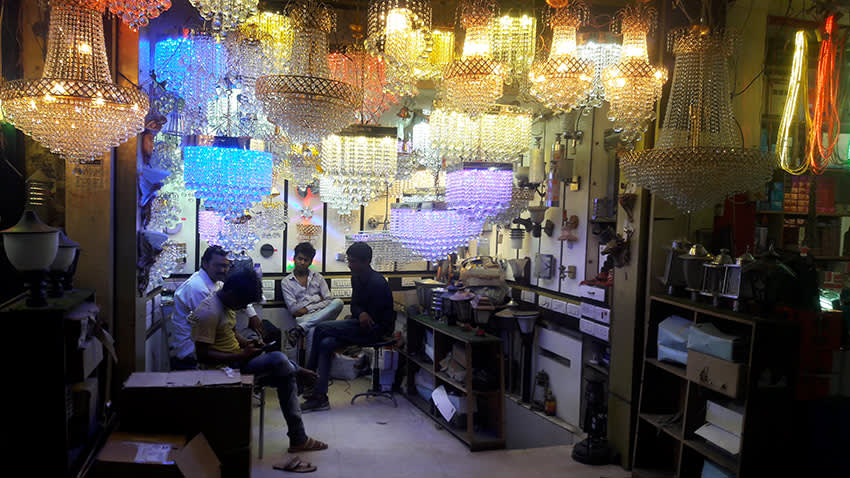 This particular shop specializes in Crystal designs and offers a mind-boggling variety of it. The overwhelming finish and fine craftsmanship are truly worth applauding. They sell beautiful chandeliers, LED and decorative fixture lights. Come here, and we assure you, you'll be spoilt for choice!
Where | Vicky Enterprises - Shop No 1888/2
Call Them | +91 11 2387 6145
Timings | 11 AM - 8 PM
3. JP Lights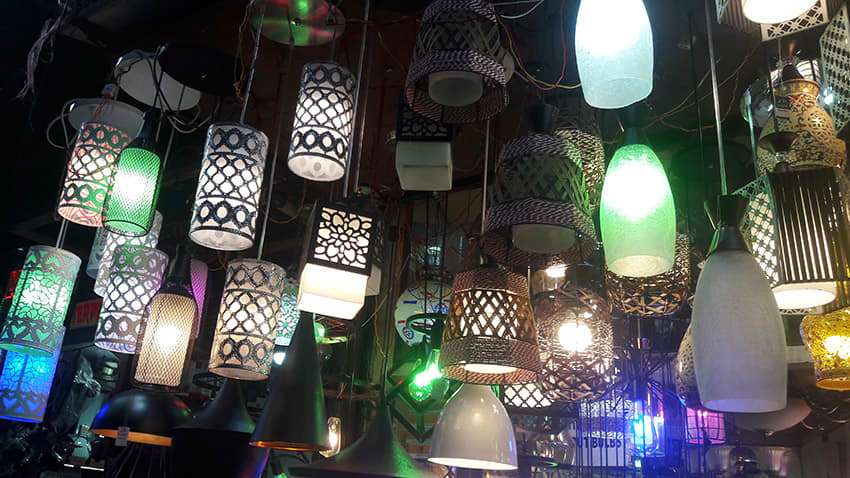 Now this particular shop deals in Chinese lights. Durable, cheap and lightweight is what describes their products best. They have everything from chandeliers to lamps to wall lights. The surprise addition we found in this shop was shimmering fairy lights. So, make your lives brighter by bringing these beautiful pieces home!
Where | JP Lights - Shop No 1885
Timings | 11:30 AM - 8 PM
4. Crystal Lights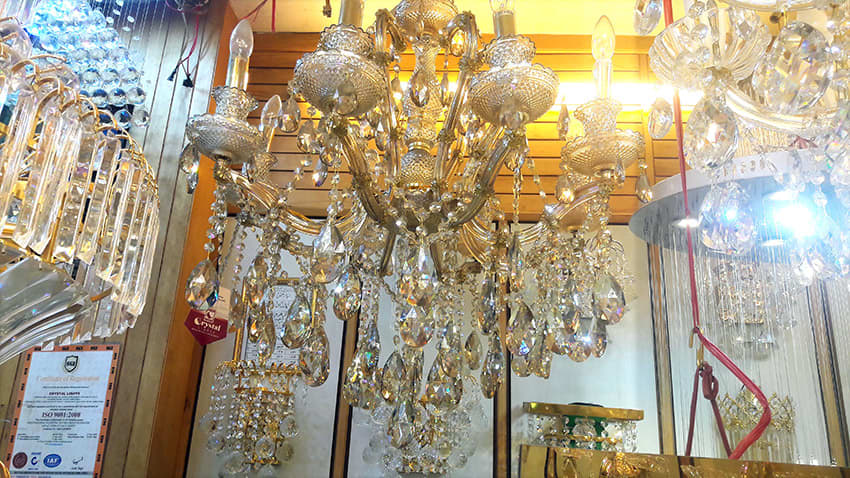 The specialty of this place lies in manufacturing, exporting and wholesaling custom-made chandeliers and fancy lights. Each and every piece caught our attention with its uniqueness and charm. This shop is definitely worth a visit if you want a crystal centre piece to adorn your drawing rooms!
Where | Crystal Lights - Shop No 1860
Call Them | +91 9818 451 565
Timings | 11 AM - 8 PM
5. RK Electric Store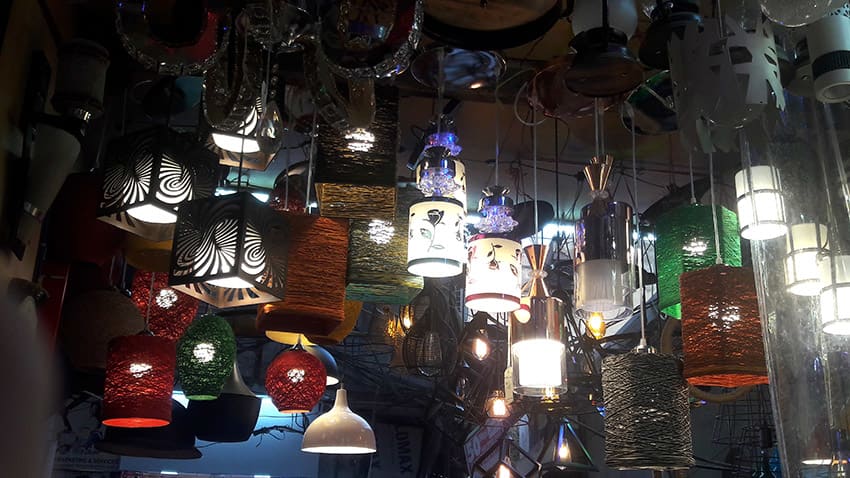 If you're looking for plastic lights, then this is the shop for you. All the designs were very pleasing and innovative. From lights with rustic rural vibes to caged lantern type looks, everything can be found at this place. This might be a cheaper option if you wanna redecorate, but in style!
Where | RK Electric Store - Shop No 1855
Call Them | +91 9810 361 296
Timings | 9 AM - 9 PM
6. New Bhagwati Lights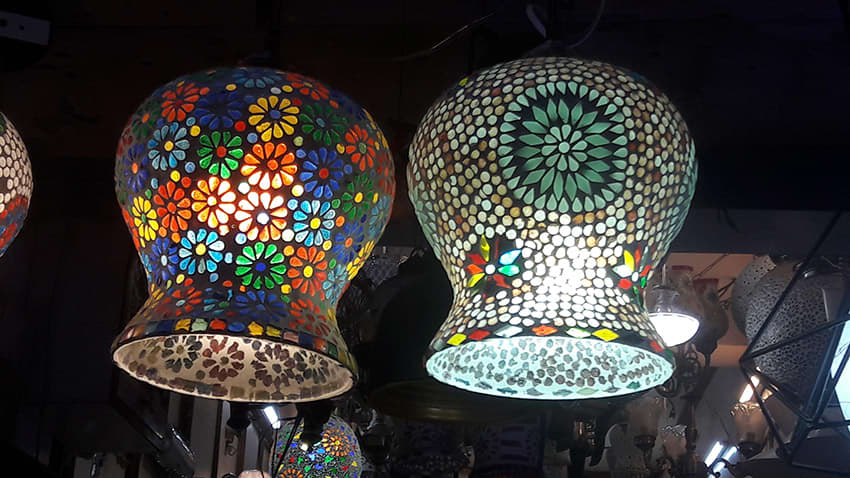 This shop deals in all kinds of electrical goods. They have everything from fancy lights to ceiling and wall fixtures and fittings. They even store ceiling fans, as well as exhaust fans and some designs of chandeliers and wall lights, so come drop by and take your pick!
Where | New Bhagwati Lights - Shop No 1851/1
Call Them | +91 11 2387 4605
Timings | 11 AM - 7 PM
Bhagirath Palace is one of the oldest and largest markets when it comes to electrical goods.
You should definitely pay a visit to this place if you plan on buying things in wholesale to redecorate your house, restaurant or even your shop. Happy revamping!