Delhi
6 Places In Delhi To Head To For Beer + Foosball Nights Out With The Gang!
Who doesn't enjoy a fun drinking night out with friends? We all do, and foosball is one game we simply can't play enough of! Now, most of us aren't Chandler and Joey, which means we don't own a foosball table, but that's no reason to stop us from enjoying a good game or two every now and then, does it?
There are a lot of sports bars and bars with pool tables etc., but what about specific bars that boast of a foosball table for sure? We've got you covered! Every time you wish to kick some ass at foosball, here's a bunch of places in and around Delhi that you can head to:
1. Turquoise Cottage
Offering some pretty lucrative offers on drinks and serving some lip-smacking appetizers, this place is one of our favourite pocket-friendly bars. Now, with a foosball table thrown into the mix, we can think of absolutely no reason why this wouldn't make for a super fun day/night out with the gang! 
Where | A-5, 2nd Floor, Above Hyundai Showroom, Green Park
Meal For Two | Rs 1,900
Here's Their FB Page | https://www.facebook.com/TURQUOISE.COTTAGE/
2. Monkey Bar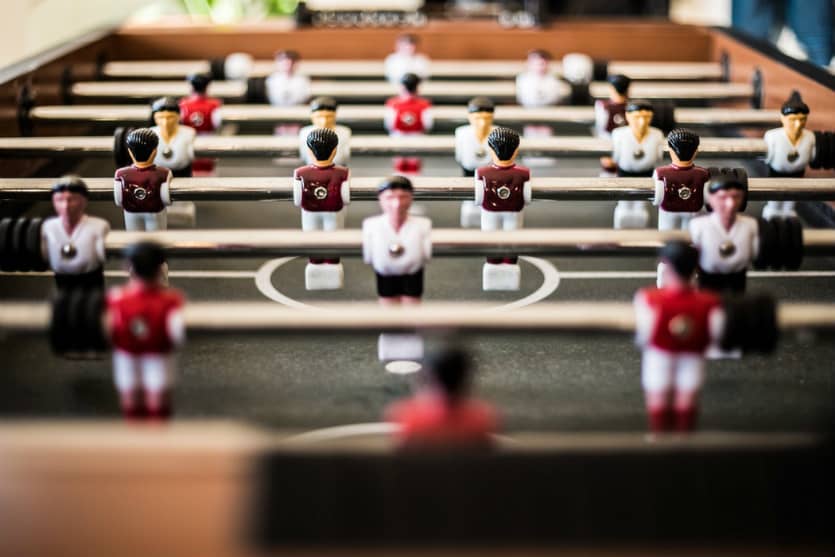 This Is A Representative Image
An eye-catching spearing pyramidal-structure tucked away in a quiet corner of a busy street, this place is the perfect combo of good food, great music, reasonably priced liquor and a kick-ass vibe! Monkey Bar is also well-known for lazy brunches, because the glass ceiling lets in floods of sunshine no matter where you're seated (perfect selfie conditions!). 
And most importantly, there's a section dedicated to games which includes a foosball table where you can totally flaunt your Monica-like skills!
Where | Plot 11, Upper Ground Floor, LSC, Pocket C-6 & 7, Vasant Kunj
Meal For Two | Rs 1,300
Here's Their FB Page | https://www.facebook.com/monkeybardel/
3. Rabbit Hole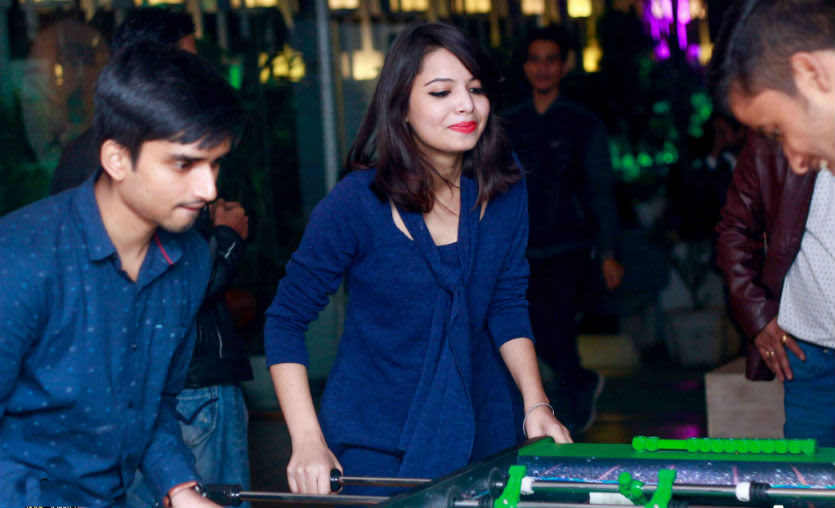 With a wide variety of seating options and a rooftop area that offers a picturesque view of the Hauz Khas lake, this place is quite popular for being quite the chiller hotspot. Serving some scrumptious bar nibbles that come in generous quantities, we think this can be a great place to relax and get drunk with your near and dear ones; add an awesome sauce foosball table and your Saturday nights just got sorted!
Where | 30, 3rd Floor, Hauz Khas Village
Meal For Two | Rs 1,800
Here's Their FB Page | https://www.facebook.com/rabbitholehkv/
4. Yes Minister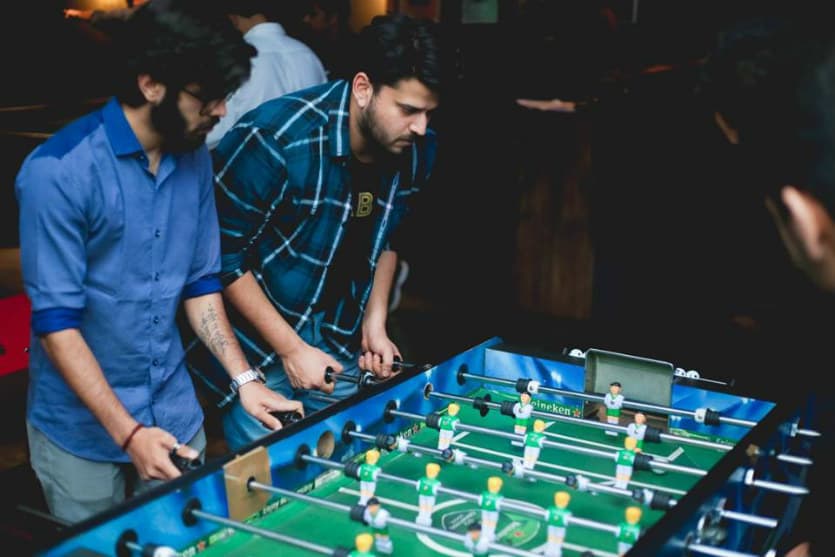 Draught beer, foosball, pool, bowling and a bunch of board games, what more do you need for a fun outing with your friends? Naturally, this place is always crowded, and we can't wait to head right over and indulge in a round of foosball madness with the squad over endless pints of beer!
Where | Essex Farms, 4, Adchini
Meal For Two | Rs 1,800
Here's Their FB Page | https://www.facebook.com/yesministerbyessexfarms/
5. Glued Reloaded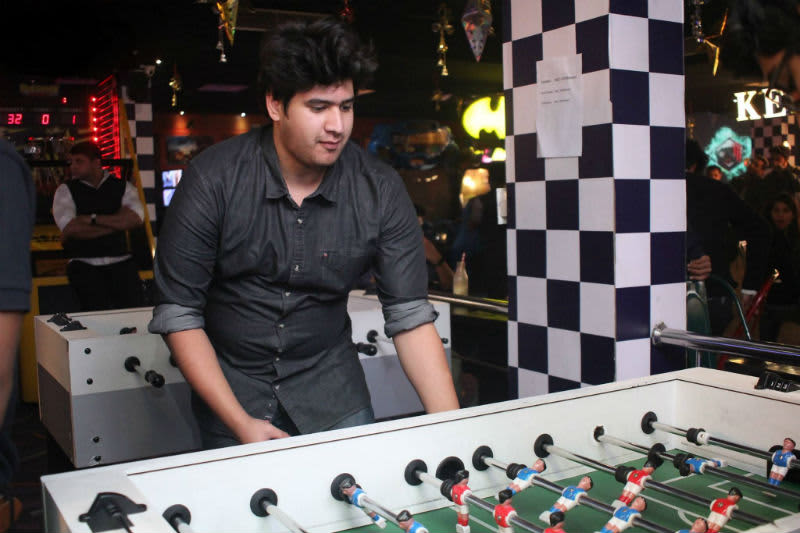 First of all, this place is open till 4 AM in the morning *WHAAA*! Second, they've got air hockey, pool, foosball and LOTS more! So basically, you can play all night long with your buddies! This place doesn't serve alcohol, but we think the insane adrenaline rush you'll feel here will more than make up for it, so come on by!
Where | Dynamic House, Next to HP Petrol Pump, Sector 41, Noida
Meal For Two | Rs 1,000
Here's Their FB Page | https://www.facebook.com/gluedreloaded
6. The Playground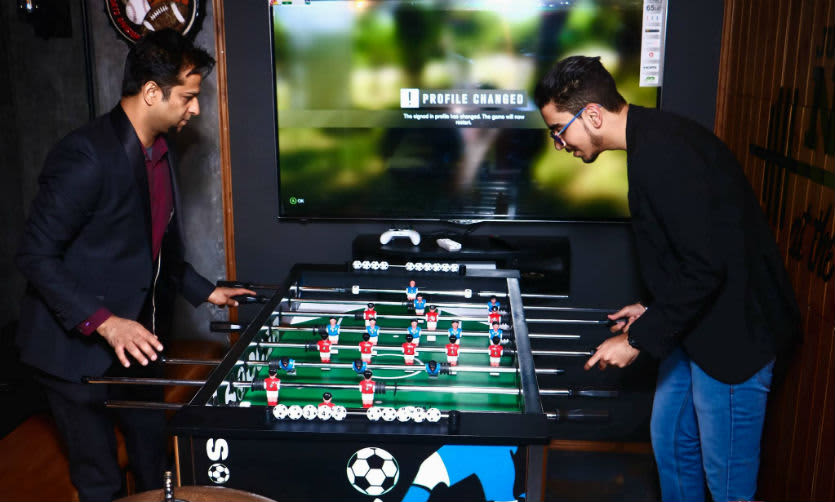 One of the few sports bars in Dwarka, with pocket-friendly prices, pool and foosball to keep you busy, a big screen for all the important match screenings, great music and yummylicious food, we see no reason to not head here ASAP! This looks like an awesome place to hangout with your friends over a few (or more than a few) drinks and games so go on, give it a try, you might just find us there!
Where | 1 Pankaj Arcade, Pocket 4, Sector 11, Dwarka
Meal For Two | Rs 1,500
Here's Their FB Page | https://www.facebook.com/ThePlaygroundDwarka/
Make a plan with a friend or two and head to one of these places for a tipsy time with all the foosball fun you've been craving!