Delhi
7 Places In And Around West Delhi That You Never Would Have Known Existed!
Discovering Saddi Dilli is like peeling an onion 'cause its maze-like streets will unearth a kaleidoscopic sea of culture, heritage, religion, divine food joints and everything else you can think of! From architecture to art, from historical significance to vivid cultural diversity, Delhi has a lot to boast over! *Woah* So we decided to move beyond the mainstream and ended up scouting some amazeballs off-centre places in West Delhi that even most West Delhiites are unaware of. Read on to be amazed! 
1. Bhuli Bhatiyari Ka Mahal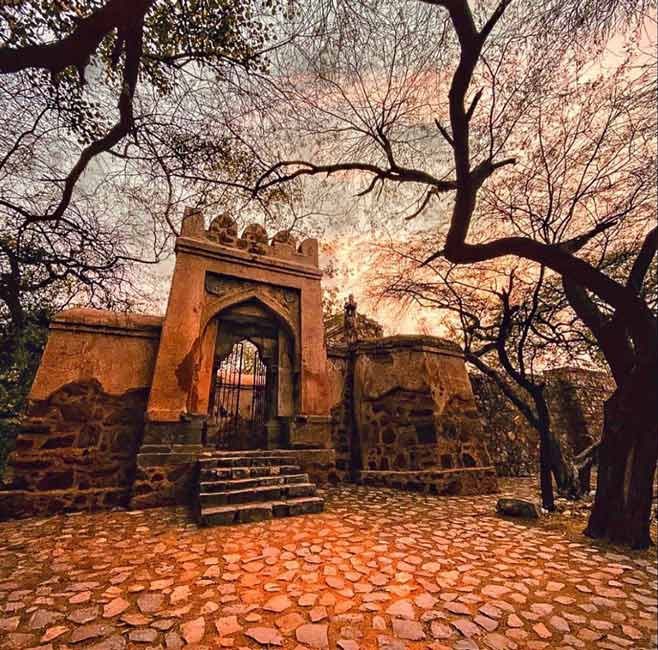 Picture Credits: katerinas_asian_world
Feel like haunting a haunted place with your gang but bored of all the infamous scary spots in Delhi? Fret not, 'cause we have discovered Karol Bagh's spooky hidden gem, y'all! Bhuli Bhatiyari Ka Mahal oozes old-world charm, eerie and scary vibes in a serene environment that'll mesmerize you the instant you lay your eyes on it. This magnificent structure, albeit grand and monumental, is not guarded by locks or heavy metal gates but by a written note at the entrance saying not to visit the place after sunset, giving the place a suspicious image. *Goosebumps* Visit this 14th century Hunting Lodge built by Feroz Shah Tughlaq with your gang for a spooky day out!
Where | Bhuli Bhatiyari Ka Mahal - Central Ridge Reserve Forest, Karol Bagh
Timings | 7 AM - 5 PM
2. Kumhar Gram Or Potter's Village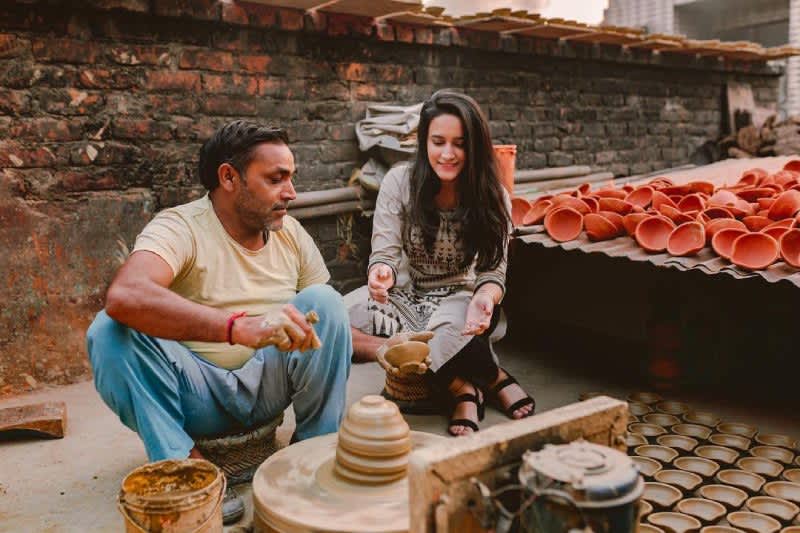 Picture Credits: iambhavitya
Kumhar Gram, is the BIGGEST potters colony in India and fell in love instantly! Located in Uttam Nagar, this place is an oasis that preserves the excellence, that is Indian craftsmanship, alive and is home to 800 potter families since ages. You'll find some amazing handcrafted earthenware that perfectly symbolizes the quality craftsmanship. The colony is located significantly away from the bustling city and when you enter, all you see is work being done. From pots, Surahis, Diyas to Urulis, vases and sculpture Kumhar Gram has the most unique and ornamental things to offer and you can see them creating these on the wheel!
Where | Kumhar Gram - Rani Bagh, Kumahar Wali Gali, Parjapat Colony, Bindapur
Timings | 6 AM - 8 PM
3. Kartoon Cafe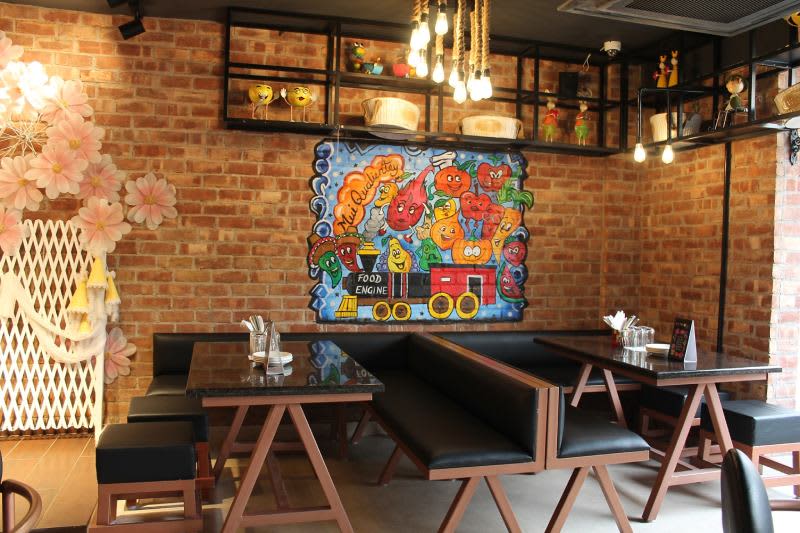 Tired of the monotonous and ever tiring adult life? Well, we are here to make you travel back to your childhood, folks! This one-of-a-kind eatery boasts delicious multi-cuisine nibbles, live music, a gorgeous selfie corner, fun audio station, FAB service, cosy and warm ambience featuring stuffed toys, brick walls and board games! If that's not enough to make you visit Kartoon Cafe then their finger-licking Ben 10 Slurpy Veg Burger, Chilly Dimsums and Cinderella Fresh Ginger Ale will surely be! Don't forget to click millions of pictures at the LIT and well-decorated gram-worthy corner of the joint, fellow-foodies!
Where | Kartoon Cafe - C-4F/246, Janakpuri
Meal For Two | Rs 650
Timings | 10:30 AM - 10:30 PM
Call Them | +91 9873 661 199
Check Out Their FB Page | https://www.facebook.com/Kartooncafejanakpuri
4. Mini Qutub Minar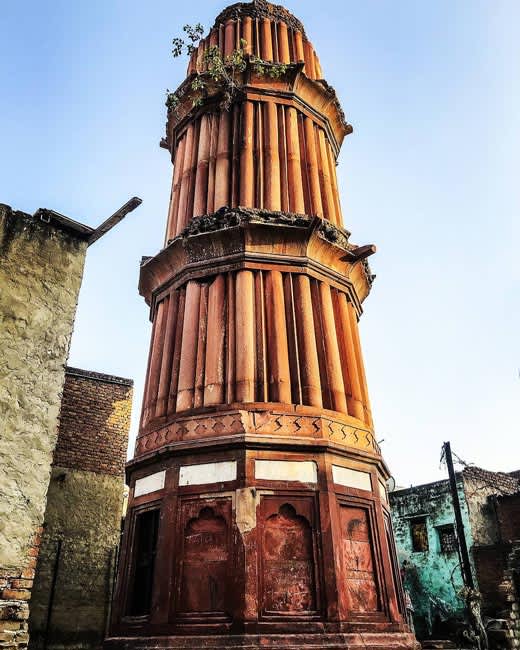 Picture Credits: katerinas_asian_world
Exploring Hastsal ki Laat  A.K.The Mini Qutub Minar was a eureka moment for us peeps, and we are here to include you in our expedition! This Chota Qutub Minar has been invisible and hidden from us for aeons and has only recently come in the spotlight. The 5-storeyed Minar was built during the reign of Shah Jahan in 1650 and was a part of the hunting lodge complex that used to exist during the Mughal times in this area. The encompassing wilderness and lake around the tower are long gone and what remains is a dense urban village that shadows the past. Presently, only three storeys remain which have octagonal rings around it and an internal staircase going through it. Engage in the vivid folklore entailing this enchanting tower, so go visit this minaret to experience the glory of the bygone eras! 
Where | Mini Qutub Minar -  Hastsal Village, Uttam Nagar
Timings | 24*7
5. The Marketplace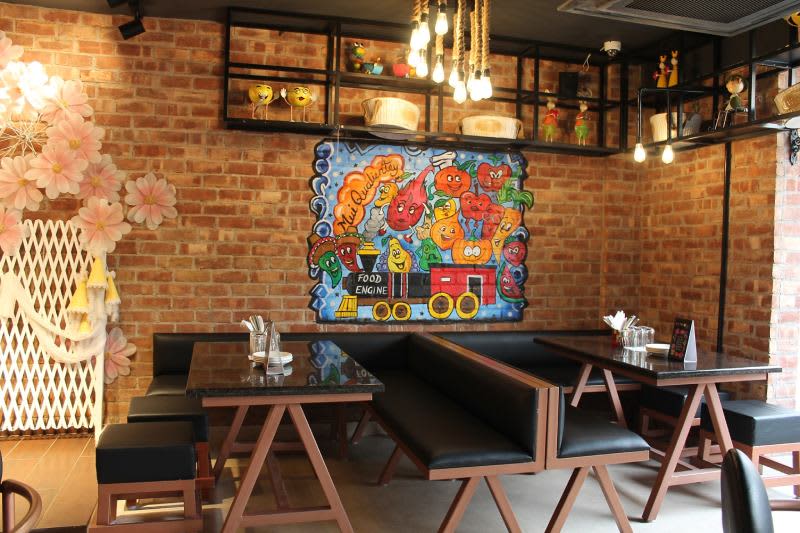 This place is truly as cool as its name y'all! We assure ya! This new buffet-style resto is serving 11 cuisines, fellas! *OMG* From Continental, Asian, Indian to European Lebanese, and Nepalese, you name it and they will have it! And the best part? Each cuisine has a dedicated section and is decorated according to the theme of the cuisine and wolf down their enticing grubs! The Lebanese and Italian sections have swings for seats, the Indian Chaat Corner has desi and street-styled sitting and the American area has unique graffiti on the wall! *SHOOK* You can not miss out on their Palak Patta Chaat, Shugga, Falafel with classic hummus dip and their in-house cocktails, The Bearded Boss and Late Night Gossip fosho!
Where | The Marketplace - A 7/8, Kailash Park, Near Metro Pillar 326, Kirti Nagar
Meal For Two | Rs 1,300
Timings | 12 PM - 4:30 PM & 7 - 11:30 PM
Call Them | +91 9319 620 777
Check Out Their FB Page | https://www.facebook.com/themarketplaced/
6. The Hogwarts Cafe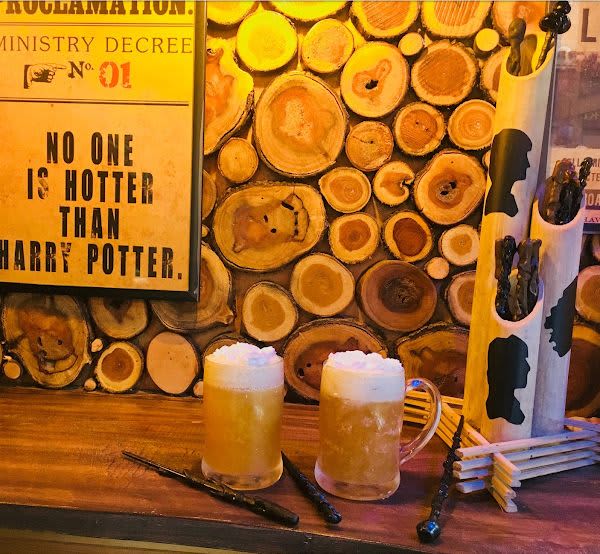 A favourite among the Potterheads of Delhi, The Hogwarts Cafe in Rohini is completely dedicated to and themed around Harry Potter, from the dishes to the decor! So, if you haven't visited the cafe yet, do so soon and order up Wizard's Bread, Sirius Black Brownie Shake, Bellatrix Burgers, and more!
Where | The Hogwarts Café - 397/398, Pocket B5, Sector 3, Rohini
Meal For Two | Rs 500
Timings | 12 Noon - 10 PM
Call Them | +91 7827 051 887
Check Out Their FB Page | https://www.facebook.com/hogwartscafe934
7. Sulabh International Museum Of Toilets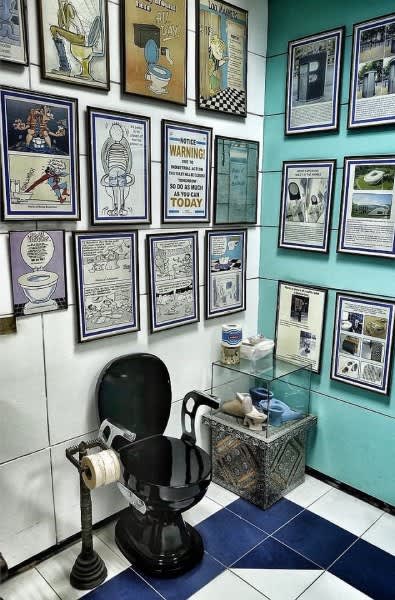 Picture Credits: simfiaphotos
Yes, guys, one of the world's quirkiest museums also exists in West Delhi. Run by Sulabh International, this museum is dedicated to the global history of sanitation, and y'all can see toilets from the British Era, the Victorian Era, a supposed replication of the toilet of King Louis XIV, sewage systems of Indus Valley & Harappan Civilizations! Woah, what do you think?
Where | Sulabh International Museum Of Toilets - Sulabh Bhawan, RZ-83, Palam - Dabri Marg, Mahavir Enclave
Timings | 10 AM - 5 PM
Call Them | +91 11 2503 1518
Here's Their Website | https://www.sulabhtoiletmuseum.org/
That's all from our side, folks! Now that you know there's more to West Delhi than what meets the eye, explore away and don't forget to say hi if you bump into us!