Delhi
6 'Paan'tastic Joints In Delhi Where You Can Gorge On Your Share Of Delectable Frozen Paans!
A hearty meal isn't complete without some paan, is it? Paan, like so many other food items, is seeing a revamp and many experiments! So we've curated a list of all the joints in Delhi which serve this new and delectable variety called frozen paans!
1. Odeon Shukla Paan Palace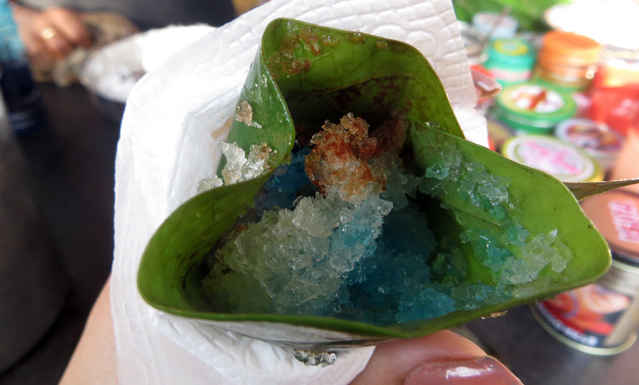 Odeon Shukla Paan Palace has been around since 1948 and has stood loyally beside Odeon cinema, catering to every passerby who finds themselves in the area. They serve a huge variety of paans, including Chocolate Paan, the famed Fire Paan and tons more. Their speciality, however, is the lip-smacking Chuski Paan which will for sure give you a brain-freeze! But trust us, when we say this paan is one of the best frozen paans you can have in the city!
Where | Odeon Shukla Paan Palace - D Block, Middle Circle, Opposite Odeon Cinema, D Block, CP
Timings | 9 AM - 12 Midnight
Price | Rs 40
Call Them | +91 9718 738 208
2. Banaaras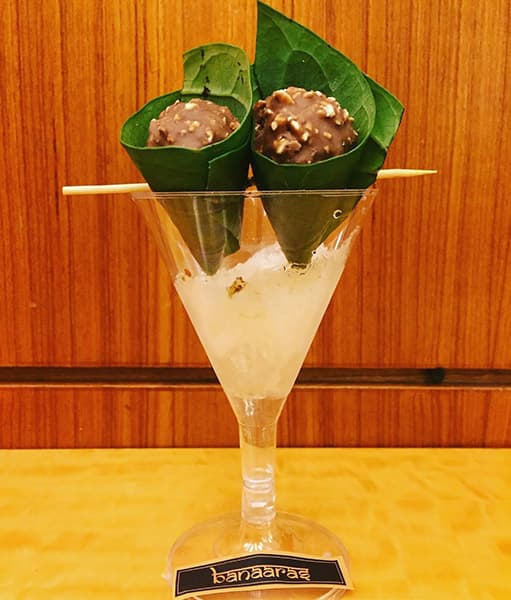 Picture Credits: Ibadat Thukral
Banaaras has left all the local panwaadis behind! Their delectable paans like Mango, Blueberry, Tiramisu, Creme Brulee, Bubble Gum, After Eight, Nutella & Ferrero Rocher have made a place in our hearts with their deliciousness. What's more is that their Ice Paan is one of the tastiest frozen paans in the city and everyone should be aching to try it!
Where | Banaaras - DLF Mall Of India, DLF Promenade, Ambience & Other Outlets
Timings | 11 AM - 12 Midnight
Price | Rs 80
Call Them | +91 9999 447 777
3. Paan Singh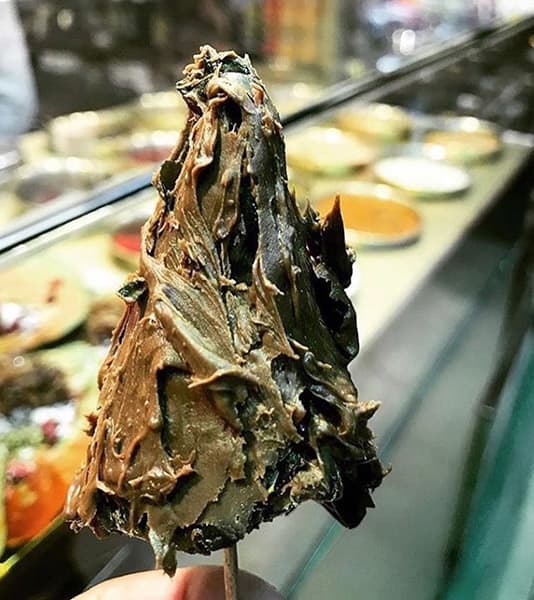 Paan Singh was made in the hopes of dignifying its image by breaking the standardised stereotype of paans. Since then, they've been making rounds on the social media timelines of all foodies with their wide array of over 40 paans. They're the only place which does 3 different variants of the quirky frozen paan - Meetha Frozen Paan, Frozen Nutella Paan and Iceburst Paan. Do check them out fosho!
Where | Paan Singh - St. Thomas Marg, DLF Phase V, Gurgaon
Timings | 12 Noon - 12 Midnight
Price | Rs 40 Onwards
Call Them | +91 582 078 900
Check Out Their FB Page | https://www.facebook.com/PaanSinghGurgaon
4. Green Leaf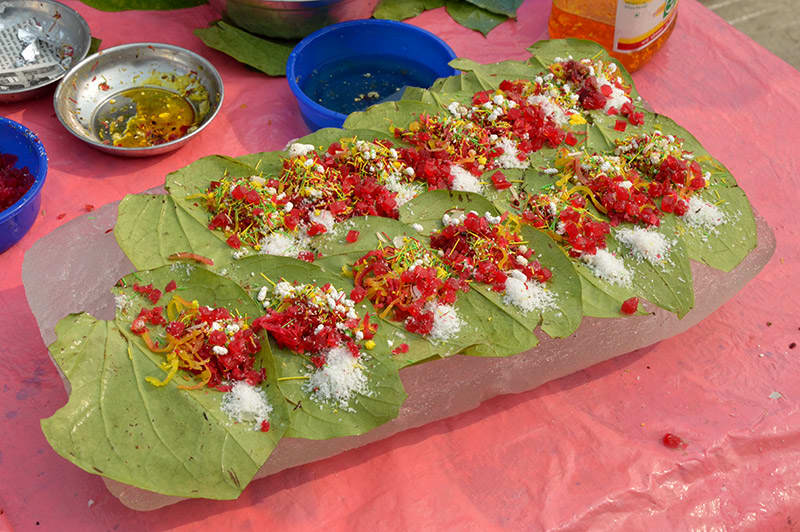 This Is A Representative Image
Green Leaf is a small joint in Gurgaon that whips up an impressive assortment of paans. This humble stall is a fave for all the paan lovers in the area and these folks never disappoint with their top-quality offerings. Their Frozen Sweet Paan is a must-try if you find yourselves here!
Where | Green Leaf - Good Earth, Sector 50, Gurgaon
Timings | 11:30 AM - 3:30 PM & 6:30 - 11 PM
Price | Rs 50
5. Hori Lal Pan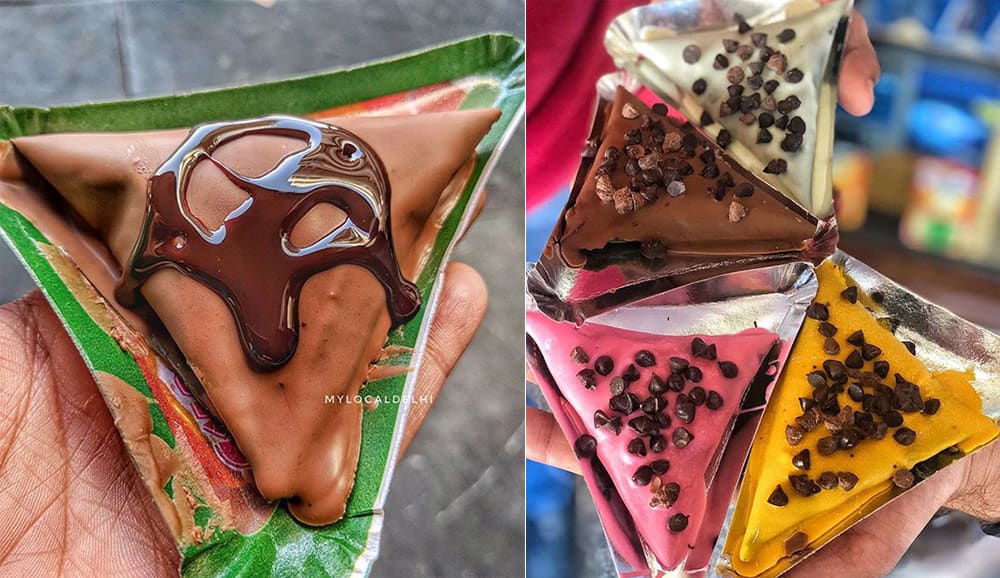 Left Picture Credits: mylocaldelhi | Right Picture Credits: foodiesince96
Hori Lal Pan shop is one of the oldest paan joints in Delhi. They serve this traditional treat in over 25 flavours and not just this, they have a lot of other items to boast about too, like Soda Crush, mocktails and confectionary. If you want to try out a quirky paan munchie with the essence of the original taste, then you should defo head over there!
Where | Hori Lal Paan - Rohini, Punjabi Bagh, NSP & Other Outlets
Timings | 10 AM - 11 PM
Price | Rs 50
Call Them | +91 9958 818 482
6. Saurav Paan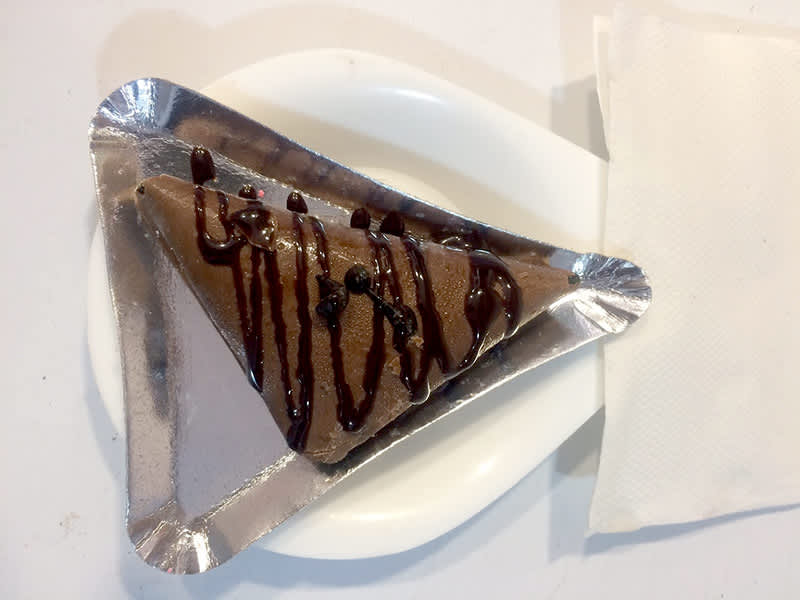 Picture Credits: saurav kumar
This cutesy joint in West Delhi serves quite a lot of variants of paan. What's great is that you can order from the comfort of your homes as they provide doorstep-delivery service all well. Apart from that, their Frozen Paan is one of a kind and it's a must-have for all the paan lovers out there!
Where | Saurav Paan - Vikaspuri, Janakpuri & Pitampura
Timings | 8 AM - 12 Midnight
Price | Rs 40
Call Them | +91 8076 388 057
So head over to these quirky AF paan boutiques as they are your one-stop shops to end all those post-meal cravings!