Delhi
12 Best Online Stores For Beautiful Kids Ethnic Wear This Diwali
With the entire world on a break, this festival season makes sure your much-loved tiny tots don't get a break from all the glee and happiness and an easy way to get those 1000 watt smiles on your kids' faces is splurging on some suave, ethnic and cute outfits. Keeping that in mind, we're here to list down the best online stores for a safe shopping experience where you can find the perf festive outfit for your kids and capture that happy Insta-worthy smile, so read on!
1. Pantaloons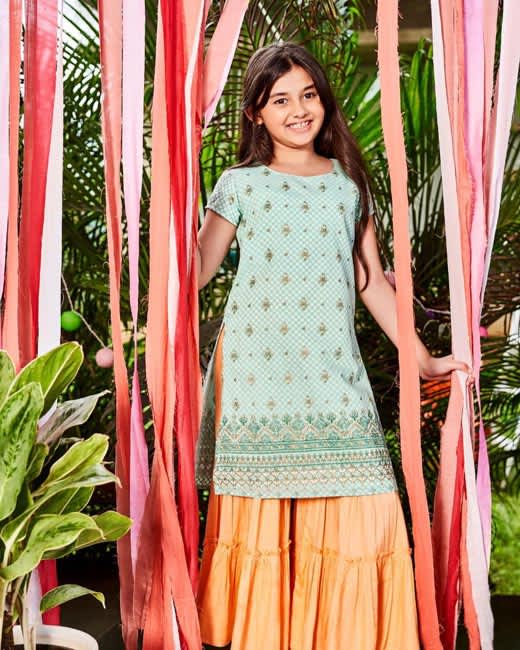 A fashion renegade and our absolute saviour when it comes to quick and fast fashion, Pantaloons houses an excellent collection of Kidswear for your adorable little ones. From cute and spunky to ethnic collections, their online store is sure to spoil you for choices. Housing brands like Ajile, Global Desi, Akkriti and their very own, Pantaloons Junior, will make you scroll through their website and load up your cart right away!
Check Out Their Website | https://www.pantaloons.com/c/kids/29 
2. Shoppers Stop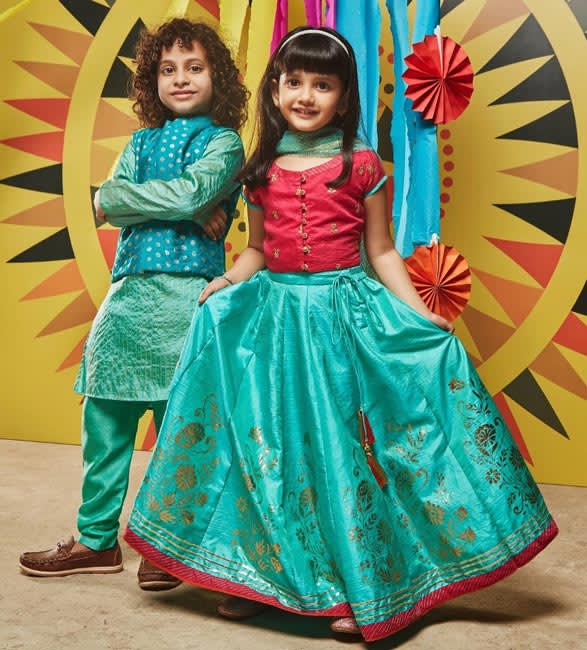 Our one-stop-shop for all fashion needs is here again to save us time before the festive rush. Housing a wonderful collection of ethnic kidswear by popular brands like BIBA, Girl and Vastramay, their website is definitely the perf place to give you the best virtual shopping experience. With festive discounts and sales setting in, make sure to buy some gorgeous and unique clothes for your child right away!
Price | Rs 299 Onwards
Shop Online Here | https://www.shoppersstop.com/kids/c-A40 
3. Tata Cliq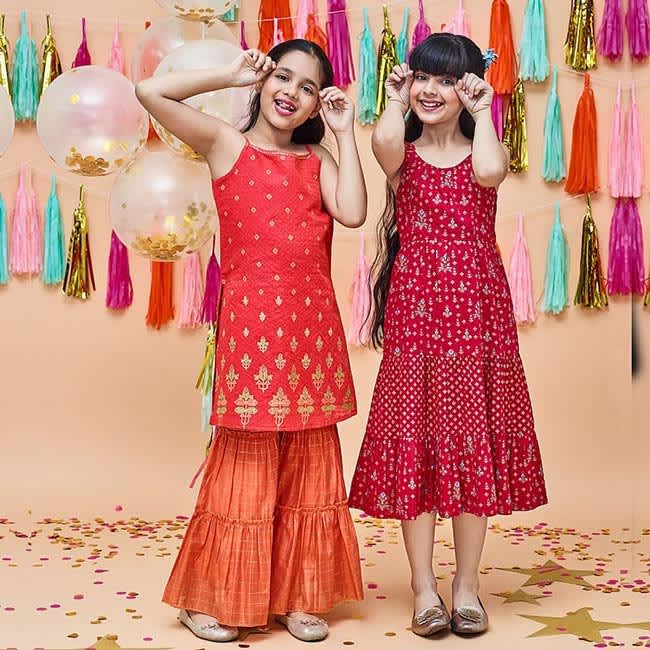 TATA's new venture into fashion has us fangirling through and through. With new designs, stellar product quality and exceptional delivery service, Tata Cliq's online store has definitely left a lasting impression in the world of e-commerce and fast fashion. From brands like Ethnicity, Global desi and BIBA, Tata Cliq is sure to make you satiate all your and your kids' fashion needs fosho, so go ahead and shop right away!
Price | Rs 199 Onwards
Shop Online Here | https://www.tatacliq.com/kids-girls-clothing-ethnic-wear/c-msh2111104
4. FirstCry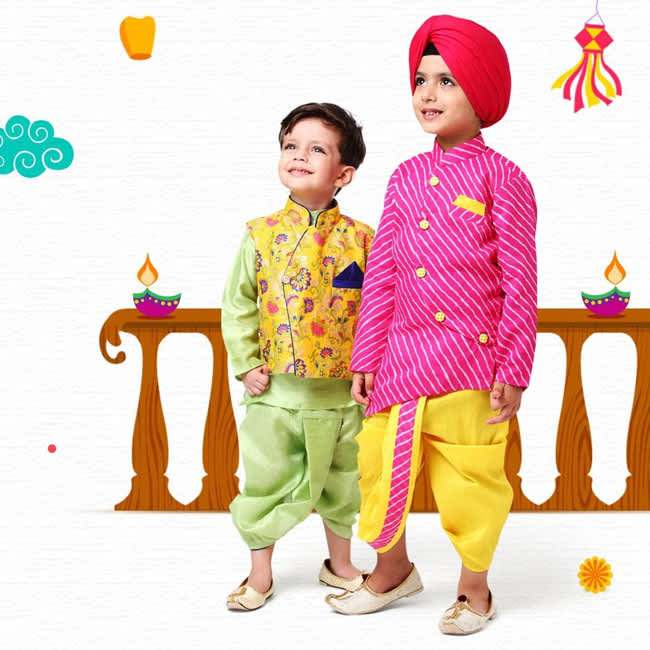 Specializing in Kidswear and only that, this place is that one-stop for all your festive needs for your lovely kids. From lehengas to sophisticated looking kurtas or even stitched sarees, give your kids the best of fashion from top brands such as Arika, BIBA, Tiber Taber, Global Desi and Vastramay. Make sure to check out this amazing store for some fab offers and products, right away!
Price | Rs 249 Onwards
Shop Online Here | https://www.firstcry.com/ethnic-wear/6/246
5. Little Muffet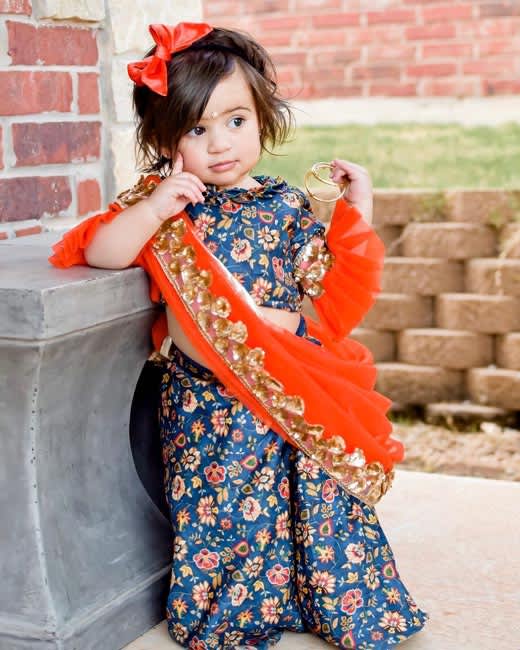 Picture Credits: princess.priya.elizabeth/
A perfect place to shop for all kinds of kidswear, Little Muffet not only has an amazing collection of western dresses but also has an array of gorgeous ethnic clothes for kids of varying ages. With suave and aesthetic dhoti kurtas to suits and kurtis, there are ample options to choose from and get giddy over. Make sure to check them out for the perfect Diwali outfit for your kid!
Price | Rs 675 Onwards
Shop Online Here | https://littlemuffet.com/collections/boys-indian-wear
6. BIBA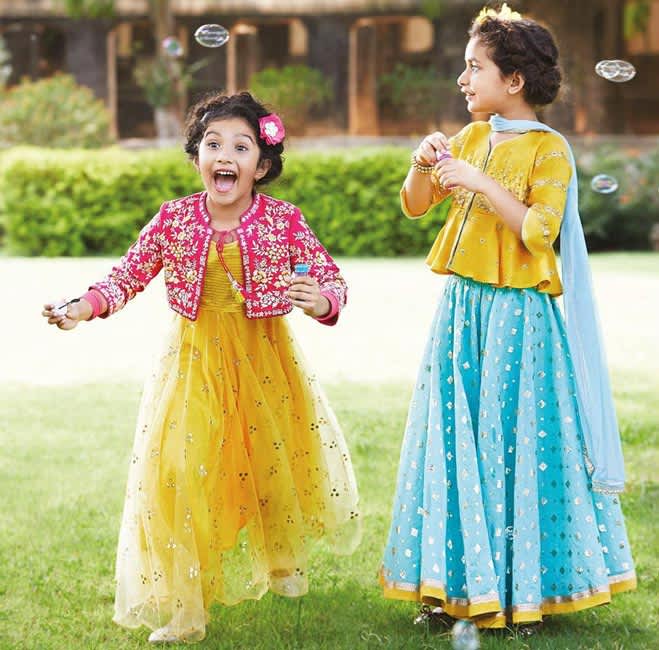 The bawse in ethnic fashion, BIBA is sure to gratify all your perf festive fashion needs! With elegant designs, a variety of styles to pick from, great product quality and exceptional delivery service, their online store is the perfect virtual store loaded with the best in ethnic fashion. Curl up with your kid and order some gorgeous and fashionable designs for them to show off right away! 
Price | Rs 2,299 Onwards
Shop Online Here | https://www.biba.in/new-arrivals/girls/suit-set/anarkali 
7. Fabindia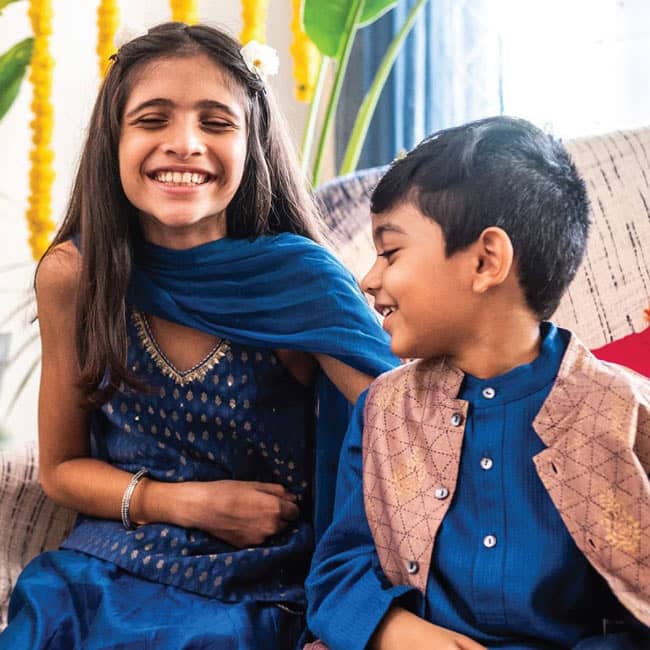 Fabindia has been winning our hearts for quite some time now. With their aesthetic prints, unique colour palettes, and trendy ethnic designs, this place has been a hot favourite with almost all adults, however, they're also getting increasingly famous with the kids! Check out their kidswear collection, packed with options and even colour coded so that your kid can pick that one fave dress in their favourite colour right away!
Price | Rs 395 Onwards
Shop Online Here | https://www.fabindia.com/shop/kids-clothing
8. Frangipani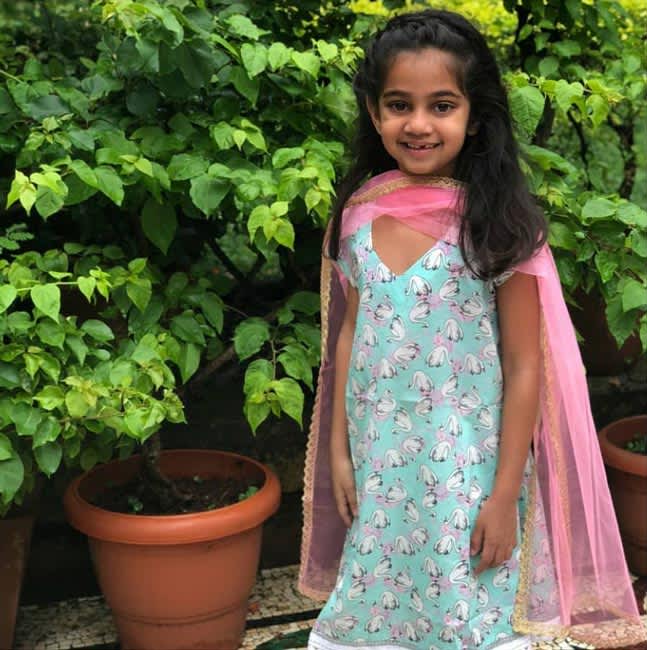 This webstore aces the market with its A1 design options and variety in kidswear. Their wonderfully priced products, cutesy and easy to wear designs and breezy fabrics are a major hit with the crowd and as a result, they're one of the well known online stores that you'll happen to come across. Get those adorable lehengas and suave kurtas for your kids right away from their website!
Price | Rs 2,599 Onwards
Shop Online Here | https://frangipani.co.in/product-category/girls/girls-lehengas/
9. Stylemylo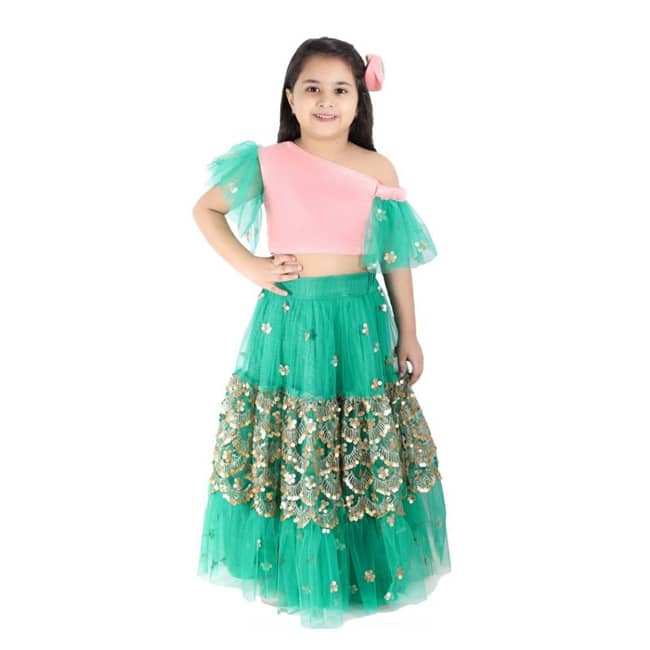 If you want your kids dressed in authentic Indian prints and crafts, then Stylemylo is sure to offer you some exquisite products to choose from. Your kids' chikankari dresses or lehengas, or the gorge block printed kurtas are gonna be the talk of those virtual Diwali parties with Stylemylo taking care of your shopping needs! So, give this site a once over and we are sure that you won't exit without checking out the items in your e-cart!
Price | Rs 750 Onwards
Shop Online Here | https://www.stylemylo.com/collections/ethnic-wear-girls
10. BabyCouture.in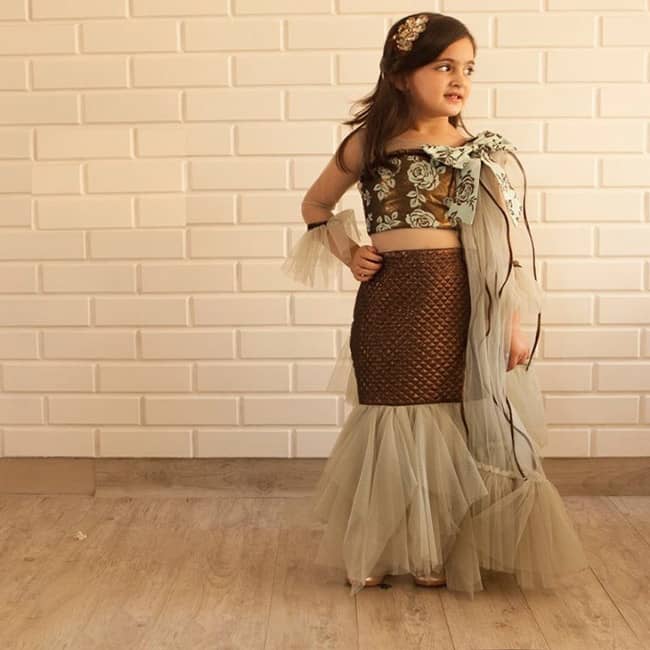 Be it an adorable dhoti kurta set or a unique palazzo set or even your gorgeous flowy dresses and lehengas, BabyCouture has it all. With good pricing, incredibly fashionable and exemplary products and exceptional home-delivery service, this place has it all and we are stoked for you to try it out soon and tell us all about how magnificent your experience was!
Price | Rs 250 Onwards
Shop Online Here | https://www.babycouture.in/ethnic-wear.html 
11. The Mom Store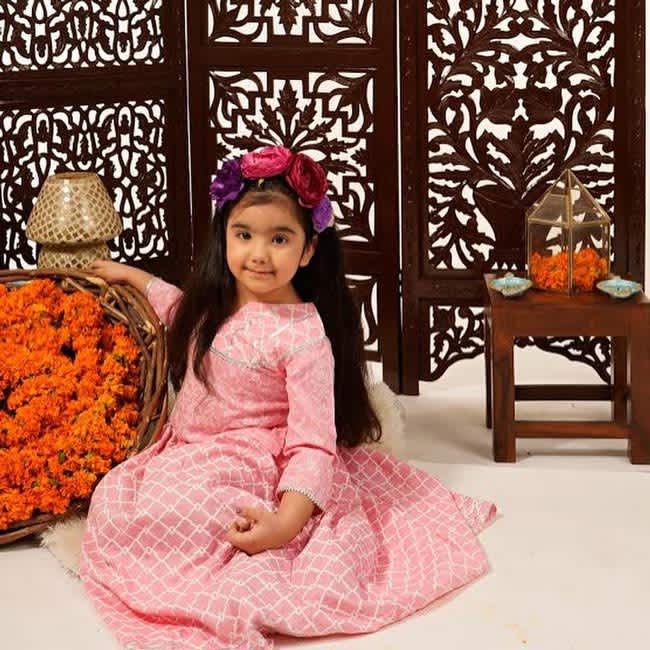 Just as the name suggests, this webstore simply brings all the moms to the yard with their amazing collection of kidswear packed with beautifully made products at great prices! This store also caters to various age groups of kids, so you're sure to find the right fit for your child in the right category fosho! Drop by their website link below and scroll away for quick Diwali shopping while you kick back with a cup of chai!
Price | Rs 199 Onwards
Shop Online Here | https://themomstore.in/collections/kids-ethnic-wear-festive-collection 
12. BownBee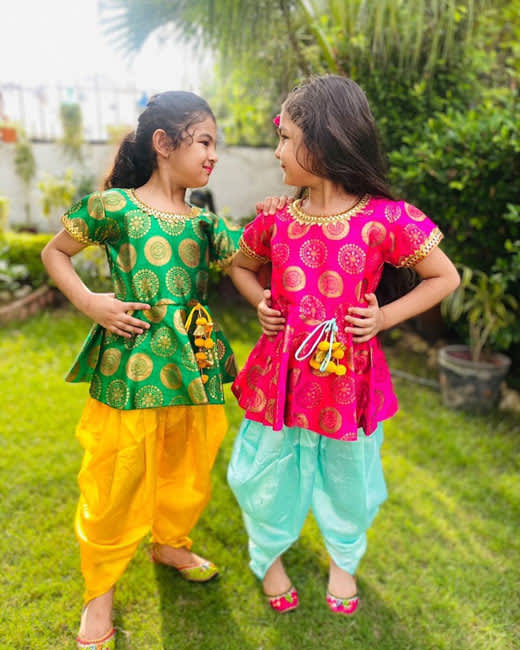 Picture Credits: twinsisters_kia.sia/
When it comes to innovative designs and beautiful prints and embroidery, BownBee's ethnic section is a hot favourite among parents. You can explore options based on colours or simply lookout for some unique one-of-a-kind prints: block prints, mirror work, patchwork and so on. If you want your kids to dawn some truly desi designs and prints, then make sure to check this site now right away!
Price | Rs 899 Onwards
Shop Online Here | https://www.bownbee.com/collections/lehnga-choli
We hope you're already clicking away and loading up your carts with some lovely designs for your kids! Happy & safe shopping!