Delhi
5 Most Quirky & Themed Places In Hudson Lane That Prove Why It's A Total Foodie Hub
Disclaimer: Bearing in mind the current restrictions in the city and the world at large, we're tweaking our content policy and recommendations to focus more on staying indoors and exploring the digital world and all its wondrous offerings! Stay positive, keep hygiene levels up and don't fall prey to panic and misinformation.
One cannot deny that North Campus is a total foodie hub, thanks to the 'every minute' pop-ups of new places in Hudson Lane and GTB Nagar. While there are a plethora of options to pick from, we've always liked a bit hatke joints, so we've curated a list of the most quirky and theme based places in North Campus that should be on your bucket list. Check them out!
1. Popcorn And Cola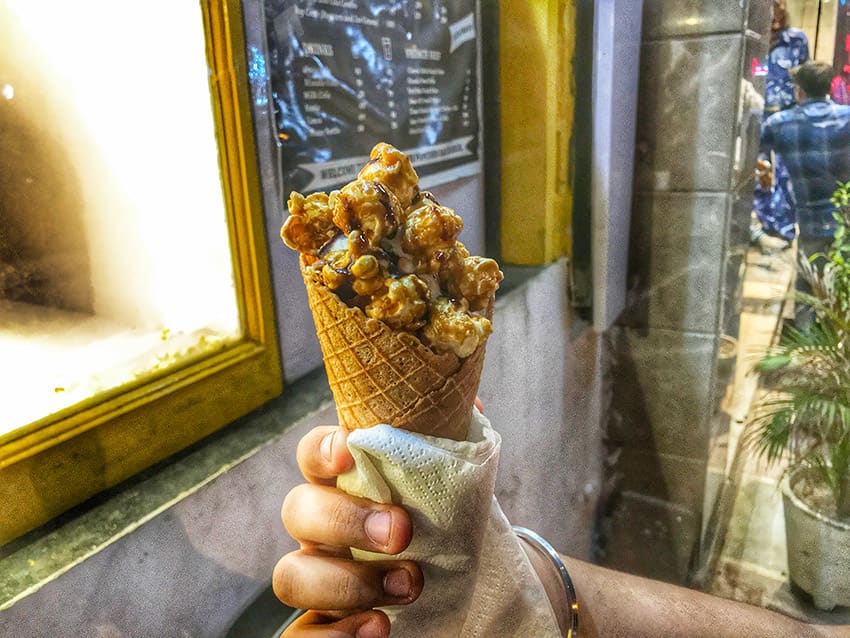 Touted to be the first ever popcorn bar in the city, Popcorn and Cola is one of the most quirky and popular spots in Hudson Lane. These guys offer an insane variety of popcorn variants like Cheetos Popcorn, Maggi Masala Popcorn, Popcorn Bhel, Popcorn and Cola Combo, Caramel Popcorn Shake and loads more. So, head here and take your popcorn love to the next level!
Timings | 12 Noon - 11:30 PM
Call Them | +91 8368 770 976
Meal For Two | Rs 300
Check Out Their FB Page | https://www.facebook.com/popcorncola/
2. The Dark Cafe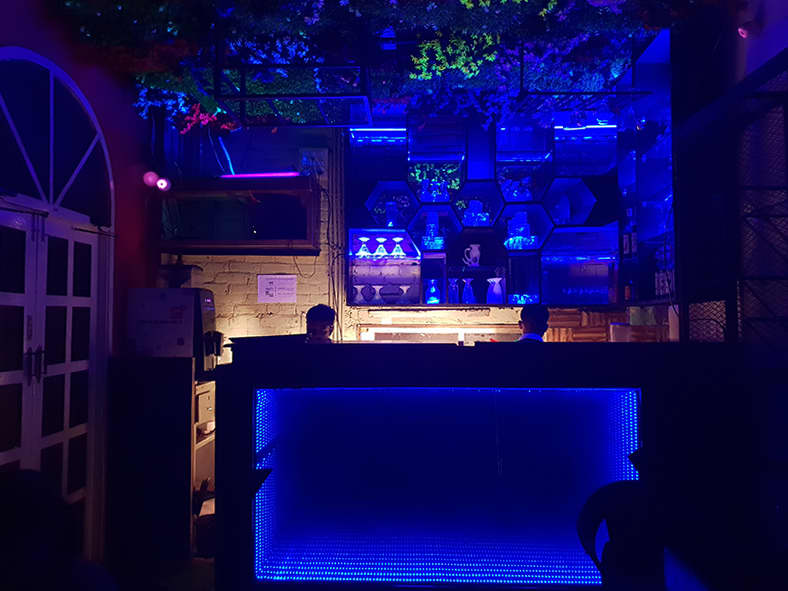 The Dark Cafe became the talk of the town from the day it opened for business and we totally understand why. These guys have taken the game to another level by actually coming up with a place that's all dark (wow) and to make sure you don't fall or bump your way around, this place is decked up a funky neon shade and they serve these special glow in the dark drinks which are cool AF. You definitely gotta drop by this place because the hatke factor doesn't get better than this!
Timings | 11 AM - 11 PM
Call Them | +91 11 4050 2428
Meal For Two | Rs 500
Check Out Their FB Page | https://www.facebook.com/darkdining/
3. By The Bay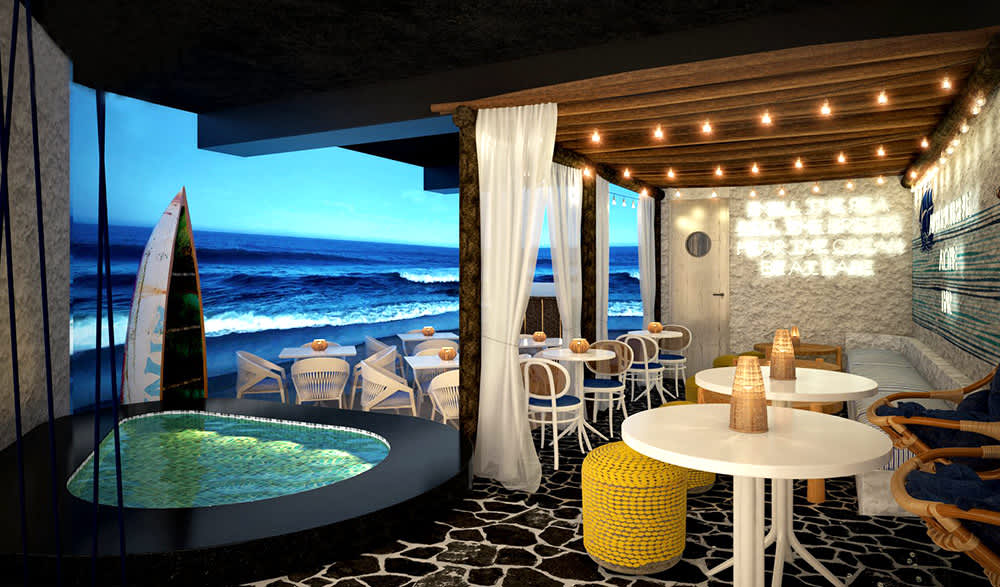 Get the perf #beachfeels at this quirky AF beach themed cafe, By The Bay, which has got shacks, a pool right in the middle and those chiller vibes. The place not only looks like 'Goa just came to Delhi', but these folks also whip up scrummy dishes like fish curry and prawns to set you in the right mood. So, whenever the beach blues hit you, head to this awesome place right away!
Timings | 11 AM - 12 Midnight
Call Them | +91 9999 966 053
Meal For Two | Rs 1,500
Check Out Their FB Page | https://www.facebook.com/bythebaydelhi/
4. Echoes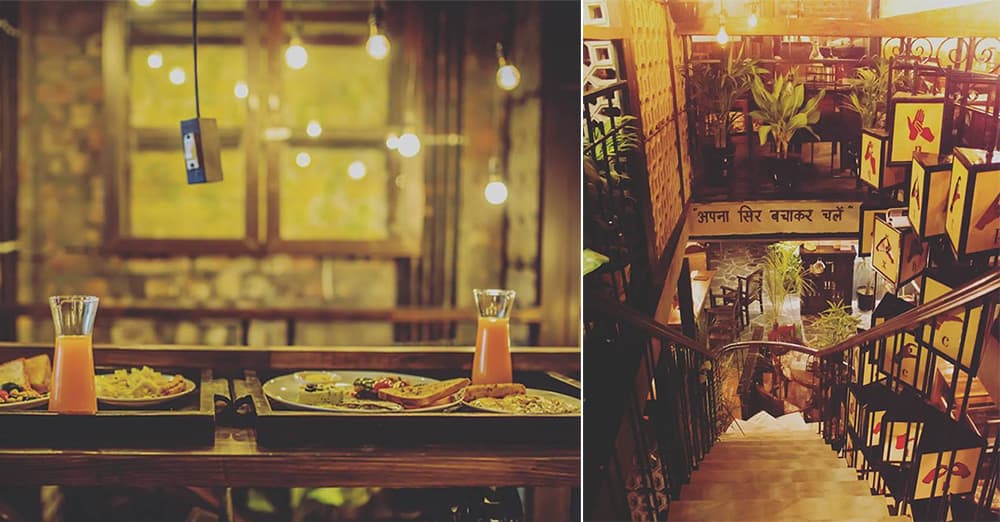 One of the most popular eateries in Hudson, Echoes is perfect for chilling with your buddies. We like to call this one quirky 'cause the staff members here are differently abled and there are sign boards all over the place for you to understand and communicate with them. Unlike other places, here, the staff doesn't write your orders down, instead, you write down the codes provided adjacent to the dishes on the menu and give it to them. The entire idea is amazing and contributes to a great social cause. So, skip the usual shor-sharaba and head here for a peaceful meal!
Timings | 11:30 AM – 11:30 PM
Call Them | +91 11 6149 5447
Meal For Two | Rs 600
Check Out Their FB Page | https://www.facebook.com/echoeshudsonlane/
5. PhoneBooth Reloaded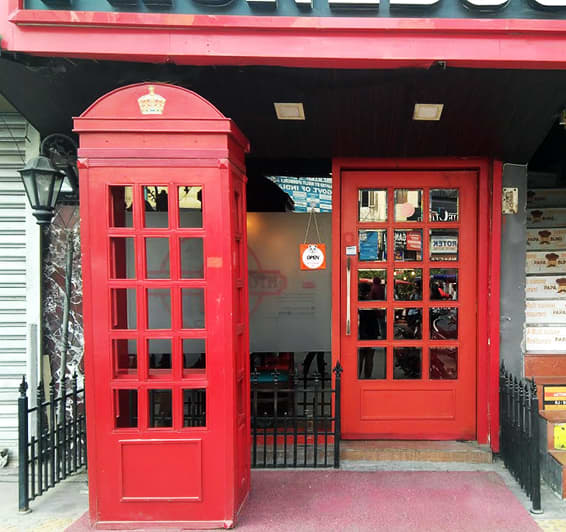 Picture Credits: anshul aggarwal
And just in case you thought that it can't get any better, we bring to you this fantastic place. Earlier known as just Phonebooth, this one actually sticks to its name. This resto has a phonebooth standing right at the entrance and you'll find another one inside the cafe as well. You can enjoy a quiet lunch with bae because this booth offers seating for two and is all cosy and pretty. We say you try their Masala Chicken Seekh Naanzaa, it's yum!
Timings | 11 AM - 11 PM
Call Them | +91 9555 360 360
Meal For Two | Rs 1,000
Check Out Their FB Page | https://www.facebook.com/PhoneBoothReloaded/ 
So, which one are you heading to first?