Delhi
6 Inviting Dishes You Must Try On Your Food Crawl Of Mandi House Under Rs 200
In our perennial quest for some yummy and affordable bites, we found ourselves in the centre of all the culture at Mandi House. Set in the middle of Delhi, we all love the calm demeanor the roads assume here. From plays to art shows, this locality is full of cultural and artistic expression. But is any location truly complete without the lip-smacking food that hides in its nooks and crannies? Here goes our food crawl at Mandi House; we found some super aesthetic grub for you all!
1. Golgappas @ Bengali Sweet House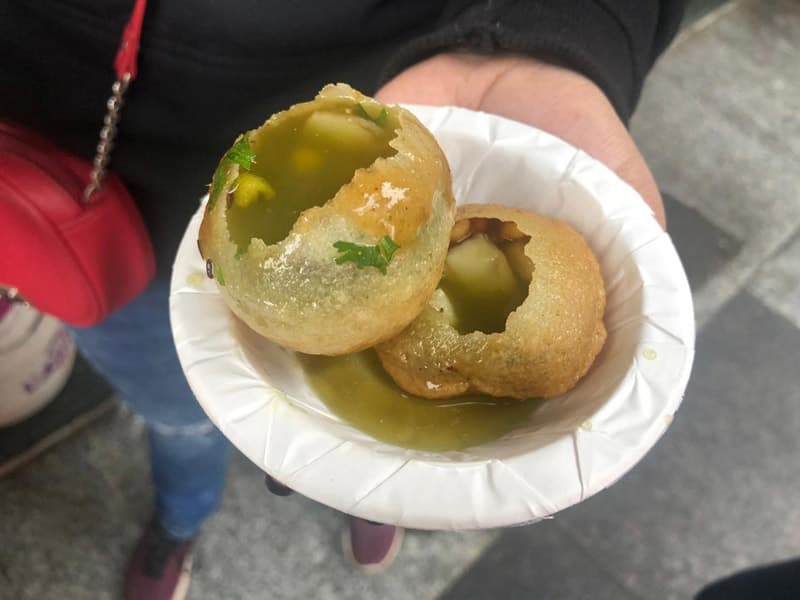 To kick off our tasting adventure, we jumped right into our favourite golgappas at the Bengali Market. The quintessential Dilli street food, every Delhiite must know the best places to grab quick puchka. Well, we found one for you right in the heart of the Bengali Market. Made with the tangiest of chutneys and wholesome fillings, the golgappas at Bengali Sweet House stole our hearts. Trust us, there's nothing more satisfying than the crunch of a golgappa on a crisp winter afternoon. So what are you waiting for? Head on over to Mandi House for some zesty, flavourful golgappas!
Where | Bengali Sweet House - Bengali Market, 27, 28 & 29, Todarmal Road Area, Mandi House
Price | Rs 60
Timings | 8:30 AM - 11 PM
Call Them | +91 11 2332 2222
2. Chowmein @ Turant Van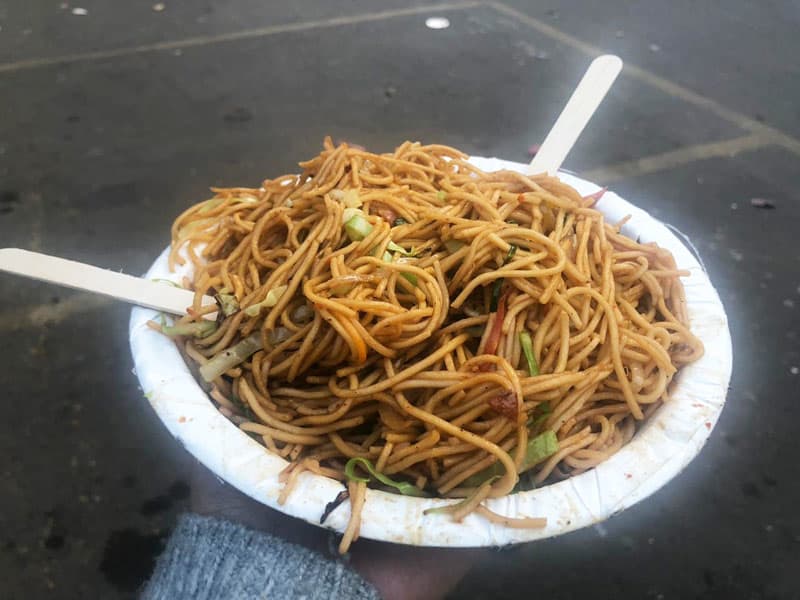 In this pleasant weather, some wholesome Chinese is all we need to warm our souls up. The popular Turant Van, is set up right by the footpath all winter long, and they have the perfect solution to all your hunger pangs. We decided to dive head straight into their Classic Chowmein, and we could not be happier that we did. With the quintessential Indian twist that all street food has, this piping hot and fresh dish made our hearts swell with joy. Spicy, tangy and full of veggies, this yummy option will be the highlight of your food crawl. The best part? They have spaces set up on the footpath for you to sit and eat! 
Where | Turant Van - Tansen Marg, Mandi House Circle, Todarmal Road Area, Mandi House
Price | Rs 50 Onwards
Timings | 10:30 AM - 9:30 PM
Call Them | +91 8447 579 159
3. Chole Bhature @ Nathu's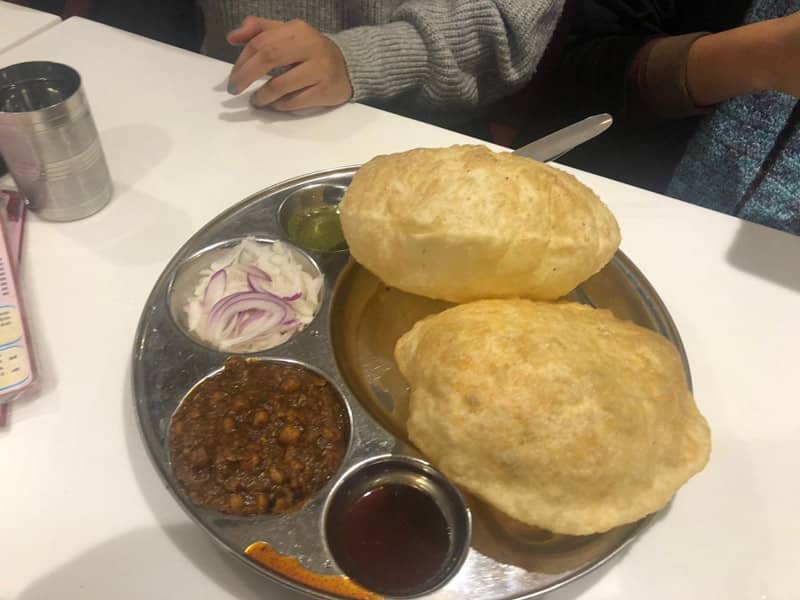 Are you even a true Delhiite if you haven't spent your childhood in the lap of Nathu's? We could not help but feel nostalgic when we saw our favourite childhood memory at Mandi House! And to make things better, we decided to go for a generous and hearty meal of Chole Bhature, the perfect all time snack. The piquant cholas, made in the classic Punjabi way were served with huge bhaturas, a tangy chutney and onion ringlets, what more could we ask for? The meal was hearty, generous and the delicious cholas complemented the crunchy bhaturas.
Where | Nathu's - Shop No. 23, 24, Bengali Market, Tansen Marg
Price | Rs 120
Timings | 7:30 AM - 10 PM
Call Them | +91 11 2371 7313
4. Raj Kachori @ Bengali Sweets & Snacks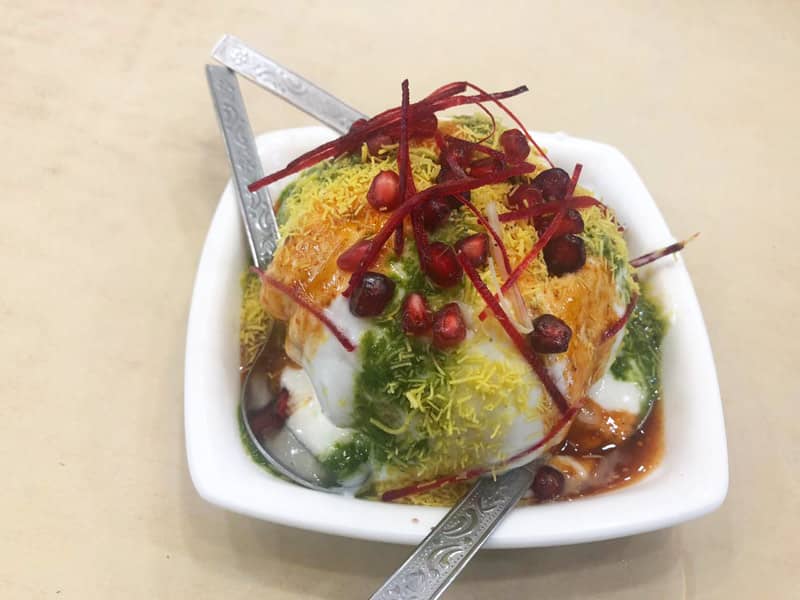 Can you imagine a food walk without some finger-licking chaat? Neither can we! Our next stop was the Bengali Sweets And Snacks and our eyes could not help but stray to some delicious Raj Kachori. Adorned with pomegranate seeds, beetroot and our favourite chaat staples, how could we miss this refreshing delight? The Raj Kachori was filled with spicy chanas and sprouts and we loved the generous helping of dahi. After all, chaat is incomplete without some well deserved dahi and tangy chutneys. Come out here to satisfy your all time chaat cravings! 
Where | Bengali Sweets & Snacks - 34-37, Bengali Market, Mandi House
Price | Rs 90
Timings | 9 AM - 11 PM
Call Them | +91 11 2335 1111 & +91 11 2335 2222
5. Palak Patta Chaat @ Triveni Terrace Cafe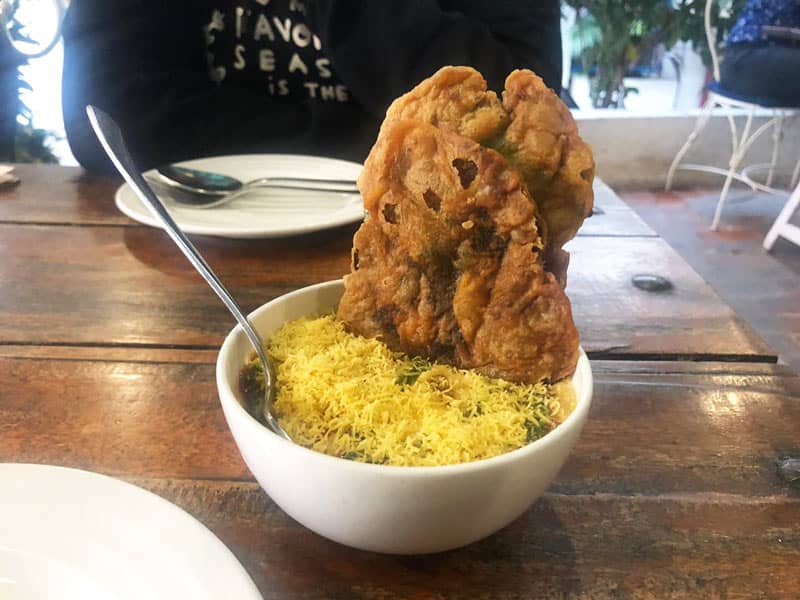 If you're a cultural enthusiast, we're sure you have been to Triveni and seen their amazing exhibitions, but have you checked out their super aesthetic cafe? Overlooking a gorgeous open amphitheatre, the Triveni Terrace Cafe is everything you need to spice up your Insta feed. Aside from the picturesque set-up, this cafe has some super light yet delicious food options. We had to try out their Palak Patta Chaat and we recommend you do the same. Served with two tall and crispy palak pattas in a yummy bowl of chutneys and dahi, it was love at first sight. The chaat was flavourful and ideal to set your palette straight, go check it out!
Where | Triveni Terrace Cafe - 205, Tansen Marg, Opp. FICCI Auditorium, Todarmal Road Area, Mandi House
Price | Rs 155
Timings | 10 AM - 9 PM
Call Them | +91 9971 566 904
6. Chicken Fried Rice @ Turant Van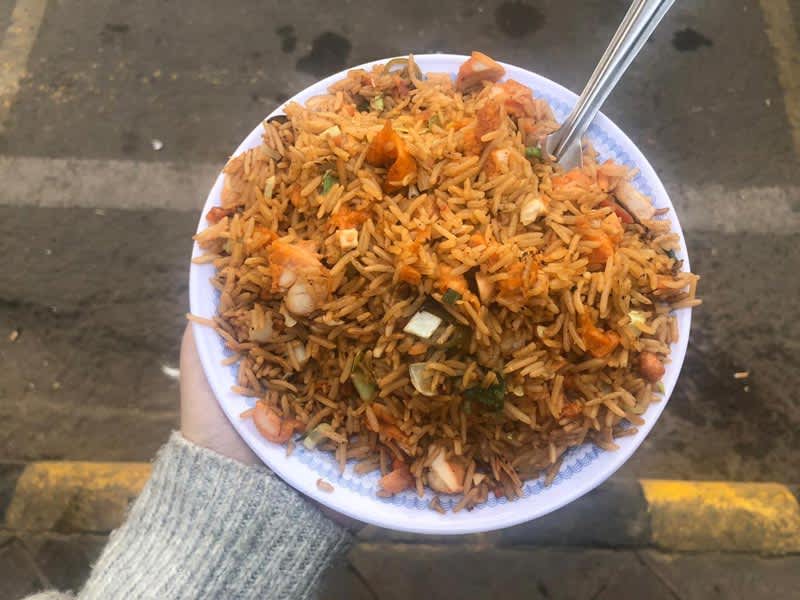 We had to end our journey on some fusion note. What better option than Chinese at Turant Van? After the Chowmein, we tried out their Chicken Fried Rice and it was everything we expected and more. The serving was super generous and we loved the crunchy chicken with fluffy rice and the crispy veggies made the dish a perfect snack. 
The condiments with the rice seemed to elevate the dish for us and we sure do like some extra spice. If you're a chicken lover looking for some light snack in Mandi House, this one's for you!
Where | Turant Van - Tansen Marg, Mandi House Circle, Todarmal Road Area, Mandi House
Price| Rs 85 Onwards
Timings | 10:30 AM - 9:30 PM
Call Them | +91 8447 579 159
Our food crawl at Mandi House was a memorable affair. The markets have everything to offer from desi Chole Bhature to some fancy chaat and even chinese. The diversity is just one of the many reasons to come out here this winter and try out these dishes!