Delhi
6 Idyllic Countries You Can Fly To At A Moment's Notice Without Worrying About Visas
As the year comes to an end, all of us are slipping into vacation mood as the cooler weather makes us all crave some sun, sand and loadsa adventure. But if wanna fly off for an international holiday and the thought of visa procedures is turning you off, here are 6 gorgeous countries that do not require prior visa for Indian citizens! 
1. Bangkok, Thailand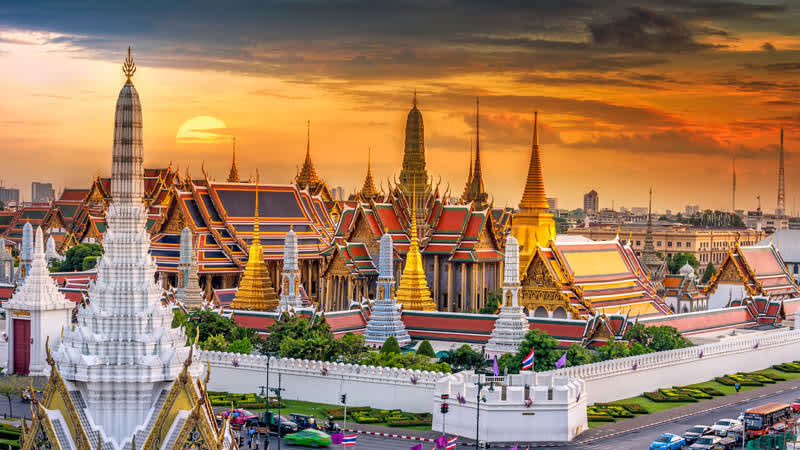 Picture Credits: asiawebdirect.com
This Southeast Asian city is one of the most budget friendly places you can visit outside of India and you can experience everything that the place has to offer, without worrying about an empty bank account! Thailand has a convenient 'Visa on Arrival' policy which is pretty handy as any Indian passport holder can get a visa from their 32 channels at the airport. The procedure takes less than an hour to be completed and you can then move on to exploring the city! Make sure to visit Wat Pho to see the huge statue of the reclining Buddha, take a walk around the weekend Chatuchak Market, get a Thai massage and try the delicious food at the famous Chinatown street!
2. Amman, Jordan

Jordan has one of the quickest Visa on Arrival procedures as the entire process takes a mere ten to fifteen minutes and you get a 15 day hassle free stay in the country. Petra, Wadi Rum, the Dead Sea, Kerak Castle and the Roman Theatre are only a few of the fascinating places in this romantic landscape full of charming natural sights and friendly towns. In Amman, stay at the Intercontinental which is the oldest 5 star hotel and visit Al-Balad as it's the cultural and entertainment hub of Amman. Be sure to gorge on some local popsicles, hummus and falafel during your holiday!
3. Bali, Indonesia

Picture Credits: asiawebdirect.com
A trip to Indonesia would not be complete without visiting the island of Bali, which has the same Visa on Arrival procedure which is quick and hassle-free. Home to more than 20,000 temples *woah*, it's like a parallel India, with many eccentric aspects of its own. One of the most uncommon trips you can take here is visiting the volcanoes, some of which are still active! 
Pasar Badung is the liveliest part of Denpasar and you can buy literally everything here. Stay at the Prama Sanur Beach Hotel for a luxurious experience along with relaxing spa services. And if you're done with the dirty, touristy crowded beaches in India, Bali will captivate you with its magical shores!
4. Port-au-Prince, Haiti

Picture Credits: airtransat.com
With an Indian passport, you don't need a prior visa at all to visiting this Caribbean country! It has many unexplored natural sights which retain their original charm and have a rich past, perfect for history and architecture enthusiasts. Visit some of the tiny, charming churches and the Barbancourt Rum Distillery to purchase a fresh bottle of rum here. Take a trip to some of the villages and live with a local family for a true Haitian experience. You'll leave with a fresh perspective and loads of dishes added to your list of fave exotic food!  
5. Malé, Maldives  

One of the most popular tropical destinations in the world, Maldives allows Indian passport holders to obtain a Visa on Arrival. The visa is free and valid for a period of thirty days. For the adventure seekers, there's plenty to see including underwater coral reef journeys, local markets, ancient mosques and diving excursions. Try a traditional Maldivian meal consisting of masroshi pastries, mas riha fish curry, papadhu, grilled fish, rice and sweet black tea. Come have a wonderful time lounging about on pristine beaches!
6. Colombo, Sri Lanka

Picture Credits: 2nd Chance Travels
India is one of the nations which is on Sri Lanka's 'A' list which means that you can simply get a Visa on Arrival here. The process is quick and the fee is just around Rs 150, which is amazingly cheap compared to other countries. It's one of the most peaceful places you will ever visit and if you're looking for a detox from your hectic life, take part in some of the yoga or nature retreats in this country. 
Visit the islands or the Gangaramaya Temple to see some strange yet beautiful idols and Beira Lake to soak in some serenity. Take a tuk tuk ride through the capital at night and try some of the local street food such as isso vadei, kottu and saravita when here!
Apart from your passport, make sure you have all the necessary documents required for getting a Visa on Arrival such as a return ticket and sufficient money along with any country-specific visa forms. Get, set and explore!