Delhi
6 Hostels To Check Into In The City For The Perf Staycation With Your Buds This Winter
Should you feel more outdoorsy this winter and look forward to an eventful night out with your buddies sitting around a blazing bonfire while indulging in a weekend of fun and chill scenes with the gang, we got a treat for y'all! Here's a list of super fun and comfy hostels you can opt for in Delhi for a merry bonfire night with your buddies where you can chat away about the good ol' days or whatever's to come next while prepping some s'mores for a late-night snack as you listen to a bunch of not-so-melodious friends break into a goldmine of peppy songs! Sounds blissful? Well then, scroll on!
1. Zostel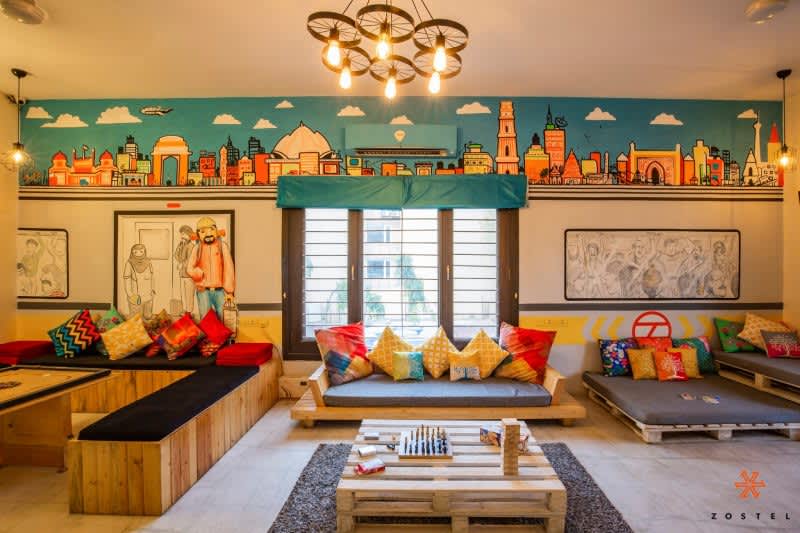 Located nearby the part of town that's considered to be the tourist hub comprising spontaneous travellers and hippie backpackers, Zostel has been one of the earliest to surface in the city and by far one of the favourites with its guests. Offering some really chic accommodations, right from a standard room to a designer suite and even all-girl dorms (WOAH), this place is safe, comfy, tidy and perfect for your sojourn. The property also features a common terrace area which can be accessed by guests without the need to make any specific bookings, which sounds just perfect for those fun evenings with your chums, doesn't it?
Where | Zostel - 5, Ara Kashan Road, Near New Delhi Railway Station
Tariff | Rs 549 Onwards
Call Them | +91 11 3958 9005
Book Your Stay Online Here | https://www.zostel.com/
Check Out Their FB Page | https://www.facebook.com/Zostel/
2. Madpackers Hostels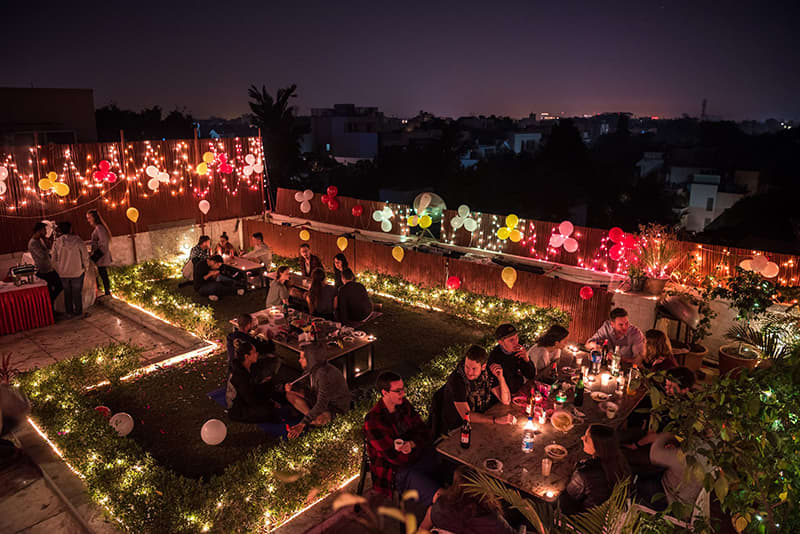 Located in the greener part of town in South Delhi's Panchsheel Park, this hostel promises to give you a taste of what a classic backpackers' hostel looks like and how it all works without all the additional trimmings. They offer a clean space, cutesy bunk beds with crisp linens and just the perfect place to not only hang out with known faces but also rub shoulders with new ones. The property has a spacious and welcoming common room for everyone to get together and make merry, along with essentials like free WiFi, airport shuttles, sun terrace and lots more!
Where | Madpackers Hostels - S39-A, Panchsheel Park (South Block)
Tariff | Rs 380 Onwards
Book Your Stay Online Here | https://madpackers.com
Check Out Their FB Page | https://www.facebook.com/themadpackers/
3. Joey's Hostel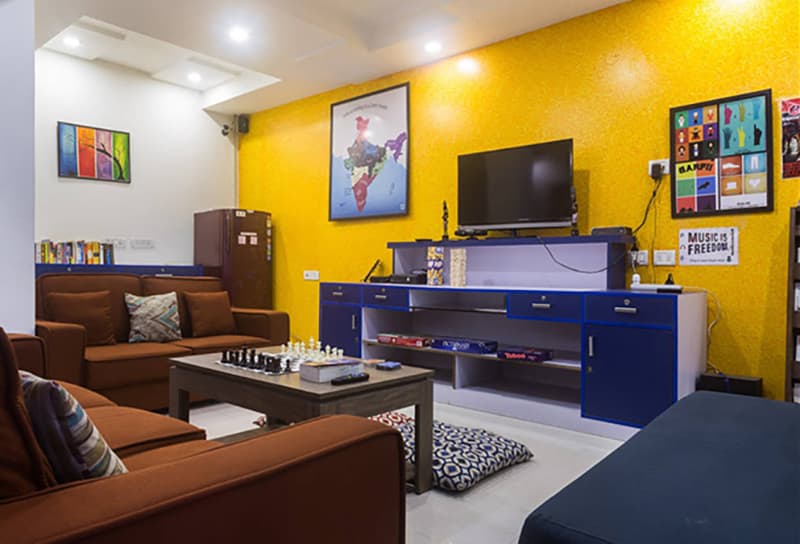 Another one of modern-day urban hostels located in the bustling streets of Laxmi Nagar that shouts a cheerful welcome every time you set foot on this property with its comfy and super clean dorms, cosy bunk beds, a fully-equipped kitchenette, WiFi, XBox and colourful walls with sweet messages scribbled on them, Joey's Hostel has got you covered in terms of services as well as being easy on the pocket! What's more, their sun terrace is perfect for those chai pe charcha mornings as well as the evening bonfire that warms your very heart.
Where | Joey's Hostel - 1/49 Lalita Park, Laxmi Nagar
Tariff | Rs 370 Onwards
Call Them | +91 9818 642 824
Book Your Stay Online Here | http://www.joeyshostel.com
Check Out Their FB Page | https://www.facebook.com/hstljoey7771/
4. The Hosteller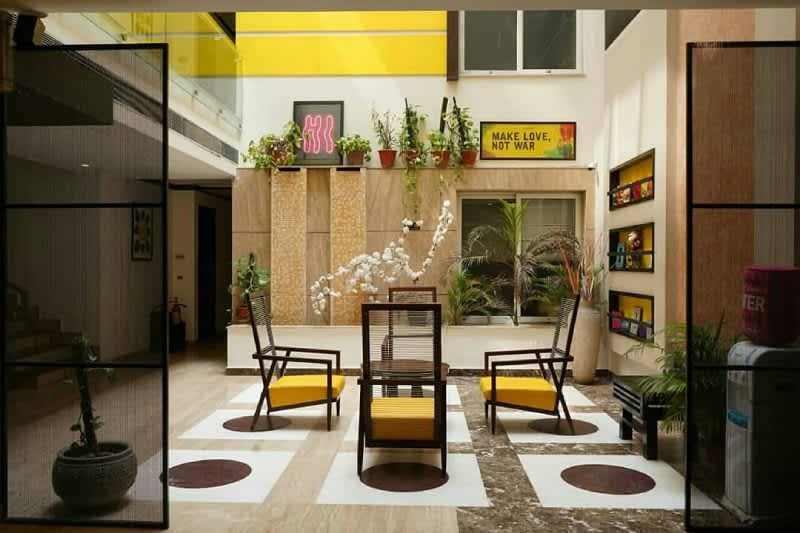 Here's one hip and party hostel located in New Friends Colony that offer a super comfy stay and individual rooms for the more private guests. Here you'll be privy to some great vibes, and a chill atmosphere where hygiene and cleanliness are of the utmost importance. They also have parties, city walks, karaoke nights, beer pong, and much more that happens almost every other evening, enough to keep you entertained throughout the stay. Head over with your gang and have a blast here.
Where | The Hosteller - A-10, Mathura Road, Near Ashram Chowk, Block A, New Friends Colony
Tariff | Rs 399 Onwards
Call Them | +91 9810 187 717
Book Your Stay Online Here | https://live.ipms247.com/booking/book-rooms-thehostellernewdelhi
Check Out Their FB Page | https://www.facebook.com/thehostellerdelhi
5. GoStops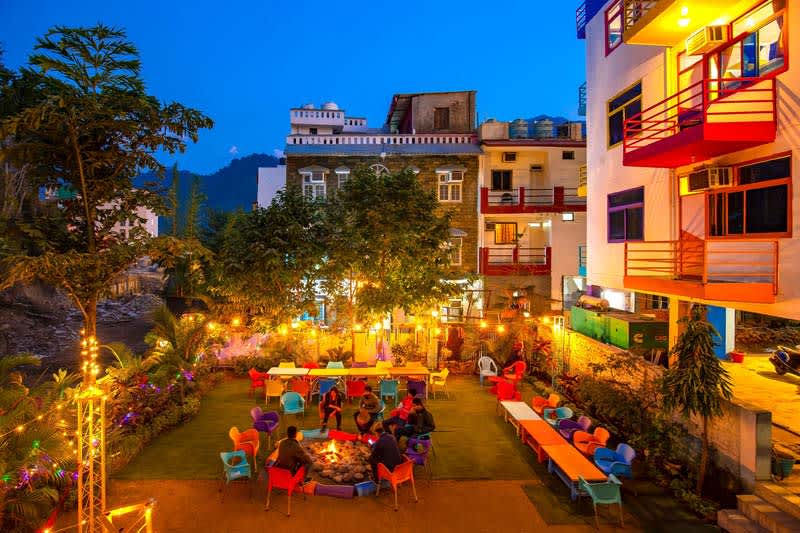 GoStops is every city dweller's perfect base camp for an expedition because of the obvious reasons that they offer a comfy, happy and safe pit stop one could wish to make while travelling. Live like a local by diving deep into the city's culture with their stash of video and books library. Their services include essentials such as lockers, WiFi, hot showers and clean beds and lots more. With a perky decor and a lush, common courtyard to gather in and celebrate each other's company, a stay here is surely gonna be rewarding on many levels!
Where | GoStops - 4/23-B, Asaf Ali Road, Daryaganj
Tariff | Rs 450 Onwards
Call Them | +91 7428 882 828
Book Online Here | https://www.gostops.com/book-rooms-in-delhi-hostel/
Check Out Their FB Page | https://www.facebook.com/gostopsofficial/
6. LetsBunk Poshtel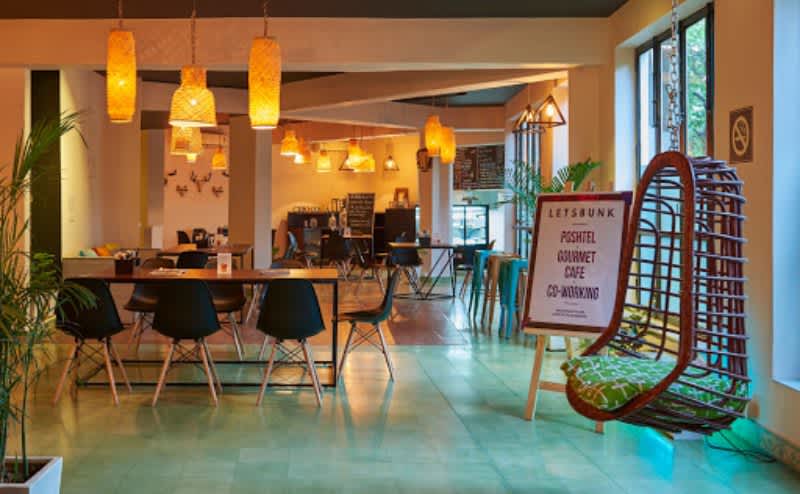 Now this one is a favourite and no wonder we saved the best for the last, 'cause why not? Staying true to its name, it really is the perfect result of posh marrying a hostel to bear a gleeful offspring such as this Poshtel. With minimalist decor and a muted colour palette with a touch of greens, this space boasts of a gourmet cafe, a deck overlooking the forest, as well as a co-working space and tons more! From personal lofts to sharing dorms, they've got all your moods covered. Their pretty terrace also makes for a great space for you and your SO to chill at a nominal extra charge for exclusive bookings.
Where | LetsBunk Poshtel - T-40, HKV
Tariff | Rs 799 Onwards
Call Them | +91 8130 383 199
Book Your Stay Online Here | https://letsbunk.live/
Check Out Their FB Page | https://www.facebook.com/letsbunkposhtel/
P.S. - Tariffs as recorded on 12th January 2021
There, all the best places for you to check out and opt for. Happy s'more-ing!