Delhi
6 Heaping Platters You Can Get Your Hands On Under Rs 500 At Hudson Lane
Hudson Lane is the Mecca of cafes and restaurants, especially for all the North Campus foodies. It's every DU student's favourite hangout spot and trust us, they'll agree. We all love food and the more the better, no? So, keeping that in mind, we decided to go do some research and tell you about all the must-try platters in Hudson Lane and that too under 500 bucks. Platters are pretty amazing considering how you get a bunch of options with just one order! So, come aboard and let's find out.
1. Mezze Platter @ Echoes Cafe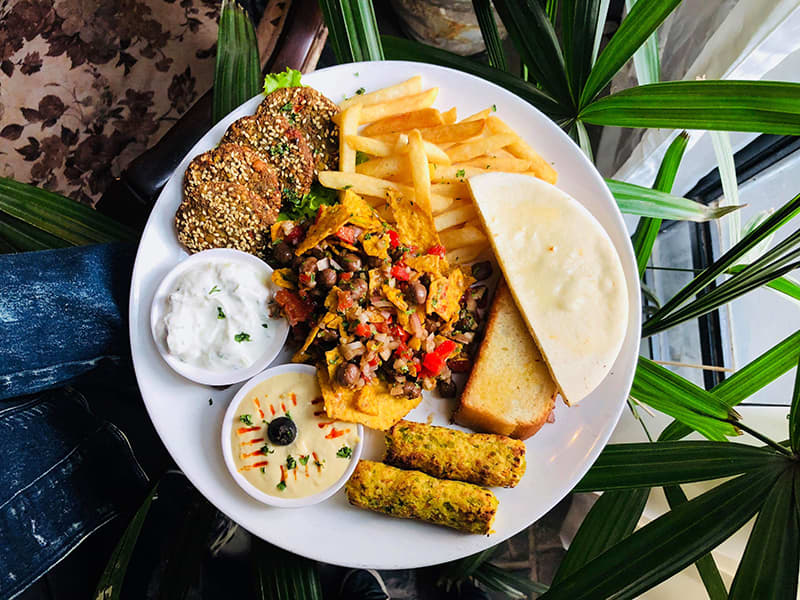 You've defo heard of this one, especially because of its heartwarming USP of hiring specially-abled staff and gorgeous interiors. Echoes dishes up some delicious food and refreshing drinks and their Tandoori Momos are usually the talk of the town. But, did you know that they serve one of the best Mezze Platters ever that comes with not just the usual Falafel, Pita Bread, Kebabs and hummus but also crispy golden fries, garlic bread and tzatziki dip! We're on our way for our share of this delish-looking platter soon.
Price | Rs 299
Timings | 11 AM - 11 PM
Call Them | +91 9899 060 655
Check Out Their FB Page | https://www.facebook.com/echoeshudsonlane/
2. Barrrrraaahhh Platter @ Shake Eat Up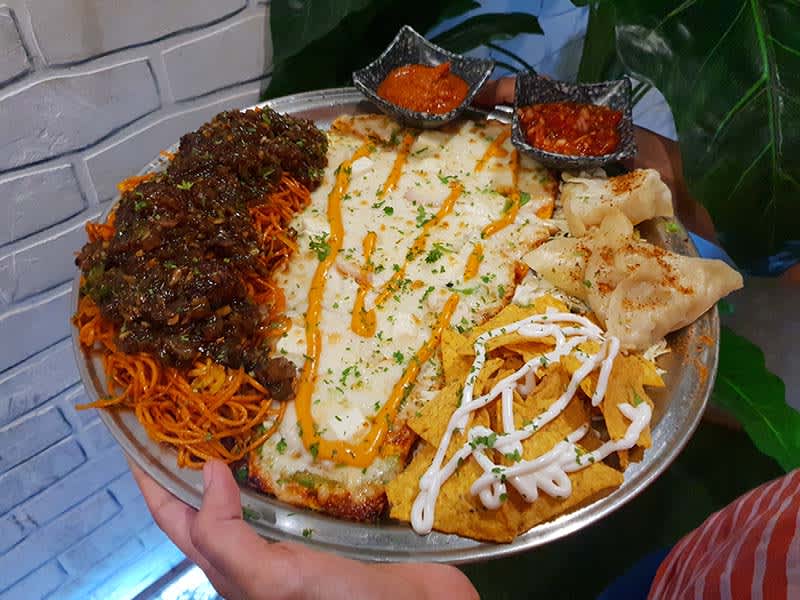 The Barrrrraaahhh platter is a melange of Chinese and Italian food so we obviously devoured it. We loved how it felt desi with the steel plate serving and the fact that the quantity was pretty good. This one had a giant pizza slice, noodles, Manchurian, momos, cheesy nachos and dips. All in all, anyone who likes spices and has a thing for Indo-Chinese food will surely enjoy it. They have a variety of other platters like Floral Platter and Faunal Platter. Drop by to dig into this heaping platter.
Price | Rs 450
Timings | 11 AM - 11 PM
Call Them | +91 9013 537 642
Check Out Their FB Page | https://www.facebook.com/shakeeatup16/
3. Momo Platter @ Abongchiiz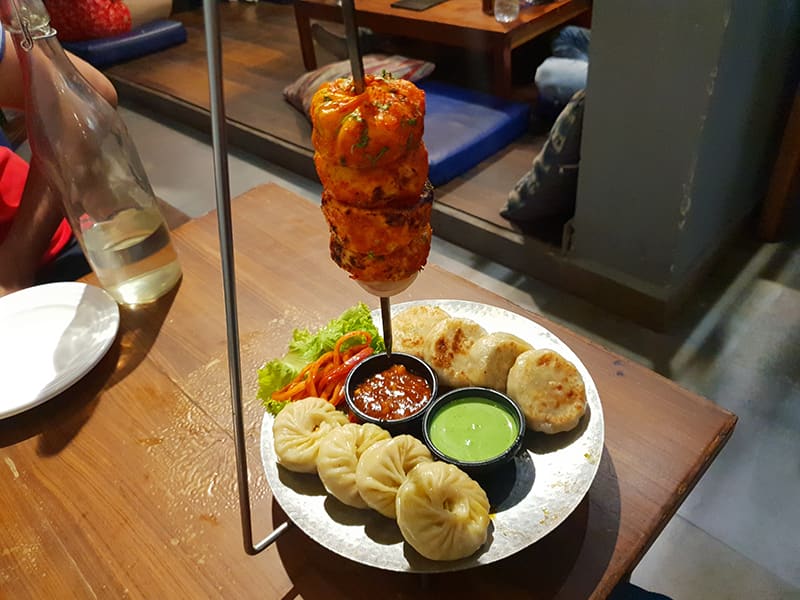 Did you really think that we'll not include a momo platter in our list? Well in Delhi, that's a sin. So, we ordered the absolutely yummy Momo Platter at Abongchiiz that comes with 4 pieces, each of Tandoori, steamed as well as stir-fried momos! Each one of them is equally scrummy and filling so it's great for momos lovers. You can give their other dishes a shot too and don't forget to play some fun board games with your squad while you're at it.
Price | Rs 299
Timings | 11 AM - 11 PM
Call Them | +91 11 4906 9349
Check Out Their FB Page | https://www.facebook.com/Abongchiiiz/
4. Overloaded Party Platter @ Hashtag Foods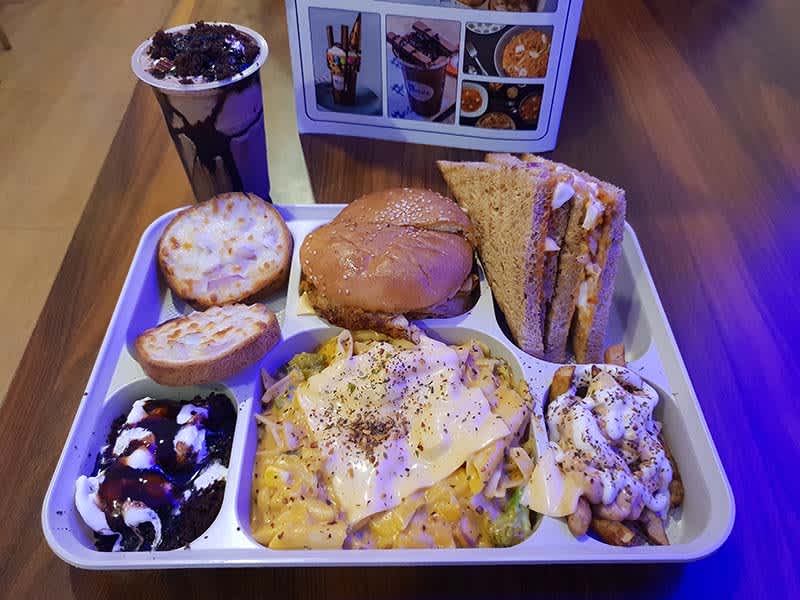 We had heard a lot about this one because it has all our favourite things in the form of one platter! It's called Party Platter for a reason, you see. It has bits of everyone's favourite fast foods - pasta (of your choice), cheesy fries, garlic bread, a burger, sandwiches, brownie as well as an oreo/ chocolate truffle shake! This one is surely worth a try if you don't like choosing a dish. Also, their presentation can be a bit better as they serve in disposable plastic plates. But, overall, it's a nice cosy place with a wide array of options to choose from.
Price | Rs 260
Timings | 10 AM - 12 Midnight
Call Them | +91 9013 537 642
Check Out Their FB Page | https://www.facebook.com/hashtagfoodsofficial/ 
5. Waffle Platter - Waffle Nation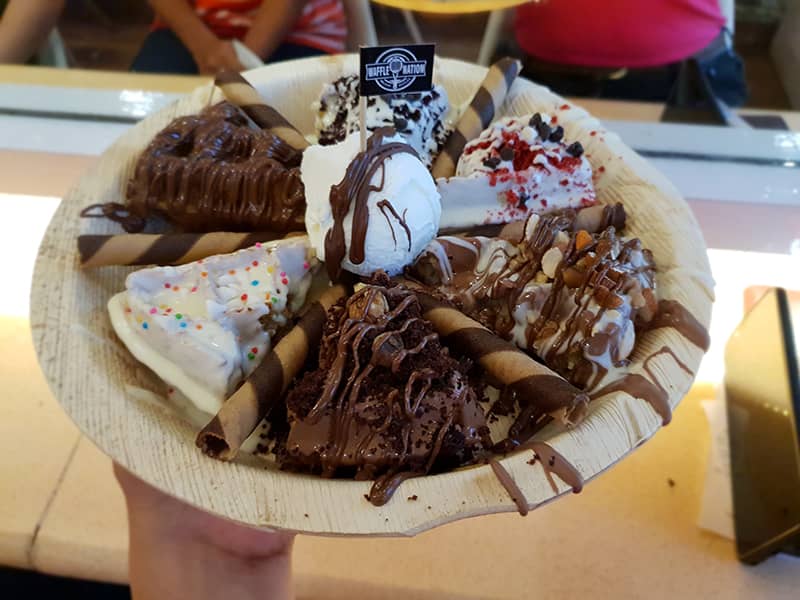 Waffles, oh waffles! This one is ideal for all those squad dessert runs where you can't decide which toppings to go for because this platter contains six different kinds of waffles in one! You'll get the classic Nutella, Nutty Buddy, White Forest, Black Forest, Brownie Heaven as well as Red Velvet Waffles with a scoop of vanilla ice cream as a bonus! If that's what dessert coma is, we'll be happy to be in it! We also love the vibe and interiors of this place as it feels like Christmas all year round here. P.S. while you're there, do try their mini pancakes too.
Price | Rs 430
Timings | 12 Noon - 12:30 AM
Call Them | +91 9643 457 379
Check Out Their FB Page | https://www.facebook.com/waffle.nation123/
6. Herbivorous Platter @ Woodbox Cafe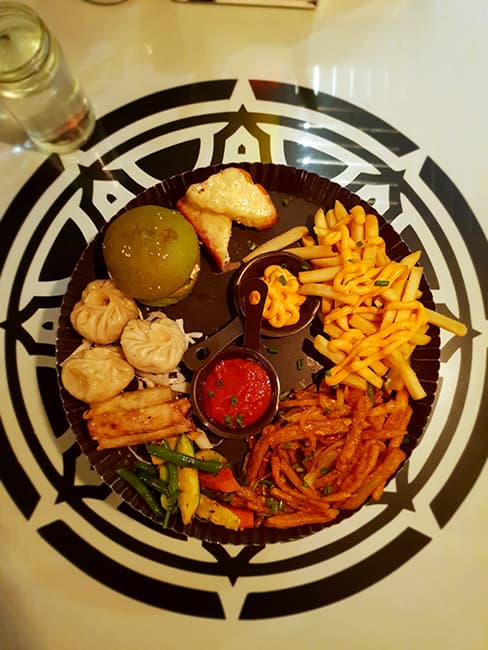 A name synonymous with quality and innovative food, Woodbox had to be on this list. We have visited this one numerous times and still can't have enough of it because they keep on adding new things to their already impressive menu. These folks do a variety of interesting platters like the Jar Bazaar Platter, Ni Hao Platter and more but our favourite one has to be their most popular and loved, Herbivorous Platter. Heaping with spring rolls, dimsums, garlic bread, chilli potato, sauteed veggies, a mini burger and dips, it really is a steal deal! Available in a non-veg variant as well, you must get your hands on it the next time you land up here!
Price | Rs 390
Timings | 11 AM - 11 PM
Call Them | +91 9350 507 004
Check Out Their FB Page | https://www.facebook.com/woodboxcafe/
So now that you know where to head over with your gang the next time you don't feel like choosing one dish, remember this list.