Delhi
6 Handpicked Places Serving Platefuls Of Deliciously Cheesy Baked Pasta In Dilli
Ask anyone about their favourite cuisine and pat comes the response - Italian! With the majority of cafes and restaurants serving either authentic Italian or a desi version of it, this cuisine is here for the long haul! The cheesy baked pasta is one man made creation that's getting the attention of millions out there and we're jumping the bandwagon on this one. This flavourful pasta dish is generally cooked with a heavy load of cheese and oven baked, and we've found 6 awesome sauce places serving it up, so scroll on!
1. The Big Chill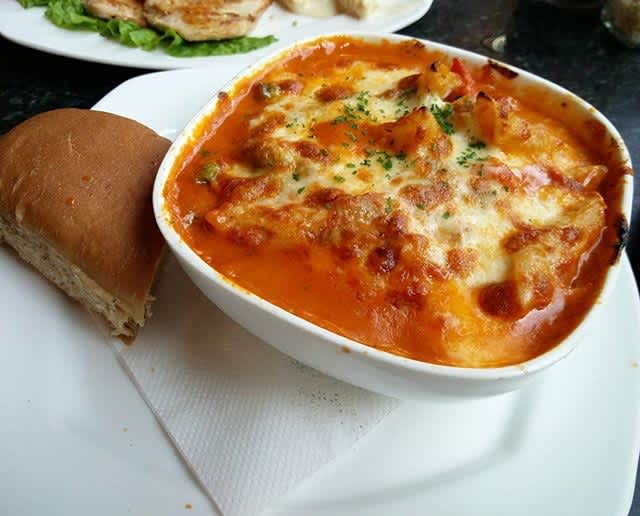 Picture Credits: mummamunchkinkitchen
People stand in queues, and wait for hours to order the exact same dishes they have been ordering for ages when it comes to this legendaddy place! The Big Chill is one of the pioneers of cheesy baked pastas and there's no denying it! Available in both red and white sauce with a garnishing of mozzarella and gouda, come devour their Cheesy Baked Pasta and you'll land in a food coma for sure!
Where | The Big Chill - Khan Market, DLF Place, Saket, Kailash Colony & Other Outlets
Timings | 12 Noon - 11:30 PM
Call them  | +91 11 4175 7588
Check Out Their FB Page | https://www.facebook.com/thebigchillkhanmarket/
2. Diggin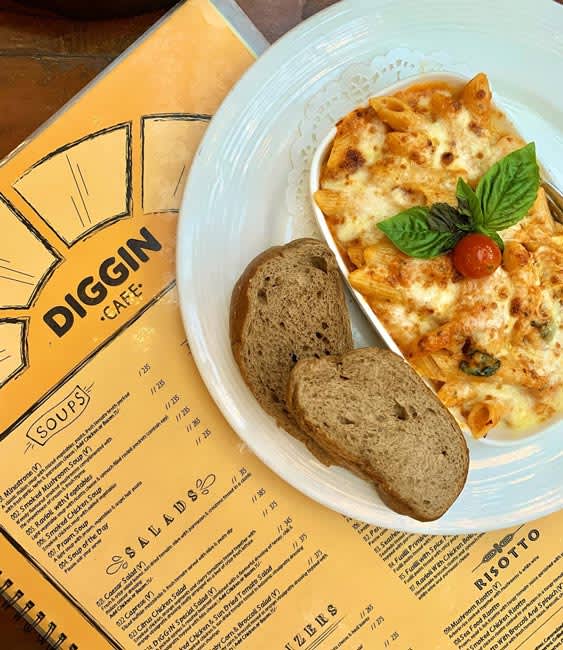 Diggin, with its catchy name and an even-catchier ambiance burst onto the scene with their lip-smacking food and phenomenal service a few years ago and we've been fans ever since! Diggin has out-classed many of its contemporaries with its hugely popular Baked Penne. If you live or hangout in and around South Delhi and have not visited this place yet, you're doing a disservice to your palate, so stop by right away, folks!
Where | Diggin - Anand Lok, Opposite Gargi College & Santushti Shopping Complex
Price | Rs 345
Timings | 11:30 AM - 11 PM
Call them  | +91 11 4080 0082 & +91 9560 304 124
Check Out Their FB Page | https://www.facebook.com/diggincafe/
3. Big Yellow Door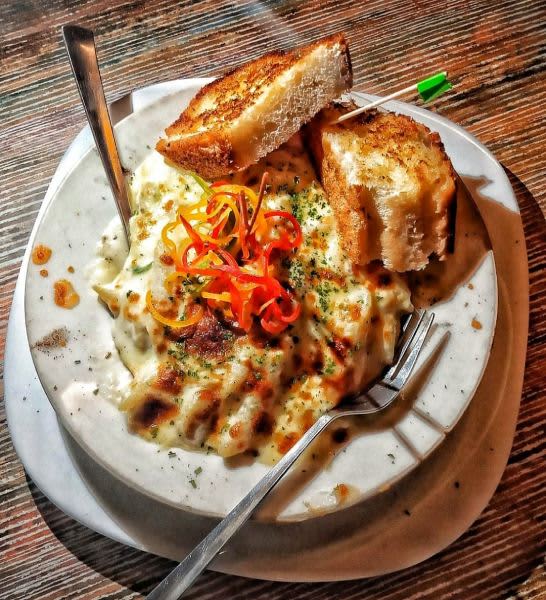 For those who don't wanna shell out big bucks and still crave something cheesy to soothe their hearts, Big Yellow Door is a revolutionary game changer here to serve you fair-priced and lip smacking meals! BYD, as it's fondly referred to by its loyalists, introduced cheesy creations and made us fall in love with their cheesy baked pastas, of which they have four distinct kinds - Baked Tom (tomato sauce), Baked Mix Sauce, Baked Alfredo and Mac N Cheese. So, head over for your plateful of cheesy delights now!
Where | Big Yellow Door - GTB Nagar, Satya Niketan & Vijay Nagar
Price | Rs 210 Onwards
Timings | 11 AM - 11 PM
Call them  | +91 704 229 4297 & +91 704 229 4298
Check Out Their FB Page | https://www.facebook.com/BigYellowDoor/
4. Hashtag Foods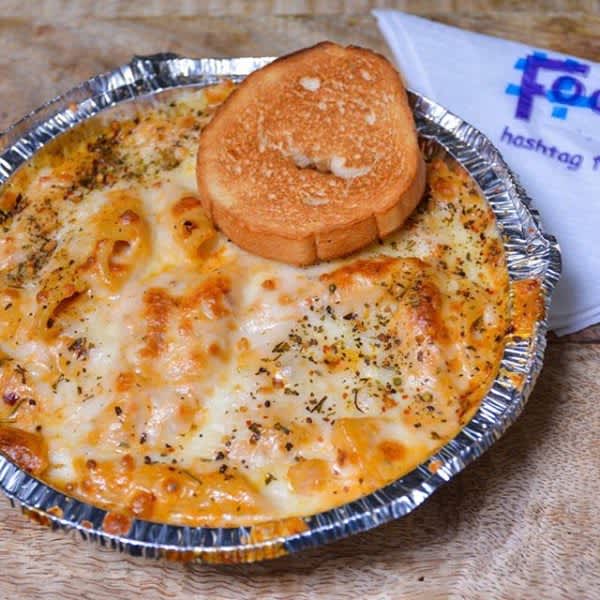 A jewel of a place discovered only by the true foodies of Delhi, this place has caught the fancy of many and has seen a forever increase in the number of college goers and Instagrammers who have been marching over to rejoice and relish the cheesy treats this place is known to serve! From sandwiches to pizzas to baked pastas, Hashtag Foods does all things cheesy! Come on by after work to gobble up some soul-satiating Baked Pasta!0
Where | Hashtag Foods - NG-89, Aggarwal Millennium, Tower 2, Netaji Subhash Place
Price | Rs 140
Timings | 9:30 AM - 12:30 AM 
Call them  | +91 11 4509 1660
Check Out Their FB Page | https://www.facebook.com/hashtagfoods/
5. The Hudson Cafe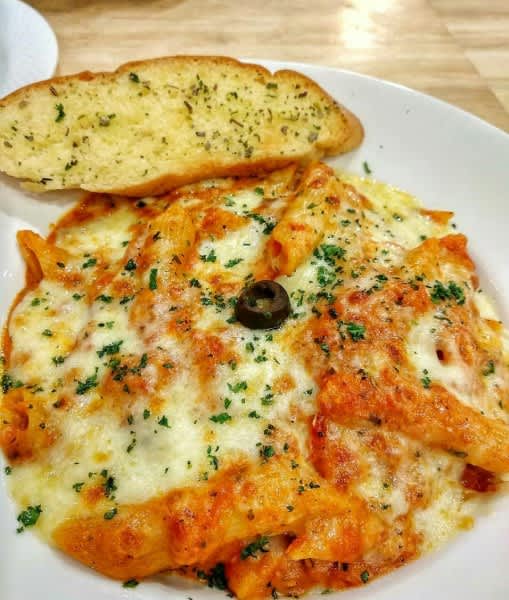 Picture Credits: thatdelhifoodie
Another age-old entity that has been catering to the ever hungry hordes of college students and that too at dirt cheap prices is The Hudson Cafe. The cafe has a huge menu which boasts of three kinds of baked pastas like Baked Mac N Cheese, Baked Penne Mozzarella, and Baked Lasagna! We recommend you head down to this part of Delhi for some lip-smacking cheap thrills ASAP!
Where | The Hudson Cafe - 2524, 1st Floor, Hudson Lane, Delhi University-GTB Nagar
Price | Rs 199 Onwards
Timings | 11 AM- 11 PM
Call them  | +9111 4702 1733
Check Out Their FB Page | https://www.facebook.com/thehudsoncafe/
6. Maxim's Pastry Shop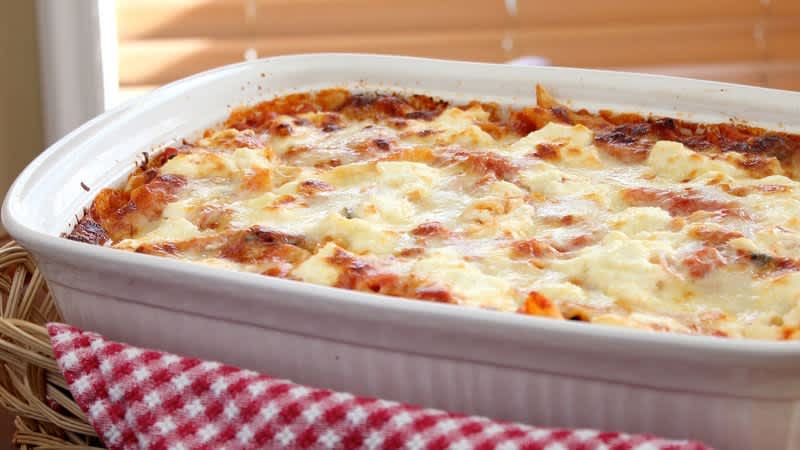 This Is A Representative Image
Picture Credits: bettycrocker
Maxim's has been a South Delhi landmark for ages and doles out super amazing and gooey chocolaty cakes but many of you might not know about the teeny tiny eatery tucked away in a corner of the bakery. With a wide ranging menu serving patties to sandwiches to pastas to salads, Maxim's knows Delhi's palate well, and bakes their pasta with a thick layer of cheese on top. So, if you haven't checked out their cheesy pasta yet, now's the time!
Where | Maxim's Pastry Shop - HS-3, Main Market, Kailash Colony
Timings | 9 AM - 9 PM
Call Them  | +91 11 2923 2581
Check Out Their FB Page | https://www.facebook.com/MaximsPastryShop/
So which ones are you ticking off your list first? Tell us in the comments section!