Delhi
8 Handpicked Online Stores Offering Dashing Kurtas For Men Under Rs 999 This Diwali
With the distant sounds of blaring music and firecrackers coupled with the rampant sales throughout mainstream e-commerce platforms, it is discernible that the most awaited festival of all time is looming around! With a relatively subdued festive season this year, we're banking on our wardrobes to compensate for the robust celebrations that might be out of our reach this time. This one goes out to all the dapper dudes who wish to bring out their A-Game on the ethnic front; so check out our list of online stores to find some amazing Kurtas to wear this Diwali!
1. Craftsvilla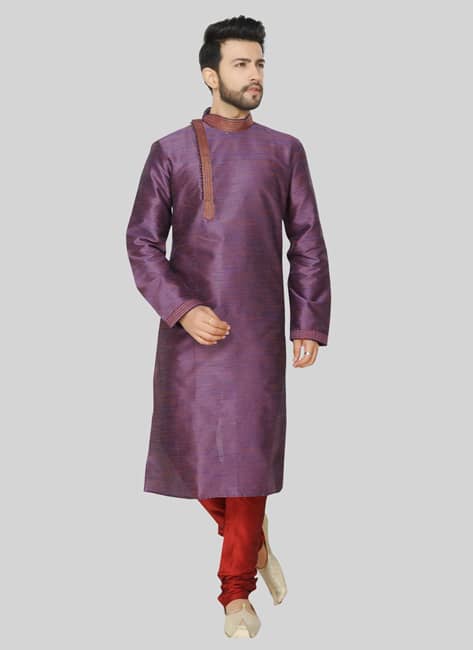 One of the names that indefinitely comes up when you talk of ethnic fashion is Craftsvilla. The online store holds a strong suit in producing vibrant collections of Kurtas; be it Pathani suits, rustic cotton kurtas or even Gaudy silk prints. You can also pick out a Nehru Jacket to go with your Kurta, thus putting together an entire outfit in one go! With all that's going on here, the most remarkable trait of the store is the pricing, so check out their power-packed collections ASAP!
Price | Rs 673 Onwards
Shop Online Here | https://www.craftsvilla.com/cvfeeds/buy-men-long-short-kurtas-online-craftsvilla 
2. Tjori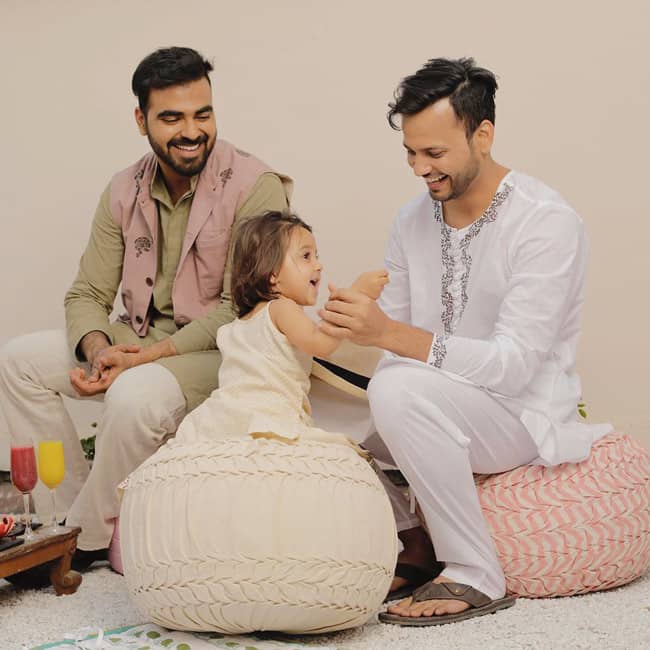 A renowned establishment that brings the best of Indian ethnic fashion under one roof, Tjori ensures a holistic shopping experience with the sheer diversity that their collection boasts. Featuring popular indigenous artisanries like Chikankari and Pashmina-woven shawls, the Men's section has oodles to offer. Tjori offers rustic-looking Kurta pyjama sets that feature some of the best pastel shades and an off-white aesthetic to die for! P.S. Tjori also offers some great skincare products and footwear to top off your Diwali look.
Price | Rs 899 Onwards
Shop Online Here | https://www.tjori.com/men/men-kurta-pyjama/ 
3. Vajor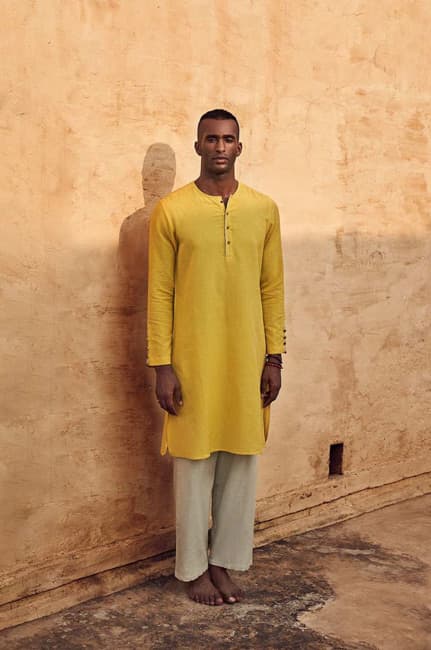 Vajor is a Bohemian-themed store which offers the quirkiest Kurtas and shirts with an Indie-twist. The myriad of pastel Kurtas and shirts will ensure an offbeat festive look, which satirically resonates with the offbeat nature of celebrations most of us may face this year. Vajor features sober-looking prints which give off a refreshing vibe and if you ask us, the unending nuisance of pollution levels in the city calls for a refreshing element in our festivities!
Price | Rs 950 Onwards
Shop Online Here | https://www.vajor.com/men/top-wear.html?p=1 
4. Mirraw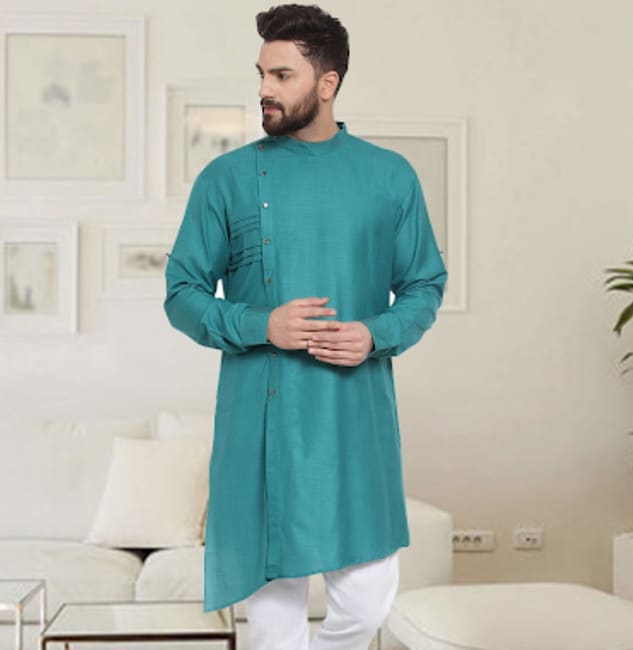 An underrated runner in the e-commerce industry, Mirraw is an exclusive Indian wear store and their collection spills over every possible element of Indian ethnic wear. Hence, you'll find much more than your default Kurta Pyjama sets. The Kurtas are unmissable at this store, primarily owing to the variety of fabrics and designs that they house. The collection ranges from Cotton, Silk, Linen that come in various designs like Pathani, Short, Gaudy prints, Brocade-style designer items and more! Be sure to check out their vibrant accessories like Turbans, cufflinks, studs that'll add to the charm of your outfit.
Price | Rs 399 Onwards
Shop Online Here | https://www.mirraw.com/men/clothing/kurtas 
5. Wintage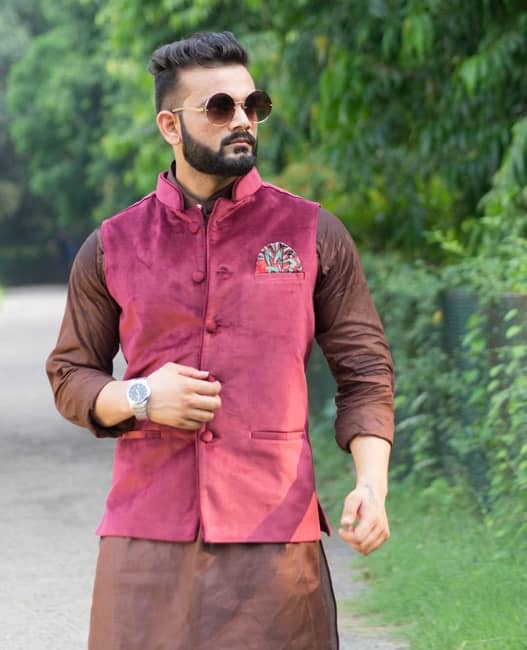 An online establishment that deals EXCLUSIVELY in Men's apparel, Wintage is a digital store that exudes class and suaveness with every piece of clothing they curate. Although the store will provide you with everything that comes under the umbrella of "Men's fashion", their ethnic collection is not one to miss out on! You'll find immaculate and vibrant products in their roster which cover a wide range of hues, fabrics and designs. Their Benarasi silk collection has especially won us over! The best part is that all of this is available at reasonable prices so you could always select a nice accompaniment, like a stunning Nehru Jacket to go with your Kurta-Pyjama before you check out!
Price | Rs 749 Onwards
Shop Online Here | https://wintage.in/collections/kurtas 
6. Ajio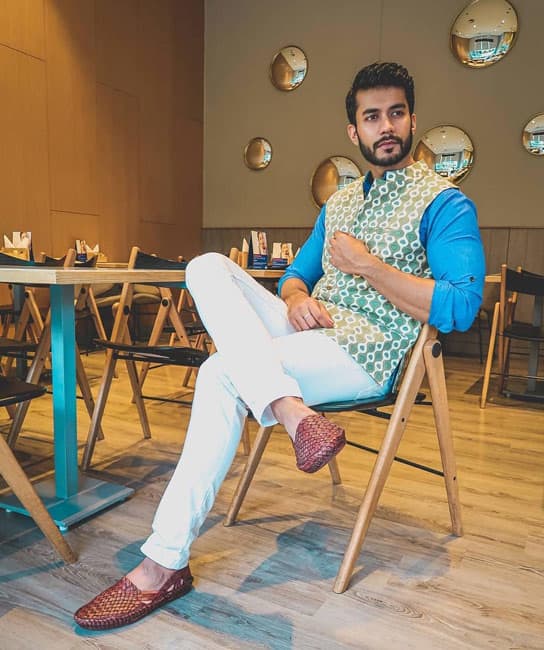 The brand that needs no introduction, Ajio is one name that comes up without fail every time we shop for ethnic wear during the festive season. This renowned label has redefined the fashion industry with its ever-famous indie-wear collection that highlights the craftsmanship-styles from all over the country. Its Kurtas are by far the most sought-after pieces of clothing to wear in the festive season; Owing to the perfect blend of boho and ethnic that they feature. You could easily curate a unique Diwali outfit from their extensive roster without shelling out a bomb!
Price | Rs 349 Onwards
Shop Online Here | https://www.ajio.com/indie-picks-handblock-printed-kalamkari-cotton-long-kurta/p/460549227_indigo   
7. Jaypore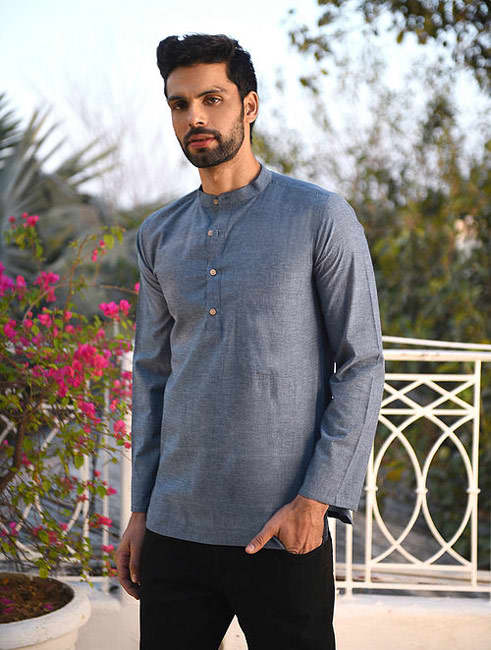 A tremendously popular online store, Jaypore curates handcrafted designs from artisans & craftsmen all over India, and brings us only the best. These craft designs are everything that's beautiful about India, and while you can shop for a range of goods from fashion to home decor, we cannot stop raving about the fine kurtas for men they have! They've got everything from fine cotton kurtas to exquisite Tussar cotton long kurtas! So go on and grab everything you fall in love with! 
Price | Rs 890 Onwards 
Shop Online Here | https://www.jaypore.com/menswear2021 
8. Rajmohar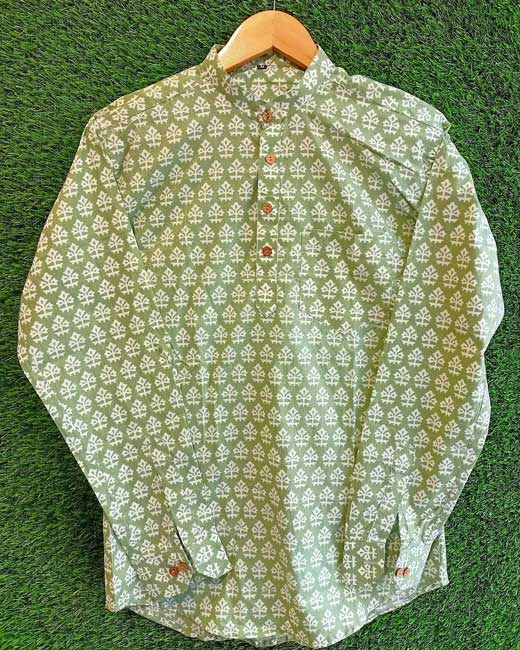 An e-commerce store dedicated entirely to men, Raj Mohar offers all kinds of men's clothing from shirts to kurta pyjamas. Their products are comfortable, affordable, plus they also have a royal touch! We're loving their amazing selection of kurtas and short kurtas for men, that's bright and colourful and completely captures our festive mood and need! So, have you selected yours?
Price | Rs 499 Onwards 
Shop Online Here | https://rajmohar.co/collections/rajmohar-kurta-collection 
With Diwali just around the corner, make sure that you get your shopping done ASAP and do keep this list handy!