Delhi
Chikankari, Phulkari & Kantha: 6 Ah-Mazing Ethnic Stalls @ Dilli Haat To Drop By
Pretty much every tourist to wash ashore on Delhi pays homage to the all-year round handicrafts carnival we call Dilli Haat! From gorgeous junk jewellery to thick leather-bound journals and antique bric-a-bac, the most skilled artisans from all over India come to ply their wares here, and we're spilling the beans on the best, handpicked stalls at Dilli Haat to fill your shopping bags with the best ethnic maal. Read on and come join the madness!
1. Phulkari From Punjab (Stall #52)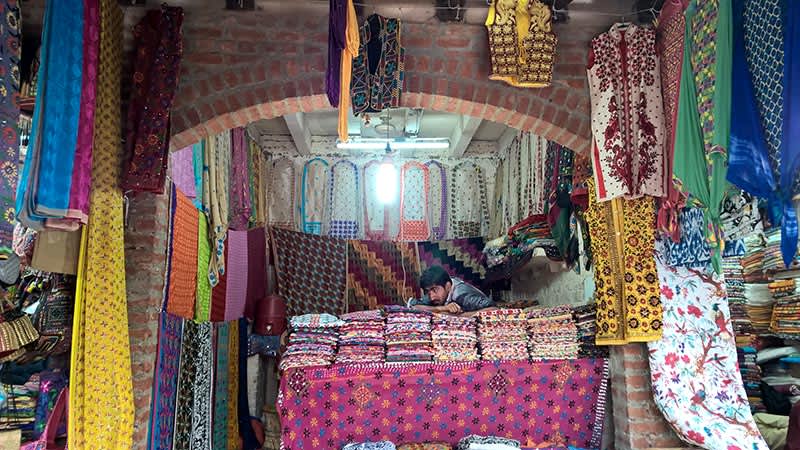 The wares at this stall are showcased by no less than a 1993 National Award winner - Ms. Lajwanti hailing from Patiala. Every dress item at this stall is delicately embellished with colourful thread work and in a variety of patterns that fall under the Phulkari umbrella. Everything from Phulkari embellished dupattas, salwars and kurtas to sarees and skirts can be found here in georgette, crepe or cotton-silk and we'd like to splurge on every single pretty piece!
Price Range | Rs 650 - 45,000
2. Kantha from West Bengal (Stall #5)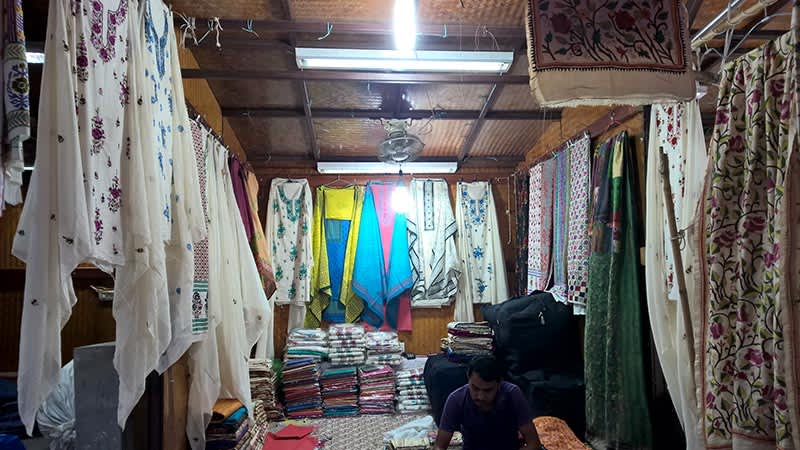 Most well-known for Kantha work, the state of West Bengal is represented in Dilli Haat by a weaver who is enthusiastic about not only this craft but also the French Knot embroidery technique as well as hand block printing! Most Kantha work can be found on Tussar silk, although many garments featuring other craft forms are also available in fabrics like cotton and georgette. 
While dupattas, suit pieces, salwars, kurtas and sarees are commonplace, the most unique item in all of Dilli Haat is the dual-sided Kantha work dupatta you can find here. As the name suggests, you could alternate between both the designs and have two for the price of one!
Price Range | Rs 1,000 - 28,000
3. Prints From Madhya Pradesh (Stall #20 & #21)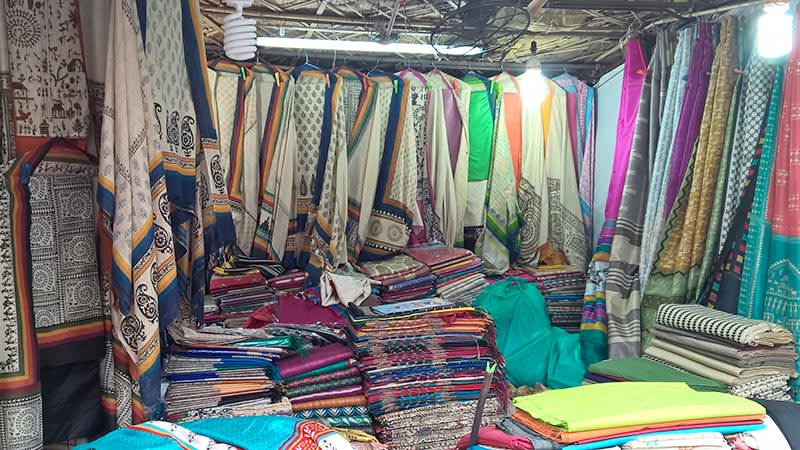 Known for its rich heritage in block printing by hand, these two stalls feature a wide variety in the types of prints that they display. Right from depictions of rural life in the Worli style to the abstract Batik, one can find everything from suit pieces and dupattas to sarees here. While the silk and cotton silk variants are more suited for cooler weather and formal occasions, the pure cotton and cotton khadi varieties are perfect for casual wear in the summer months. The novelty however, is the availability of hand prints on chanderi cotton fabric - which you must check out!
Price Range | Rs 150 - 6,000
4. Chikankari From Lucknow (Stall #38)
There is no denying the status chikan work holds in the upper echelons of society. The scarcity of authentic and intricate chikan work is the reason why a place like Dilli Haat is so popular. At this pretty stall you'll find chikan work dupattas, stoles, suit pieces as well individual kurtas and salwars. All of this can be found in options of cotton and georgette, both of which are ideal for Delhi's summer heat - so get cracking! 
Price Range | Rs 350 - 8,500
5. Banarasi Work From Uttar Pradesh (Stall #11)
Banarasi work, originating along the banks of the river Ganga is one of the most celebrated crafts in the country and is also amply represented at the Haat. Adored for its fineness (as all authentic Banarasi garments are hand woven), the patterns on the fabric are worked in either gold or silver zari or colourful threads of fine resham. Come pick up yours right here at this pretty stall!
Price Range | Rs 1,500 - 45,000
6. Various Embroidery Styles From Kashmir (Stall #10)
Representing the costume heritage of Kashmir, this stall brings to Delhi just about everything that Kashmir is known for. Right from Kashida, Sozni and Aari embroideries on garments such as shawls, wraps, men's gowns, women's jackets and women's suits to exquisite pashmina woolen wear, every single garment is a treat to the eyes!
Price Range | Rs 500 - 2,50,000
Phulkaris, Batik work, chikan kari and Banarasi galore - these stalls offer mounds of pretty drapes in the most intricate designs you'll adore - head on over!