Delhi
6 Delivery-Only Places In East Delhi That'll Bring You Piping Hot Food Till As Late As 4 AM
To undermine the outbreak, in the current situation, the government has taken the necessary measures and we hope we are all participating in that! But once in a while, our taste buds crave for something lavish and spicy but now that you can't go out, check out these delivery-only places around East Delhi because you should never quell your cravings!
1. Oriental Mom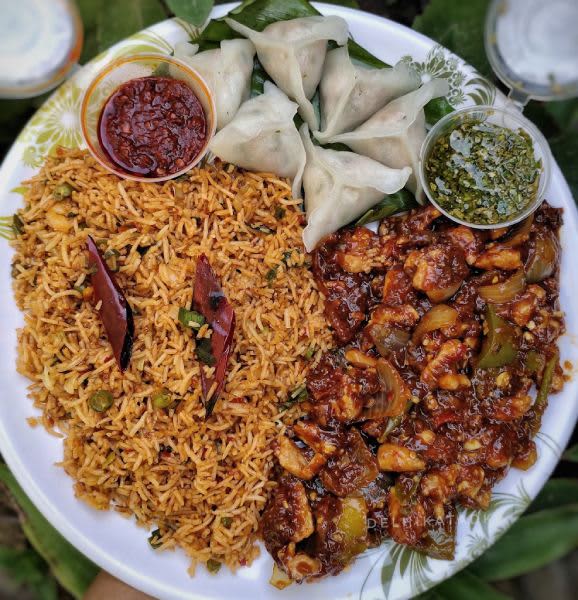 Picture Credits: payel banerjee 
Craving for some authentic Asian or Thai cuisine? We have found a place for you here in East Delhi. Oriental Mom serves the finest flavours made with love and fresh ingredients. Besides, what's better than trying the authentic flavours? The crazy part is they make their noodles and sauces from scratch. Dig your forks into Teriyaki Bento Box, Sichuan Chicken Salad and Chicken Dimsums with Truffle Oil!
Timings | 12 Noon - 1 AM
Call Them | +91 11 4555 2728
Meal For Two | Rs 650
Check Out Their FB Page | https://www.facebook.com/orientalmom.in/
2. Mitron - The Cafe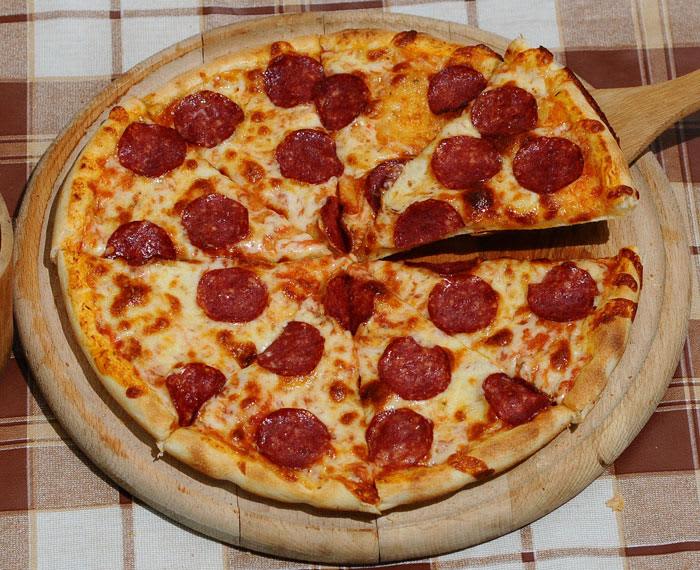 This Is A Representative Image
To enjoy fast food there's no specific time, so, to help your fast food craving at any hour of the day, this cafe opens as early as 8 AM and delivers till 4 AM, sorting your late-night binge-watching and binge eating plans too. Relish their Mexican Green Wave pizza and Fruit Punch Shake.
Timings | 8 - 4 AM
Call Them | +91 8130 811 831
Meal For Two | Rs 450
3. Firangi Bake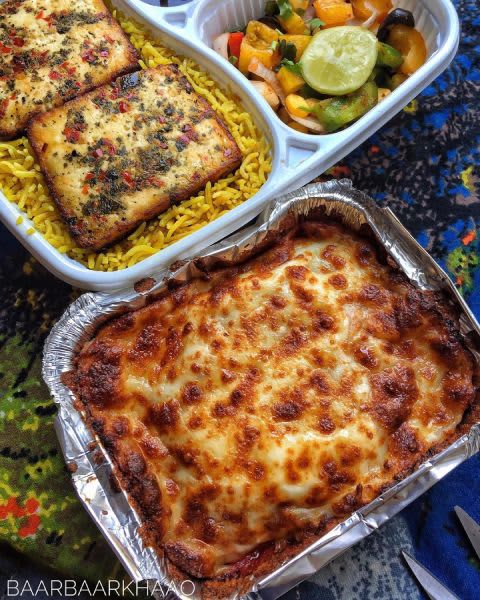 Picture Credits: baarbaarkhaao
A very famous place with multiple outlets across Delhi, and definitely had to make it to the list because their food has those enticing flavour with oozing cheese, perfect to show off at 'Gram! Don't believe us? Order now and check it out. Check out their Mughalai Masti Mac N Cheese & Desi Videshi Mac N Cheese for a heavenly delight.
Timings | 11 - 1 AM
Call Them | +91 9152 987 505
Meal For Two | Rs 400
Check Out Their FB Page | https://www.facebook.com/firangibake/
4. Bowl Hub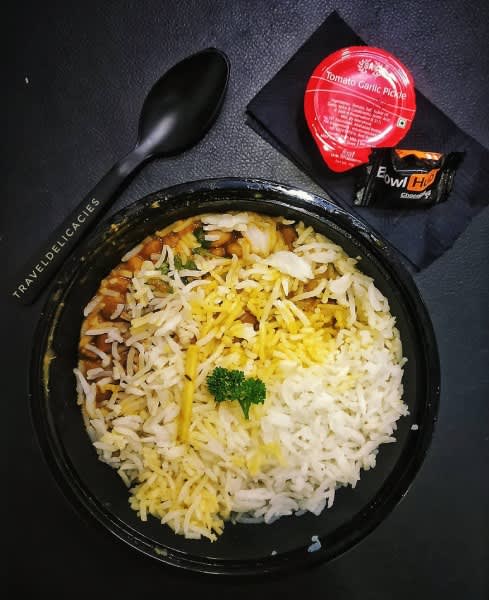 Picture credits: traveldelicacies
Food served in a bowl, mhmm, how convenient and presentable. And since us Delhiites can't complete a meal without rice in it, here's a place serving rice bowls with dishes other than rajma. Order in their Chicken Thai Red Curry Rice, Basil Cream Chicken Rice, Pindi Chole Rice, for a comforting meal in these distressing times. Given how they deliver till 3 at night and are even offering free Gajar Halwa and Iced Tea with every bowl, what's stopping you from calling 'em up?
Timings | 11 - 3 AM
Call Them | +91 7208 000 101
Meal For Two | Rs 500
5. Dee The Bakerr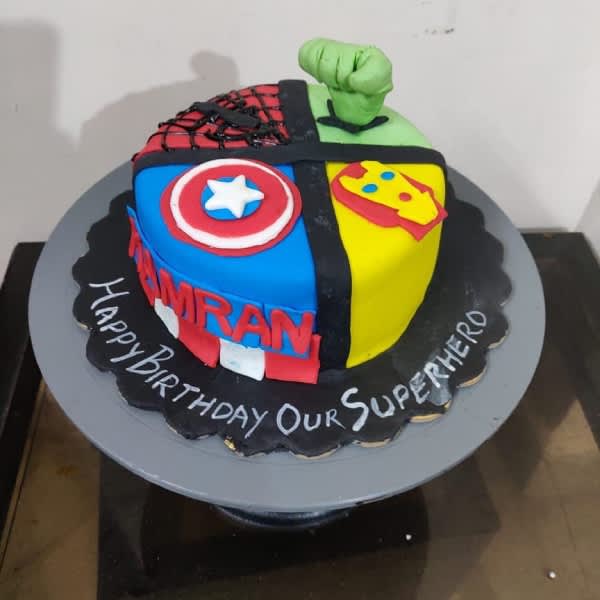 We feel it for all the people who have to celebrate their birthdays stuck at their houses amidst this chaos. So, if it's one of your friends living in East Delhi, send over a bespoke cake to their place to make them feel a lil better. Or, even if you want to devour a delish dessert, order from Dee The Bakerr. 
Timings | 12 Noon - 11 PM
Call Them | +91 9810 737 119
Meal For Two | Rs 300
Check Out Their FB Page | https://www.facebook.com/deethebakerr/
6. Biryani By Kilo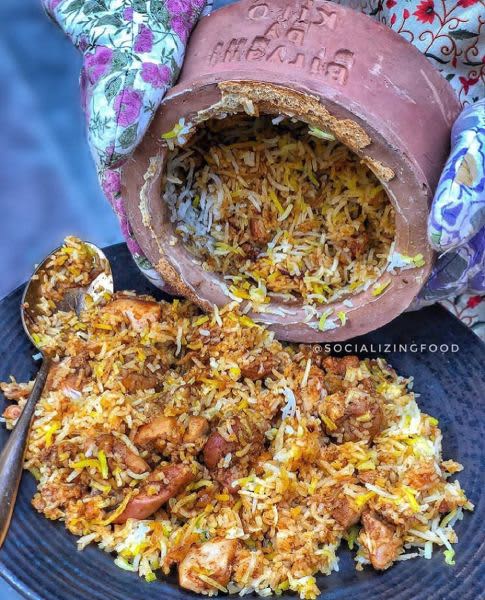 Picture Credits: tallmumbaikarfoodie
It's time for some aromatic and flavoursome biryani, served hot and enjoyed with your favourite show playing right in front of your eyes. The presentation, taste, aroma - the offerings of Biyani By Kilo are hands down one of the best you'll ever eat, leaving a lasting effect on your taste buds. Scoop up Gosht Malamaal Biryani, Muttom Galouti Kebab and the sure-shot attention seeker The Aanch from their menu!
Timings | 10 AM - 11 PM
Call Them | +91 9555 212 212
Meal For Two | Rs 700
Check Out Their FB Page | https://www.facebook.com/biryanibykilo/
Let us know which place are you trying out first because we're kinda confused! Also, don't forget to sanitise your hands before you attack the meal!