Delhi
6 Things To Try At The Hudson Cafe In GTB Nagar For Those Post Lecture Hogging Sessions
We're always on the lookout for the most scrumptious food and what better place to look for our new hub, than the heart of Delhi University, the famous Hudson Lane? This time we decided to give a popular café called The Hudson Café, a chance to prove its worth for all the perennially hungry students around. Set in the middle of the busy Hudson Lane, this quirky café stole our hearts for its minimalist design and a soft colour palette that would surely attract people on the lookout for a unique aesthetic. In the midst of constant flooding of pop and rock tunes, we set about our food review of this much sought-after nook!
1. Loaded Nachos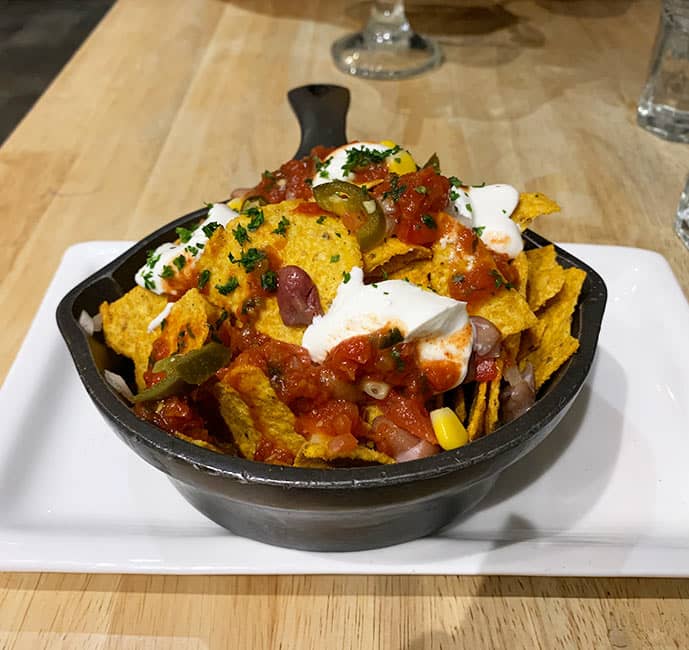 We had to start off our food journey with our favourite munchies, nachos! This Mexican snack has slowly but steadily made its place in the hearts of Dilliwalas. After much deliberation, we settled on the goodness filled, Loaded Nachos. The dish was served in a small skillet and the colours made it look much more exciting. A generous helping of crunchy nachos topped with tangy salsa, soothing sour cream, kidney beans and sweet corn made the foodie in us jump with joy. Our favourite part was that the toppings were layered, giving us enough yummy goodness to last through the entire snack. The nachos were crispy as well as flavourful and we loved this refreshing starter!
Price | Rs 229
2. Mango Wasabi Margarita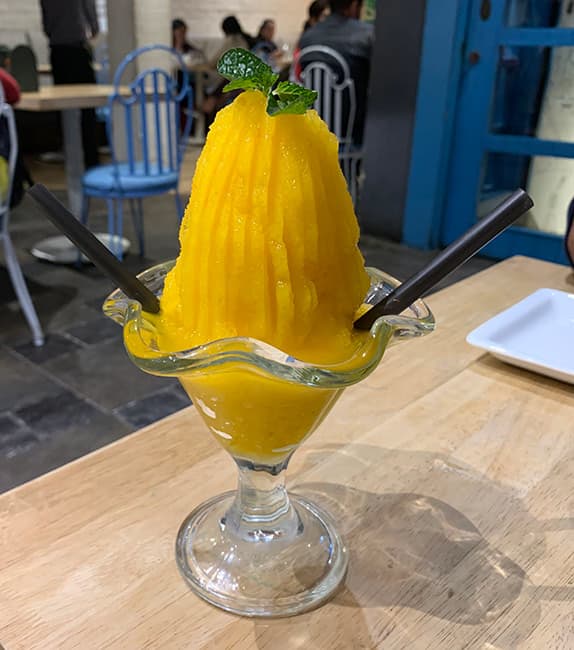 From the must-haves to some new entrants, we moved on to a quirky sounding drink called the Mango Wasabi Margarita. Served in a cocktail glass, this bright yellow drink with iced mango and topped with a mint leaf was enough to make heads turn. The drink was exceptionally fruity and the pulpy mango packed a punch of flavour. But we had a hard time picking up hints of wasabi in this drink. While the mango flavour itself made the fruit lover in us feel soothed and satisfied, the missing wasabi made us wonder what the true essence of the drink was. The beverage was an experimental gamble for sure but a satisfying one nonetheless!
Price | Rs 159
3. Peri Peri Fries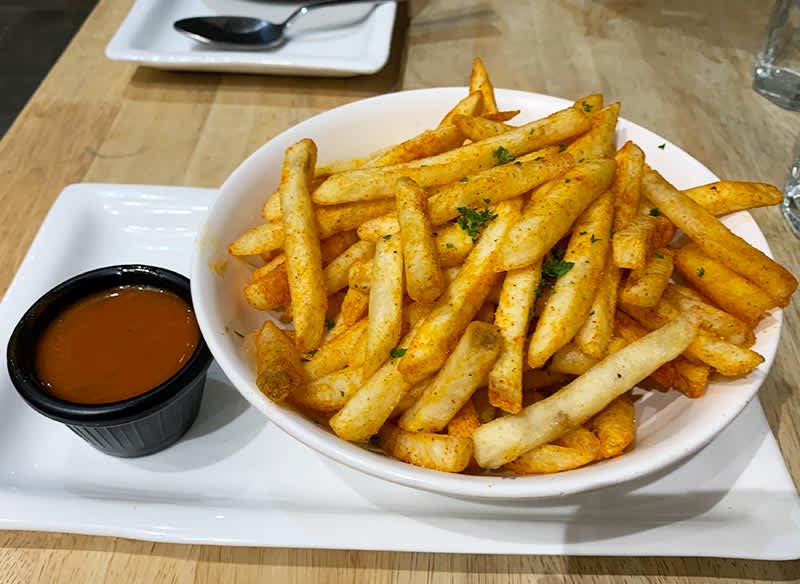 If there's a forever favourite, it has to be fries. We love all sorts and shapes of fries and you know it. The next dish on our list was another munchy, some Peri Peri Fries. These golden beauties came served in a pretty large bowl (that warmed our hearts) with a tangy, flavorful sauce on the side. Fried to perfection and fluffy on the inside, we loved them to bits. The peri peri rub was flavourful and we could not stop eating these! This dish is a must-try for all those who love to munch on some quick and easy grub while working or catching up on an assignment after classes. And the affordable prices, only make this deal better!
Price | Rs 149 
4. Paneer Dimsums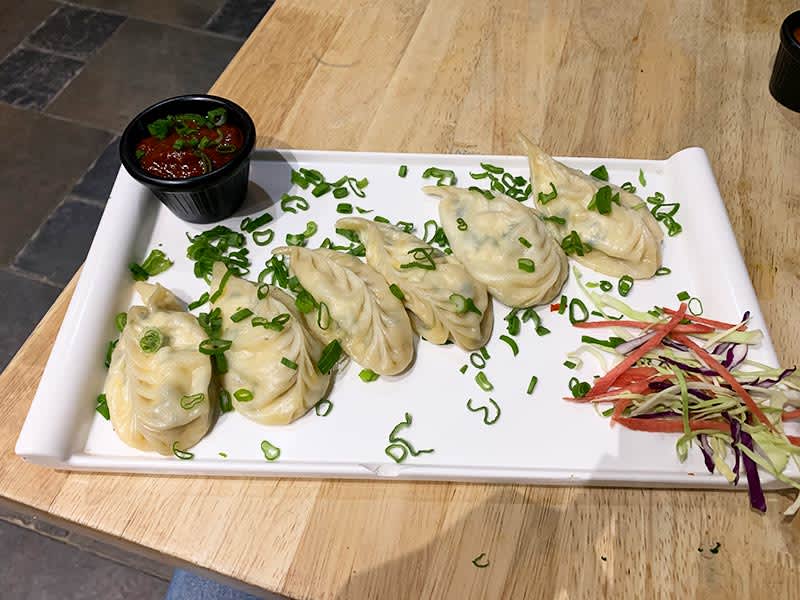 The next thing that caught our eye was some mouth-watering dimsums. And given how we Indians love our paneer, how could we not order the paneer variant? We enjoyed the presentation of the quaint dumplings, with beautiful pleats topped with some green onions. The dimsums were accompanied by the classic spicy and tangy red chutney that we associate with our roadside momos. The dimsums were generously stuffed with a simple yet yummy paneer filling and we liked the ratio of filling to the thin wrapping of the dumpling. While the flavour of the paneer was evident in the simplicity of the filling, the inner foodie in us could not help but wonder if some spice could have elevated the flavour profile of the dish. But, if you're a paneer lover, this dish is made for you!
Price| Rs 269 
5. Tandoori Paneer Pizza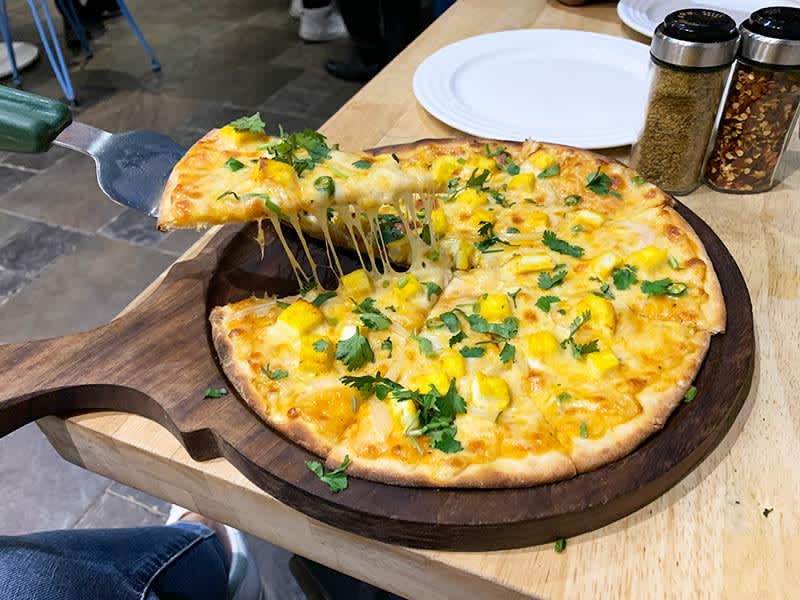 In our quest to try out a little bit of everything, we decided to dabble into some classic fusion food. And our eyes settled on the delicious-sounding tandoori paneer pizza. The pizza was served on a classic circular platter and the stringy cheese topped with golden paneer cubes was a sight for sore eyes. We loved the huge amount of cheese and the thin and crispy crust made this yummy dish even better. Paired with some of our favourite herbs, this pizza will surely appeal to the Italian lover in you.
Price | Rs 269 
6. Chocolate Chip Sundae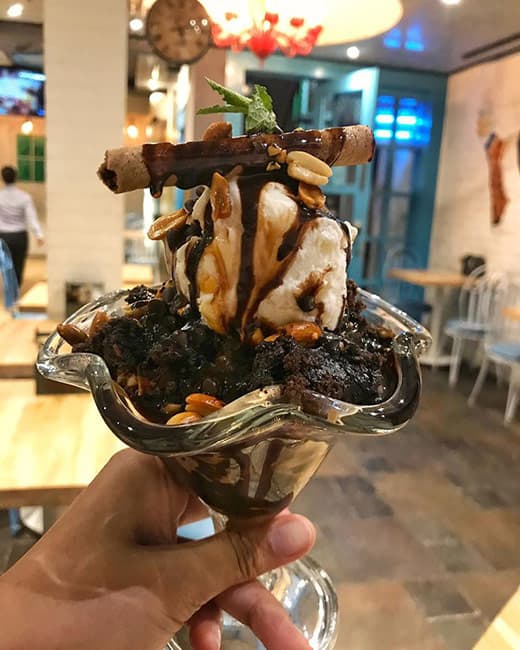 After stuffing ourselves and gorging on all our favourite dishes, we had to end this grand food journey with a grand dessert. And what's better than an overdose of chocolate? If you're a foodie like us, you will understand the allure of cold ice cream in these cool months. That's why we decided to order the Chocolate Chip Sundae and boy, are we glad we did? Served in a cute glass, the sundae had a combination of vanilla and chocolate chip ice cream, it was topped with a finger-licking chocolate sauce and a crunchy wafer on top added to the beauty of this dish. If you're a chocolate lover, you will love this delicious creation!
Price | Rs 219
So make your way over to The Hudson Cafe after a taxing lecture for your share of tasty replenishing dishes!
Where | The Hudson Cafe - 2524, 1st Floor, Hudson Lane, GTB Nagar
Call Them | +91 11 4702 1733
Timings | 11 AM - 11 PM
Meal For Two | Rs 900
Check Out Their Fb Page | https://www.facebook.com/thehudsoncafe/