Delhi
6 Crazy Varieties Of Samosas Starting At Just Rs 25 That We Tried @ Samosa Express
Samosa is the national street food of India. Period. Be it in poshest markets, malls, highways or the sweet shop down the street, you'll find these flour-wrapped, aloo-stuffed, deep fried delicacy everywhere! And while it is the perfect evening snack, we might get bored of the same monotonous taste of the good ol' samosa, nahi? 
That's why we went out on a hunt for some offbeat, yummy samosas and our search us lead us to Samosa Express! A small outlet in the middle of South Ex I, this place prides itself on its wide variety of samosas. Here's everything we tried here, cheggit! 
1. Noodles Samosa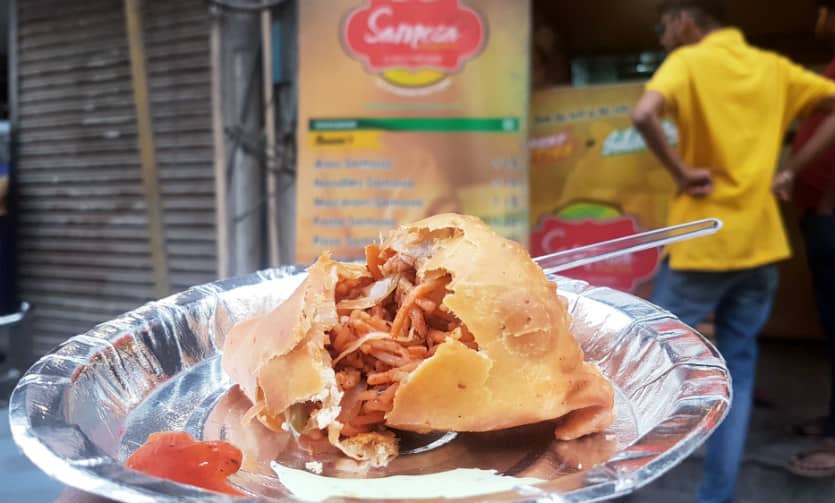 The first and perhaps our favourite one at this place, the Noodles Samosa! This samosa surely left us wanting for more. Filled with noodles covered with a red tangy sauce that perfectly complemented the dough of the samosa, it was too good to be true. For all those who love desi Chinese food - this is the perfect amalgamation of two of our favourite street foods! 
Price | Rs 20
2. Chilli Cheese Samosa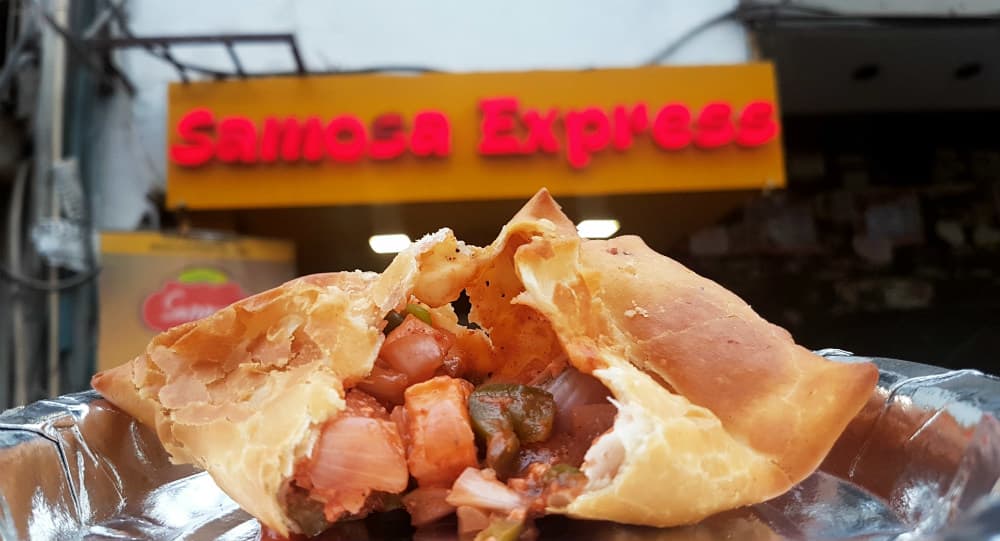 Next on our plate was the incorrectly named Chilli Cheese Samosa! Incorrect because this samosa was filled with paneer instead of cheese. Small chunks of paneer and veggies sautéed in a sweet red sauce oozed out of this one and gave us an amazing taste of Chilli Paneer. 
Price | Rs 30
3. Pasta Samosa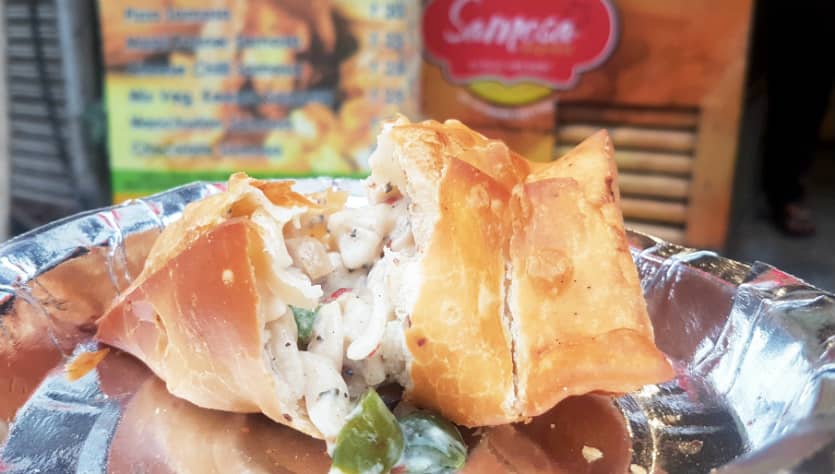 Perhaps one of the unlikeliest of combinations, this samosa had pasta filled in it! Filled with cheesy pasta, veggies and flavoured with chili flakes, this samosa brings together the best of both worlds! The pasta filling tastes just right and the outer dough was perfectly fried. This treat will surely surprise you in more ways than one! 
Price | Rs 25
4. Pizza Samosa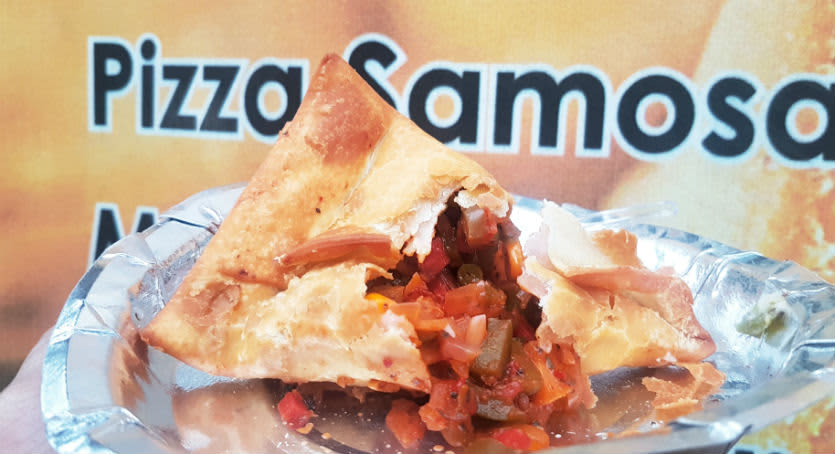 Who would've thought they could combine everyone's favourite pizza with our very own samosa?! This might be the most ambitious crossover in history, and the people at Samosa Express managed to do a good enough job with it.The samosa was filled with onions, capsicum, carrots and corn but we definitely missed some cheese in it which would've made it even more yummy! 
Price | Rs 25 
5. Malai Paneer Samosa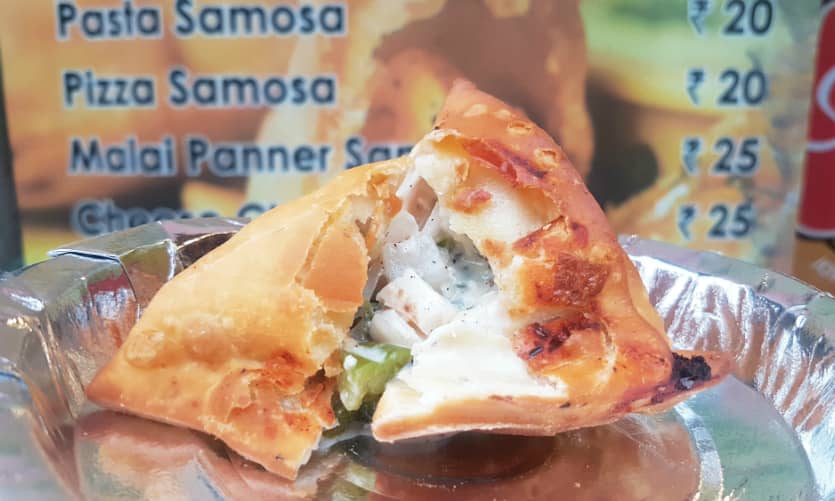 We decided to try this one on another customer's recommendation and we're so glad we did! Big chunks of paneer dipped in creamy white sauce awaited us as we dug into this one. For all lovers of Indian cuisine, this one hits right in the feels without burning a hole in your wallet! 
Price | Rs 30
6. Chocolate Samosa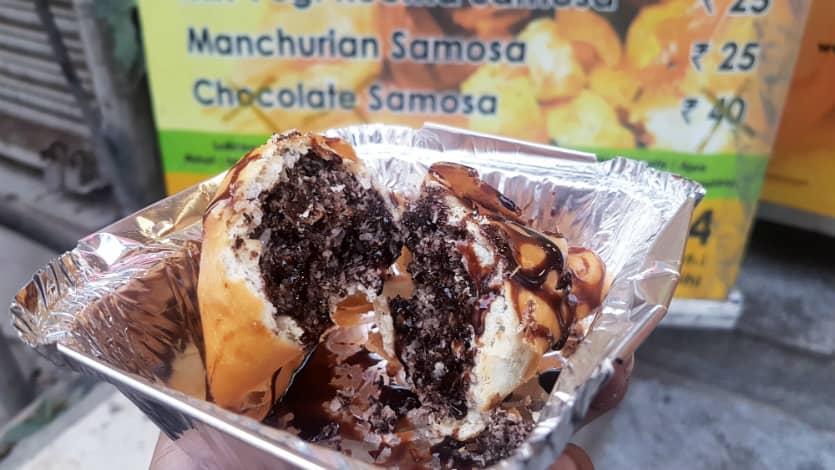 Chocolate makes everything better and so how could we finish our meal without a sweet, chocolaty samosa *heart eyes*! Contrary to what we expected, this one turned out to be more of a coconut sweet than a chocolate dessert. Filled with freshly shredded coconut, dipped in chocolate and covered with chocolate syrup, this samosa reminded us of ghar ki coconut barfi! So if you're a fan of coconut then this one is perfect for you! 
Price | Rs 40
As our visit to Samosa Express came to end, both our stomachs and wallets were full and our taste buds more than satisfied! So if you're a samosa lover, this place is definitely worth taking a trip down to South Ex! 
Location | Samosa Express - F-38, South Ex I
Timings | 9:30 AM - 10 PM
Call Them | +91 8860 768 084 
Order Online Here | http://samosaexpress.co.in/order-now/